Abstract
Gender disparities in wages are still fairly large. On average, women earn less than men from the beginning of their careers. This article investigates whether young men and women with vocational education and training receive different returns for occupation-specific and general skills, a topic that has hitherto received little attention. Theoretically, we draw on a culturalist approach, as well as on the varieties of capitalism approach. The analyses are based on a combination of detailed occupation-level data on the specificity of training occupations and individual-level data from the Swiss Labour Force Survey on the incomes of upper-secondary vocational diploma holders. The results of multilevel regression models show that men's and women's incomes are affected by a complex interplay between gender and skill endowment. Occupation-specific vocational skills only secure a high income early in the careers of men who trained in male-typed or gender-neutral occupations. Women profit from a high proportion of general knowledge in their training. Furthermore, we find evidence for a general devaluation of female-typed skills. In sum, the findings suggest that employers' discriminatory remuneration practices, a general devaluation of female-typed skills and young people's rational skill investment decisions contribute jointly to the gender gap in income.
Zusammenfassung
Geschlechtsspezifische Lohnunterschiede sind nach wie vor bedeutend. Im Durchschnitt verdienen Frauen bereits ab dem Beginn ihrer Berufslaufbahn weniger als Männer. Wir untersuchen in diesem Beitrag, ob junge Frauen und Männer mit Berufsbildung unterschiedliche Renditen für berufsspezifische und allgemeine Kenntnisse erhalten, ein Thema, das in der bisherigen Forschung wenig Beachtung gefunden hat. Theoretisch stützen wir uns sowohl auf die Devaluierungstheorie als auch auf die Varieties-of-Capitalism-Theorie. Detaillierte Indikatoren für die berufliche Spezifität der Ausbildungsberufe sowie Registerdaten für das Einkommen der Befragten werden den Individualdaten der Schweizerischen Arbeitskräfteerhebung zugespielt. Die Ergebnisse der Mehrebenenmodelle zeigen, dass das Einkommen von Personen mit einer Berufsausbildung in den ersten Erwerbsjahren von einem komplexen Zusammenspiel zwischen Geschlecht und Kompetenzausstattung beeinflusst wird. Berufsspezifische Kenntnisse erhöhen das Einkommen nur für Männer mit männlich konnotierten oder geschlechtsneutralen Ausbildungsberufen. Frauen profitieren von einem hohen Anteil an allgemeinbildendem Unterricht während ihrer Ausbildung. Darüber hinaus finden wir Hinweise auf eine generelle Abwertung von weiblich konnotierten Kenntnissen. Die Ergebnisse deuten darauf hin, dass diskriminierende Vergütungspraktiken der Arbeitgeber, eine allgemeine Abwertung der weiblich konnotierten Kompetenzen und rationale Ausbildungsentscheidungen junger Menschen gemeinsam zum durchschnittlich geringeren Einkommen der Frauen beitragen.
Access options
Buy single article
Instant access to the full article PDF.
USD 39.95
Price excludes VAT (USA)
Tax calculation will be finalised during checkout.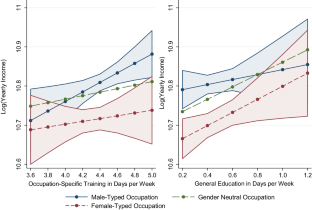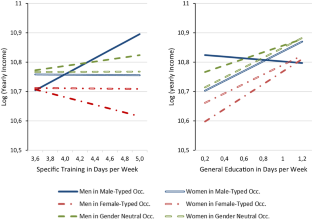 Notes
The reasons are, first, that large firms imparting a lot of firm-specific skills are infrequent in the Swiss labour market (Swiss Federal Statistical Office (BFS) 2018). Second, the high level of curriculum standardization prevents firms from emphasizing firm-specific skills.

Ideally, we would restrict our sample to the year directly after labour market entry. However, because insufficient sample sizes would limit the statistical power of our analyses, we extend our observation window to the first 10 years. Tests using different cut-off points, including between 2 and 10 years of experience, show that the findings are robust irrespective of the number of years included.

A small minority (N = 197) receive their diploma before their 18th birthday. We retain them in the sample because early completion, for example, owing to early primary school enrolment, is possible.

No other income sources are included.

Legally a working week (including vocational school and intercompany courses) cannot exceed 5.5 days.

The calculations are based on the two-digit SSCO2000 classification and a pooled dataset of the SAKE waves from 2003 to 2016.

The results remain stable when individuals with school-based VET are excluded.

Because only a tiny proportion of VET diploma holders also hold an academic baccalaureate, we combine them with those holding a vocational baccalaureate (22 observations).

Until 2010, respondents were surveyed annually for 5 consecutive years. From 2010 onwards, individuals were interviewed four times over a period of 18 months. We use only annual data for both time periods. For individuals surveyed after 2010, we therefore have a maximum of two observations.
References
Aigner, Dennis, and Glen Cain. 1977. Statistical theories of discrimination in labor markets. Industrial and labor relations review 30:175–187.

Anker, Richard. 1997. Theories of occupational segregation by sex: An overview. International Labour Review 136:315–339.

Arrow, Kenneth. 1973. The theory of discrimination. In Discrimination in Labor Markets, eds. Orly Ashenfelter and Albert Rees, 3–33. Princeton: Princeton University Press.

Becker, Gary S. 1962. Investment in human capital: A theoretical analysis. Journal of Political Economy 70:9–49.

Becker, Gary S. 1964. Human capital: A theoretical and empirical analysis, with special reference to education. New York: Columbia University Press.

Berger, Joseph, M. Hamit Fisek, Robert Z. Norman and Morris Zelditch. 1977. Status Characteristics and Social Interaction: An Expectation-States Approach. New York: Elsevier.

Bertschy, Kathrin, Philipp Walker, Annick Baeriswyl and Michael Marti. 2014. Lohndiskriminierung beim Berufseinstieg. Eine quantitative Analyse für die Schweiz. Swiss Journal of Sociology 40:279–305.

Blau, Francine D., and Lawrence M. Kahn. 2017. The gender wage gap: Extent, trends, and explanations. Journal of Economic Literature 55:789–865.

Brunner, Beatrice, and Andreas Kuhn. 2014. The impact of labor market entry conditions on initial job assignment and wages. Journal of Population Economics 27:705–738.

Buchmann, Marlis, and Irene Kriesi. 2012. Geschlechtstypische Berufswahl: Begabungszuschreibungen, Aspirationen und Institutionen. Kölner Zeitschrift für Soziologie und Sozialpsycholgie 52:256–280.

Buchmann, Marlis, Stefan Sacchi, Markus Lamprecht and Hanspeter Stamm. 2007. Tertiary education expansion and social inequality in Switzerland. In Stratification in Higher Education. A Comparative Study, eds. Yossi Shavit, Richard Arum, Adam Gamoran and with Gila Menahem, 321–348. Stanford: Stanford University Press.

Buchs, Helen, Barbara Müller and Marlis Buchmann. 2015. Qualifikationsnachfrage und Arbeitsmarkteintritt in der Schweiz. Kölner Zeitschrift für Soziologie und Sozialpsycholgie 67:709–736.

Busch, Anne. 2013. Der Einfluss der beruflichen Geschlechtersegregation auf den "Gender Pay Gap". Kölner Zeitschrift für Soziologie und Sozialpsycholgie 65:301–338.

Charles, Maria, and Karen Bradley. 2009. Indulging our gendered selves? Sex segregation by field of study in 44 countries. American Journal of Sociology 114:924–976.

Coenen, Johan, Hans Heijke and Christoph Meng. 2015. The labour market position of narrow versus broad vocational education programmes. Empirical Research in Vocational Education and Training 7:9.

Combet, Benita, and Daniel Oesch. 2019. The gender wage gap opens long before motherhood. Panel evidence on early careers in Switzerland. European Sociological Review 35:332–345.

Correll, Shelley J., and Cecilia L. Ridgeway. 2006. Expectation states theory. In Handbook of Social Psychology, ed. John Delamater, 29–51. New York: Springer.

Eggenberger, Christian, Miriam Rinawi and Uschi Backes-Gellner. 2018. Occupational specificity: A new measurement based on training curricula and its effect on labor market outcomes. Labour Economics 51:97–107.

England, Paula. 1992. Comparable worth. Theories and evidence. New York: Aldine de Gruyter.

England, Paula and Su Li. 2006. Desegregation stalled: The changing gender composition of college majors, 1971–2002. Gender & Society 20:657–677.

Estévez-Abe, Margarita. 2005. Gender bias in skills and social policies: The varieties of capitalism perspective on sex segregation. Social Politics 12:180–215.

Estévez-Abe, Margarita. 2009. Gender, inequality, and capitalism: The "Varieties of Capitalism" and Women. Social Politics 16:181–191.

Estévez-Abe, Margarita. 2012. Gendered consequences of vocational training. In The political economy of collective skill formation, eds. Marius R. Busemeyer and Christine Trampusch, 259–283. Oxford: Oxford University Press.

Eurostat. 2017. Vocational education and training statistics. http://ec.europa.eu/eurostat/statistics-explained/index.php/Vocational_education_and_training_statistics

Forster, Andrea G., and Thijs Bol. 2018. Vocational education and employment over the life course using a new measure of occupational specificity. Social Science Research 70:176–197.

Fuller, Sylvia. 2008. Job mobility and wage trajectories for men and women in the United States. American Sociological Review 73:158–183.

Fuller, Alison, Vanessa Beck and Lorna Unwin. 2005. The gendered nature of apprenticeship: Employers' and young people's perspectives. Education + Training 47:298–311.

Gangl, Markus. 2003. Returns to education in context: Individual education and transition outcomes in European labour markets. In Transitions from Education to Work in Europe. The Integration of Youth into EU Labour Markets, eds. Walter Müller and Markus Gangl, 156–185. Oxford: Oxford University Press.

Goggel, Kathrin, and Thomas Zwick. 2012. Heterogeneous wage effects of apprenticeship training. Scandinavian Journal of Economics 114:756–779.

Gottfredson, Linda S. 1981. Circumscription and compromise: A developmental theory of occupational aspirations. Journal of Counseling psychology 28:545.

Grönlund, Anne, and Charlotta Magnusson. 2013. Devaluation, crowding or skill specificity? Exploring the mechanisms behind the lower wages in female professions. Social Science Research 42:1006–1017.

Grønning, Miriam, Irene Kriesi and Stefan Sacchi. 2018. Institutional dimensions of Swiss vocational education and training: Measures of standardisation, differentiation and vocational specificity in Swiss upper secondary vocational education and training. Working Paper. Zollikofen: Swiss Federal Institute for Vocational Education and Training.

Gross, Christiane. 2016. Data analysis techniques to model the effects of education systems on educational inequalities. In Education Systems and Inequalities: International Comparisons, eds. Andreas Hadjar and Christiane Gross, 115–133. Bristol: Policy Press.

Hanushek, Eric A., Guido Schwerdt, Ludger Wössmann and Lei Zhang. 2017. General education, vocational education, and labor-market outcomes over the lifecycle. Journal of Human Resources 52:48–87.

Hausmann, Ann-Christin, Corinna Kleinert and Kathrin Leuze. 2015. Entwertung von Frauenberufen oder Entwertung von Frauen im Beruf? Kölner Zeitschrift für Soziologie und Sozialpsycholgie 67:217–242.

Heiniger, Melina, and Christian Imdorf. 2018. The role of vocational education in the transmission of gender segregation from education to employment: Switzerland and Bulgaria compared. Journal for Labour Market Research 52:15.

Iannelli, Cristina, and David Raffe. 2007. Vocational upper-secondary education and the transition from school. European Sociological Review 23:49–63.

Imdorf, Christian, Stefan Sacchi, Karin Wohlgemuth, Sasha Cortesi and Aline Schoch. 2014. How cantonal education systems in Switzerland promote gender-typical school-to-work transitions. Swiss Journal of Sociology 40:175–196.

Jonker, Nicole, Hans van Ophem and Joop Hartog. 2006. Dual track or academic route for auditors: does it matter? Applied Economics 38:1019–1035.

Kaiser, Boris, and Thomas Möhr. 2019. Analyse der Lohnunterschiede zwischen Frauen und Männern anhand der Schweizerischen Lohnstrukturerhebung (LSE) 2016. Neuchâtel: Swiss Federal Statistical Office.

Kilbourne, Barbara Stanek, Paula England, George Farkas, Kurt Beron and Dorothea Weir. 1994. Returns to skill, compensating differentials, and gender Bias: Effects of occupational characteristics on the wages of white women and men. American Journal of Sociology 100:689–719.

Korber, Maïlys, and Daniel Oesch. 2019. Vocational versus general education: Employment and earnings over the life course in Switzerland. Advances in Life Course Research 40:1–13.

Kriesi, Irene, and Christian Imdorf. 2019. Gender segregation in education. In Research Handbook of Sociology of Education, ed. Rolf Becker, 193–212. Cheltenham, UK: Edward Elgar Publishing.

Kriesi, Irene, Marlis Buchmann and Stefan Sacchi. 2010. Variation in job opportunities for men and women in the Swiss labor market 1962–1989. Research in Social Stratification and Mobility 28:309–323.

Lavrijsen, Jeroen, and Ides Nicaise. 2017. Returns on vocational education over the life cycle: Between immediate labour market preparation and lifelong employability. International Review of Education 63:257–280.

Leuze, Kathrin, and Susanne Strauß. 2009. Wage inequality between male and female university graduates: The influence of occupational specialization, female-dominated subjects and occupational segregation. Zeitschrift für Soziologie 38:262–281.

Leuze, Kathrin, and Susanne Strauß. 2016. Why do occupations dominated by women pay less? How 'female-typical' work tasks and working-time arrangements affect the gender wage gap among higher education graduates. Work, Employment and Society 30:802–820.

Liebeskind, Uta. 2004. Arbeitsmarktsegregation und Einkommen. Vom Wert "weiblicher" Arbeit. Kölner Zeitschrift für Soziologie und Sozialpsycholgie 56:630–652.

Mincer, Jacob. 1974. Schooling, experience and earnings. New York: Columbia University Press.

Muja, Ardita, Lieselotte Blommaert, Maurice Gesthuizen and Maarten H. J. Wolbers. 2019. The role of different types of skills and signals in youth labor market integration. Empirical Research in Vocational Education and Training 11:6.

Müller, Barbara, and Jürg Schweri. 2015. How specific is apprenticeship training? Evidence from inter-firm and occupational mobility after graduation. Oxford Economic Papers 67:1057–1077.

Müller, Walter, and Yossi Shavit. 1998. The institutional embeddedness of the stratification process. A comparative study of qualifications and occupations in thirteen countries. In From school to work. A comparative study of educational qualifications and occupational destinations, eds. Yossi Shavit and Walter Müller, 1–48. Oxford: Clarendon Press.

Nawakitphaitoon, Kritkorn. 2014. Occupational human capital and wages: The role of skills transferability across occupations. Journal of Labor Research 35:63–87.

Polachek, Solomon William. 1981. Occupational self-selection: A human capital approach to sex differences in occupational structure. Review of Economics and Statistics 63:60–69.

Polavieja, Javier G. 2008. The effect of occupational sex-composition on earnings: Job-specialization, sex-role attitudes and the division of domestic labour in Spain. European Sociological Review 24:199–213.

Polidano, Cain, and Domenico Tabasso. 2014. Making it real: The benefits of workplace learning in upper-secondary vocational education and training courses. Economics of Education Review 42:130–146.

Protsch, Paula, and Heike Solga. 2016. The social stratification of the German VET system. Journal of Education and Work 29:637–661.

Raudenbush, Stephen W., and Anthony S. Bryk. 2002. Hierarchical Linear Models: Applications and Data Analysis Methods (2nd ed.). Thousand Oaks: Sage.

Ridgeway, Cecilia L., and Shelley J. Correll. 2004. Unpacking the gender system. A theoretical perspective on gender beliefs and social relations. Gender & Society 18:510–531.

Sacchi, Stefan. 2014. Lange Messreihen zur Entwicklung des Stellenangebotes der Schweizer Wirtschaft: Kombinierte Presse-Online-Index. SMM Working Paper (1): University of Zürich.

Sacchi, Stefan, Irene Kriesi and Marlis Buchmann. 2016. Occupational mobility chains and the role of job opportunities for upward, lateral and downward mobility in Switzerland. Research in Social Stratification and Mobility 44:10–21.

Smyth, Emer, and Stephanie Steinmetz. 2015. Vocational training and gender segregation across Europe. In Gender Segregation in Vocational Education, eds. Christian Imdorf, Kristinn Hegna and Liza Reisel, 53–81. Bingley: Emerald.

Soskice, David. 1994. Reconciling markets and institutions: The German apprenticeship system. In Training and the private sector: International Comparison, ed. Lisa M. Lynch, 25–60. Chicago: University of Chicago Press.

Stalder, Barbara. 2011. Das intellektuelle Anforderungsniveau berufliher Grundbildungen in der Schweiz. Ratings der Jahre 1999–2005. Basel: Institut für Soziologie der Universität Basel/TREE.

State Secretariat for Education, Research and Innovation. 2006. Verordnung des SBFI über Mindestvorschriften für die Allgemeinbildung in der beruflichen Grundbildung. (412.101.241).

Swiss Federal Statistical Office (BFS). 2003. Handbuch zur Berufsdatenbank. Neuchâtel: Swiss Federal Statistical Office.

Swiss Federal Statistical Office (BFS). 2018. Struktur der Schweizer KMU 2016. Neuchâtel: Swiss Federal Statistical Office.

Tam, Tony. 1997. Sex segregation and occupational gender inequality in the United States: Devaluation or specialized training? American Journal of Sociology 102:1652–1692.

Vogtenhuber, Stefan. 2014. The impact of within country heterogeneity in vocational specificity on initial job matches and job status. Journal of Vocational Behavior 85:374–384.

van de Werfhorst, Herman G. 2002. Fields of study, acquired skills and the wage benefit from a matching job. Acta Sociologica 45:286–303.

Wettstein, Emil, Evi Schmid and Philipp Gonon. 2017. Swiss Vocational and Professional Education and Training (VPET). Forms, System, Stakeholders. Bern: hep Verlag.

Wolbers, Maarten H. J. 2007. Patterns of labour market entry. A comparative perspective on school-to-work transitions in 11 European countries. Acta Sociologica 50:189–210.
Acknowledgements
We would like to thank Christian Ebner, Andreas Haupt, Britta Matthes, two anonymous reviewers and the participants of the RC28 spring meeting in Frankfurt 2019 for helpful comments. This paper was funded by the Swiss National Science Foundation as part of the project entitled "Institutional characteristics of initial vocational education and training in Switzerland: How do they affect young people's early labour market outcomes and transitions to higher education?" (grant number 100017_156204).
Caption Electronic Supplementary Material
About this article
Cite this article
Grønning, M., Kriesi, I. & Sacchi, S. Skill Specificity of Upper-Secondary Training Occupations and the Gender Pay Gap. Köln Z Soziol 72 (Suppl 1), 291–315 (2020). https://doi.org/10.1007/s11577-020-00678-z
Published:

Issue Date:

DOI: https://doi.org/10.1007/s11577-020-00678-z
Keywords
Gender wage disparities

Vocational specificity

General education

Occupational gender segregation

Vocational education and training

Varieties of capitalism

Devaluation theory
Schlüsselwörter
Geschlechtsspezifische Lohnunterschiede

Berufliche Spezifität

Allgemeinbildung

Berufliche Geschlechtersegregation

Berufsbildung

Varieties of Capitalism

Devaluierungstheorie