Zusammenfassung
In jüngerer Zeit mehren sich die Stimmen, die eine grundsätzliche Überarbeitung des Konzepts der Parteiidentifikation und neue Instrumente zu ihrer Messung vorschlagen. Zum einen wird eine bessere sozialpsychologische Fundierung des Konzepts gefordert. Zum anderen wird eine adäquatere Operationalisierung im Kontext von Mehrparteiensystemen verlangt, die auch negative und multiple Parteiidentifikationen erfassen kann. Der Artikel trägt zu dieser Debatte bei und unterbreitet den Vorschlag, Parteiidentifikationen als Muster affektiver Wahrnehmungen von Parteinamen unter Nutzung des semantischen Differentials zu messen. Der Ansatz greift auf bisher in der Diskussion vernachlässigte soziologische Identitätstheorien zurück, die durch Sprache transportierte affektive Bedeutungen in den Mittelpunkt von Identifikationsprozessen stellen. Mit Daten von 352 Wahlberechtigten aus einer Vorwahlstudie im Jahr 2013 werden Typen mit ähnlichen affektiven Wahrnehmungsmustern clusteranalytisch exploriert. Es wird gezeigt, dass sich verschiedene Wahrnehmungstypen bilden, deren Affektstrukturen sowohl positive als auch negative und multiple Parteiidentifikationen widerspiegeln. Im Sinn einer Konstruktvalidierung wird gezeigt, dass die so gewonnenen Wahrnehmungstypen tatsächlich als Parteiidentifikationstypen verstanden werden können. Durch eine Nachwahlbefragung der gleichen Teilnehmer kann zudem bestätigt werden, dass die über affektive Bedeutungen gemessenen PID-Typen in hohem Maß mit der tatsächlichen Wahlentscheidung assoziiert sind.
Abstract
There is an ongoing debate about the conceptual underpinnings of party identification. There are voices calling for a better social-psychological foundation of party identification, while at the same time others require a better operationalization in multi-party contexts including negative and multiple party identifications. The study contributes to this debate and suggests to measure party identification as affective meanings of party names using the semantic differential scale. The approach refers to sociological theories of identity that have been neglected in the debate so far. Using data from an pre election survey in 2013 with 352 participants, clusters of subjects with similar patterns of affective meaning making have been explored and are demonstrated how they reflect positive, negative and multiple party identifications as well. The instrument will be validated and interpreted in a way that the affect clusters reveal to be indeed types of party identification. Using a post-election survey of the same participants it is proofed that these PID types are highly associated with the actual electoral choice.
This is a preview of subscription content, log in to check access.
Access options
Buy single article
Instant access to the full article PDF.
US$ 39.95
Price includes VAT for USA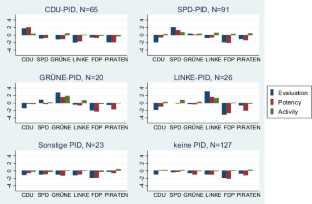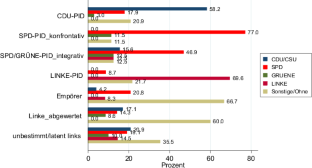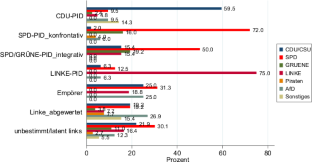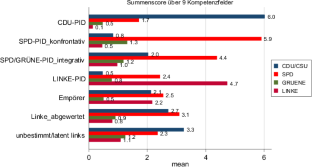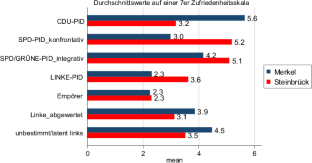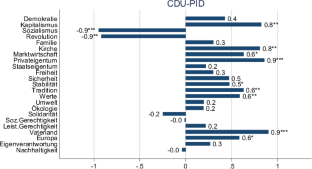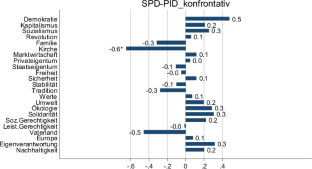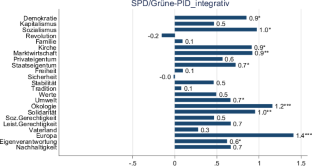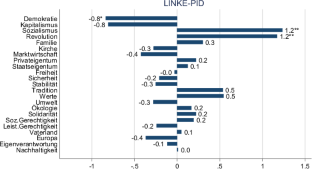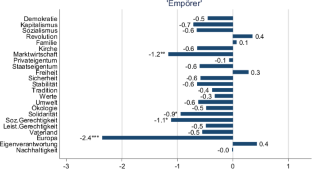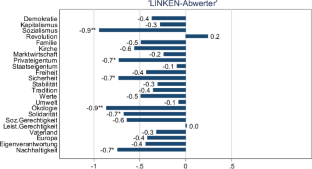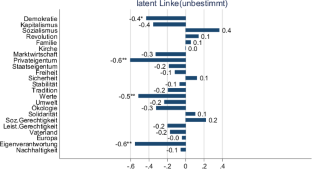 Notes
1.

Die Typologie könnte alternativ auch mit anderen Verfahren wie der Latent Profile Analysis exploriert werden.
Literatur
Abramowitz, Alan I., und Kyle L. Saunders. 2006. Exploring the bases of partisanship in the American electorate: Social identity vs. ideology. Political Research Quarterly 59:175–187.

Abramson, Paul R., und Charles W. Ostrom. 1991. Macropartisanship: An empirical reassessment. American Political Science Review 85:181–192.

Ambrasat, Jens, Christian von Scheve, Gesche Schauenburg, Markus Conrad und Tobias Schröder. 2016. Unpacking the habitus. Meaning-making across lifestyles. Sociological Forum 31 (im Druck).

Ambrasat, Jens, Christian von Scheve, Gesche Schauenburg, Markus Conrad und Tobias Schröder. 2014. Consensus and stratification in the affective meaning of human sociality. Proceedings of the National Academy of Sciences of the USA 111:8001–8006.

Bankert, Alexa, Leonie Huddy und Martin Rosema. 2016. Measuring partisanship as a social identity in multi-party systems.  Political Behavior 38:1–30.

Brekhus, Wayne. 2015. Culture and cognition. Cambridge: Polity Press.

Burden, Barry C., und Casey A. Klofstad. 2005. Affect and cognition in party identification, Political Psychology 26:869–86.

Bieber, Ina E., und Evelyn Bytzek. 2012. Online-Umfragen: Eine geeignete Erhebungsmethode für die Wahlforschung? Methoden – Daten – Analysen 6:185–211.

Campbell, Angus, Philip E. Converse, Warren E. Miller und Donald E. Stokes. 1960. The American voter. Chicago: University of Chicago Press.

Cerulo, Karen A. 1997. Identity construction. New issues new directions. Annual Review of Sociology 23:385–409.

Cerulo, Karen A. Hrsg. 2001. Culture in mind: Toward a sociology of culture and cognition. New York: Routledge.

DiMaggio, Paul. 1997. Culture and cognition. Annual Review of Sociology 23:263–288.

van der Eijk, Cees und Kees Niemoller. 1983. Electoral change in the Netherlands. Amsterdam: CT Press.

Falter, Jürgen W. 1977. Einmal mehr: Läßt sich das Konzept der Parteiidentifikation auf deutsche Verhältnisse übertragen? Theoretische, methodologische und empirische Probleme einer Validierung Des Konstrukts "Parteiidentifikation" für die Bundesrepublik Deutschland. Politische Vierteljahresschrift 18:476–500.

Falter, Jürgen W., Harald Schoen und Claudio Caballero. 2000. Dreißig Jahre danach. Zur Validierung des Konzepts 'Parteiidentifikation' in der Bundesrepublik. In 50 Jahre Empirische Wahlforschung in Deutschland. Entwicklung, Befunde, Perspektiven, Daten, Hrsg. Markus Klein, Wolfgang Jagodzinski, Ekkehard Mochmann und Dieter Ohr, 235–271. Wiesbaden: Westdeutscher Verlag.

Fontaine, Johnny R.J., Klaus R. Scherer, Etienne B. Roesch und Phoebe C. Ellsworth. 2007. The world of emotion is not two-dimensional. Psychological Science 18:1050–1057

Galdi, Silvia, Luciano Arcuri und Bertram Gawronski. 2008. Automatic mental associations predict future choices of undecided Decision makers. Science 321:1100–1102.

Garry, John. 2007. Making 'party identification' more versatile: Operationalising the concept for the multiparty setting. Electoral Studies 26:346–358.

Gawronski, Bertram, und Silvia Galdi. 2011. Using implicit measures to read the minds of undecided voters. In Social perception, cognition, and language in honour of Arcuri, Hrsg. Mara Cadinu, Silvia Galdi und Anne Maass, 203–216. Padova, Italy: CLEUP.

Green, Donald, Palmquist, Bradley und Eric Schickler. 2002. Partisan hearts and minds. Political parties and the social identities of voters. New Haven: Yale University.

Greene, Steven. 1999. Understanding party identification. A social identity approach. Political Psychology 20:393–403.

Greene, Steven. 2002. The social-psychological measurement of partisanship. Political Behavior 24:171–197.

Heise, David R. 2010. Surveying cultures: Discovering shared conceptions and sentiments. Hoboken, NJ: Wiley Interscience.

Initiative D21. 2013. D21 Digital Index. Verfügbar unter: http://www.initiatived21.de/wp-content/uploads/2013/05/digialindex_03.pdf.

Keith, Bruce, David B. Magleby, Candice J. Nelson, Elisabeth Orr, Marc C. Westyle und Raymond E. Wolfinger. 1992. The myth of the independent voter. Berkeley, CA: University of California Press

Kroska, Amy. 2002. Does gender ideology matter? Examining the relationship between gender ideology and self- and partner-meanings. Social Psychology Quarterly 65:248–265.

MacKinnon, Neil J., und David R. Heise. 2010. Self, identity, and social institutions. New York: Palgrave Macmillan.

MacKuen, Michael B., Robert S. Erikson und James A. Stimson. 1989. Macropartisanship. American Political Science Review 83:1125–1142.

Maggiotto, Michael A., und James E. Piereson. 1977. Partisan identification and electoral choice: The hostility hypothesis. American Journal of Political Science 21:745–767.

Marcus, George E., W. Russell Neuman und Michael MacKuen. 2000. Affective intelligence and political judgment. University of Chicago Press.

Markus, Gregory B. 1982. Political attitudes during an election year: A report on the 1980 NES Panel Study. American Political Science Review 76:538–560.

Mayer, Sabrina. 2014. Negative partisanship as outgroup derogation – Effects on political attitudes and voting behaviour. Vortrag und Konferenzpapier, 8th General Conference of the European Consortium for Political Research, University of Glasgow, 6. September 2014.

Mayer, Sabrina. 2015. Die Messung der Parteiidentifikation auf Basis des Ansatzes der sozialen Identität. In Politische Psychologie, Sonderheft Politische Vierteljahresschrift 50, Hrsg. Thorsten Faas und Harald Schoen, 263–286. Baden-Baden: Nomos.

Mayer, Sabrina. 2016. Die Parteiidentifikation. Konzeptualisierung, Operationalisierung und Konstruktvalidierung im Ansatz der sozialen Identität. Wiesbaden: Springer VS.

McGregor, Michael, Nicholas J. Caruana und Laura B. Stephenson. 2015. Negative partisanship in a multi-party system: The case of Canada. Journal of Elections, Public Opinion and Parties 25:300–316.

Medeiros, Mike, und Alain Noël. 2013. The forgotten side of partisanship: Negative party identification in four Anglo-American democracies. Comparative Political Studies 47:1022–1046.

Niemi, Richard G., und Herbert Weisberg. 2006. Controversies in voting behavior. Washington, DC: Congressional Quarterly Press.

Ohr, Dieter, und Markus Quandt. 2011. Parteiidentifikation in Deutschland: Eine empirische Fundierung des Konzeptes auf Basis der Theorie "Sozialer Identität". In Wählen in Deutschland. Politische Vierteljahresschrift, Sonderheft 45, Hrsg. Rüdiger Schmitt-Beck, 179–202. Baden-Baden: Nomos.

Osgood, Charles E. , Suci, George J. und Percy H. Tannenbaum. 1957. The measurement of meaning. Urbana: University of Illinois Press.

Osgood, Charles E., Miron, Murray S. und William H. May. 1975. Cross-cultural universals of affective meaning. Urbana: University of Illinois Press.

Redlawsk, David P. 2004. Motivated reasoning and voter decision making: Affect and evaluation. Paper prepared for the Annual Meeting of the International Society of Political Psychology, July 15–18, 2004, Lund, Sweden.

Schmitt, Herrmann. 2002. Multiple party identifications. Paper prepared for the conference of the Comparative Study of Electoral Systems at the WZB in Berlin, February 21–24, 2002. http://www.mzes.uni-mannheim.de/publications/papers/HS_berlin.pdf.

Schoen, Harald, und Cornelia Weins. 2005. Der sozialpsychologische Ansatz zur Erklärung von Wahlverhalten. In Handbuch Wahlforschung, Hrsg. Jürgen W. Falter und Harald Schoen, 187–242. Wiesbaden: VS-Verlag für Sozialwissenschaften.

Stets, Jan E., und Peter J. Burke. 2000. Identity theory and social identity theory. Social Psychology Quarterly 63:224–237.

Tajfel, Henri. 1978. Social categorization, social identity, and social comparisons. In Differentiation between social groups, Hrsg. Henri Tajfel, 27–60. London: Academic Press.

Tajfel, Henri, und John C. Turner. 1979. An integrative theory of intergroup conflict. In The social psychology of intergroup relations, Hrsg. William G. Austin und Stephen Worchel, 33–47. Monterey, Calif: Brooks/Cole.

Tajfel, Henri, und John C. Turner. 1986. The social identity theory of intergroup behavior. In Psychology of intergroup relations, Hrsg. Stephen Worchel und William G. Austin, 7–24. Chicago, IL: Nelson-Hall.

Turner, John C., und Katherine J. Reynolds. 2010. The story of social identity. In Rediscovering social identity: Key readings, Hrsg. Tom Postmes und Nyla Branscombe, 13–32. New York: Psychology Press, Taylor & Francis..

Turner, John C., Michael A. Hogg, Penelope J. Oakes, Stephen Reicher und Margaret Wetherell. 1987. Rediscovering the social group: A self categorization theory. New York: Blackwell.

Valentine, David C., und John R. van Wingen. 1980. Partisanship, independence, and the partisan identification question. American Politics Quarterly 8:165–186.

Weisberg, Herbert F. 1980. A multidimensional conceptualization of party identification. Political Behavior 2:33–60.

Weisberg, Herbert F. 1999. Political partisanship. In Measures of political attitudes, Hrsg. John P. Robinson, Phillip R. Shaver und Lawrence S. Wrightsman, 681–729. San Diego: Acad. Press.

Weisberg, Herbert F., und Edward B. Hasecke. 1999. What is partisan strength? A social identity theory approach. Paper presented at the annual meeting of the American Political Science Association, Atlanta, GA.

Weisberg, Herbert F., und Steven H Greene. 2003. The political psychology of party identification. In Electoral democracy, Hrsg. Michael B. MacKuen und George Rabinowitz, 83–124. Ann Arbor: University of Michigan Press.

Westen, Drew. 2007. The political brain: The role of emotion in deciding the fate of the nation. New York: Public Affairs.

Zerubavel, Eviatar. 1997. Social mindscapes: An invitation to cognitive sociology. Cambridge, MA: Harvard University Press.
Danksagung
Ich bedanke mich recht herzlich bei Christian von Scheve und dem Arbeitsbereich Soziologie der Emotionen an der FU Berlin für die Finanzierung der Studie und bei Sabrina J. Mayer und Dieter Ohr für wertvolle Kommentare zu einer früheren Version des Manuskripts.
Anhang
Anhang
About this article
Cite this article
Ambrasat, J. Affektive Wahrnehmung von politischen Parteien. Köln Z Soziol 69, 307–330 (2017). https://doi.org/10.1007/s11577-017-0435-4
Schlüsselwörter
Wahlforschung

Parteiidentifikation

Sozialpsychologie

Affektive Bedeutungen

Identität
Keywords
Electoral study

Party identification

Social psychology

Affective meanings

Identity