Zusammenfassung
Dieser Beitrag untersucht die Bedeutungsdimension nationaler Identität in Deutschland zu drei Zeitpunkten. Unter Verwendung gruppenvergleichender konfirmatorischer Faktorenanalysen werden auf Grundlage der ISSP-Module zur nationalen Identität aus den Jahren 1995, 2004 und 2014, indivdueller patriotischer Nationalstolz, völkisch-kulturalistische Haltungen und Chauvinismus als distinkte Dimensionen der Identitäten der Deutschen identifiziert. 1995 korrelieren diese noch deutlich stärker als 2004 und 2014. Explorative latente Klassenanalysen zeigen sowohl Gemeinsamkeiten als auch Unterschiede in den Ausprägungskombinationen, die die Deutschen zu den drei Zeitpunkten auf den drei Dimensionen aufweisen. Wir diskutieren die Implikationen dieser Befunde sowohl für die Konzeptualisierung und Messung nationaler Identitäten als auch für den Wandel des Verhältnisses der Bevölkerung zu Deutschland im Untersuchungszeitraum.
Abstract
In this article we study the content dimension of German national identity at three points in time. We run multigroup confirmatory factor analyses with data from the ISSP modules on national identity to demonstrate that in 1995, 2004, and 2014 three distinct latent dimensions can be identified in the meaning Germans attach to their nation, namely civic pride, ethnoculturalism, and chauvinism. These dimensions correlate substantially higher in 1995 than in 2004 and 2014. Exploratory latent class analyses show both continuity and change in the combination of positions citizens manifest on these dimensions. We discuss the implications of these findings for the conceptualization and measurement of national identities as well as for the development of German citizens' relationship to their nation in the period studied.
This is a preview of subscription content, log in to check access.
Access options
Buy single article
Instant access to the full article PDF.
US$ 39.95
Price includes VAT for USA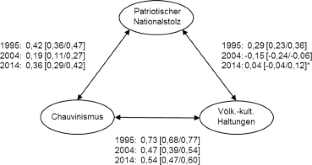 Notes
1.

Wie beispielsweise Herrmann et al. (2009, S. 726) verwenden wir im Folgenden den Ausdruck Chauvinismus, um diese Überlegenheitsgefühle zu bezeichnen.

2.

Offiziell handelt es sich bei den letzten beiden um die ISSP-Module 2003 und 2013. Die deutschen Erhebungen wurden jedoch 2004 bzw. 2014 im Rahmen der Allbus-Befragungen durchgeführt.

3.

In den ISSP-Modulen National Identity II und III wurde nach der Wichtigkeit "deutscher Vorfahren" gefragt, nicht jedoch im ersten Modul. Um die Vergleichbarkeit der Messungen über die Zeitpunkte hinweg zu gewährleisten, wurde dieses Item, das den Abstammungsapekt noch besser erfasst, hier nicht berücksichtigt.

4.

5.

Konventionell zeigen folgende Werte eine hohe Modellgüte an: RMSEA < 0,05; CFI > 0,95; SRMR < 0,05 (Hu und Bentler 1999, S. 27). Die Indizes erfassen unterschiedliche Aspekte der Passung von Modell und Daten. Daher können sie widersprüchliche Schlüsse nahelegen und sollten stets gemeinsam berücksichtigt werden.

6.

7.

8.

Die Interzepts zweier Patriotismus-Indikatoren (p1: "Wie stolz sind Sie auf Deutschland hinsichtlich der Art und Weise, wie die Demokratie funktioniert?"; p2: "Wie stolz sind Sie auf Deutschland hinsichtlich der gerechten und gleichen Behandlung aller gesellschaftlicher Gruppen?") und eines Indikators völkisch-kulturalistischer Haltungen (n3: "Das deutsche Fernsehen sollte deutschen Filmen und Programmen den Vorzug geben.") wurden frei geschätzt.

9.

Die mit den Punktschätzern verbundene Unsicherheit ist in Abb. 1 in Form der 95 %-Konfidenzintervalle angegeben.

10.

Auf Grundlage des Bootstrap-Likelihood-Differenztest stellt selbst das Sieben-Klassen-Modell eine Verbesserung gegenüber dem Modell mit sechs Klassen dar (∆χ² = 26,3, p = 0,016). Da das Informationskriterium hier aber noch größer ist als im Sechs-Klassen-Modell und die Klassenprofile inhaltlich kaum interpretiertbar sind, kann das Sieben-Klassen-Modell nicht als sinnvolle Beschreibung der Daten angesehen werden.

11.

12.

Ich danke den Herausgebern der KZfSS, die mich auf diese weiteren Interpretationsmöglichkeiten aufmerksam gemacht haben.

13.

Dies gilt selbst dann, wenn man in Rechnung stellt, dass einige der Mitglieder von Klasse 1 (Personen mit niedrigen Zustimmungswahrscheinlichkeiten auf allen drei Dimensionen) und Klasse 5 (Personen mit ausschließlich völkisch-kulturalistischen Haltungen) möglicherweise keine starke emotionale Bindung an die Nation aufweisen.
Literatur
Abdelal, Rawi, Yoshiko M. Herrera, Alastair Ian Johnston und Rose McDermott. 2006. Identity as a Variable. Perspectives on Politics 4:695–711.

Adorno, Theodor, Else Frenkel-Brunswick, Daniel J. Levinson und Nevitt R. Sanford. 1950. The Authoritarian Personality. New York: Harper.

Becker, Julia, Ulrich Wagner und Oliver Christ. 2007. Nationalismus und Patriotismus als Ursache von Menschenfeindlichkeit. In Deutsche Zustände, Hrsg. Wilhelm Heitmeyer, 131–149. Frankfurt a. M.: edition suhrkamp.

Becker, Julia, Oliver Christ, Ulrich Wagner und Peter Schmidt. 2009. Deutschland einig Vaterland? Riskante regionale und nationale Identifikationen in Ost- und Westdeutschland. In Deutsche Zustände, Hrsg. Wilhelm Heitmeyer, 113–151. Frankfurt a. M.: edition suhrkamp.

Bierling, Stephan. 2014. Vormacht wider Willen: Deutsche Außenpolitik von der Wiedervereinigung bis zur Gegenwart. München: C.H. Beck.

Blank, Thomas, und Peter Schmidt. 1997. Konstruktiver Patriotismus im vereinigten Deutschland? Ergebnisse einer repräsentativen Studie. In Identität und Verschiedenheit: Zur Sozialpsychologie der Identität in komplexen Gesellschaften, Hrsg. Amélie Mummendey und Bernd Simon, 127–148. Bern: Huber.

Blank, Thomas, und Peter Schmidt. 2003. National identity in a united Germany: Nationalism or patriotism? An empirical test with representative data. Political Psychology 24:289–312.

Brown, Timothy A. 2006. Confirmatory factor analysis for applied research. New York: Guilford Press.

Chen, Fang Fang. 2007. Sensitivity of goodness of fit indexes to lack of measurement invariance. Structural Equation Modeling: A Multidisciplinary Journal 14:464–504.

Cheung, Gordon W., und Roger B. Rensvold. 2002. Evaluating goodness-of-fit indexes for testing measurement invariance. Structural Equation Modeling: A Multidisciplinary Journal 9:233–255.

Citrin, Jack, und David O. Sears. 2009. Balancing national and ethnic identities. In Measuring identity: A guide for social scientists, Hrsg. Rawi Abdelal, Yoshiko M. Herrera, Alastair Iain Johnston und Rose Mcdermott, 145–174. Cambridge: Cambridge University Press.

Citrin, Jack, Beth Reingold und Donald P. Green. 1990. American identity and the politics of ethnic change. Journal of Politics 52:1124–1154.

Cohrs, J. Christopher, Daniela Dimitrova, Tonya Kalchevska, Sandra Kleinke, Iva Tomova, Mariya Vasileva und Barbara Moschner. 2004. Ist patriotischer Nationalstolz wünschenswert? Zeitschrift für Sozialpsychologie 35:201–215.

Davidov, Eldad. 2009. Measurement equivalence of nationalism and constructive patriotism in the ISSP: 34 countries in a comparative perspective. Political Analysis 17:64–82.

Davidov, Eldad. 2011. Nationalism and constructive patriotism: A longitudinal test of comparability in 22 countries with the ISSP. International Journal of Public Opinion Research 23:88–103.

de Figueiredo, Rui J.P., und Zachary Elkins. 2003. Are patriots bigots? An inquiry into the vices of in‐group pride. American Journal of Political Science 47:171–188.

Fuchs, Dieter, Jürgen Gerhards und Edeltraud Roller. 1993. Wir und die anderen. Ethnozentrismus in den zwölf Ländern der europäischen Gemeinschaft. Kölner Zeitschrift für Soziologie und Sozialpsychologie 45:238–253.

Fuhr, Eckhard. 2007. Was ist des Deutschen Vaterland? Aus Politik und Zeitgeschichte 1–2:3–7.

Geiser, Christian. 2011. Datenanalyse mit Mplus. 2. Auflage, Wiesbaden: VS Verlag.

Gigerenzer, Gerd. 2008. Mindless statistics. In Rationality for mortals: How people cope with uncertainty, Hrsg. Gerd Gigerenzer, 152–171. Oxford: Oxford University Press.

Habermas, Jürgen. 1990. Die nachholende Revolution – Kleine politische Schriften VII. Frankfurt: Suhrkamp.

Haftendorn, Helga. 2001. Deutsche Außenpolitik zwischen Selbstbeschränkung und Selbstbehauptung: 1945-2000. Stuttgart: Deutsche Verlags-Anstalt.

Hellmann, Gunther, Christian Weber, Frank Sauer und Sonja Schirmbeck. 2007. "Selbstbewusst" und "stolz". Das außenpolitische Vokabular der Berliner Republik als Fährte einer Neuorientierung. Politische Vierteljahresschrift 48:650–679.

Herrmann, Richard K., Pierangelo Isernia und Paolo Segatti. 2009. Attachment to the nation and international relations: Dimensions of identity and their relationship to war and peace. Political Psychology 30:721–754.

Heyder, Aribert, und Peter Schmidt. 2002. Deutscher Stolz. Patriotismus wäre besser. In Deutsche Zustände, Hrsg. Wilhelm Heitmeyer, 71–82. Frankfurt a. M.: edition suhrkamp.

Hogg, Michael A., und Joanne R. Smith. 2007. Attitudes in social context: A social identity perspective. European Review of Social Psychology 18:89–131.

Hu, Li-tze, und Peter M. Bentler. 1999. Cutoff criteria for fit indexes in covariance structure analysis: Conventional criteria versus new alternatives. Structural Equation Modeling: A Multidisciplinary Journal 6:1–55.

Kosterman, Rick, und Seymour Feshbach. 1989. Toward a measure of patriotic and nationalistic attitudes. Political Psychology 10:257–274.

Kronenberg, Volker. 2009. "Verfassungspatriotismus" im vereinten Deutschland. Aus Politik und Zeitgeschichte 28:41–46.

Kronenberg, Volker. 2014. Die zwei Gesichter der Vaterlandsliebe. The European. http://www.theeuropean.de/volker-kronenberg/8877-wenn-patriotismus-zu-nationalismus-wird (Zugegriffen: 02.02.2016).

McCutcheon, Allan L. 1987. Latent class analysis. Newbury Park: Sage.

Mummendey, Amelie, Andreas Klink und Rupert Brown. 2001. Nationalism and patriotism: National identification and out‐group rejection. British Journal of Social Psychology 40:159–172.

Muthén, Linda K., und Bengt O. Muthén. 1998–2012. Mplus User`s Guide. Seventh Edition. Los Angeles: Muthén & Muthén.

Nylund, Karen L., Tihomir Asparouhov und Bengt O. Muthén. 2007. Deciding on the number of classes in latent class analysis and growth mixture modeling: A Monte Carlo simulation study. Structural Equation Modeling: A Multidisciplinary Journal 14:535–569.

Schatz, Robert T., Ervin Staub und Howard Lavine. 1999. On the varieties of national attachment: Blind versus constructive patriotism. Political Psychology 20:151–174.

Schröder, Gerhard. 1998. Regierungserklärung. Plenarprotokoll 14/3 vom 10.11.1998.

Smith, Tom W, und Seokho Kim. 2006. National pride in comparative perspective: 1995/96 and 2003/04. International Journal of Public Opinion Research 18:127–136.

Steenkamp, Jan‐Benedict E. M., und Hans Baumgartner. 1998. Assessing measurement invariance in cross‐national consumer research. Journal of Consumer Research 25:78–107.

Sternberger, Dolf. 1990. Verfassungspatriotismus. Frankfurt a. M.: Insel Verlag.

Tajfel, Henri. 1981. Human groups and social categories. Cambridge: Cambridge University Press.

Theiss-Morse, Elizabeth. 2009. Who counts as an American? The boundaries of national identity. Cambridge: Cambridge University Press.

Viroli, Maurizio. 1995. For love of country: An essay on patriotism and nationalism. Oxford: Clarendon Press.

Wagner, Ulrich, Julia C. Becker, Oliver Christ, Thomas F. Pettigrew und Peter Schmidt. 2012. A longitudinal test of the relation between German nationalism, patriotism, and outgroup derogation. European Sociological Review 28:319–332.

Westle, Bettina. 1999. Kollektive Identität im vereinten Deutschland. Nation und Demokratie in der Wahrnehmung der Deutschen. Opladen: Leske und Budrich.

Westle, Bettina. 2013. Kollektive Identität in Deutschland: Entwicklungen und Zwischenbilanz. In Zivile Bürgergesellschaft und Demokratie: Aktuelle Ergebnisse der empirischen Politikforschung, Hrsg. Silke I.Kail und Isabell S. Thaidigsmann, 273–298. Wiesbaden: VS Verlag für Sozialwissenschaften.

Wright, Matthew. 2011. Diversity and the imagined community: Immigrant diversity and conceptions of national identity. Political Psychology 32:837–862.
About this article
Cite this article
Mader, M. Stabilität und Wandel der nationalen Identität in der deutschen Bevölkerung. Köln Z Soziol 68, 435–456 (2016). https://doi.org/10.1007/s11577-016-0370-9
Schlüsselwörter
Deutschland

Nationale Identität

Konfirmatorische Faktorenanalyse

Latente Klassenanalyse
Keywords
Germany

National identity

Confirmatory factor analysis

Latent class analysis