This is a preview of subscription content, log in to check access.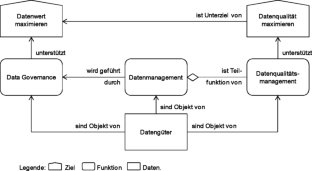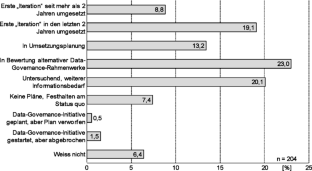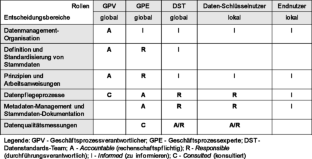 Notes
1.

Aufgrund der Verbreitung in der Praxis wird auf eine Übersetzung dieser Begriffe ins Deutsche verzichtet und im Folgenden beispielsweise "Daten-Owner" statt "Dateneigner" verwendet.

2.

RACI ist ein Akronym aus den Anfangsbuchstaben der englischen Kompetenzcodes Responsible, Accountable, Consulted und Informed.

3.

Eine detaillierte Fallbeschreibung liefern Weber und Ofner (2008).
Literatur
AFNOR (2009) General principles for an environmental communication on mass market products. BP X30-323, AFNOR Groupe

Atkinson K, McGaughey R (2006) Accounting for data: a shortcoming in accounting for intangible assets. Academy of Accounting and Financial Studies Journal 10(2):85–95

Bettschen P (2008) Master data challenges at Ciba. In: 8. CC CDQ workshop, Institut für Wirtschaftsinformatik, Universität St. Gallen

DAMA (2009) The DAMA guide to the data management body of knowledge. Technics publications, Bradley Beach, NJ

Even A, Shankaranarayanan G (2007) Utility-driven assessment of data quality. ACM SIGMIS Database 38(2):75–93

Goodhue DL, Kirsch LJ, Quillard JA, Wybo MD (1992) Strategic data planning: lessons from the field. MIS Quarterly 16(1):267–274

Horne NW (1995) Information as an asset – the board agenda. In: Computer Audit Update 1995(9):5–11

IBM (2007) The IBM data governance council maturity model: building a roadmap for effective data governance. IBM Corporation

Initiate (2010) Data governance survey report http://www.initiate.com/Documents/Initiate-Data-Governance-Survey-Report.pdf. Abruf am 2010-10-25

ISO/IEC (2008) ISO/IEC 38500: corporate governance of information technology. ISO (the International organization for Standardization) and IEC (the International Electrotechnical Commission)

Khatri V, Brown CV (2010) Designing data governance. Communications of the ACM 53(1):148–152

Krüger W (1994) Organisation der Unternehmung. Kohlhammer, Stuttgart

Loshin D (2008) Master data management. Kaufmann, Burlington

Pierce E, Dismute WS, Yonke CL (2008) The state of information and data governance – understanding how organizations govern their information and data assets. IAIDQ and UALR-IQ

Schulte-Zurhausen M (2005) Organisation, 4 Aufl. Vahlen, München

Wang RY (1998) A product perspective on total data quality management. Communications of the ACM 41(2):58–65

Weber K, Ofner M (2008) Case study Ciba – organizing master data management. BE HSG/CC CDQ/11, Institut für Wirtschaftsinformatik, Universität St. Gallen

Weber K, Otto B, Österle H (2009) One size does not fit all – a contingency approach to data governance. ACM Journal of Data and Information Quality 1:1
About this article
Cite this article
Otto, B. Data Governance. WIRTSCHAFTSINFORMATIK 53, 235–238 (2011). https://doi.org/10.1007/s11576-011-0275-1
Received:

Accepted:

Published:

Issue Date: