Abstract
This paper uses an incident in which a diorama was set up at the entrance to the Final Assembly section of the BMW MINI plant near Oxford to anlayse the impact of gender and ethnic identities on cross-cultural management, through the anthropological concept of the 'native category'. Its aims are to explore the ways in which the diorama symbolically exposed tensions in the workplace relating to ethnicity and gender; to consider the role of a German dominance effect on the workforce; and to examine the implications of these for cross-cultural management.

The data was gathered through participant-observation on the assembly line and managers' offices, and through both unstructured and semi-structured interviews with managers and workers, during two fieldwork periods, the first in 2003 and the second involving intermittent visits from 2003–2006.

The paper explores the ways in which the diorama reflected and contributed to unspoken tensions within the workplace relating to ethnicity and gender, and assesses the role of the German dominance effect on the workforce. It investigates the impact of tacit discourses on organisations, and considers ways in which cross-cultural management activities can be successfully carried out in MNCs.

The management of gender and ethnicity within BMW were affected by the 'native categories' of British and German managers and workers; furthermore, taking a native categories approach to cross-cultural management reveals areas of friction, and sheds light on normally-overlooked problems in merged organisations.
Access options
Buy single article
Instant access to the full article PDF.
USD 39.95
Price excludes VAT (USA)
Tax calculation will be finalised during checkout.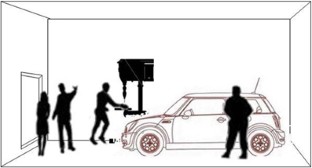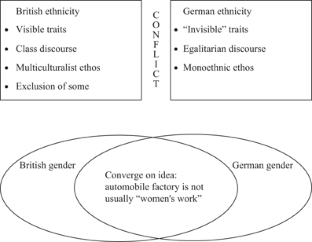 Notes
The description in my fieldnotes differs slightly from both my final description in the report above, and a contemporary photograph shown in the staff newsletter, in which none of the mannequins are wearing a PAM uniform (which consisted of a distinctive green-orange-and-black jacket worn over the shift uniform). The discrepancy may be explained by changes being made to the display between the one event and the other, or due to myself, significantly, misremembering the mannequin 'showing' the car as carrying more authority than it actually did. In reconstructing the diorama for Fig. 1, I have relied primarily on the photograph and report.
References
Barley, S. R. (1983). Semiotics and the study of organizational cultures.Administrative Science Quarterly, 28(3), 393–413.

Brannen, M. Y. (2009). Culture in context: New theorizing for today's complex cultural organizations. In Nakata, C. (Ed.)Beyond hofstede: Culture frameworks for global marketing and management (pp. 81–100). New York: Palgrave MacMillan.

Briggs, C. L. (1986).Learning how to ask: A sociolinguistic appraisal of the role of the interview in social science research. Cambridge: Cambridge University Press.

Buckley, P. J., & Chapman, M. (1997). The use of native categories in management research.British Journal of Management, 8(4), 283–300.

Chang, J. (1991).Wild swans: Three daughters of China. London: Simon and Schuster.

Chapman, M. (1997). Preface: Social anthropology, business studies and cultural issues.International Studies of Management and Organization, 26(4), 3–29.

Davison, E. D., & Punnett, B. J. (1995). International assignments: Is there a role for gender and race in decisions?International Journal of Human Resource Management, 6(2), 412–441.

Durkheim, E., & Mauss, M. (1967 [1903])Primitive classification. Chicago: University of Chicago Press.

Ebster-Grosz, D., & Pugh, D. (1996).Anglo-German business collaboration: Pitfalls and potentials. London: MacMillan Press.

Ferner, A., & Quintanilla, J. (1998). Multinationals, national identity, and the management of HRM: 'Anglo-Saxonisation' and its limits.International Journal of Human Resource Management, 9, 710–731.

Fox, K. (2005).Watching the English: The hidden rules of social behaviour. London: Hodder and Stougton.

Globokar, T. (1997). Eastern Europe meets West: An empirical study on French management in a Slovenian plant. In Sackmann, S. (Ed.),Cultural complexitiy in organizations. Inherent contrasts and contradictions (pp. 72–86). London: Sage.

Gluckman, M. (1958).Analysis of a social situation in modern Zululand. Manchester: Manchester University Press.

Gluckman, M. (Ed.). (1964).Closed systems and open minds: The limits of naivety in anthropology. Chicago: Aldine Publishing Co.

Harris, S. (2000). Reconciling positive and interpretative international management research: A native category approach.International Business Review, 9(6), 755–770.

Hebert, L., Very, P., & Beamish, P. (2005). Expatriation as a bridge over troubled water: A knowledge-based perspective applied to cross-border acquisitions.Organization Studies, 26(10), 1455–1476.

Hertz, R. (1973 [1909]) The pre-eminence of the right hand: A study in religious polarity. In Needham, R. (Ed.),Right and left: Essays in dual symbolic classification (pp. 3–31). Chicago: University of Chicago Press.

Hickson, D. J., & Pugh, D. S. (1997).Management worldwide: The impact of societal culture on organizations around the globe. London: Penguin.

Hodson, R. (1998). Organizational ethnographies: An underutilized resource in the sociology of work.Social Forces, 76(4), 173–208.

Jick, T. D. (1979). Mixing qualitative and quantitative methods: Triangulation in action.Administrative Science Quarterly, 24(4), 602–611.

Koopmans, R., & Statham, P. (1999). Challenging the liberal nation-state? Postnationalism, multiculturalism, and the collective claims making of migrants and ethnic minorities in Britain and Germany.The American Journal of Sociology, 105(3), 652–696.

Levi-Strauss, C. (1962).Le totemisme aujourd'hui. Paris: Presses Universitaires de France.

Levi-Strauss, C. (1963). The bear and the barber.Journal of the Royal Anthropological Institute, 93(1), 1–11.

van Maanen, J. (1979). The fact of fiction in organizational ethnography.Administrative Science Quarterly, 24(4), 539–550.

Manning, P. K. (1979). Metaphors of the field: Varieties of organizational discourse.Administrative Science Quarterly, 24(4), 660–671.

McSweeney, B. (2009). Incoherent culture.European Journal of Cross-Cultural Competence and Management, 1(1), 22–25.

Mintzberg, H. (1979). An emerging strategy of 'direct' research.Administrative Science Quarterly, 24(4), 582–589.

Morgan, G. (1998).Images of organization. London: Sage.

Morosini, P., Shane, S., & Singh, H. (1998). National cultural distance and cross-border acquisition performance.Journal of International Business Studies, 29(1), 137–158.

Neate, P. (2003).Where you're at: Notes from the frontline of a hip-hop planet. London: Bloomsbury.

Needham, R. (1967).Introduction to E. Durkheim and M. Mauss, Primitive Classification. Chicago: University of Chicago Press.

Needham, R. (1973). Introduction. In Needham, R. (Ed.),Right and left: Essays in dual symbolic classification (pp. i–xxxvii). Chicago: University of Chicago Press.

Newbigging, C., Shatford, S., & Williams, T. (1998).The changing faces of cowley works. Witney: Robert Boyd Publications.

Piekkari, R., & Welch, C. (2011). Pluralism in international business and international management research: Making the case. In R. Piekkari & C. Welch (Eds.),Rethinking the case study in international business and management research. London: Elsevier.

Piekkari, R., Welch, C., & Paavilainen, E. (2009). The case study as disciplinary convention: Evidence from international business journals.Organisational Research Methods, 12(3), 567–589.

Ramsden, J. (2006).Don't mention the war: The British and the Germans since 1890. London: Abacus.

Riad, S. (2005). The power of 'organizational culture' as a discursive formation in merger integration.Organization Studies, 26(10), 1529–1554.

Rohlen, T. P. (1979).For harmony and strength: Japanese white-collar organization in anthropological perspective. Berkeley: University of California Press.

Sackmann, S. A., & Phillips, M. E. (2004). Contextual influences on culture research: Shifting assumptions for new workplace realities.International Journal of Cross-Cultural Management, 4(3), 370–390.

Sanday, P. R. (1979). The ethnographic paradigm(s).Administrative Science Quarterly, 24(4), 527–538.

Sanyal, R., Napier, N. K., & Smith, B. (2007). The parting gift.Thunderbird International Business Review, 49(5), 619–631.

Scarbrough, H., & Terry, M. (1996).Industrial relations and the reorganization of production in the UK motor vehicle industry: A study of the Rover Group. Warwick Papers in Industrial Relations No. 58. Coventry: University of Warwick.

Sharpe, D. (2006). Shop floor practices under changing forms of managerial control: A comparative ethnographic study of micro-politics, control and resistance within a Japanese multinational. Journal of International Management, 12(3), 318–339.

Smith, C., & Meiksins, P. (1995). System, society and dominance effects in cross-national organizational analysis.Work, Employment and Society, 9(2), 241–267.

Sperber, D. (1974).Rethinking symbolism. Cambridge: Cambridge University Press.

Strecker, I. (1988).The social practice of symbolization: An anthropological analysis. London: Athlone Press.

Ward, S., Stuart, O., & Swingedouw, E. (1993). Cowley in the Oxford economy. In T. Hayter & D. Harvey (Eds.),The factory and the city: The story of the cowley automobile workers in Oxford (pp. 67–92). London: Mansell.

Waters, C. (1997). 'Dark strangers' in our midst: Discourses of race and nation in Britain 1947–1963.The Journal of British Studies, 36(2), 207–238.

Westwood, S. (1984).All day, every day: Factory and the family in the making of women's lives. London: Pluto Press.

Whisler, T. R. (1999).The British motor industry, 1945–94: A study in industrial decline. Oxford: Oxford University Press.

Yee, C. (2003 [1943]).The silent traveller in Oxford. London: Faber and Faber.
About this article
Cite this article
Moore, F. The Diorama. Manag Int Rev 52, 619–642 (2012). https://doi.org/10.1007/s11575-011-0119-7
Received:

Revised:

Accepted:

Published:

Issue Date:

DOI: https://doi.org/10.1007/s11575-011-0119-7
Keywords
Ethnicity

Gender

Dominance effect

Native categories

Micropolitics

Manager-worker relations