Abstract
The effect of live transmissions of football matches on spectator demand in European football has been extensively studied over the years, although with little focus on the smaller leagues. By deploying robust panel data regression models on Danish first tier (Superligaen) data from 2010/11 to 2015/16, this paper contribute to filling this gap. We find that matches clashing with English Premier League (EPL) broadcasts do not suffer in attendance and that weather is an important driver of demand.
Access options
Buy single article
Instant access to the full article PDF.
US$ 39.95
Tax calculation will be finalised during checkout.
Subscribe to journal
Immediate online access to all issues from 2019. Subscription will auto renew annually.
US$ 79
Tax calculation will be finalised during checkout.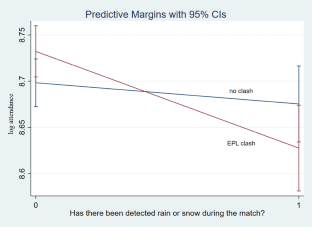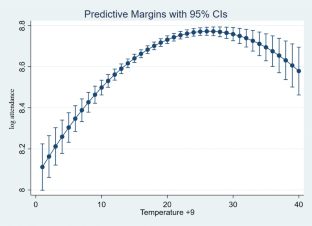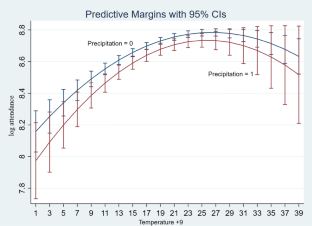 Notes
1.

The Big Five leagues include England, Germany, France, Italy and Spain.

2.

The number of studies on match day attendance is significant. While the literature review in this paper focuses on the studies that are most relevant to analyzing the problem presented, the operationalization of our model variables in Sect. 3 draws on other parts of the body of literature on spectator demand as inspiration for the variables chosen.

3.

Blackouts refer to matches not being broadcast.

4.

We use this period, as very few matches before 2010/11 clashed with Premier League broadcasts.

5.

In 2015/16 Tottenham claimed its first top 3 placing since the 1989/90 season. Furthermore, the Danish footballer Christian Eriksen (who also had a leading role in the national team) had a dominant role in the team.

6.

The lowest temperature in the dataset is − 8. To prevent negative values when squaring our variable a constant of '9' has been added to its values.

7.

57% of all matches from 2004/05 to 2015/16 were played on Sundays.

8.

We also include Sønderjyske versus Esbjerg, which are located further apart, in Derby. This is because games between Sønderjyske and Esbjerg are characterised as derbies among fans and in the press (Tipsbladet 2017).

9.

Noll argues that per capita income also reflects other societal differences between cities leading to different conclusions across studies.

10.

When we have repeated observations on each unit (the home teams), we can elaborate on the regression equation by including unit-specific dummy variables Di. The fixed effects (within) estimator takes into account the measured time-varying independent variables that we have included in our model (xit) but also accounts for both the time-invariant independent variables (xi) that cannot be included in our model and the unmeasured time-invariant variables.

11.

12.

Note that the graphs shows temperature plus 9°.

13.

The sign is negative because the best position is assigned with '1', while the bottom position is assigned with '12'.

14.

Distance is also non-significant in the log–log models, however, with p-values close to 0, 10.
References
Allan S (2004) Satellite television and football attendance: the not so super effect. Appl Econ Lett 11(2):123–125. https://doi.org/10.1080/1350485042000200231

Allan G, Roy G (2008) Does television crowd out spectators? New evidence from the Scottish Premier League. J Sports Econ 9(6):592–605. https://doi.org/10.1177/1527002508321458

Baimbridge M, Cameron S, Dawson P (1996) Satellite television and the demand for football: a whole new ball game? Scott J Polit Econ 43(3):317–333. https://doi.org/10.1111/j.1467-9485.1996.tb00848.x

Bech M (2009) Da lørdagen pludselig fik en lyd. https://politiken.dk/sport/fodbold/art4828372/Da-lørdagen-pludselig-fik-en-lyd. Accessed 24 April 2018

Beck N (2008) Time-Series Cross-Section Methods. In: Box-Steffensmeier JM, Brady HE, Collier D (eds) The Oxford handbook of political methodology. Oxford University Press, Oxford, pp 475–493

Borland J, Macdonald R (2003) Demand for sport. Oxf Rev of Economi Policy 19(4): 478–502. http://oxrep.oxfordjournals.org/content/by/year. Accessed 15 May 2018

Budzinski O, Satzer J (2011) Sports business and multisided markets: towards a new analytical framework? Sport, Bus Manag Int J 1(2):124–137. https://doi.org/10.1108/20426781111146736

Buraimo B (2008) Stadium attendance and television audience demand in English League Football. Manag Decis Econ 29:513–523. https://doi.org/10.1002/mde.1421

Buraimo B, Simmons R (2008) Do sports fans really value uncertainty of outcome? Evidence from the English Premier League. Int J Sport Finance 3:146–155

Buraimo B, Simmons R (2009) A tale of two audiences: spectators, television viewers and outcome uncertainty in Spanish football. J Econ Bus 61:326–338. https://doi.org/10.1016/j.jeconbus.2008.10.002

Buraimo B, Forrest D, Simmons R (2009) Insights for clubs from modelling attendance in football. J Oper Res Soc 60:147–155. https://doi.org/10.1057/palgrave.jors.2602549

Cox A (2012) Live broadcasting, gate revenue, and football club performance: some evidence. Int J Econ Bus 19(1):75–98

Cox A (2015) Spectator demand, uncertainty of results, and public interest: evidence from the English Premier League. J Sports Econ. https://doi.org/10.1177/1527002515619655

Feddersen A, Maennig W, Borcherding M (2006) The novelty effect of new soccer stadia: the case of Germany. Int J Sport Finance 1:174–188

Feehan P (2006) Attendance at sports events. In: Andreff W, Szymanski S (eds) Handbook on the economics of sport. Edward Elgar Publishing Limited, Cheltenham, pp 90–99

Forrest D, Simmons R (2006) New issues in attendance demand. The case of the English Football League. J Sports Econ 7(3):247–266. https://doi.org/10.1177/1527002504273392

Forrest D, Simmons R, Szymanski S (2004) Broadcasting, attendance and the inefficiency of cartels. Rev Ind Organ 24:243–265. https://doi.org/10.1023/B:REIO.0000038274.05704.99

Forrest D, Simmons R, Buraimo B (2005) Outcome uncertainty and the couch potato audience. Scott J Polit Econ 52(4):641–661

García J, Rodríguez P (2002) The determinants of football match attendance revisited—empirical evidence from the Spanish Football League. J Polit Econ 3(1):18–38. https://doi.org/10.1177/152700250200300103

García J, Rodríguez P (2009) Sports attendance: a survey of the Literature 1973-2007. Rivista Di Diritto Ed Economia Dello Sport V(2):112–151

Hall S, Szymanski S, Zimbalist AS (2002) Testing causality between team performance and payroll. J Sports Econ 3(2):149–168

Hausman JA (1978) Specification tests in econometrics. Econometrica 46(6):1251–1271. https://doi.org/10.2307/1913827

Hogan V, Massey P, Massey S (2017) Analysing match attendance in the European Rugby Cup: does uncertainty of outcome matter in a multinational tournament? Eur Sport Manag Q 17(3):312–330. https://doi.org/10.1080/16184742.2016.1276207

Iho A, Heikkilä J (2010) Impact of advance ticket sales on attendance in the finnish football league. J Sports Econ 11(2):214–226. https://doi.org/10.1177/1527002509346819

Jespersen ND, Pedersen LB (2018) Rejecting the uncertainty of outcome hypothesis on attendance demand in all four major European Football Leagues. Forum Idræt 33(1):110–116. https://doi.org/10.7146/ffi.v33i1.109683

Késenne S (2007) The economic theory of professional team sports: an analytical treatment. Edward Elgar Publishing, Cheltenham

Kringstad M, Solberg HA, Jakobsen TG (2018) Does live broadcasting reduce stadium attendance? The case of Norwegian football. Sport Bus Manag Int J 8(1):67–81. https://doi.org/10.1108/SBM-11-2016-0071

Madalozzo R, Villar RB (2009) Brazilian football: what brings fans to the game? J Sports Econ 10(6):639–650. https://doi.org/10.1177/1527002509335572

Mehmetoglu M, Jakobsen TG (2017) Applied statistics using stata: a guide for the social sciences. Sage Publications, Los Angeles

Noll RG (1974). Attendance and price setting. In: Noll RG (ed) Government and the sports business. Brookings Institution, Washington, DC, pp 115–157

Pawlowski T, Nalbantis G (2015) Competition format, championship uncertainty and stadium attendance in European football—a small league perspective. Appl Econ 47(38):4128–4139. https://doi.org/10.1080/00036846.2015.1023949

Peel D, Thomas D (1988) Outcome uncertainty and the demand for football: an analysis of match attendances in the English Football League. Scott J Polit Econ 35(3):242–249

Peel D, Thomas D (1992) The demand for football: some evidence on outcome uncertainty. Empir Econ 17:323–331. https://doi.org/10.1007/BF01206291

Price DI, Sen KC (2003) The demand for game day attendance in college football: an analysis of the 1997 Division 1-A season. Manag Decis Econ 24(1):35–46. https://doi.org/10.1002/mde.1100

Rottenberg S (1956) The baseball players' labor market. J Polit Econ 64(3):242–258. https://doi.org/10.2307/1061172

Solberg HA, Mehus I (2014) The challenge of attracting football fans to Stadia? Int J Sport Finance 9:3–19

Storm RK, Solberg HA (2018) European Club Capitalism and FIFA Redistribution models: an analysis of development patterns in globalised football. Sport Soc. https://doi.org/10.1080/17430437.2018.1424136

Szymanski S, Kuypers T (2000) Winners and losers: the business strategy of football. Penquin Books, London

Tipsbladet (2017) Tipsbladet.dk varmer op til derby-runden i Superligaen med en gennemgang af alle rivalopgørene. https://www.tipsbladet.dk/nyhed/superliga/derby-runde-her-er-superligaens-rivaliseringer. Accessed 2 May 2018
Additional information
Publisher's Note
Springer Nature remains neutral with regard to jurisdictional claims in published maps and institutional affiliations.
Appendix
Appendix
See Table 4
.
About this article
Cite this article
Nielsen, C.G., Storm, R.K. & Jakobsen, T.G. The impact of English Premier League broadcasts on Danish spectator demand: a small league perspective. J Bus Econ 89, 633–653 (2019). https://doi.org/10.1007/s11573-019-00932-7
Keywords
Spectator demand

Professional soccer

Europe
JEL Classification