Abstract
As higher education policies are often associated with intense public spending, the evaluation and performance measurement of respective initiatives becomes increasingly crucial. An extensive and fruitful strand of literature has dealt with the assessment of university performance, yet mainly focused on point-in-time rather than period-of-time examinations. This study investigates the effects of Germany's first Excellence Initiative, a political measure aimed at building up world-class universities to be able to compete in the globalizing research world. Relying on both qualitative and quantitative measures, taking into account a 15-year period from 1998 to 2012, we analyze the selection process and how and whether the Excellence Initiative fulfilled its ambitious goals. Our results suggest that not the political initiative per se, i.e. the treatment, but the announcement of the treatment triggered diverging performance paths within the German higher education system, thus positively contributed to augmented research performance of the promoted universities. Based on these findings, we provide policy recommendations and avenues for future research.
This is a preview of subscription content, log in to check access.
Access options
Buy single article
Instant access to the full article PDF.
US$ 39.95
Price includes VAT for USA
Subscribe to journal
Immediate online access to all issues from 2019. Subscription will auto renew annually.
US$ 99
This is the net price. Taxes to be calculated in checkout.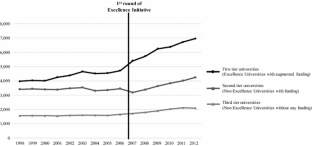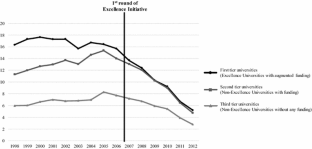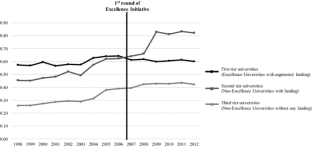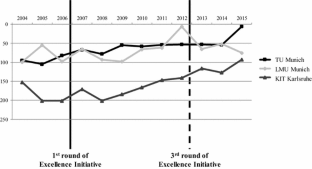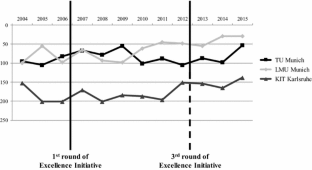 Notes
1.

We are grateful to an anonymous referee highlighting this aspect. In general, the public universities are under the authority of the federal state governments, and a direct intervention from the federal government is prohibited by law; the credo being 'education is the responsibility of the states'.

2.

Assuming costs of 80,000€ for a full time research fellow, the multiplication of the 1262 full-time equivalents for the post-treatment period reflects the additional budget received by the Excellence Initiative.

3.

The number of citations has declined in the post-treatment period for both groups, while the number of publications has been increased. This effect may be caused by an increased supply by publications worldwide while the number of citations within a paper still remains the same.

4.

The point that 'younger' publications had less time to be cited than 'older' publications is fact, yet applies to all universities in the same manner.

5.

From 2004 to 2009, world university rankings were published annually as Times Higher Education–QS World University Rankings. Since 2010, QS and Times Higher Education publish rankings separately, known as the QS World University Rankings (see Fig. 5) and the THE World University Rankings (see Fig. 6) respectively.

6.

Both the QS World University Rankings and the THE World University Rankings do not take public funding into account. University rankings can thus not be directly influenced by increased government spending, i.e. public funding is no performance indicator.

7.

Due to data availability, we were not able to consider the entire application process: both the German Research Foundation (DFG, Deutsche Forschungsgemeinschaft) as well as the Council of Science and Humanities (WR, Wissenschaftsrat) do not provide any information about non-successful applications for the Excellence Initiative to avoid a damage in reputation for the non-promoted universities.
References
Arai M, Thoursie PS (2009) Renouncing personal names: an empirical examination of surname change and earnings. J Labor Econ 27(1):127–147

Ashenfelter O (1978) Estimating the effect of training programs on earnings. Rev Econ Stat 60(1):47–57

Astin AW (2012) Assessment for excellence: the philosophy and practice of assessment and evaluation in higher education. Rowman & Littlefield Publishers, Plymouth

Audretsch DB, Lehmann EE (2005) Does the knowledge spillover theory of entrepreneurship hold for regions? Res Policy 34(8):1191–1202

Audretsch DB, Lehmann EE (2015) The seven secrets of Germany: economic resilience in an era of global turbulence. Oxford University Press, New York

Audretsch DB, Lehmann EE, Warning S (2004) University spillovers: does the kind of science matter? Ind Innov 11(3):193–206

Audretsch DB, Lehmann EE, Warning S (2005) University spillovers and new firm location. Res Policy 34(7):1113–1122

Audretsch DB, Lehmann EE, Paleari S (2015) Academic policy and entrepreneurship: a European perspective. J Technol Transf 40(3):363–368

Autio E, Rannikko H (2016) Retaining winners: can policy boost high-growth entrepreneurship? Res Policy 45(1):42–55

Autor DH (2003) Outsourcing at will: the contribution of unjust dismissal doctrine to the growth of employment outsourcing. J Labor Econ 21:1–42

Autor DH, Kerr WR, Kugler AD (2007) Does employment protection reduce productivity? Evidence from US states. Econ J 117(521):189–217

Backes-Gellner U, Pull K (2013) Tournament compensation systems, employee heterogeneity, and firm performance. Hum Resour Manage 52(3):375–398

Bertrand M, Duflo E, Mullainathan S (2004) How much should we trust differences-in-differences estimates? Q J Econ 119(1):249–275

Breznitz SM, Feldman MP (2012) The engaged university. J Technol Transf 37(2):139–157

Bruckmeier K, Fischer GB, Wigger BU (2017) Status effects of the German excellence initiative. Int J Econ Finance 9(3):177

Carree M, Della Malva A, Santarelli E (2014) The contribution of universities to growth: empirical evidence for Italy. J Technol Transf 39(3):393–414

Cremonini L, Westerheijden DF, Benneworth P, Dauncey H (2014) In the shadow of celebrity? World-class university policies and public value in higher education. High Educ Policy 27(3):341–361

Cunningham JA, Menter M, Young C (2017) A review of qualitative case methods trends and themes used in technology transfer research. J Technol Transf 42(4):923–956

DFG (2013) Excellence initiative at a glance: German Research Foundation

Edgar F, Geare A (2013) Factors influencing university research performance. Stud High Educ 38(5):774–792

F&L (2016) Petition gegen Exzellenzinitiative. Forschung & Lehre 6(16):472

Fabel O, Hein M, Hofmeister R (2008) Research productivity in business economics: an investigation of Austrian, German and Swiss universities. German Econ Rev 9(4):506–531

Frank RH, Cook PJ (1996) The winner-take-all society: why the few at the top get so much more than the rest of us. Penguin Books, New York

Gawellek B, Sunder M (2016) The German excellence initiative and efficiency change among universities, 2001–2011. Working Paper, No. 142, Universität Leipzig, Faculty of Economics and Management Science

Gürtler O, Kräkel M (2010) Optimal tournament contracts for heterogeneous workers. J Econ Behav Organ 75(2):180–191

Hazelkorn E (2015) Rankings and the reshaping of higher education: the battle for world-class excellence. Palgrave Macmillan, New York

IEKE (2016) Endbericht der Internationalen Expertenkommission zur Evaluation der Exzellenzinitiative: International Expert Commission to Evaluate the Excellence Initiative

Imhof L, Kräkel M (2014) Tournaments with gaps. Econ Lett 122(2):211–214

Irvine J, Martin BR (1984) Foresight in science: picking the winners. Frances Pinter Publishers, London

Johnes J (2006) Data envelopment analysis and its application to the measurement of efficiency in higher education. Econ Educ Rev 25(3):273–288

Kräkel M, Sliwka D (2004) Risk taking in asymmetric tournaments. German Econ Rev 5(1):103–116

Kyvik S (2013) The academic researcher role: enhancing expectations and improved performance. High Educ 65(4):525–538

Lazear EP (2011) Inside the firm: contributions to personnel economics. Oxford University Press, Oxford

Lazear EP, Rosen S (1981) Rank-order tournaments as optimum labor contracts. J Political Econ 89:841–864

Le TQ, Tang KK (2015) World top university rankings: from distribution to implications on national knowledge creation and competitiveness. In: Archibugi D, Filippetti A (eds) The handbook of global science, technology, and innovation. Wiley, Oxford, pp 46–67

Lehmann EE (2015) The role of universities in local and regional competitiveness. In: Audretsch DB, Link AN, Walshok ML (eds) The Oxford handbook of local competitiveness. Oxford University Press, New York, pp 211–236

Lehmann EE, Menter M (2016) University-industry collaboration and regional wealth. J Technol Transf 41(6):1284–1307

Leyden DP, Link AN (2013) Knowledge spillovers, collective entrepreneurship, and economic growth: the role of universities. Small Bus Econ 41(4):797–817

Leyden DP, Menter M (2018) The legacy and promise of Vannevar Bush: rethinking the model of innovation and the role of public policy. Econ Innov New Technol 27(3):225–242

Link AN, Welsh DH (2013) From laboratory to market: on the propensity of young inventors to form a new business. Small Bus Econ 40(1):1–7

Martin BR (2010) The origins of the concept of 'foresight' in science and technology: an insider's perspective. Technol Forecast Soc Change 77(9):1438–1447

Martin BR (2017) What is happening to our universities? Prometheus 34(1):7–24

Mason C, Brown R (2013) Creating good public policy to support high-growth firms. Small Bus Econ 40(2):211–225

Morgan J (2016) Germany: an alternative route to excellence. Times Higher Education. https://www.timeshighereducation.com/features/germany-an-alternative-route-to-excellence

Mowery DC, Sampat BN (2005) Universities and national innovation systems. In: Fagerberg J, Mowery D, Nelson RR (eds) The Oxford handbook of innovation. Oxford University Press, Oxford, pp 209–239

Nalebuff BJ, Stiglitz JE (1983) Prizes and incentives: towards a general theory of compensation and competition. Bell J Econ 14(1):21–43

Powell BA, Gilleland DS, Pearson LC (2012) Expenditures, efficiency, and effectiveness in US undergraduate higher education: a national benchmark model. J High Educ 83(1):102–127

Smith S, Ward V, House A (2011) 'Impact' in the proposals for the UK's research excellence framework: shifting the boundaries of academic autonomy. Res Policy 40(10):1369–1379

Valero A, Van Reenen J (2016) The economic impact of universities: Evidence from across the globe. National Bureau of Economic Research. NBER Working Paper No. 22501

Warning S (2004) Performance differences in German higher education: empirical analysis of strategic groups. Rev Ind Organ 24(4):393–408

Warning S (2007) The economic analysis of universities: strategic groups and positioning. Edward Elgar, Cheltenham

White CS, James K, Burke LA, Allen RS (2012) What makes a "research star"? Factors influencing the research productivity of business faculty. Int J Product Perform Manag 61(6):584–602

Wohlrabe K, Bornmann L, de Moya Anegon F (2017) Wie effizient sind Universitäten in Deutschland, deren Zukunftskonzepte im Rahmen der Exzellenzinitiative ausgezeichnet wurden? Ein empirischer Vergleich von Input-und Output-Daten zur Forschung. MPRA Paper No. 76218

Wollersheim J, Lenz A, Welpe IM, Spörrle M (2015) Me, myself, and my university: a multilevel analysis of individual and institutional determinants of academic performance. J Bus Econ 85(3):263–291

Wood F (1990) Factors influencing research performance of university academic staff. High Educ 19(1):81–100
Acknowledgements
We would like to thank the editors of this journal and two anonymous referees for their valuable and helpful suggestions and comments. All remaining errors are, of course, ours.
Appendix
Appendix
About this article
Cite this article
Menter, M., Lehmann, E.E. & Klarl, T. In search of excellence: a case study of the first excellence initiative of Germany. J Bus Econ 88, 1105–1132 (2018). https://doi.org/10.1007/s11573-018-0909-5
Keywords
Excellence initiative

Universities

Treatment effect

Announcement effect
JEL Classification