Abstract
Research regarding the complex content and issues in business-to-business (B2B) negotiation is sparse. Although negotiation issues are ubiquitous in experimental negotiation studies, descriptions of what constitutes a complex issue are set in an abstract context. Therefore, this study investigates the characteristics of real-world negotiation issues and their associated complexity drivers. Data from 29 in-depth interviews of managers in the B2B field provide the research material, analyzed according to the Gioia methodology. Eleven issue-based complexity facets emerge that fall into the object-, context- and subject-level of complexity. Eight strategies for handling complex negotiation issues also result from the analysis. The findings provide a detailed description of issue-based complexity, which can be used to create more realistic negotiation experiments, as well as help negotiators disentangle and manage complex content in their own B2B negotiations. By answering the call from research for a more detailed description of complex negotiations, and by linking handling strategies with specific situations, this study provides further insights for negotiation theory.
Access options
Buy single article
Instant access to the full article PDF.
US$ 39.95
Tax calculation will be finalised during checkout.
Subscribe to journal
Immediate online access to all issues from 2019. Subscription will auto renew annually.
US$ 79
Tax calculation will be finalised during checkout.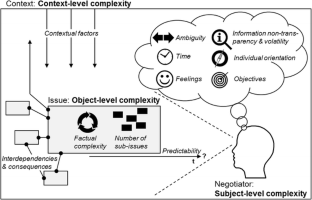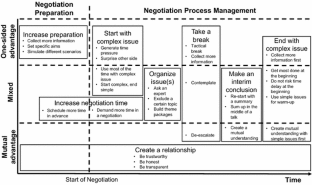 Notes
1.

While the respective authors explicitly write about the number of issues on an agenda, the mechanism to increase complexity of many issues on an agenda or many sub-issues in an issue is the same: a higher or varying number of parts in a system.
References
Albin C, Young A (2012) Setting the table for success—or failure? Agenda management in the WTO. Int Negot 17(1):37–64

Balakrishnan PV, Patton C, Lewis PA (1993) Toward a theory of agenda setting in negotiations. J Consum Res 19:637–654

Bendahan S, Camponovo G, Monzani J-S, Pigneur Y (2005) Negotiation in technology landscapes: an actor-issue analysis. J Manag Inf Syst 21(4):137–172

Beverland M, Lindgreen A (2010) What makes a good case study? A positivist review of qualitative case research published in Industrial Marketing Management, 1971–2006. Ind Mark Manag 39(1):56–63

Braarud PO (2001) Subjective task complexity and subjective workload: criterion validity for complex team tasks. Int J Cogn Ergon 5(3):261–273

Brooks BW, Rose RL (2004) A contextual model of negotiation orientation. Ind Mark Manag 33(2):125–133

Campbell DJ (1988) Task complexity: a review and analysis. Acad Manag Rev 13(1):40–52

Carnevale JP (2006) Creativity in the outcomes of conflict. In: Deutsch M, Coleman PT, Marcus EC (eds) Handbook of conflict resolution, 2nd edn. Jossey-Bass, San Francisco, pp 414–435

Cederlund C (2015) Managing meaning in complex business networks. Ind Mark Manag 48:89–100

Chatterjee K, Samuelson L (1987) Bargaining with two-sided Incomplete Information: an infinite horizon model with alternating offers. Rev Econ Stud 54(2):175–192

Corbin JM, Strauss AC (2008) Basics of qualitative research-techniques and procedures for developing grounded theory, 3rd edn. Sage, Thousand Oaks

Corley KG, Gioia DA (2004) Identity ambiguity and change in the wake of a corporate spin-off. Admin Sci Q 49(2):173–208

Crump L (2015) Analyzing complex negotiations. Negot J 31(2):131–153

Curhan JR, Elfenbein HA, Kilduff GJ (2009) Getting off on the right foot: subjective value versus economic value in predicting longitudinal job outcomes from job offer negotiations. J Appl Psychol 94(2):524–534

Denzin NK, Lincoln YS (2011) The SAGE handbook of qualitative research. Sage, Thousand Oaks

Druckman D (1973) Human factors in international negotiations: social psychological aspects of international conflict. Sage, Beverly Hills

Dubois A, Gibbert M (2010) From complexity to transparency: managing the interplay between theory, method and empirical phenomena in IMM case studies. Ind Mark Manag 39(1):129–136

Eliashberg J, Lilien GL, Kim N (1995) Searching for generalizations in business marketing negotiations. Mark Sci 14(3):G47–G60

Fells R, Rogers H, Prowse P, Ott UF (2015) Unraveling business negotiations using practitioner data. Negot Confl Manag Res 8(2):119–136

Fisher R, Ury WL, Patton B (2011) Getting to yes: negotiating agreement without giving in. Penguin, New York

Geiger I (2017) A model of negotiation issue-based tactics in business-to-business negotiations. Ind Mark Manag 64(3):91–106

Gettinger J, Filzmoser M, Koeszegi ST (2016) Why can't we settle again? Analysis of factors that influence agreement prospects in the post-settlement phase. J Bus Econ 86:413–440

Gioia DA, Corley KG, Hamilton AL (2013) Seeking qualitative rigor in inductive research: notes on the Gioia methodology. Organ Res Method 16(1):15–31

Graebner ME, Martin JA, Roundy PT (2012) Qualitative data: cooking without a recipe. Strateg Organ 10(3):276–284

Harinck F, De Dreu CK, Van Vianen AE (2000) The impact of conflict issues on fixed-pie perceptions, problem solving, and integrative outcomes in negotiation. Organ Behav Hum Decis Process 81(2):329–358

Herbst U, Voeth M, Meister C (2011) What do we know about buyer–seller negotiations in marketing research? A status quo analysis. Ind Mark Manag 40(6):967–978

Hohenschwert L, Geiger S (2015) Interpersonal influence strategies in complex B2B sales and the socio-cognitive construction of relationship value. Ind Mark Manag 49:139–150

Hyder EB, Prietula MJ, Weingart LR (2000) Getting to best: efficiency versus optimality in negotiation. Cogn Sci 24(2):169–204

Iklé FC, Leites N (1962) Political negotiation as a process of modifying utilities. J Confl Resolut 6(1):19–28

Jensen L (1995) Issue flexibility in negotiating internal war. Ann Am Acad Polit Soc Sci 542(1):116–130

Krause DR, Terpend R, Petersen KJ (2006) Bargaining stances and outcomes in buyer–seller negotiations: experimental results. J Supply Chain Manag 42(3):4–15

Kvale S (1995) The social construction of validity. Qual Inq 1(1):19–40

Lewicki RJ, Hiam A (2006) Mastering business negotiation. A working guide to making deals and resolving conflict. Joessy-Bass, San Francisco

Lilien GL (2016) The B2B knowledge gap. Int J Res Mark. https://doi.org/10.1016/j.ijresmar.2016.01.003

Lincoln YS, Guba EG (1985) Naturalistic inquiry. Sage, Thousand Oaks

Lundgren-Henriksson E-L, Kock S (2016) A sensemaking perspective on coopetition. Ind Mark Manag 57:97–108

Miles MB, Huberman AM, Saldaña J (2014) Qualitative data analysis. A methods sourcebook, 3rd edn. Sage, Thousand Oaks

Morris MW, Keltner D (2000) How emotions work: the social functions of emotional expression in negotiations. Res Organ Behav 22:1–50

Naquin CE (2003) The agony of opportunity in negotiation: number of negotiable issues, counterfactual thinking, and feelings of satisfaction. Organ Behav Hum Decis Process 91(1):97–107

Patton C, Balakrishnan PV (2012) Negotiating when outnumbered: agenda strategies for bargaining with buying teams. Int J Res Mark 29(3):280–291

Prior DD (2013) Supplier representative activities and customer perceived value in complex industrial solutions. Ind Mark Manag 42(8):1192–1201

Pruitt DG (1981) Negotiation behavior. Academic Press, New York

Raiffa H, Richardson J, Metcalfe D (2002) Negotiation analysis—the science and art of collaborative decision making. Belknap Press of Harvard University Press, Cambridge

Ritter T, Wilkinson IF, Johnston WJ (2004) Managing in complex business networks. Ind Mark Manag 33(3):175–183

Rothman NB, Northcraft GB (2015) Unlocking integrative potential: expressed emotional ambivalence and negotiation outcomes. Organ Behav Hum Decis Process 126:65–76

Rubin JZ, Brown BR (1975) The social psychology of bargaining and negotiation. Academic Press, New York

Schmitz C, Ganesan S (2014) Managing customer and organizational complexity in sales organizations. J Mark 78(6):59–77

Sebenius JK (1983) Negotiation arithmetic: adding and subtracting issues and parties. Int Organ 37(2):281–316

Siegel S, Fouraker LE (1960) Bargaining and group decision making. McGraw-Hill, New York

Simon HA (1962) The architecture of complexity. Proc Am Philos Soc 106(6):467–482

Skålén P, Gummerus J, von Koskull C, Magnusson PR (2015) Exploring value propositions and service innovation: a service-dominant logic study. J Acad Mark Sci 43(2):137–158

Stuhlmacher AF, Gillespie TL, Champagne MV (1998) The impact of time pressure in negotiation: a meta-analysis. Int J Confl Manag 9(2):97–116

Tenbrunsel AE, Wade-Benzoni KA, Tost LP, Medvec VH, Thompson LL, Bazerman MH (2009) The reality and myth of sacred issues in negotiations. Negot Confl Manag Res 2(3):263–284

Thompson L (2012) The mind and heart of the negotiator, 5th edn. Pearson Prentice Hall, Upper Saddle River

Thompson L, Neale M, Sinaceur M (2004) The evolution of cognition and biases in negotiation research: an examination of cognition, social perception, motivation, and emotion. In: Gelfand MJ, Brett JM (eds) The handbook of negotiation and culture. Stanford University Press, Palo Alto, pp 7–44

Tuli KR, Kohli AK, Bharadwaj SG (2007) Rethinking customer solutions: from product bundles to relational processes. J Mark 71(3):1–17

Ulaga W, Sharma A (2001) Complex and strategic decision making in organizations: implications for personal selling and sales management. Ind Mark Manag 30(5):427–440

Van der Schalk J, Beersma B, van Kleef GA, De Dreu CKW (2010) The more (complex), the better? The influence of epistemic motivation on integrative bargaining in complex negotiation. Eur J Soc Psychol 40(2):355–365

Virtanen T, Parvinen P, Rollins M (2015) Complexity of sales situation and sales lead performance: an empirical study in business-to-business company. Ind Mark Manag 45:49–58

Walton RE, McKersie RB (1965) A behavioral theory of labor negotiations: an analysis of a social interaction system. McGraw-Hill, New York

Watkins MD (2003) Strategic simplification: toward a theory of modular design in negotiation. Int Negot 8:149–167

Weingart LR, Bennett RJ, Brett JM (1993) The impact of consideration of issues and motivational orientation on group negotiation process and outcome. J Appl Psychol 78(3):504–517

Weiss SE (2012) Negotiators' effectiveness with mixed agendas: an empirical exploration of tasks, decisions and performance criteria. Group Decis Negot 21(3):255–290

Weiss SE (2014) Negotiating the Renault–Nissan alliance: insights from Renault's perspective. In: Benoliel M (ed) Negotiation excellence: successful deal-making. World Scientific Publishing, Singapore, pp 325–350

Wilkinson IF, Young LC (2013) The past and the future of business marketing theory. Ind Mark Manag 42(3):394–404

Winham GR (1977) Complexity in international negotiations. In: Druckman D (ed) Negotiation—social-psychological perspectives. Sage, Beverly Hills, pp 347–366

Winkelbach A, Walter A (2015) Complex technological knowledge and value creation in science-to-industry technology transfer projects: the moderating effect of absorptive capacity. Ind Mark Manag 47:98–108

Yin R (2013) Case study research: design and methods. Sage, Beverly Hills

Zartman IW (1994) International multilateral negotiation: approaches to the management of complexity. Jossey-Bass, San Francisco

Zartman IW (2003) Conclusion: managing complexity. Int Negot 8:179–186

Zhang H (2017) Issue packaging agenda and strategies in multi-issue negotiation. Dissertation, Freie Universität Berlin, Berlin
Acknowledgements
The authors thank Gesa von Plotho for her assistance in data collection and transcription. Sabrina Gottschalk, Alexander Mafael, and Hong Zhang commented on earlier versions of this article. Elisabeth Nevins served as copy editor.
Appendix: interview guide
Appendix: interview guide
Preliminary remarks:
The aim of this research is to understand more about the topic of content complexity in negotiations and how to manage it. The goal of this interview is to use your knowledge and personal experience in negotiations to develop insights for negotiation research.
In the upcoming interview I will ask open questions to give you the possibility to answer however you think is right and to not influence your answers.
Of course, the gathered data will be kept confidential and anonymous and only be used for research purposes. All the names and companies you will mention in the interview will only be written down in an anonymous from. To be able to analyze the content of our conversation, I would kindly ask you if I am allowed to record our interview. Are you okay with that?
For your information: I am interested in the complex content of negotiation situations. In this interview, I will talk about negotiation issues. With negotiation issues, I mean any debatable question, item, or problem that is open to discussion or dispute, and needs to be solved to come to a mutual agreement between at least two parties. As an example you can think about a price for a product or the date of delivery.
Do you have any further questions before I start with the interview?
Part 1: personal background and complex negotiation in general
In which industry is your company? Who are your customers?

What is your job at the moment?

Which role do you have in the negotiation? At what time did you start to be involved in the negotiation process?

How many years of negotiation experience do you have?

What is a typical issue you negotiate?

If you think about your last negotiation, which is especially present in your memory, was there anything complex in this negotiation?
Part 2: identification and handling of complex negotiation issues
Please describe with an example one issue that was negotiated that was especially complex to you. Why was the negotiation of this issue complex?

What are the characteristics of a complex issue? Any more?

Can you give me an example where complexity arises through (a) one issue, (b) multiple issues?

Did you have the feeling that the other party also perceived the negotiation issue as complex? If not, why?

Did the issue complexity change in the negotiation process? Can you give me an example?

Do you have a certain strategy to handle complex issues?

When do you negotiate complex issues?

Can you give me an example, when a complex issue did (a) negatively (b) positively influence the negotiation?

How would you describe the effort in negotiating complex issues in comparison to less complex issues?

Do you think the effort is always justified for the complex issues? Why?

What role does time pressure in the negotiation of complex issues?

When did you experience (a) advantages (b) disadvantages while negotiating complex issue under time pressure?

Do you stop a negotiation about a single issue, if you do not make any progress anymore?
Part 3: identification and handling of important negotiation issues
Please describe with an example one issue that was negotiated that was especially important to you.

Are complex issues always important issues?

Do you have a certain strategy to handle important issues?

When do you negotiate important issues?

Did the issue importance change in the negotiation process? Can you give me an example?

Did you have the feeling that the other party also perceived the negotiation issue to be important? If not, why?
Part 4: interaction of complex and important negotiation issues
When you prepare a negotiation, do you think about prioritizing your negotiation issues?

Which issues do you give a high priority? Why?

Which issues do you give a low priority? Why?

In the process of my study, I experienced that negotiation parties discussed a negotiation issue for too long, however the issue was not important. Do you know such a situation?

What do you do if a negotiation issue with a low priority is taking a long time?

If a negotiation did fail, what kinds of issues were the reasons you did not come to a mutual agreement?
Part 5: conclusion
Thank you for your participation and your time. Do you have any further important aspects, which you think we have not talked about in this interview regarding this topic?
About this article
Cite this article
Laubert, C., Geiger, I. Disentangling complexity: how negotiators identify and handle issue-based complexity in business-to-business negotiation. J Bus Econ 88, 1061–1103 (2018). https://doi.org/10.1007/s11573-018-0896-6
Keywords
Buyer–seller negotiation

Complexity

Negotiation strategy

Negotiation issue

Gioia methodology
JEL Classification