Abstract
Various legal requirements as well as economic reasoning render the re-use of products mandatory. Hence, the field of supply chain management and coordination under the consideration of returns has constantly grown over the last decade. However, terms and definitions regarding returns and returns handling are inconsistent. Furthermore, approaches are not classified from a return-based point of view, which considerably impedes the discerning of research opportunities. We therefore provide a state-of-the-art review of the relevant literature and conduct a content and cluster analysis to propose a classification of present and future research. Furthermore, we highlight gaps in the existing literature, providing a road-map for further research. Practitioners are given an extensive overview regarding a multitude of approaches in returns management and coordination.
Access options
Buy single article
Instant access to the full article PDF.
US$ 39.95
Tax calculation will be finalised during checkout.
Subscribe to journal
Immediate online access to all issues from 2019. Subscription will auto renew annually.
US$ 79
Tax calculation will be finalised during checkout.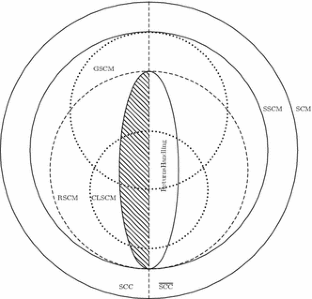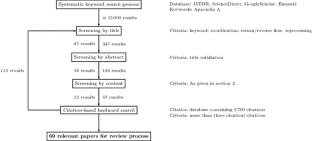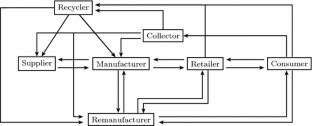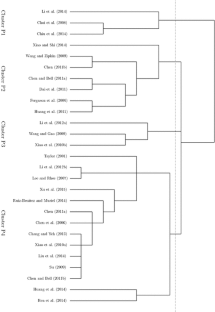 References
Ahmadi A, Mohabbatdar S, Sajadieh MS (2016) Optimal manufacturer-retailer policies in a supply chain with defective product and price dependent demand. J Optim Ind Eng 19:37–46

Akcali E, Cetinkaya S (2011) Quantitative models for inventory and production planning in closed-loop supply chains. Int J Product Res 49(8):2373–2407

Aravendan M, Panneerselvam R (2014) Literature review on network design problems in closed loop and reverse supply chains. Intell Inf Manag 6(3):104–117

Arshinder K, Kanda A, Deshmukh SG (2008) Supply chain coordination: perspectives, empirical studies and research directions. Int J Prod Econ 115(4):316–335

Arshinder K, Kanda A, Deshmukh SG (2011) A review on supply chain coordination: coordination mechanisms, managing uncertainty and research directions. In: Choi T-M, Cheng TE (eds) Supply chain coordination under uncertainty. Springer, Berlin, pp 39–82

Atasu A, Guide VDR Jr, Van Wassenhove LN (2008) Product reuse economics in closed-loop supply chain research. Prod Oper Manag 17(5):483–496

Atasu A, Van Wassenhove L (2012) An operations perspective on product take-back legislation for e-waste: theory, practice, and research needs. Prod Oper Manag 21(3):407–422

Aydin R, Kwong C, Ji P (2015) Coordination of the closed-loop supply chain for product line design with consideration of remanufactured products. J Clean Prod 2015(6):1–14

Becker-Peth M, Thonemann U (2016) Reference points in revenue sharing contracts-how to design optimal supply chain contracts. Eur J Oper Res 249(3):1033–1049

Biswas I, Avittathur B, Chatterjee AK (2016) Impact of structure, market share and information asymmetry on supply contracts for a single supplier multiple buyer network. Eur J Oper Res 253(3):593–601

Blackburn JD, Guide VDR Jr, Souza GC, Van Wassenhove LN (2004) Reverse supply chains for commercial returns. Calif Manag Rev 46(2):6–22

Brandenburg M, Govindan K, Sarkis J, Seuring S (2014) Quantitative models for sustainable supply chain management: developments and directions. Eur J Oper Res 233(2):299–312

Bras B, McIntosh MW (1999) Product, process, and organizational design for remanufacture—an overview of research. Robot Comput Integr Manuf 15(3):167–178

Cachon GP (2003) Supply chain coordination with contracts. In: de Kok A, Graves S (eds) Handbooks in operations research and management science, 11: supply chain management: design, coordination and operation. Elsevier, Amsterdam, pp 227–339

Cachon GP, Lariviere MA (2005) Supply chain coordination with revenue sharing contracts: strengths and limitations. Manag Sci 51(1):30–44

Cai C (2011) Quantity discount contract coordination model of three-stage closed-loop supply chain under retailer price competition. In: Proceedings of the IEEE international conference on transportation, mechanical, and electrical engineering 2011, Changchun, China. Institute of Electrical and Electronics Engineers, New York, NY, pp 195–199

Chan HK, Chan FTS (2009) A review of coordination studies in the context of supply chain dynamics. Int J Prod Res 48(10):2793–2819

Chang S-Y, Yeh T-Y (2013) Optimal order quantity and product modularity for a two-echelon returnable supply chain. Int J Prod Res 51(17):5210–5220

Chanintrakul P, Coronado Mondragon AE, Lalwani C, Wong CY (2009) Reverse logistics network design: a state-of-the-art literature review. Int J Bus Perform Supply Chain Modell 1(1):61–81

Chen J (2011a) The impact of sharing customer returns information in a supply chain with and without a buyback policy. Eur J Oper Res 213(3):478–488

Chen J (2011b) Returns with wholesale-price-discount contract in a newsvendor problem. Int J Prod Econ 130(1):104–111

Chen J, Bell PC (2009) The impact of customer returns on pricing and order decisions. Eur J Oper Res 195(1):280–295

Chen J, Bell PC (2011a) Coordinating a decentralized supply chain with customer returns and price-dependent stochastic demand using a buyback policy. Eur J Oper Res 212(2):293–300

Chen J, Bell PC (2011b) The impact of customer returns on decisions in a newsvendor problem with and without buyback policies. Int Trans Oper Res 18(4):473–491

Chen J-M, Chang C-I (2014) Coordinating a closed-loop supply chain using a bargaining power approach. Int J Syst Sci Oper Logist 1 2014(2):69–83

Chen J, Chen B (2016) Competing with customer returns policies. Int J Prod Res 54(7):2093–2107

Chen H, Chen J, Chen YF (2006) A coordination mechanism for a supply chain with demand information updating. Int J Prod Econ 103(1):347–361

Chen F (2003) Information sharing and supply chain coordination. In: de Kok A, Graves S (eds) Handbooks in operations research and management science, 11: supply chain management: design, coordination and operation. Elsevier, Amsterdam, pp 341–421

Chiu C-H, Choi T-S, Hao G, Li X (2014) Innovative menu of contracts for coordinating a supply chain with multiple mean-variance retailers. Eur J Oper Res 246(3):815–826

Choi T-M, Li D, Yan H (2008) Mean-variance analysis of a single supplier and retailer supply chain under a returns policy. Eur J Oper Res 184(1):356–376

Chung S, Wee H, Yang P (2008) Optimal policy for a closed-loop supply chain inventory system with remanufacturing. Math Comput Modell 48(5–6):867–881

Crocker KJ, Letizia P (2013) Optimal policies for recovering the value of consumer returns. Prod Oper Manag 23(10):1667–1680

Dai Y, Zhou SX, Xu Y (2011) Competitive and collaborative quality and warranty management in supply chains. Prod Oper Manag 21(1):129–144

De Giovanni P (2014) Environmental collaboration in a closed-loop supply chain with a reverse revenue sharing contract. Ann Oper Res 220(1):135–157

De Giovanni P, Reddy PV, Zaccour G (2016) Incentive strategies for an optimal recovery program in a closed-loop supply chain. Eur J Oper Res 249(2):605–617

De Giovanni P, Zaccour G (2014) A two-period game of a closed-loop supply chain. Eur J Oper Res 232(1):22–40

Diallo C, Venkatadri U, Khatab A., Bhakthavatchalam S (2016) State of the art review of quality, reliability and maintenance issues in closed-loop supply chains with remanufacturing. Int J Prod Res. http://dx.doi.org/10.1080/00207543.2016.1200152

Elkington J (2004) Enter the triple bottom line. In: Henriques A, Richardson J (eds) The triple bottom line: does it all add up?. Earthscan, London, pp 1–16

Ferguson M, Guide VDR Jr, Souza GC (2006) Supply chain coordination for false failure returns. Manuf Serv Oper Manag 8(4):376–393

Ferguson M, Toktay B (2006) The effect of external competition on recovery strategies. Prod Oper Manag 15(3):351–368

Fleischmann M, Bloemhof-Ruwaard JM, Dekker R, Van der Laan E, Van Nunen JEE, Van Wassenhove LN (1997) Quantitative models for reverse logistics: a review. Eur J Oper Res 103(1):1–17

Gao W-J, Chen J-H (2011a) Contract design of CLSC with recycled quantity affected by the interaction of recycling price and sales volume. In: IEEE international conference on industrial engineering and engineering management, 2011, Singapore. Institute of Electrical and Electronics Engineers, New York, NY, pp 1446–1449

Gao W-J, Chen J-H (2011b) Linear transfer payment contract of closed-loop supply chain with multi retailers. In: Zhu R, Ma Y (eds) Lecture notes in electrical engineering, international conference on information engineering and applications, vol 154. Springer, Berlin, pp 637–643

Gao J, Han H, Hou L, Wang H (2016) Pricing and effort decisions in a closed-loop supply chain under different channel power structures. J Clean Prod 112(3):2043–2057

Ge J-Y, Huang P-Q, Wang Z-P (2006) Coordination and information sharing in a closed-loop supply chain with two-part tariff. In: IEEE international conference on service operations and logistics, and informatics, 2006, Shanghai, China. Institute of Electrical and Electronics Engineers, New York, NY, pp 304–309

Ge J-Y, Zhao W-H (2009) Coordination with incomplete information in a closed-loop supply chain under retailer collection channel. In: International conference on management science and engineering, 2009, Moskow, Russia. Institute of Electrical and Electronics Engineers, New York, NY, pp 613–618

Gönsch J (2014) Buying used products for remanufacturing: negotiating or posted pricing. J Bus Econ 84(Special Issue "Sustainability in Supply Chains"):715–747

Govindan K, Popiuc MN (2014) Reverse supply chain coordination by revenue sharing contract: a case for the personal computers industry. Eur J Oper Res 233(2):326–336

Govindan K, Popiuc M, Diabat A (2013) Overview of coordination contracts within forward and reverse supply chains. J Clean Prod 47(1):319–334

Govindan K, Soleimani H (2017) A review of reverse logistics and closed-loop supply chains: a journal of cleaner production focus. J Clean Prod 142:371–384

Govindan K, Soleimani H, Kannan D (2015) Reverse logistics and closed-loop supply chain: a comprehensive review to explore the future. Eur J Oper Res 240(3):603–626

Govindana K, Soleimani H (2016) A review of reverse logistics and closed-loop supply chains: a journal of cleaner production focus. J Clean Prod. http://dx.doi.org/10.1016/j.jclepro.2016.03.126

Guide VDR Jr (2000) Production planning and control for remanufacturing: industry practice and research needs. J Oper Manag 18(4):467–483

Guide VDR Jr, Harrison TP, Van Wassenhove LN (2003a) The challenge of closed-loop supply chains—an introduction to the feature issue. Interfaces 33(6):3–6

Guide VDR Jr, Jayaraman V, Linton DL (2003b) Building contingency planning for closed-loop supply chains with product recovery. J Oper Manag 21(3):259–279

Guide VDR Jr, Li J (2010) The potential for cannibalization of new products sales by remanufactured products. Decis Sci 41(3):547–572

Guide VDR Jr, Souza GC, Van Wassenhove LN, Blackburn JD (2006) Time value of commercial product returns. Manag Sci 52(8):1200–1214

Guide VDR Jr, Van Wassenhove LN (2002) The reverse supply chain. Harv Bus Rev 80(2):25–26

Guide VDR Jr, Van Wassenhove LN (2006) Closed-loop supply chains: an introduction to the feature issue. Prod Oper Manag 15(3):345–350

Guide VDR Jr, Van Wassenhove LN (2009) The evolution of closed-loop supply chain research. Oper Res 57(1):1–10

Gungor A, Gupta P (1999) Issues in environmentally conscious manufacturing and product recovery: a survey. Comput Ind Eng 26(44):811–853

Guo S, Shen B, Choi T-M, Jung S (2017) A review on supply chain contracts in reverse logistics: supply chain structures and channel leaderships. J Clean Prod 144:387–402

Guo G-L, Gao W-J (2012) Contract design of CLSC with random collection quantity. In: Zhang L, Zhang C (eds) lecture notes in electrical engineering, results of the international conference on engineering education and management, 2011, Guangzhou, China, vol 122. Springer, Berlin, pp 249–255

Gupta S, Palsule-Desai OD (2011) Sustainable supply chain management: review and research opportunities. Indian Inst Manag Bangalore 23(4):234–245

Halldorsson A, Kotzab H, Skjott-Larsen T (2009) Supply chain management on the crossroad to sustainability: a blessing or a curse? Logist Res 1(2):83–94

Hariga M, Glock CH, Kim T (2016) Integrated product and container inventory model for a single-vendor single-buyer supply chain with owned and rented returnable transport items. J Optim Ind Eng 54(7):1964–1979

He Y (2015) Acquisition pricing and remanufacturing decisions in a closed-loop supply chain. Int J Prod Econ 163:48–60

Heese H, Kemahlioglu-Ziya E (2016) Don't ask, don't tell: Sharing revenues with a dishonest retailer. Eur J Oper Res 248(1):580–592

Heydari J, Choi T-M, Radkhah R (2017a) Pareto improving supply chain coordination under a money-back guarantee service program. Serv Sci 9(2):91–105

Heydari J, Govindan K, Jafaria A (2017b) Reverse and closed loop supply chain coordination by considering government role. Transp Res Part D Transp Environ 52(Part D):379–398

Hong X, Xu L, Du P, Wang W (2015) Joint advertising, pricing and collection decisions in a closed-loop supply chain. Int J Prod Econ 167(1):12–22

Hu S, Dai Y, Ma Z-J, Ye Y-S (2016) Designing contracts for a reverse supply chain with strategic recycling behavior of consumers. Int J Prod Econ 180:16–24

Huang X, Choi S-M, Ching W-K, Siu T-K, Huang M (2011) On supply chain coordination for false failure returns: a quantity discount contract approach. Int J Prod Econ 133(2):634–644

Huang X, Gu J-W, Ching W-K, Siu T-K (2014) Impact of secondary market on consumer return policies and supply chain coordination. Omega 45(1):57–70

Ilgin MA, Gupta SM (2010) Environmentally conscious manufacturing and product recovery (ECMPRO): a review of the state of the art. J Environ Manag 91(3):563–591

Jaehn F (2016) Sustainable operations. Eur J Oper Res 253(2):243–264

Jayant A, Gupta P, Garg S (2012) Perspectives in reverse supply chain management: a state of the art literature review. Jordan J Mech Ind Eng 6(1):87–102

Kaya O (2010) Incentive and production decisions for remanufacturing operations. Eur J Oper Res 201(2):442–453

Krikke H, Le Blanc L, Van de Velde S (2004) Product modularity and the design of closed-loop supply chains. Calif Manag Rev 46(2):23–39

Krumwiede DW, Sheu C (2002) A model for reverse logistics entry by third-party providers. Omega 30(5):325–333

Kumar S, Putnamb V (2008) Cradle to cradle: reverse logistics strategies and opportunities across three industry sectors. Int J Prod Econ 115(2):305–315

Kumar N, Guide VDR Jr, Van Wassenhove LN (2002) Managing product returns at Hewlett Packard. INSEAD

Lage MJ, Filhob MG (2012) Production planning and control for remanufacturing: literature review and analysis. Prod Plan Control Manag Oper 23(6):419–435

Lawton C (2008) The war on returns. Wall Street J D1

Lee CH, Rhee B-D (2007) Channel coordination using product returns for a supply chain with stochastic salvage capacity. Eur J Oper Res 177(1):214–238

Li J, Choi T-S, Cheng T (2014) Mean variance analysis of fast fashion supply chains with returns policy. IEEE Trans Syst Man Cybern Syst 44(4):422–434

Li X, Li Y, Cai X (2012a) Quantity decisions in a supply chain with early returns remanufacturing. Int J Prod Res 50(8):2161–2173

Li Y, Wei C, Cai X (2012b) Optimal pricing and order policies with B2B product returns for fashion products. Int J Prod Econ 135(2):637–646

Li X, Wang Q (2007) Coordination mechanisms of supply chain systems. Eur J Oper Res 179(1):1–16

Li Y, Da Q, Cai M (2010) Coordinated contract in reverse supply chain with collection volume agreement. In: IEEE international conference on E-product, E-service and E-entertainment, 2010, Henan, China. Institute of Electrical and Electronics Engineers, New York, NY, pp 1–4

Liang S (2008) The research on optimal contract design in the quality management of reverse supply chain under asymmetric information. In: IEEE international symposium on intelligent information technology application workshops, 2008, Shanghai, China. Institute of Electrical and Electronics Engineers, New York, NY, pp 877–880

Ling H (2010) Incentive mechanism design to the electronic products reverse supply chain of remanufacture considering the uncertainty quality. In: 2010 second international conference on communication systems. Networks and applications, Hong Kong, China, pp 379–382

Liu J, Mantin B, Wang H (2014) Supply chain coordination with customer returns and refund-dependent demand. Int J Prod Econ 148:81–89

Maa Z-J, Zhang N, Dai Y, Hu S (2016) Managing channel profits of different cooperative models in closed-loop supply chains. Omega 59:251–262

Maiti T, Giri B (2017) Two-way product recovery in a closed-loop supply chain with variable markup under price and quality dependent demand. Int J Prod Econ 183(1):259–272

Mishra BK, Raghunathan S, Yue X (2007) Information sharing in supply chains: incentives for information distortion. IIE Trans 39(9):863–877

Mitra S (2016) Models to explore remanufacturing as a competitive strategy under duopoly. Omega 59(Part B):215–227

Mostard J, Teunter R (2006) The newsboy problem with resalable returns: a single period model and case study. Eur J Oper Res 169(1):81–96

Oestlin J, Sundin E, Björkman M (2008) Importance of closed-loop supply chain relationships for product remanufacturing. Int J Prod Econ 115(2):336–348

Ohmura S, Matsuo H (2016) The effect of risk aversion on distribution channel contracts: implications for return policies. Int J Prod Econ 176:29–40

Pasternack B (1985) Optimal pricing and return policies for perishable commodities. Mark Sci 4(2):166–176

Pishchulov G, Dobos I, Gobsch B, Pakhomova N, Richter K (2011) Remanufacturing of used products in a closed-loop supply chain with quantity discount. In: Klatte D, Lüthi H-J, Schmedders K (eds) Operations research proceedings: selected papers of the international conference on operations research, 2011, Zurich, Switzerland. GOR, Springer, Berlin, pp 457–462

Pishchulov G, Dobos I, Gobsch B, Pakhomova N, Richter K (2014) A vendor-purchaser economic lot size problem with remanufacturing. J Bus Econ 84(5):749–791

Pokharel S, Mutha A (2009) Perspectives in reverse logistics: a review. Resour Conserv Recycl 53(4):175–182

Ran W, Chen F, Wu Q, Liu S (2016) A study of the closed-loop supply chain coordination on waste glass bottles recycling. Math Probl Eng. Article ID 1049514. https://doi.org/10.1155/2016/1049514

Ren L, He Y, Song H (2014) Price and service competition of dual-channel supply chain with consumer returns. Discrete Dyn Nat Soc 2014:1–10

Rogers DS, Tibben-Lembke RS (1998) Going backwards: reverse logistics trends and practices. Technical report, Reverse Logistics Executive Council, Pittsburgh, PA

Ruiz-Benitez R, Muriel A (2014) Consumer returns in a decentralized supply chain. Int J Prod Econ 147(Part C):573–592

Saha S, Sarmah S, Moon I (2015) Dual channel closed-loop supply chain coordination with a reward-driven remanufacturing policy. Int J Prod Res 54(5):1503–1517

Savaskan RC, Van Wassenhove LN (2006) Reverse channel design: the case of competing retailers. Manag Sci 52(1):1–14

Seuring S, Gold S (2012) Conducting content-analysis based literature reviews in supply chain management. Supply Chain Manag Int J 17(5):544–555

Seuring S, Müller M (2008) From a literature review to a conceptual framework for sustainable supply chain management. J Clean Prod 16(25):1699–1710

Shi C, Bian D (2009) Closed-loop supply chain coordination by revenue sharing contract and quantity discount contract. In: IEEE international conference on information management, innovation management and industrial engineering, 2009, Xian, China. Institute of Electrical and Electronics Engineers, New York, NY, pp 581–584

Shi C, Bian D (2011) Closed-loop supply chain coordination by contracts under government subsidy. In: IEEE Chinese control and decision conference, 2011, Mianyang, China. Institute of Electrical and Electronics Engineers, New York, NY, pp 2747–2750

Shi Z, Wang N, Jia T, Chen H (2016) Reverse revenue sharing contract versus two-part tariff contract under a closed-loop supply chain system. Math Probl Eng 2016 Article ID 5464570. http://dx.doi.org/10.1155/2016/5464570

Si W, Ma J (2013) Corporation in a closed-loop supply chain based on remanufacturing. WSAS Trans Math 12(4):482–491

Sluis S, De Giovanni P (2016) The selection of contracts in supply chains: An empirical analysis. J Oper Manag 41:1–11

Souza GC (2012) Closed-loop supply chains: a critical review, and future research. Decision Sci 44(1):7–38

Souza GC (2008) Closed-loop supply chains with remanufacturing. In: Chen Z-L, Raghavan S, Gray P, Greenberg H (eds) Tutorials in operations research: state-of-the-art decision-making tools in the information-intensive age. Informs, Catonsville, pp 130–153

Spengler JJ (1950) Vertical integration and antitrust policy. J Political Econ 58(4):347–352

Srivastava SK (2007) Green supply-chain management: a state-of-the-art literature review. Int J Manag Rev 9(1):53–80

Srivastava SK, Srivastava RK (2006) Managing product returns for reverse logistics. Int J Phys Distrib Logist Manag 36(7):524–546

Su X (2009) Consumer returns policies and supply chain performance. Manuf Serv Oper Manag 11(4):595–612

Sundari P, Vijayalakshmi C (2016) A comprehensive review of closed loop supply chain. Global J Pure Appl Math 12(4):2785–2792

Tang X, Chen Y, Qin F, Xiao Q (2010) Revenue-and-expense sharing contract of closed-loop supply chain with two markets. In: Zhang J, Xu L, Zhang X, Yi P, Jian M (eds) Logistics for sustained economic development: infrastructure, information, integration, 2010, Chengdu, China. American Society of Civil Engineers, pp 4343–4349

Taylor TA (2001) Channel coordination under price protection, midlife returns, and end-of-life returns in dynamic markets. Manag Sci 47(9):1220–1234

Tibben-Lembke RS, Rogers DS (2002) Differences between forward and reverse logistics in a retail environment. Supply Chain Manag Int J 7(5):271–282

Toffel MW (2004) Strategic management of product recovery. Calif Manag Rev 46(2):120–141

Toktay B (2003) Forecasting product returns. In: Guide VDR Jr, Van Wassenhove LN (eds) Business aspects of closed-loop supply chains. Carnegie Mellon University Press, Pittsburgh, pp 203–220

Twede D, Clarke R (2004) Supply chain issues in reusable packaging. J Market Channels 12(1):7–26

Wang X, Disney S (2016) The bullwhip effect: progress, trends and directions. Eur J Oper Res 250(3):691–701

Wang Y, Gao C (2009) Optimal centralized and decentralized ordering policies with remanufacturing and market signal. Wuhan Univ J Nat Sci 14(2):103–108

Wang Z, Li Y, Zhao C, Feng Z (2013) Coordination of remanufacturing reverse supply chain with random quality based on option contract. J Inf Comput Sci 10(7):2151–2158

Wang W, Zhang Y, Li Y, Zhao A, Cheng M (2017) Closed-loop supply chains under reward-penalty mechanism: retailer collection and asymmetric information. J Clean Prod 142(Part 4):3938–3955

Wang Y, Zipkin P (2009) Agents' incentives under buy-back contracts in a two-stage supply chain. Int J Prod Econ 120(2):525–539

Watanabe T, Kusukawa E, Arizono I (2013) Optimal operation for green supply chain in consideration of collection incentive and quality for recycling of used products. Ind Eng Manag Syst 12(4):317–329

Xiao T, Shi J (2014) Consumer returns reduction and information revelation mechanism for a supply chain. Ann Oper Res 220(1):1–21

Xiao T, Shi K, Yang D (2010a) Coordination of a supply chain with consumer return under demand uncertainty. Int J Prod Econ 124(1):171–180

Xiao T, Yang D, Shen H (2010b) Coordinating a supply chain with a quality assurance policy via a revenue-sharing contract. Int J Prod Res 49(1):99–120

Xie JP, Liang L, Liu LH, Ieromonachou I (2016) Coordination contracts of dual-channel with cooperation advertising in closed-loop supply chains. Int J Prod Econ. http://dx.doi.org/10.1016/j.ijpe.2016.07.026

Xu L, Li Y, Govindan K, Xu X (2015) Consumer returns policies with endogenous deadline and supply chain coordination. Eur J Oper Res 242(1):88–99

Xu C, Li B, Lan Y, Tang Y (2014) A closed-loop supply chain problem with retailing and recycling competition. Abstr Appl Anal 2014:1–14

Xu Y, Xie H (2016) Consumer environmental awareness and coordination in llosed-loop supply chain. Open J Bus Manag 4(3):427–438

Xu Z (2011) Option contract model of e-waste recycling reverse supply chain coordination. In: IEEE international conference on service systems and service management, 2011, Tianjin, China. Institute of Electrical and Electronics Engineers, New York, NY, pp 1–6

Yan N-N (2012) Dynamic models and coordination analysis of reverse supply chain with remanufacturing. Phys Proc 24(B):1357–1363

Yan N-N, Sun B-W (2012) Optimal Stackelberg strategies for closed-loop supply chain with third party reverse logistics. Asia Pac J Oper Res 29(5):1–21

Yang H, Chen J, Chen X, Chen B (2017) The impact of customer returns in a supply chain with a common retailer. Eur J Oper Res 256(1):139–150

Yenipazarli A (2016) Managing new and remanufactured products to mitigate environmental damage under emissions regulation. Eur J Oper Res 249(2):117–130

Yuan K, Gao Y (2010) Inventory decision-making models for a closed-loop supply chain system. Int J Prod Res 48(20):6155–6187

Yuan K, Ma S, He B, Gao Y (2015) Inventory decision-making models for a closed-loop supply chain system with different decision-making structures. Int J Prod Res 53(1):183–219

Yumei H, Fangfang W, Xin T, Liu X (2015) Two revenue sharing contracts in a three-echelon supply chain with a risk-neutral or a risk-averse retailer. J Ind Eng Manag 8(5):1428–1474

Zeng AZ (2013) Coordination mechanisms for a three-stage reverse supply chain to increase profitable returns. Nav Res Logist 20(1):31–45

Zhao S, Zhu Q (2015) Remanufacturing supply chain coordination under the stochastic remanufacturability rate and the random demand. Ann Oper Res 257(1–2):661–695

Zhao J, Wei J, Sun X (2016) Coordination of fuzzy closed-loop supply chain with price dependent demand under symmetric and asymmetric information conditions. Ann Oper Res 257(1–2):469–489

Zheng B, Yang C, Yang J, Zhang M (2017) Dual-channel closed loop supply chains: forward channel competition, power structures and coordination. Int J Prod Res 55(12):3510–3527

Zou Q, Ye G (2015) Pricing-decision and coordination contract considering product design and quality of recovery product in a closed-loop supply chain. Math Probl Eng 2015:1–14
Appendices
Appendix 1: List of acronyms
| | |
| --- | --- |
| AR | Active returns |
| CLSC | Closed loop supply chain |
| CLSCM | Closed loop supply chain management |
| ECMPR | Environmentally Conscious Manufacturing and Product Recovery |
| EOL/EOU | End-of-use/end-of-life returns |
| EPR | Extended Producer Responsibility directives |
| ER | Early returns |
| FR | False-failure returns |
| FSC | Forward supply chain |
| FSCM | Forward supply chain management |
| GSC | Green supply chain |
| GSCM | Green supply chain management |
| ND | Network design |
| PR | Passive returns |
| RL | Reverse logistics |
| RSC | Reverse supply chain |
| RSCM | Reverse supply chain management |
| SC | Supply chain |
| SCC | Supply chain coordination |
| SCM | Supply chain management |
| SSCM | Sustainable supply chain management |
| UI | Unsold inventory |
| WEEE | Waste of Electrical and Electronic Equipment directive |
| WR | Warranty returns |
Appendix 2: List of reviews including subjects
| | |
| --- | --- |
| Fleischmann et al. (1997) | RL |
| Cachon (2003) | SCC, FSC |
| Gungor and Gupta (1999) | ECMPR, GSCM |
| Srivastava (2007) | GSCM |
| Li and Wang (2007) | SCC, FSC |
| Arshinder et al. (2008) | SCC, FSC |
| Atasu et al. (2008) | CLSCM |
| Seuring and Müller (2008) | SSCM |
| Souza (2008) | CLSCM |
| Chan and Chan (2009) | SCC, FSC |
| Chanintrakul et al. (2009) | RL, ND |
| Guide and Van Wassenhove (2009) | CLSCM |
| Pokharel and Mutha (2009) | RL |
| Ilgin and Gupta (2010) | ECMPR, GSCM |
| Akcali and Cetinkaya (2011) | CLSCM |
| Arshinder et al. (2011) | SCC, FSC |
| Gupta and Palsule-Desai (2011) | SSCM |
| Lage and Filhob (2012) | CLSCM |
| Souza (2012) | CLSCM |
| Jayant et al. (2012) | RSCM |
| Govindan et al. (2013) | SCC, FSC, RSC |
| Aravendan and Panneerselvam (2014) | CLSCM, ND |
| Brandenburg et al. (2014) | SSCM |
About this article
Cite this article
Krapp, M., Kraus, J.B. Coordination contracts for reverse supply chains: a state-of-the-art review. J Bus Econ 89, 747–792 (2019). https://doi.org/10.1007/s11573-017-0887-z
Keywords
Literature review

Supply chain coordination

Remanufacturing

Closed loop supply chain

Sustainability
JEL Classification