Abstract
The allocation of seminar applicants is an important issue in educational planning, and each semester a university administration has to deal with this kind of problem. The task here is to reconcile the preferences and priorities of the students, professorships and the university administration itself. This paper shows that if the planning procedure is based on a simple selection strategy, the capacity utilization can be suboptimal; this result is evidenced by a simulation study. To remedy this deficit—and to justify the respective interests—we propose a mixed-integer goal programming approach for assigning students to seminar courses. In addition, we show that this problem can be reformulated into a linear one. All investigations in this paper are illustrated by a real-world application for the University of Hagen, Germany.
Access options
Buy single article
Instant access to the full article PDF.
US$ 39.95
Tax calculation will be finalised during checkout.
Subscribe to journal
Immediate online access to all issues from 2019. Subscription will auto renew annually.
US$ 79
Tax calculation will be finalised during checkout.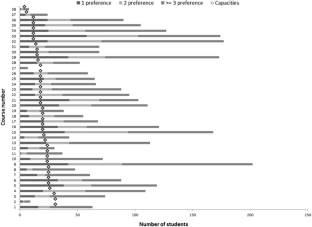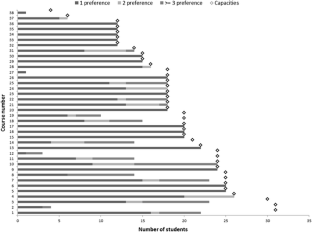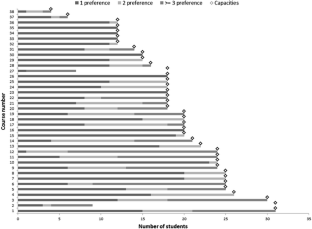 References
Abraham DJ, Irving RW, Manlove DF (2007) Two algorithms for the student-project allocation problem. J Discrete Algorith 5:73–90

Breslaw MA (1976) A linear programming solution to the faculty assignment problem. Socio-Econ Plann Sci 10:227–230

Cattrysse DG, Van Wassenhove LN (1992) A survey of algorithms for the generalized assignment problem. Eur J Oper Res 60:260–272

Charnes A, Cooper WW (1961) Management models and industrial applications of linear programming. Wiley, New York

Charnes A, Cooper WW (1977) Goal programming and multiple objective optimization; part 1. Eur J Oper Res 1(1):39–54

Charnes A, Cooper WW, Ferguson RO (1955) Optimal estimation of executive compensation by linear programming. Manag Sci 1(2):138–151

Geiger MJ, Wenger W (2010) On the assignment of students to topics: a variable neighborhood search approach. Socio-Econ Plann Sci 44:25–34

Ignizio JP (1983) Generalized goal programming: an overview. Comput Oper Res 10(4):277–289

Ignizio JP (1985) Introduction to linear goal programming. Sage Publications, Sage University Press, Beverly Hills

Johnes J (2015) Operations research in education. Eur J Oper Res 243:683–696

Jones D, Tamiz M (2010) Practical goal programming. Springer, New York

Kennington J, Wang Z (1992) A shortest augmenting path algorithm for the semi-assignment problem. Oper Res 40:178–187

Krumke SO, Thielen C (2013) The generalized assignment problem with minimum quantities. Eur J Oper Res 228:46–55

Lee SM, Schniederjans MJ (1983) A multicriteria assignment problem: a goal programming approach. Interfaces 13(4):75–81

Nemhauser GL, Wolsey LA (1999) Integer and combinatorial optimization. Wiley, New York

Pentico DW (2007) Assignment problems: a golden anniversary survey. Eur J Oper Res 176:774–793

Przybylski A, Gandibleux X, Ehrgott M (2008) Two phase algorithms for the bi-objective assignment problem. Eur J Oper Res 185:509–533

Przybylski A, Gandibleux X, Ehrgott M (2010) A two phase method for multi-objective integer programming and its application to the assignment problem with three objectives. Discrete Optim 7:149–165

Saber HM, Ghosh JB (2001) Assigning students to academic majors. Omega 29:513–523

Schniederjans MJ (1995) Goal programming: methodology and applications. Springer, New York

Tillett PI (1975) An operations research approach to the assignment of teachers to courses. Socio-Econ Plann Sci 9:101–104
About this article
Cite this article
Kleine, A., Dellnitz, A. Allocation of seminar applicants. J Bus Econ 87, 927–941 (2017). https://doi.org/10.1007/s11573-017-0858-4
Keywords
Seminar assignment

Educational planning

Goal programming

Multi-objective assignment
JEL Classification