Abstract
Brand alliances represent a popular business strategy in many industries, because firms hope to evoke positive consumer evaluations of both the alliance's product and the partner brands. However, extant research offers mixed findings regarding the effects of a brand alliance on its partner brands (i.e., spillover effects). In response, this study separates spillover effects into the effects of the alliance product on the partner brands (brand alliance effects) and the effects between partner brands (brand contrast effects), while also noting the potential moderating impact of perceived attitude- and product-based fit between partner brands on resulting spillover effects. Two experimental studies consistently reveal the existence of brand contrast effects; furthermore, the partner brand's attitude-based fit reduces undesired brand contrast effects and positively moderates spillover effects in brand alliances, whereas product-based fit does not. Therefore, a third study identifies relevant drivers of partner brand's attitude-based fit for different brand alliances (i.e., co-branding, ingredient branding, and joint advertising). The findings have notable implications for the design and management of brand alliances.
This is a preview of subscription content, log in to check access.
Access options
Buy single article
Instant access to the full article PDF.
US$ 39.95
Price includes VAT for USA
Subscribe to journal
Immediate online access to all issues from 2019. Subscription will auto renew annually.
US$ 99
This is the net price. Taxes to be calculated in checkout.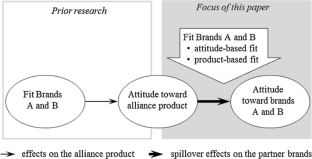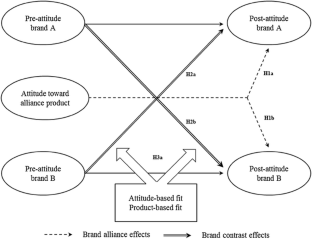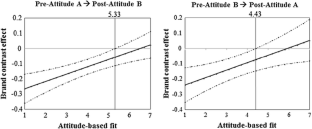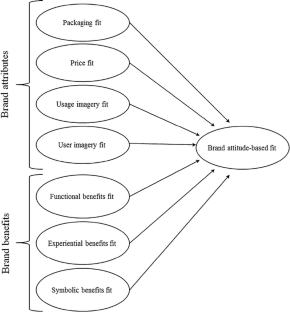 References
Aaker DA (1990) How will the Japanese compete in retail services? Calif Manag Rev 33:54–67

Aaker DA (1996) Measuring brand equity across products and markets. Calif Manag Rev 38:102–120

Ajzen I, Fishbein M (1975) A Bayesian analysis of attribution processes. Psychol Bull 82:261–277

Baumgarth C (2003) Wirkungen des Co-Branding. Gabler, Wiesbaden

Bhat S, Reddy SK (2001) The impact of parent brand attribute associations and affect on brand extension evaluation. J Bus Res 53(111):22

Carter RE, Curry DJ (2013) Perceptions versus performance when managing extensions: new evidence about the role of fit between a parent brand and an extension. J Acad Mark Sci 41:253–269

Cialdini RB, Trost MR, Newsome JT (1995) Preference for consistency: the development of a valid measure and the discovery of surprising behavioral implications. J Pers Soc Psychol 69:318–328

Cornelis P (2010) Effects of co-branding in the theme park industry: a preliminary study. Int J Contemp Hosp Manag 22:775–796

Edwards JR (2008) Seven deadly myths of testing moderation in organizational research. In: Lance CE, Vandenberg RJ (eds) Staistical and methodological myths and urban legends: Received doctrine, verity, and fable in the organizational and social sciences. Routledge, New York, pp 143–164

Faircloth JB, Capella LM, Alford BL (2001) The effect of brand attitude and brand image on brand equity. J Mark Theor Pract 9:61–75

Fang X, Mishra S (2002) The effect of brand alliance portfolio on the perceived quality of an unknown brand. Adv Consum Res 29:519–520

Fornell C, Larcker DF (1981) Evaluating structural equation models with unobservable variables and measurement error. J Mark Res 18:39–50

Geylani T, Inman JJ, Hofstede FT (2008) Image reinforcement or impairment: the effects of co-branding on attribute uncertainty. Mark Sci 27:730–744

Hayes AF (2013) Introduction to mediation, moderation, and conditional process analysis: A regression based approach. Guilford Press, New York

Helmig B, Huber JA, Leeflang PSH (2008) Co-branding: the state-of-the-art. Schmalenbach Bus Rev 60:359–377

Herr PM, Sherman SJ, Fazio RH (1983) On the consequences of priming: assimilation and contrast effects. J Exp Soc Psychol 19:323–340

Huber JA (2005) Co-Branding als Strategieoption der Markenpolitik: Kaufverhalten bei Co-Brand-Produkten und negative Rückwirkungseffekte auf die Muttermarken. Gabler, Wiesbaden

Janiszewski C, van Osselaer SMJ (2000) A connectionist model of brand–quality associations. J Mark Res 37:331–350

Keller KL (1993) Conceptualizing, measuring, managing customer-based brand equity. J Mark 57:1–22

Keller KL, Aaker DA (1992) The effects of sequential introduction of brand extensions. J Mark Res 29:35–50

Krishna A (2016) A clearer spotlight on spotlight: understanding, conducting and reporting. J Consum Psychol 26:315–324

Lanseng EJ, Olsen LE (2012) Brand alliances: the role of brand concept consistency. Eur J Mark 46:1108–1126

Levin AM, Levin IR, Heath CE (2003) Product category dependent consumer preferences for online and offline shopping features and their influence on multichannel retail alliances. J Electron Commer Res 4:85–93

Mason CH, Perreault WD (1991) Collinearity, power, and interpretation of multiple regression analysis. J Mark Res 28:268–280

Park CS, Srinivasan V (1994) A survey-based method for measuring and understanding brand equity and its extendibility. J Mark Res 31:271–288

Park CW, Jun SY, Shocker AD (1996) Composite branding alliances: an investigation of extension and feedback effects. J Mark Res 33:453–466

Podsakoff PM, Organ DW (1986) Self-reports in organizational research problems and prospects. J Manag 12:531–544

Podsakoff PM, MacKenzie SB, Podsakoff NP, Lee JY (2003) Common method bias in behavioral research. J Appl Psychol 88:879–903

Rao AR, Qu L, Ruekert RW (1999) Signaling unobservable product quality through a brand ally. J Mark Res 36:258–268

Samu S, Krishnan HS, Smith RE (1999) Using advertising alliances for new product introduction: interactions between product complementarity and promotional strategies. J Mark 63:57–74

Shadish WR, Cook TD, Campbell DT (2002) Experimental and quasi-experimental designs for generalized causal inference. Houghton Mifflin, Boston

Sherif M, Taub D, Hovland CI (1958) Assimilation and contrast effects of anchoring stimuli on judgments. J Exp Psychol 55:150–155

Simonin BL, Ruth JA (1998) Is a company known by the company it keeps? Assessing the spillover effects of brand alliances on consumer brand attitudes. J Mark Res 35:30–42

Spiller SA, Fitzsimons GJ, Lynch JG Jr, McClelland GH (2013) Spotlights, floodlights, and the magic number zero: simple effect tests in moderated regression. J Mark Res 50:277–288

Srinivasan V (1979) Network models for estimating brand-specific effects in multi-attribute marketing models. Manag Sci 25:11–21

Swaminathan V, Reddy SK, Dommer SL (2012) Spillover effects of ingredient branded strategies on brand choice: a field study. Mark Lett 23:237–251

Tversky A (1977) Features of similarity. Psychol Rev 84:327–352

Vaidyanathan R, Aggarwal P (2000) Strategic brand alliances: implications of ingredient branding for national and private label brands. J Prod Brand Manag 9:214–228

Van der Lans R, Van den Bergh B, Dieleman E (2015) Partner selection in brand alliances: an empirical investigation of the drivers of brand fit. Mark Sci 33:51–66

Van Osselaer SMJ, Janiszewski C (2001) Two ways of learning brand associations. J Consum Res 28:202–223

Varadarajan PR, Cunningham MH (1995) Strategic alliances: a synthesis of conceptual foundations. J Acad Mark Sci 23:282–296

Voss KE, Gammoh BS (2004) Building brands through brand alliances: does a second ally help? Mark Lett 15:147–159

Voss KE, Tansuhaj P (1999) Consumer perspective on foreign market entry: building brands through brand alliances. J Int Consum Market 11:39–58

Walchli SB (2007) The effects of between-partner congruity on consumer evaluation of cobranded products. Psychol Mark 24:947–973

Washburn JH, Till BD, Priluck R (2000) Co-branding: brand equity and trial effects. J Consum Mark 17:591–604

Washburn JH, Till BD, Priluck R (2004) Brand alliance and customer-based brand-equity effects. Psychol Mark 21:487–508
Appendix
Appendix
Appendix A: Multicollinearity checks, Study 1
Appendix B: Multicollinearity checks, Study 2
Appendix C: Multicollinearity checks, Study 3
Correlation matrix
Appendix D
About this article
Cite this article
Schnittka, O., Johnen, M., Völckner, F. et al. The impact of different fit dimensions on spillover effects in brand alliances. J Bus Econ 87, 899–925 (2017). https://doi.org/10.1007/s11573-017-0850-z
Keywords
Brand management

Brand alliances

Attitude-based partner fit

Product-based partner fit

Brand contrast effects
JEL Classification