Abstract
We examine the value of sporting success to the German population at two major sport events in 2012, the UEFA European Championships and the London Olympic Games. Primary data were collected with a nationwide online survey of the German population (n = 359). Using the contingent valuation method (CVM), this study is the first to compare the value of sporting success between two events. The weighted results show that 57.5 % of the respondents stated a positive (>0) willingness-to-pay (WTP) for winning the European Championships title and 40.6 % for the first place in the Olympic medal table. Conversely, the findings indicate a lower average WTP for winning the European title in football (€40.74) than for Germany being ranked first in the Olympic medal table (€46.47). Regression analyses indicate that middle-aged individuals with low expectations of a good German result, low identification with the national team, but high personal importance that the team does well stated a significantly higher WTP for winning the title at the European Championships. For the first place in the medal table, females with a lower educational level, little interest in sports in general but high interest in the Summer Olympics including watching the Games, high expectations of a good German result, and a high identification with the German team reported a significantly higher WTP.
Access options
Buy single article
Instant access to the full article PDF.
USD 39.95
Price excludes VAT (USA)
Tax calculation will be finalised during checkout.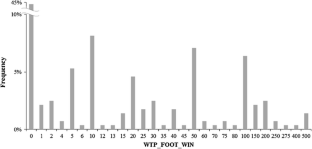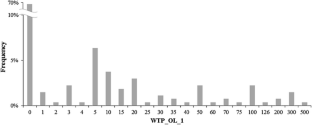 Notes
Due to this approach, the sample is based on two different groups: people from the area of Münster and people from different social networks. Therefore, we tested with a Wilcoxon rank-sum test whether the WTP differs between these two groups. The results show that there are no significant differences.

The WTP for the European Championships and the Olympic medal table could also be jointly determined. This would require an alternative econometric approach, such as a seemingly unrelated regression analysis.

We applied the (paired) t test because of its robustness (Bortz and Schuster 2010), although the data are not normally distributed. However, we compared the results of the paired t-test with the non-parametric Wilcoxon test and obtained similar findings.
References
Allison L, Monnington T (2002) Sport, prestige and international relations. Gov Oppos 37:106–134

Becker GM, DeGroot M, Marshak J (1964) Measuring utility by a single-response sequential method. Behav Sci 9:226–232

Bortz J, Schuster C (2010) Statistik für Human- und Sozialwissenschaftler, 7th edn. Springer, Heidelberg

Carlsson F, Martinsson P (2001) Do hypothetical and actual marginal willingness to pay differ in choice experiments? Application to the valuation of the environment. J Environ Econ Manag 41:179–192

Carman JM (1990) Consumer perceptions of service quality: an assessment of the SERVQUAL dimensions. J Retail 66:33–55

Carson RT (2000) Contingent valuation: a user's guide. Environ Sci Technol 34:1413–1418

Castellanos P, García J, Sánchez J (2011) The willingness to pay to keep a football club in a city: how important are the methodological issues? J Sports Econ 12:464–486

Dohmen T, Falk A, Huffman D, Sunde U (2006) Seemingly irrelevant events affect economic perceptions and expectations: the FIFA World Cup 2006 as a natural experiment. IZA discussion paper no. 2275. Institute for the Study of Labor, Bonn

Downward P, Rasciute S (2010) The relative demands for sports and leisure in England. Eur Sport Manag Q 10:189–214

Downward P, Dawson A, Dejonghe T (2009) Sport economics: theory, evidence and policy. Butterworth-Heinemann, Oxford

Elling A, von Hilvoorde I, van den Dool R (2014) Creating or awakening national pride through sporting success: a longitudinal study on macro effects in the Netherlands. Int Rev Sociol Sport 49:129–151

Fisher RJ (1993) Social desirability bias and the validity of indirect questioning. J Consum Res 20:303–315

Flatau J, Rohkohl F (2013) The value of national sporting success—to measure the individual willingness to pay for Olympic medals. Paper presented at the 5th ESEA Conference in Sports Economics in Esbjerg, Denmark

Forrest D, Simmons R (2003) Sport and gambling. Oxf Rev Econ Policy 19:598–611

Frey BS (2008) Happiness: a revolution in economics. MIT Press, Cambridge

Fukuyama F (1995) Trust: the social virtues and the creation of prosperity. The Free Press, New York

Gratton C, Shibli S, Coleman R (2006) The economic impact of major sports events: a review of ten events in the UK. Sociol Rev 54:41–58

Green M, Houlihan B (2005) Elite sport development: policy learning and political priorities. Routledge, Oxon

Hallmann K, Wicker P, Breuer C, Schüttoff U (2011) Interdependency of sport supply and sport demand in German metropolitan and medium-sized municipalities: findings from multi-level analyses. Eur J Sport Soc 8:65–84

Humphreys BR, Johnson BK, Mason DS, Whitehead JC (2011) Estimating the value of medal success at the 2010 Winter Olympic Games. Working paper no. 11-20, Appalachian State University. http://econ.appstate.edu/RePEc/pdf/wp1120.pdf. Accessed 12 May 2014

Johnson BK (2008) The valuation of nonmarket benefits in sport. In: Humphreys BR, Howard DR (eds) The business of sports. Praeger, Westport, pp 207–233

Johnson BK, Whitehead JC (2000) Value of public goods from sports stadiums: the CVM approach. Contemp Econ Policy 18:48–58

Johnson BK, Groothuis PA, Whitehead JC (2001) The value of public goods generated by a major league sports team: the CVM approach. J Sports Econ 2:6–21

Johnson BK, Whitehead JC, Mason DS, Walker GJ (2007) Willingness to pay for amateur sport and recreation programs. Contemp Econ Policy 25:553–564

Kavetsos G, Szymanski S (2010) National wellbeing and international sports events. J Econ Psychol 31:158–171

Knack S, Keefer P (1997) Does social capital have an economic pay-off? A cross country investigation. Q J Econ 112:1251–1288

Kuckartz U, Ebert T, Rädiker S, Stefer C (2009) Evaluation online: Internetgestützte Befragung in der Praxis. Verlag für Sozialwissenschaften, Wiesbaden

Littkemann J, Kleist S (2002) Sportlicher Erfolg in der Fußball-Bundesliga: eine Frage der Auf- oder Einstellung? Z Betriebswirt, Ergänzungsheft 4:181–201

Loomis J, Brown T, Lucero B, Peterson G (1996) Improving validity experiments of contingent valuation methods: results of efforts to reduce the disparity of hypothetical and actual willingness to pay. Land Econ 72:450–461

Miller KM, Hofstetter R, Krohmer H, Thang ZJ (2011) How should consumers' willingness to pay be measured? An empirical comparison of state-of-the-art approaches. J Mark Res 48:172–184

Mitchell RC, Carson RT (1989) Using surveys to value public goods: the contingent valuation method. Resources for the Future, Washington, DC

Parasuraman A, Berry LL, Zeithaml VA (1990) An empirical examination of relationships in an extended service quality model. Marketing Science Institute, Cambridge

Pawlowski T, Downward P, Rasciute S (2014) Does national pride from international sporting success contribute to well-being? An international investigation. Sport Manag Rev 17:121–132

Putnam RD (1993) Making democracy work: civic traditions in modern Italy. Princeton University Press, Princeton

Rätzel S, Weimann J (2006) Der Maradona Effekt: Wie viel Wohlfahrt schafft die deutsche Nationalmannschaft? Perspek Wirtschaftspolit 7:257–270

Regionalstatistik (2012). Bevölkerungsstand: Bevölkerung nach Geschlecht und Altersgruppen – Stichtag 31.12.2012. https://www.regionalstatistik.de/genesis/online/data;jsessionid=D64EC247C33D8E06698CC190BD791B05?operation=abruftabelleAbrufen&selectionname=173-21-5&levelindex=1&levelid=1410347548414&index=5. Accessed 10 Sept 2014

SoSci Survey (2014). SoSci Panel für Wissenschaftler. https://www.soscisurvey.de/panel/researchers.php. Accessed 5 Dec 2014

Spiegel-Online (2012) Deutsches Team verfehlt Medaillenvorgabe deutlich. http://www.spiegel.de/sport/sonst/olympia-2012-deutschland-verfehlt-medaillenvorgabe-a-849413.html. Accessed 12 May 2014

Stigler GJ, Becker GS (1977) De gustibus non est disputandum. Am Econ Rev 67:76–90

Süssmuth B, Heyne M, Maennig W (2010) Induced civic pride and integration. Oxf Bull Econ Stat 72:202–220

Terbuyken H (2012) Für gute Spiele braucht es keinen Medaillenregen. http://aktuell.evangelisch.de/artikel/6056/fuer-gute-spiele-braucht-es-keinen-medaillenregen?destination=node/6056. Accessed 12 May 2014

Walker M, Mondello MJ (2007) Moving beyond economic impact: a closer look at the contingent valuation method. Int J Sport Financ 2:149–160

Walton H, Longo A, Dawson P (2008) A contingent valuation of the 2012 London Olympic Games. J Sports Econ 9:304–317

Wicker P (2011) Willingness-to-pay in non-profit sports clubs. Int J Sport Financ 6:155–169

Wicker P, Hallmann K, Breuer C, Feiler S (2012a) The value of Olympic success and the intangible effects of sport events: a contingent valuation approach in Germany. Eur Sport Manag Q 12:337–355

Wicker P, Prinz J, von Hanau T (2012b) Estimating the value of national sporting success. Sport Manag Rev 15:200–210

Wicker P, Mason DS, Johnson BK, Whitehead JC (2014) Willingness to donate and invest in the success of German Football Bundesliga teams. Paper presented at the 89th Annual Conference of the WEAI in Denver, CO

Wooldridge JM (2006) Introductory econometrics: a modern approach. Thomson South-Western, Cincinnati
Acknowledgments
The authors thank the participants of the Scottish Economic Society 2013 Annual Conference for their precious comments on the presentation that preceded this article. They also thank two anonymous reviewers for their valuable comments.
About this article
Cite this article
Wicker, P., Kiefer, S. & Dilger, A. The value of sporting success to Germans: Comparing the 2012 UEFA Championships with the 2012 Olympics. J Bus Econ 85, 897–919 (2015). https://doi.org/10.1007/s11573-014-0761-1
Published:

Issue Date:

DOI: https://doi.org/10.1007/s11573-014-0761-1
Keywords
Contingent valuation method

Public goods

Sport event

Sporting success

Willingness-to-pay
JEL Classification