Abstract
The research presented in this article aims to identify information technology-related stressors in daily work life that might contribute to burnout. We provide a detailed analysis of techno- and work-stressors, techno- and work-exhaustion, as well as the consequences of and interrelations among these perceptions. Techno-stressors and techno-exhaustion are theorized as antecedents of work-stressors, work-exhaustion, and work-related outcomes, such as job satisfaction, organizational commitment, and turnover intention. The proposed model assesses whether using information technology (IT) or other work-stressors cause exhaustion and consequently negative outcomes in terms of low job satisfaction, low organizational commitment, and high turnover intention. The results of an empirical study with 306 employees show that IT usage causes exhaustion because techno-stressors contribute to techno-exhaustion, which in turn influences work-exhaustion significantly. Our results also reveal that work-exhaustion negatively impacts job satisfaction, organizational commitment, and turnover intention, whereas techno-exhaustion only indirectly causes these psychological and behavioral responses through work-exhaustion. Finally, post hoc analyses identify that employees who use IT as a supporting tool for their daily work process (such as HR workers) report higher levels of techno-exhaustion than employees for whom IT is the core of their work (IT professionals, such as software developers).
This is a preview of subscription content, log in to check access.
Access options
Buy single article
Instant access to the full article PDF.
US$ 39.95
Price includes VAT for USA
Subscribe to journal
Immediate online access to all issues from 2019. Subscription will auto renew annually.
US$ 99
This is the net price. Taxes to be calculated in checkout.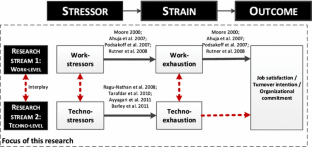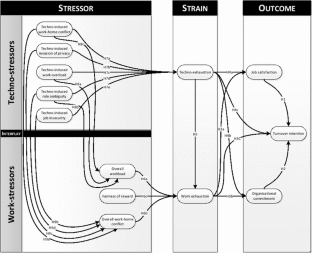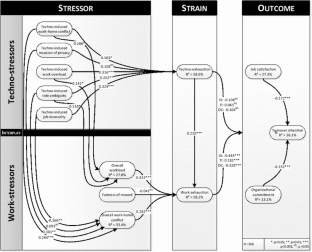 References
Ahuja MK, Chudoba KM, Kacmar CJ, McKnight HD, George JF (2007) IT Road Warriors: Balancing work-family conflict, job autonomy, and work overload to mitigate turnover intentions. MIS Q 31(1):1–17

Alge BJ (2001) Effects of computer surveillance on perceptions of privacy and procedural justice. J Appl Psychol 84(6):797–804

Alter S (2008) Defining information systems as work systems: implications for the IS field. Eur J Inf Syst 17(5):448–469

Alter S (2013) Work system theory: overview of core concepts, extensions, and challenges for the future. J Assoc Inf Syst 14(2):72–121

Ayyagari R, Grover V, Purvis R (2011) Technostress: technological antecedents and implications. MIS Q 35(4):831–858

Bagozzi RP (1979) The role of measurement in theory construction and hypothesis testing: toward a holistic model. In: Ferrell OC, Brown SW, Lamb CW (eds) Conceptual and theoretical developments in marketing. American Marketing Association, Chicago, pp 15–32

Barley S, Meyerson D, Grodal S (2011) E-mail as a source and symbol of stress. Organ Sci 22(4):887–906

Baron RM, Kenny DA (1986) The moderator–mediator variable distinction in social psychological research: conceptual, strategic, and statistical considerations. J Pers Soc Psychol 51(6):1173–1182

Barrick MR, Zimmerman RD (2005) Reducing voluntary, avoidable turnover through selection. J Appl Psychol 90(1):159–166

Bartol KM (1983) Turnover among Dp personnel: a casual analysis. Commun ACM 26(10):807–811

Campell DT, Fiske DW (1959) Convergent and discriminant validation by the multitrait-multimethod matrix. Psychol Bull 56(2):81–105

Carmines EG, Zeller RA (2008) Reliability and validity assessment. Sage Publications, Newbury Park

Chawla D, Sondhi N (2011) Assessing work-life balance among indian women professionals. Indian J Ind Relat 47(2):341–352

Chin WW (1998) The partial least squares approach to structural equation modeling. In: Marcoulides GA (ed) Modern methods for business research. Erlbaum, Mahwah, pp 295–336

Cohen J (1988) Statistical power analysis for the behavioral sciences. Lawrence Erlbaum Associates, Hillsdale

de Croon E, Sluiter JK, Blonk RWB, Broersen J, Frings-Dresen M (2004) Stressful work, psychological job strain, and turnover: a 2-year prospective cohort study of truck drivers. J Appl Psychol 89(3):442–454

Eckhardt A, Maier C, Büttner R 2012 The influence of pressure to perform and experience on changing perceptions and user performance: a multi-method experimental analysis. Proceedings of the 33rd International Conference on information systems (ICIS), Orlando (FL)

Eckhardt A, Maier C, Hsieh JJ, Chuk T, Chan A, Hsiao J, Buettner R 2013 Objective measures of IS usage behavior under conditions of experience and pressure using eye fixation data. Proceedings of the 34th International Conference on information systems (ICIS), Milan

Fornell C, Larcker DF (1981) Evaluating structural equation models with unobservable variables and measurement error. J Mark Res 18(1):39–50

Gallo A 2012 Stop email overload. http://blogs.hbr.org/hmu/2012/02/stop-email-overload-1.html

Hom PW, Katerberg RHC (1979) Comparative examination of three approaches to the prediction of turnover. J Appl Psychol 64(3):280–290

Hoppock R (1935) Job satisfaction. Harper, New York

Hulland JS (1999) Use of partial least squares (PLS) in strategic management research: a review of four recent studies. Strateg Manag J 20(2):195–204

Joseph D, Kok-Yee N, Koh C, Soon A (2007) Turnover of information technology professionals: a narrative review, meta-analytic structural equation modeling, and model development. MIS Q 31(3):547–577

Koeske GF, Koeske R (1993) A preliminary test of a stress–strain–outcome model for reconceptualizing the burnout phenomenon. J Soc Serv Resh 17(3–4):107–135

Kristensen TS, Borritz M, Villadsen E, Christensen KB (2005) The Copenhagen burnout inventory: a new tool for the assessment of burnout. Work Stress 19(3):192–207

Lacity M, Iyer V, Rudramuniyaiah S (2008) Turnover intentions of Indian IS professionals. Inf Syst Front 10(2):225–241

Laumer S, Beimborn D, Maier C, Weinert C (2013) Enterprise content management. Bus Inf Syst Eng 5(6):449–452

Lee TW, Mitchell TR, Holtom BC, McDaniel LS, Hill JW (1999) The unfolding model of voluntary turnover: a replication and extension. Acad Manag J 42(4):450–462

Leiter M, Schaufeli WB (1996) Consistency of the burnout construct across occupations. Anxiety Stress Coping Int J 9(3):229–243

Liang H, Saraf N, Hu Q, Xue Y (2007) Assimilation of enterprise systems: the effect of institutional pressures and the mediating role of top management. MIS Q 31(1):59–87

Locke EA (1969) What is job satisfaction? Org Behav Human Perform 4(4):309–336

Maier C, Laumer S, Eckhardt A, Weitzel T 2012 online social networks as a source and symbol of stress: an empirical analysis. Proceedings of the 33rd International Conference on information systems (ICIS), Orlando (FL)

Maier C, Laumer S, Weitzel T 2013a Although i am stressed, i still use IT! Theorizing the decisive impact of strain and addiction of social network site users in post-acceptance theory. Proceedings of the 34th International Conference on information systems (ICIS), Milan (Italy)

Maier C, Laumer S, Eckhardt A, Weitzel T (2013b) Analyzing the impact of HRIS implementations on HR personnel's job satisfaction and turnover intention. J Strat Inf Syst 22(3):193–207. doi:10.1016/j.jsis.2012.09.001

Maier C, Laumer S, Eckhardt A, Weitzel T (2014) Giving too much social support: social overload on social networking sites. Eur J Inf Syst. doi:10.1057/ejis.2014.3 (advance online publication 4 March 2014)

Malhotra NK, Kim SS, Agarwal R (2004) Internet users' information privacy concerns (IUIPC): the construct, the scale, and a causal model. Inf Syst Res 15(4):336–355

March J, Simon H (1958) Organizations. Wiley, New York

Maslach C, Leiter M (2008) Early predictors of job burnout and engagement. J Appl Psychol 93(3):498–512

Maslach C, Schaufeli WB, Leiter MP (2001) Job burnout. Annu Rev Psychol 52(1):397–422

Middelton C, Cukier W (2006) Is mobile email functional or dysfunctional? Two perspectives on mobile email usage. Eur J Inf Syst 15(3):252–260

Mitchell TR, Holtom BC, Lee TW, Sablynski CJ, Erez M (2001) Why people stay: using job embeddedness to predict voluntary turnover. Acad Manag J 44(6):1102–1121

Moore JE (2000) One road to turnover. an examination of work exhaustion in technology professionals. MIS Q 24(1):141–168

Mourmant G, Gallivan MJ, Kalika M (2009) Another road to IT turnover: the entrepreneurial path. Eur J Inf Syst 18(5):498–521

Pawlowski SD, Kaganer EA, Cater JJ III (2007) Focusing the research agenda on burnout in IT: social representations of burnout in the profession. Eur J Inf Syst 16(5):612–627

Podsakoff PM, MacKenzie SB, Lee J-Y, Podsakoff NP (2003) Common method biases in behavioral research: a critical review and recommended remedies. J Appl Psychol 83(5):879–903

Podsakoff NP, LePine J, Lepine MA (2007) Differential challenge stressor-hindrance stressor relationships with job attitudes, turnover intentions, turnover, and withdrawal behavior: a meta-analysis. J Appl Psychol 92(2):438–454

Porter LW, Steers RM (1973) Organizational work and personal factors in employee turnover and absenteeism. Psychol Bull 80(2):151–176

Preacher KJ, Hayes AF (2004) SPSS and SAS procedures for estimating indirect effects in simple mediation models. Behav Res Methods, Instrum Comput 36(4):717–731

Ragu-Nathan TS, Tarafdar M, Ragu-Nathan BS, Qiang T (2008) The consequences of technostress for end users in organizations: conceptual development and empirical validation. Inf Syst Res 1(4):417–433

Riedl R, Kindermann H, Auinger A, Javor A (2012) Technostress from a neurobiological perspective: system breakdown increases the stress hormone cortisol in computer users. Bus Inf Syst Eng 4(2):61–69

Ringle CM, Wende S, Will A (2005) SmartPLS. University of Hamburg, Hamburg

Rutner PS, Hardgrave BC, McKnight HD (2008) Emotional dissonance and the information technology professional. MIS Q 32(3):635–652

Salanova M, Peiró JM, Schaufeli WB (2002) Self-efficacy specificity and burnout among information technology workers: an extension of the job demand-control model. Eur J Work Organ Psychol 11(1):1–25

Schaufeli WB, Leiter M, Kalimo R 1995 The general burnout inventory: a self-report questionnaire to assess burnout at the workplace. Proceedings of the work, stress and health '95: creating healthier workplaces, pp 10–23

Shirom A, Melamed S (2005) Does burnout affect physical health? A review of the evidence. In: Antoniou A-SG, Cooper CL (eds) Research companion to organizational health psychology. Edward Elgar, Cheltenham, pp 599–622

Shrout PE, Bolger N (2002) Mediation in experimental and nonexperimental studies: new procedures and recommedations. Psychol Methods 7(4):422–445

Sicking M 2011 Burnout weiter auf dem Vormarsch. http://www.heise.de/resale/artikel/Burnout-weiter-auf-dem-Vormarsch-1230727.html

Der Spiegel (2011) Blackberry-pause: VW-Betriebsrat setzt E-Mail-Stopp nach Feierabend durch. http://www.spiegel.de/wirtschaft/service/blackberry-pause-vw-betriebsrat-setzt-e-mail-stopp-nach-feierabend-durch-a-805524.html

Süddeutsche Zeitung (2012) Von der Leyen will Arbeitnehmer vor Computerstress schützen. http://www.sueddeutsche.de/karriere/erreichbarkeit-bei-der-arbeit-von-der-leyen-will-arbeitnehmer-vor-computerstress-schuetzen-1.1380168. Accessed 16 November 2012

Tarafdar M, Tu Q, Ragu-Nathan TS (2010) Impact of technostress on end-user satisfaction and performance. J Manag Inf Systems 27(3):303–334

Tett RP, Meyer JP (1993) Job satisfaction, organizational commitment, turnover intention, and turnover: path analyses based on meta-analytic findings. Pers Psychol 46(2):259–293

Thatcher JB, Stepina LP, Boyle RJ (2002) Turnover of information technology workers: examining empirically the influence of attitudes, job characteristics, and external markets. J Manag Inf Syst 19(3):231–250

Williams LJ, Edwards J, Vandenberg R (2003) Recent advances in causal modeling methods for organizational and management research. J Manag 29(6):903–936
About this article
Cite this article
Maier, C., Laumer, S. & Eckhardt, A. Information technology as daily stressor: pinning down the causes of burnout. J Bus Econ 85, 349–387 (2015). https://doi.org/10.1007/s11573-014-0759-8
Keywords
Techno-stress

Work-stress

Techno-exhaustion

Work-exhaustion

IT professionals

Job satisfaction

Turnover intention

Organizational commitment
JEL Classification