Abstract
This research focuses on the effects of different business process management components in combination with information technology on recruiting process performance. The results of a study of Germany's largest 1,000 business enterprises (response rate 13.1 %) reveal that business process analysis, business process improvement and the usage of applicant tracking systems reduce recruiting process costs. Specifically, the cycle time of the recruiting process can be shortened significantly through business process controlling and process analysis, and by using an applicant tracking system that supports the design and evaluation of key performance indicators. Business process standardization combined with applicant tracking systems and business process documentation as well these systems used together with business process controlling have a significant positive impact on stakeholder satisfaction with the recruiting process. The general quality of the process can be improved through business process controlling as well as through a combination of applicant tracking systems and business process controlling. Our results reveal that several components of the business process management in conjunction with a supporting applicant tracking system have differing impacts on recruiting process performance. This paper discusses these diverse effects of business process management on process performance and draws implications for information systems success research.
Access options
Buy single article
Instant access to the full article PDF.
US$ 39.95
Tax calculation will be finalised during checkout.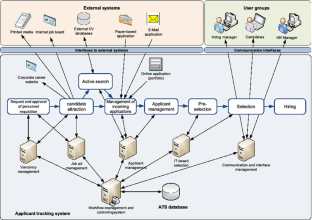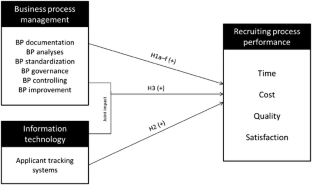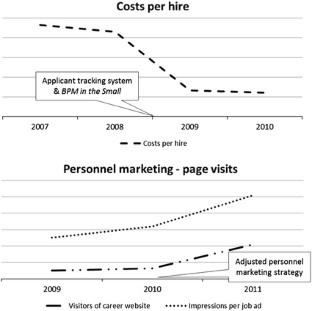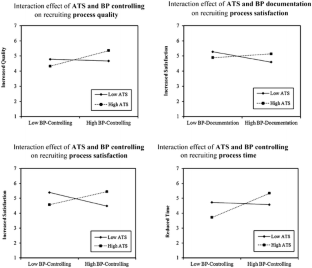 References
Adesola S, Baines T (2005) Developing and evaluating a methodology for business process improvement. Bus Process Manag J 11(1):37–46

Armistead C, Machin S (1998) Business process management: implications for productivity in multi-stage service networks. Int J Serv Ind Manag 9(4):323–336

Ashton C, Morton L (2005) Managing talent for competitive advantage: taking a systemic approach to talent management. Strateg HR Rev 4(5):28–31

Bagozzi RP, Yi Y (1988) On the evaluation of structural equation models. J Acad Mark Sci 16(1):74–94

Baum M, Kabst R (2012) Die Wirkung von informellen und internetbasierten Rekrutierungskanälen auf den Rekrutierungserfolg: Eine empirische Analyse in kleinen und mittleren Unternehmen. Z Betriebswirtsch 82(S3):117–142

Becker J, Kugeler M, Rosemann M (2011) Process management: a guide for the design of business processes. Springer, Berlin

Beimborn D, Joachim N (2011) The joint impact of service-oriented architectures and business process management on business process quality: an empirical evaluation and comparison. IseB 9(3):333–362

Beimborn D, Hirschheim R, Schlosser F, Schwarz A, Weitzel T (2008) How to Achieve IT Business Alignment? Investigating the Role of Business Process Documentation in US and German Banks. In: Proceedings of the 14th Americas Conference on Information Systems (AMCIS), Toronto (ON) Canada

Biazzo S, Bernardi G (2003) Process management practices and quality systems standards: risks and opportunities of the new ISO 9001 certification. Bus Process Manag J 9(2):149–169

Braganza A, Lambert R (2000) Strategic integration: developing a Process-Governance Framework. Knowl Process Manag 7(3):177–186

Cakar F, Bititci US, MacBryde J (2003) A business process approach to human resource management. Bus Process Manag J 9(2):190–207

Chin WW, Marcolin BL, Newsted PR (2003) A partial least squares latent variable modeling approach for measuring interaction effects: results from a Monte Carlo simulation study and an electronic-mail emotion/adoption study. Inf Syst Res 14(2):189–217

Cohen J (1988) Statistical power analysis for the behavioral sciences. L. Erlbaum Associates, Hillsdale

DeLone W, McLean E (1992) Information systems success: the quest for the dependent variable. Inf Syst Res 3(1):60–95

DeLone W, McLean E (2003) The DeLone and McLean model of information systems success: a ten-year update. J Manag Inf Syst 19(4):9–30

Diamantopoulos A, Siguaw JA (2006) Formative versus reflective indicators in organizational measure development: a comparison and empirical illustration. Br J Manag 17(4):263–282

Dumas M, La Rosa M, Mendling J, Reijers H (2013) Fundamentals of business process management. Springer, Berlin, New York

Dwivedi YK, Wastell D, Laumer S, ZinnerHenriksen H, Myers MD, Bunker D, Elbanna A, Ravishankar MN, Srivastava SS (2014) Research on information systems failures and successes: Status update and future directions. Inf Syst Front. doi:10.1007/s10796-014-9500-y

Eckhardt A, Laumer S (2009) An IT-architecture to align e-recruiting and retention processes. Int J E-Serv Mob Appl 1(2):38–61

Eckhardt A, Laumer S, Weitzel T (2009) Who influences whom? Analyzing workplace referents' social influence on IT adoption and non-adoption. J Inf Technol 24(1):11–24

Eckhardt A, Laumer S, Maier C, Weitzel T (2012) Bewerbermanagementsysteme in deutschen Großunternehmen. Z Betriebswirtsch 82(S4):47–75

Eckhardt A, Laumer S, Maier C, Weitzel T (2014) The transformation of people, processes, and IT in e-recruiting: insights from an eight-year case study of a German media corporation. Empl Relat 36(4):415–431

Elzinga D, Horak T, Lee Chung-Yee, Bruner C (1995) Business process management: survey and methodology. IEEE Trans Eng Manag 42(2):119–128

Forsberg T, Nilsson L, Antoni M (1999) Process orientation: the Swedish experience. Total Qual Manag 10(4–5):540–547

Froese FJ, Peltokorpi V (2011) Recruiting channels of foreign subsidiaries in Japan. Z Betriebswirtsch 81(S3):101–116

Grund C (2006) Mitarbeiterrekrutierung über das Internet—Marktanalyse und empirische Untersuchung von Determinanten und Konsequenzen für die Arbeitnehmer. Z Betriebswirtsch 76(5):451–472

Hair JF (2010) Multivariate data analysis. Prentice Hall, Upper Saddle River

Hammer M (2002) Process Management and the Future of Six Sigma. MIT Sloan Manag Rev 43(2):26–32

Hammer M (2007) The Process Audit. Harvard Bus Rev 85(4):111–123

Harmon P (2007) Business process change: A guide for business managers and BPM and six sigma professionals. Elsevier, Amsterdam

Hertz S, Johansson JK, Jager FD (2001) Customer-oriented cost cutting: process management at Volvo. Supply Chain Manag Int J 6(3):128–142

Hirzel M (2008) Erfolgsfaktor Prozessmanagement. In: Hirzel M, Kühn F, Gaida I (eds) Prozessmanagement in der Praxis. Gabler, Wiesbaden, pp 11–22

Ho D-Y, Jin Y, Dwivedi R (2009) Business process management: a research overview and analysis. In: 15th Americas Conference on Information Systems 2009, San Francisco, USA

Holm AB (2012) E-recruitment: towards an ubiquitous recruitment process and candidate relationship management. Z Personalforschung 26(3):241–259

Houy C, Fettke P, Loos P (2010) Empirical research in business process management—analysis of an emerging field of research. Bus Process Manag J 16(4):619–661

Houy C, Fettke P, Loos P, Aalst WMP, Krogstie J (2011) Business process management in the large. Bus Inf Syst Eng 3(6):385–388

Hulland J (1999) Use of partial least squares (PLS) in strategic management research: a review of four recent studies. Strateg Manag J 20(2):195–204

Hung RY-Y (2006) Business process management as competitive advantage: a review and empirical study. Total Quality Manag Bus Excell 17(1):21–40

Isaksson R (2006) Total quality management for sustainable development: process based system models. Bus Process Manag J 12(5):632–645

Karimi J, Somers TM, Bhattacherjee A (2007) The impact of erp implementation on business process outcomes: a factor-based study. J Manag Inf Syst 24(1):101–134

Kohlbacher M (2010) The effects of process orientation: a literature review. Bus Process Manag J 16(1):135–152

Küng P, Hagen C (2007) The fruits of Business Process Management: an experience report from a Swiss bank. Bus Process Manag J 13(4):477–487

Laumer S, von Stetten A, Eckhardt A, Weitzel T (2009) Online gaming to apply for jobs: the impact of self- and e-assessment on staff recruitment. In: Proceedings of the 42nd Hawaii International Conference on System Sciences (HICSS), Big Island (HI)

Laumer S, Stetten A, Eckhardt A (2009b) E-Assessment. Bus Inf Syst Eng 1(3):263–265

Laumer S, Eckhardt A, Trunk N (2010a) Do as your parents say?—analyzing IT adoption influencing factors for full and under age applicants. Inf Syst Front 12(2):169–183

Laumer S, Eckhardt A, Weitzel T (2010b) Electronic human resources management in an e-business environment. J Electron Commer Res 11(4):240–250

Laumer S, Eckhardt A, Weitzel T (2012) Online gaming to find a new job: examining job seekers' intention to use serious games as a self-assessment tool. Z Personalforschung (ZfP) (German Journal of Research in Human Resource Management) 26(3):218–240

Laumer S, Beimborn D, Maier C, Weinert C (2013) Enterprise Content Management. Bus Inf Syst Eng 5(6):449–452

Laumer S, Maier C, Eckhardt A (2014) The impact of human resources information systems and business process management implementations on recruiting process performance: a case study. In: Proceedings of the 2014 Americas Conference on Information Systems

Lee R (1998) Business process management: a review and evaluation. Bus Process Manag J 4(3):214–225

Lee I (2007) An architecture for a next-generation holistic e-recruiting system. Commun ACM 50(7):81–85

Lillrank P, Liukko M (2004) Standard, routine and non-routine processes in health care. Int J Health Care Quality Assur 17(1):39–46

Maier C, Laumer S, Eckhardt A, Weitzel T (2013) Analyzing the impact of HRIS implementations on HR personnel's job satisfaction and turnover intention. J Strateg Inf Syst 22(3):193–207

Maier C, Laumer S, Eckhardt A, Weitzel T (2014) Giving too much social support: social overload on social networking sites. Eur J Inf Syst (EJIS). doi:10.1057/ejis.2014.3

Mantel N (1963) Chi square tests with one degree of freedom; extensions of the Mantel-Haenszel procedure. J Am Stat Assoc 58(303):690–700

Markus ML, Jacobson DD (2010) Business Process Governance. In: VomBrocke J, Rosemann M (eds.) Handbook on Business Process Management 2, Springer, Berlin pp 201–222

Münstermann B, Eckhardt A, Weitzel T (2009) Join the standard forces: examining the combined impact of process and data standards on business process performance. In: 2009 42nd Hawaii International Conference on System Sciences, IEEE, pp 1–10

Münstermann B, Eckhardt A, Weitzel T (2010a) The performance impact of business process standardization: an empirical evaluation of the recruitment process. Bus Process Manag J 16(1):29–56

Münstermann B, Stetten A, Laumer VS, Eckhardt A (2010b) The performance impact of business process standardization: HR case study insights. Manag Res Rev 33(9):924–939

Niehaves B, Plattfaut R, Becker J (2012) Business process governance: a comparative study of Germany and Japan. Bus Process Manag J 18(2):347–371

Palmberg K (2009) Exploring process management: are there any widespread models and definitions? TQM J 21(2):203–215

Palvia PC, Perkins JA, Zeltmann SM (1992) The PRISM system: a key to organizational effectiveness at federal express corporation. MIS Quarterly (16:3), p 277

Petter S, DeLone W, McLean E (2008) Measuring information systems success: models, dimensions, measures, and interrelationships. Eur J Inf Syst 17(3):236–263

Podsakoff PM, MacKenzie SB, Lee J-Y, Podsakoff NP (2003) Common method biases in behavioral research: a critical review of the literature and recommended remedies. J Appl Psychol 88(5):879–903

Röglinger M, Kamprath N (2012) Prozessverbesserung mit Reifegradmodellen. Z Betriebswirtsch 82(5):509–538

Rohleder TR, Silver EA (1997) A tutorial on business process improvement. J Oper Manag 15(2):139–154

Rummler GA, Ramias AJ (2010) a framework for defining and designing the structure of work. In: VomBrocke J, Rosemann M (eds.) Handbook on Business Process Management 1. Springer, Berlin pp 83–106

Schmelzer HJ, Sesselmann W (2003) Geschäftsprozessmanagement in der Praxis: Kunden zufrieden stellen—Produktivität steigern—Wert erhöhen: Six Sigma in Geschäftsprozessen; komplettes Praxisbeispiel. Hanser, München

Sharp A, McDermott P (2009) Workflow modeling: Tools for process improvement and applications development. Artech House, Boston

Shaw DR, Holland CP, Kawalek P, Snowdon B, Warboys B (2007) Elements of a business process management system: theory and practice. Bus Process Manag J 13(1):91–107

Siha SM, Saad GH (2008) Business process improvement: empirical assessment and extensions. Bus Process Manag J 14(6):778–802

Strohmeier S (2009) Concepts of e-HRM consequences: a categorisation, review and suggestion. Int J Hum Resour Manag 20(3):528–543

Strohmeier S (2010) Electronic portfolios in recruiting? A conceptual analysis of usage. J Electron Commer Res 11(4):268–280

Tumasjan A, Strobel M, Welpe IM (2011) Employer brand building for start-ups: which job attributes do employees value most? Z Betriebswirtsch 81(S6):111–136

Ulbrich F (2006) Improving shared service implementation: adopting lessons from the BPR movement. Bus Process Manag J 12(2):191–205

Ungan MC (2006) Standardization through process documentation. Bus Process Manag J 12(2):135–148

van der Aalst WMP, ter Hofstede AHM, Weske M (2003) Business process management: a survey. In: van der Aalst WMP, Weske M (eds) Business process management. Lecture Notes in Computer Science. Springer, Berlin, Heidelberg, pp 1–12

Weske M (2012) Business process management architectures. In: Weske M (ed.) Business Process Management Springer, Berlin pp 333–371

Wiblen S, Grant D, Dery K (2010) Transitioning to a new HRIS: the reshaping of human resources and information technology talent. J Electron Commer Res 11(4):251–267

Wiblen S, Dery K, Grant D (2012) Do you see what I see? The role of technology in talent identification. Asia Pac J Hum Resour 50(4):421–438

Worth CW (2011) The future talent shortage will force global companies to use HR analytics to help manage and predict future human capital needs. Int J Bus Intel Res 2(4):55–65

Wüllenweber K, Beimborn D, Weitzel T, König W (2008) The impact of process standardization on business process outsourcing success. Inf Syst Front 10(2):211–224

Zairi M (1997) Business process management: a boundaryless approach to modern competitiveness. Bus Process Manag J 3(1):64–80
About this article
Cite this article
Laumer, S., Maier, C. & Eckhardt, A. The impact of business process management and applicant tracking systems on recruiting process performance: an empirical study. J Bus Econ 85, 421–453 (2015). https://doi.org/10.1007/s11573-014-0758-9
Keywords
Business process management

Recruiting

Process performance

Applicant tracking system

Human resources information systems

Information systems success
JEL Classification