Abstract
The recently growing concerns of customers and governments about environmental protection and greenhouse gas reduction have forced companies to integrate the topic of environmental sustainability into their decision making. Facility location decisions are of special relevance in this respect because of their strategic nature. Furthermore, many different trade-offs must be considered, for example between operational costs and customer service. But as soon as environmental issues are concerned, other critical issues must be considered as well. Based on a case study from the petrochemical industry, this paper extends two basic facility location models and shows the impact of distribution network-design decisions on the economic and environmental performance of the company. The results show a trade-off between total (distribution) costs and transport carbon emissions.
Access options
Buy single article
Instant access to the full article PDF.
USD 39.95
Price excludes VAT (USA)
Tax calculation will be finalised during checkout.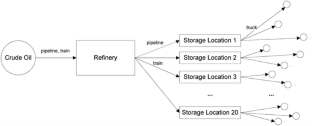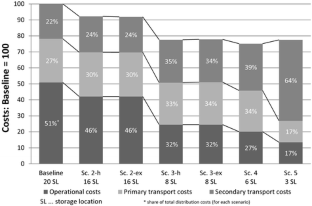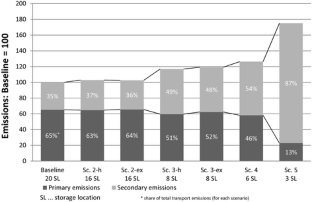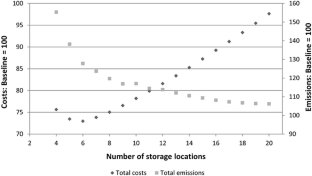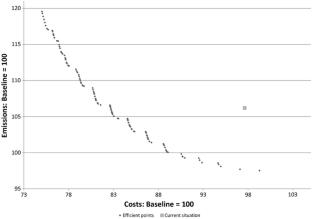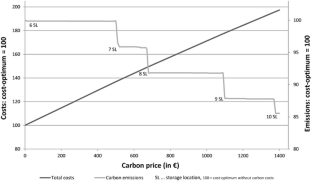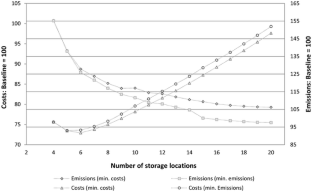 References
Abdallah T, Diabat A, Simchi-Levi D (2010) A carbon sensitive supply chain network problem with green procurement. In: Proceedings of the 40th International Conference on Computers and Industrial Engineering, Awaji City, pp 1–6

Aronsson H, Huge-Brodin M (2006) The environmental impact of changing logistics structures. Intern J Logistics Manag 17(3):394–415

Azarmand Z, Jami EN (2009) Location allocation problem. In: Farahani RZ, Hekmatfar M (eds) Facility location: concepts, models, algorithms and case studies. Physica-Verlag, Germany, pp 93–109

Bauer J, Bektas T, Crainic TG (2010) Minimizing greenhouse gas emissions in intermodal freight transport: an application to rail service design. J Oper Res Soc 61(3):530–542

Bauer G, Beullens P, Dueh J, Günther HO, Helmreich S, Jammernegg W, Judl J, Kannegiesser M, Koskela S, Mattila T, Ries J, Rosic H, Treitl S (2011) Deliverable 4: economic and environmental sustainability of new logistics and manufacturing systems. Funded by the European Commission 7th RTD Programme, Vienna

Benjafaar S, Li Y, Daskin M (2010) Carbon footprint and the management of supply chains: Insights from simple models. Working Paper, University of Minnesota, USA

Bérubé JF, Gendreau M, Potvin JY (2009) An exact ε-constraint method for bi-objective combinatorial optimization problems: application to the traveling salesman problem with profits. Eur J Oper Res 194(1):39–50

Bojarksi AD, Laínez JM, Enspuna A, Puigjaner L (2009) Incorporating environmental impacts and regulations in a holistic supply chains modeling: an LCA approach. Comput Chem Eng 33(10):1747–1759

Bonney M, Jaber MY (2010) Environmentally responsible inventory models: non-classical models for a non-classical era. Int J Prod Econ 133(1):43–53

Braithwaite A (2005) Maximising performance––the power of supply chain collaboration. EPCA, Cefic. http://www.epca.eu/content/Publications/ThinkTank-Reports-/docs/SCTT-%20RAPPORT%202005.pdf. [Accessed May 24 2012]

Caramira M, Dell'Olmo P (2008) Multi-objective management in freight logistics––increasing capacity, service level and safety with optimization algorithms. Springer, London

Chopra S, Meindl P (2010) Supply chain management––strategy, planning, and operation, 4th edn. Pearson, Upper Saddle River

Daskin MS, Snyder LV, Berger RT (2005) Facility location in supply chain design. In: Langevin A, Riopel D (eds) Logistics systems: design and optimization. Springer, New York, pp 39–65

Deb K (2001) Multi-objective optimization. In: Burke EK, Kendall G (eds) Search methodologies––introductory tutorials in optimization and decision support techniques. Springer, New York, pp 273–316

Diabat A, Simchi-Levi D (2009) A carbon-capped supply chain network problem. In: Proceedings of the 2009 IEEE IEEM, pp 523–527

EEA (2009) Greenhouse gas emission trends and projections in Europe 2009. European Environment Agency

Ehrgott M (2005) Multicriteria optimization, 2nd edn. Springer, Berlin

Ehrgott M (2008) Multiobjective optimization. AI Mag 29(4):47–57

European Commission (2009) A sustainable future for transport–towards an integrated, technology-led and user-friendly system. Publications Office of the European Union, Luxembourg

European Commission (2011) Roadmap to a single European transport area––towards a competitive and resource efficient transport system. White paper, Brussels

Golicic SL, Boerstler CN, Ellram LM (2010) "Greening" transportation in the supply chain. MIT Sloan Manag Rev 51(2):47–55

Guillén-Gosálbez G, Grossmann IE (2009) Optimal design and planning of sustainable chemical supply chains under uncertainty. Amer Instit Chem Eng J 55(1):99–121

Harris I, Naim M, Palmer A, Potter A, Mumford C (2011) Assessing the impact of cost optimization based on infrastructure modelling on CO2 emissions. Int J Prod Econ 131(1):313–321

Hoen K, Tan T, Fransoo J, van Houtum G (2010) Effect of carbon emission regulations on transport mode selection in supply chains. Flexible Serv Manufact J. doi:10.1007/s10696-012-9151-6

Holmgren K, Belhaj M, Gode J, Särnholm E, Zetterberg L, Ahman M (2006) Greenhouse Gas Emissions Trading for the Transport Sector. Technical report, Swedish Environmental Research Institute, Sweden

Hugo A, Pistikopoulos EN (2005) Environmentally conscious long-range planning and design of supply chain networks. J Clean Prod 13(15):1471–1491

Kok R, Gille J (2009) Towards EU emissions cap for all transport modes, In: Proceedings of the European Transport Conference. Leiden, Netherlands

Langella IM, Zanoni S (2010) Eco-efficiency in logistics: a case study on distribution network design. Intern J Sustain Eng 4(2):1–12

McKinnon A (2004) Supply chain excellence in the European chemical industry. Heriot-Watt University, Edinburgh

McKinnon A (2005) European chemical supply-chain: threats and opportunities. Logistics Trans Focus 7(3):30–35

McKinnon A, Piecyk MI (2010) Measuring and managing CO2 emissions in European chemical transport. Heriot-Watt University, Edinburgh

Melo MT, Nickel S, Saldanha-da-Gama F (2009) Facility location and supply chain management––a review. Eur J Oper Res 196(2):401–412

OECD (2006) Decoupling the Environmental Impacts of Transport from Economic Growth, http://www.oecd.org/dataoecd/3/52/37722729.pdf. [Accessed 24 May 2012]

Piecyk MI, McKinnon A (2007) Internalizing the external costs of road freight transport in the UK. Logistics Research Centre: Heriot-Watt University, Edinburgh

Piecyk MI, McKinnon A (2010) Forecasting the carbon footprint of road freight transport in 2020. Int J Prod Econ 128(1):31–42

Quariguasi Frota Neto J, Bloemhof J, van Nunen J, van Heck E (2008) Designing and evaluating sustainable logistics networks. Intern J Prod Econ 111(2):195–208

Quariguasi Frota Neto J, Walther G, Bloemhof J, van Nunen J, Spengler T (2009) From closed-loop to sustainable supply chains: The WEEE case. Intern J Prod Res 48(5):4463–4481

Scaparra MP, Scutella MG (2001) Facilities locations, customers: building blocks of location models. A Survey. Technical report. University of Pisa, Italy

Seuring S, Müller M (2008) From a literature review to a conceptual framework for sustainable supply chain management. J Clean Prod 16(15):1699–1710

Simchi-Levi D (2010) Operations rules––delivering customer value through flexible operations. The MIT Press, Cambridge

Simchi-Levi D, Kaminsky P, Simchi-Levi E (2008) Designing and managing the supply chain, 3rd edn. McGraw-Hill/Irwin, New York

Uherek E, Halenka T, Borken-Kleefeld J, Balkanski Y, Berntsen T, Borrego C, Gauss M, Hoor P, Juda-Rezler K, Lelieveld J, Melas D, Rypdal K, Schmid S (2010) Transport impacts on atmosphere and climate: land transport. Atmos Environ 44(37):4772–4816

Wang F, Lai X, Shi N (2011) A multi-objective optimization for green supply chain network design. Decis Support Syst 51(2):262–269

Wu HJ, Dunn SC (1995) Environmentally responsible logistics systems. Intern J Phys Distrib Logistics 25(2):20–38
About this article
Cite this article
Treitl, S., Jammernegg, W. Facility location decisions with environmental considerations: a case study from the petrochemical industry. J Bus Econ 84, 639–664 (2014). https://doi.org/10.1007/s11573-014-0730-8
Published:

Issue Date:

DOI: https://doi.org/10.1007/s11573-014-0730-8
Keywords
Distribution network-design

Transport carbon emissions

Sustainability

Case study
JEL Classification