Abstract
This research investigates negative spillover effects on brand trust and purchase intentions due to violations of implicit or explicit rules within brand cooperation (transgressions). In particular, this research examines a joint new product launch activity of a focal brand and a partner brand. Study 1, an experimental study with brand community members of the focal brand and different transgression scenarios, reveals fewer spillover effects on the focal brand when the partner brand is responsible for the transgression, and discovers more negative spillover effects on the partner brand when the focal brand causes the transgression. In other words, brand community members transfer the responsibility for the transgression to an external cause. Study 2 explores different forms of crisis communication in the context of a product launch delay and finds that a denial by the focal brand is more effective with respect to image restoration than a denial by the partner brand. However, when both brands deny responsibility at the same time, the denial negatively influences trust in both brands.
Access options
Buy single article
Instant access to the full article PDF.
USD 39.95
Price excludes VAT (USA)
Tax calculation will be finalised during checkout.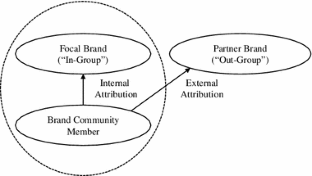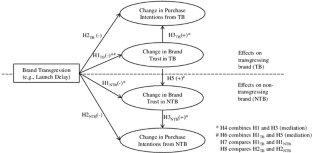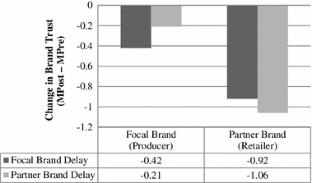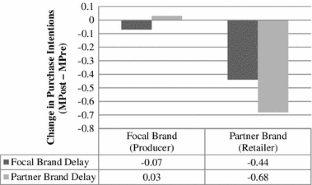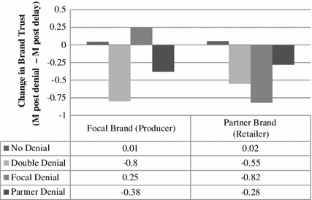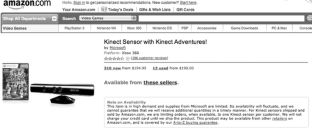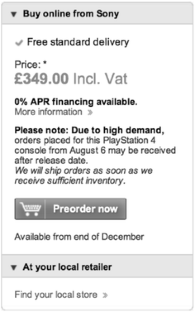 Notes
Palmatier et al. (2009) use two additional items for measuring purchase intentions. Since these items address purchase intentions in different times, only one item was chosen. For further details see Rossiter (2002, p. 313–314). The reliability of the single-item measure is indicated by cross validation: Study 1 finds no differences between initial measures of purchase intentions in three independent experimental groups, neither regarding the focal brand, nor in respect to the partner brand.

To assess discriminant validity of measures respectively common method bias in the survey data, two Harman's single-factor tests were performed (one for each comparison), following the procedure outlined by Podsakoff and Organ (1986). In this test, all items in the research model were entered into a principal components factor analysis resulting in two factors with Eigen values >1 in each comparison. Since no single factor emerged as a dominant factor accounting for most of the variance, no substantial common method bias was indicated. A correlation matrix is reported in the appendix, Table 4.

Subjects were asked for the launch delay at the end of the questionnaire. 16.3 % of the subjects did not remember a launch delay, indicating a successful manipulation of the other subjects.

A polynomial function with a linear (p < 0.01) and a cubic coefficient (p = 0.01), that were tested independently from each other, fits the data from Study 1, Comparison 2 slightly better than a linear function: R 2linear  = 0.42, F = 147.41, p < 0.01; R 2polynomial  = 0.43, F = 52.48, p < 0.01; ΔR2 = 0.017, p = 0.01.
References
Aaker J, Fournier S, Brasel SA (2004) When good brands do bad. J Consum Res 31(1):1–16

Aggarwal P (2004) The effects of brand relationship norms on consumer attitudes and behavior. J Consum Res 31(1):87–101

Albers S (2013) Preventing unethical publication behavior of quantitative empirical research by changing editorial policies. J Bus Econ. doi:10.1007/s11573-11013-10675-11573

Axelrod R (1984) The evolution of cooperation. Basic Books, New York

Bayus BL, Jain S, Rao AG (2001) Truth or consequences: an analysis of vaporware and new product announcements. J Mark Res 38(1):3–13

Benoit W (1997) Image repair discourse and crisis communication. Public Relat Rev 23(2):177–186

Berger J, Milkman KL (2012) What makes online content viral? J Mark Res 49(2):192–205

Bourdeau BL, Cronin JJ Jr, Voorhees CM (2007) Modeling service alliances: an exploratory investigation of spillover effects in service partnerships. Strateg Manag J 28(6):609–622

Brodie RJ, Ilic A, Juric B, Hollebeek L (2013) Consumer engagement in a virtual brand community: an exploratory analysis. J Bus Res 66(1):105–114

Bruce M, Daly L, Kahn KB (2007) Delineating design factors that influence the global product launch process. J Prod Innov Manage 24(5):456–470

Chaudhuri A, Holbrook MB (2001) The chain of effects from brand trust and brand affect to brand performance: the role of brand loyalty. J Mark 65(2):81–93

Chung E, Beverland M (2006) An exploration of consumer forgiveness following marketer transgressions. Adv Consum Res 33(1):98–99

Darke PR, Ashworth L, Main KJ (2010) Great expectations and broken promises: misleading claims, product failure, expectancy disconfirmation and consumer distrust. J Acad Mark Sci 38(3):347–362

Das TK, Teng B-S (2004) The risk-based view of trust: a conceptual framework. J Bus Psychol 19(1):85–116

Deschamps J-C (1997) Attribution or explanations in everyday life. Eur J Work Organ Psychol 6(1):7–24

Doney PM, Cannon JP (1997) An examination of the nature of trust in buyer-seller relationships. J Mark 61(2):35–51

Doney PM, Barry JM, Abratt R (2007) Trust determinants and outcomes in global B2B services. Eur J Mark 41(9/10):1096–1116

Dowling GR, Staelin R (1994) A model of perceived risk and intended risk-handling activity. J Consum Res 21(1):119–134

Easingwood C, Moxey S, Capleton H (2006) Bringing high technology to market: successful strategies employed in the worldwide software industry. J Prod Innov Manage 23(6):498–511

Easley RW, Madden CS, Dunn MG (2000) Conducting marketing science: the role of replication in the research process. J Bus Res 48(1):83–92

Eliashberg J, Robertson TS (1988) New product preannouncing behavior: a market signaling study. J Mark Res 25(3):282–292

Gao H, Knight JG, Zhang H, Mather D (2013) Guilt by association: heuristic risks for foreign brands during a product-harm crisis in China. J Bus Res 66(8):1044–1051

Garbarino E, Johnson MS (1999) The different roles of satisfaction, trust, and commitment in customer relationships. J Mark 63(2):70–87

Geyskens I, Steenkamp J-B, Kumar N (1998) Generalizations about trust in marketing channel relationships using meta-analysis. Int J Res Mark 15(3):223–248

Gounaris SP (2005) Trust and commitment influences on customer retention: insights from business-to-business services. J Bus Res 58(2):126–140

Herm S (2013) When things go wrong, don't rely on committed consumers: effects of delayed product launches on brand trust. J Prod Innov Manage 30(1):70–81

Keller K, Aperia T, Georgson M (2008) Strategic brand management: a European perspective. Financial Times Prentice Hall, Harlow

Kingshott RPJ, Pecotich A (2007) The impact of psychological contracts on trust and commitment in supplier-distributor relationships. Eur J Mark 41(9/10):1053–1072

Kohli C (1999) Signaling new product introductions: a framework explaining the timing of preannouncements. J Bus Res 46(1):45–56

Kreps DM, Milgrom P, Roberts J, Wilson R (1982) Rational cooperation in the finitely repeated prisoners' dilemma. J Econ Theory 27(2):245–252

McMurrer M (2011) Exclusive gadget: apple and AT&T antitrust litigation and the iPhone aftermarkets. J Corp Law 36(2):495–512

Merz MA, Yi H, Vargo SL (2009) The evolving brand logic: a service-dominant logic perspective. J Acad Mark Sci 37(3):328–344

Morgan RM, Hunt SD (1994) The commitment-trust theory of relationship marketing. J Mark 58(3):20–38

Muniz AM, O'Guinn TC (2001) Brand community. J Consum Res 27(4):412–432

Palmatier RW, Dant RP, Grewal D, Evans KR (2006) Factors influencing the effectiveness of relationship marketing: a meta-analysis. J Mark 70(4):136–153

Palmatier RW, Jarvis CB, Bechkoff JR, Kardes FR (2009) The role of customer gratitude in relationship marketing. J Market 73(5):1–18

Pavlou PA, Gefen D (2005) Psychological contract violation in online marketplaces: antecedents, consequences, and moderating role. Inf Syst Res 16(4):372–399

Preacher KJ, Hayes AF (2004) SPSS and SAS procedures for estimating indirect effects in simple mediation models. Behav Res Methods Instrum Comput 36(4):717–731

Roedder John D, Loken B, Joiner C (1998) The negative impact of extensions: can flagship products be diluted? J Mark 62(1):19–32

Roehm ML, Tybout AM (2006) When will a brand scandal spill over, and how should competitors respond? J Mark Res 43(3):366–373

Roehm ML, Tybout AM (2009) Let the response fit the scandal. Harvard Bus Rev 87(12):82–89

Rossiter JR (2002) The C-OAR-SE procedure for scale development in marketing. Int J Res Mark 19(4):305–335

Schatzel KE, Calantone RJ, Droge C (2001) Beyond the firm's initial declaration: are preannouncements of new product introductions and withdrawal alike? J Prod Innov Manage 18(2):82–95

Schlosser AE, Barnett White T, Lloyd SM (2006) Converting web site visitors into buyers: how web site investment increases consumer trusting beliefs and online purchase Intentions. J Mark 70(2):133–148

Simonin BL, Ruth JA (1998) Is a company known by the company it keeps? Assessing the spillover effects of brand alliances on consumer brand attitudes. J Mark Res 35(1):30–42

Sohn Y, Lariscy RW (2012) A "buffer" or "boomerang?"––The role of corporate reputation in bad times. Commun Res. doi:10.1177/0093650212466891

Talay MB, Seggie SH, Cavusgil E (2009) Exploring correlates of product launch in collaborative ventures: an empirical investigation of pharmaceutical alliances. J Prod Innov Manage 26(4):360–370

Tax SS, Brown SW, Chandrashekaran M (1998) Customer evaluations of service complaint experiences: implications for relationship marketing. J Mark 62(2):60–76

Taylor DM, Jaggi V (1974) Ethnocentrism and causal attribution in a South Indian context. J Cross Cult Psychol 5(2):162–171

Tomlinson EC, Mayer RC (2009) The role of causal attribution dimensions in trust repair. Acad Manag Rev 34(1):85–104

Weiner B (1985) An attributional theory of achievement motivation and emotion. Psychol Rev 92(4):548–573

Weiner B (1986) An attributional model of motivation and emotion. Springer, New York

Wu Y, Balasubramanian S, Mahajan V (2004) When is a preannounced new product likely to be delayed? J Mark 68(2):101–113

Zboja JJ, Voorhees CM (2006) The impact of brand trust and satisfaction on retailer repurchase intentions. J Serv Mark 20(5):381–390

Zentes J, Morschett D, Schramm-Klein H (2008) Brand personality of retailers––an analysis of its applicability and its effect on store loyalty. Int Rev Retail Distrib Consum Res 18(2):167–184
Acknowledgments
The author is indebted to Tania von der Heidt, Jan Kratzer, and Jana Möller for their helpful comments and suggestions.
About this article
Cite this article
Herm, S. Negative spillover effects in brand cooperation. J Bus Econ 84, 1087–1109 (2014). https://doi.org/10.1007/s11573-014-0711-y
Published:

Issue Date:

DOI: https://doi.org/10.1007/s11573-014-0711-y
Keywords
Negative spillover

Launch delay

Intergroup attribution

Denial

Prisoner's dilemma
JEL Classification