Abstract
This study analyzes how negotiators from Germany and China deal with a foreign opponent compared to a compatriot. Hypotheses about negotiation behavior and behavioral adaptation are derived from differences in cooperative and competitive motivational orientation represented by the cultural values of assertiveness and humane orientation. Additionally, negotiation outcomes in this cultural setting are assessed in order to shed light on this economically very important, but currently much under researched bilateral trade relationship. To this end, 45 German, 41 Chinese, 42 German–Chinese, and 45 Chinese–German negotiation dyads had to solve a complex, integrative bargaining task through internet chats. Negotiation behavior was content-coded and subjected to logistic regression analysis. In the intracultural negotiations, German negotiators used more integrative and less distributive tactics compared to Chinese negotiators. When changing the setting from intra- to intercultural, the Chinese negotiators did not change behavior, but the German negotiators increased their level of distributive behavior. Since they did not significantly change their level of integrative behavior, we found (partial) behavioral adaptation of the German negotiators. As a result, the joint gains achieved by intercultural dyads are lower than the joint gains of German intracultural dyads, but higher than those of Chinese intracultural dyads.
Access options
Buy single article
Instant access to the full article PDF.
USD 39.95
Price excludes VAT (USA)
Tax calculation will be finalised during checkout.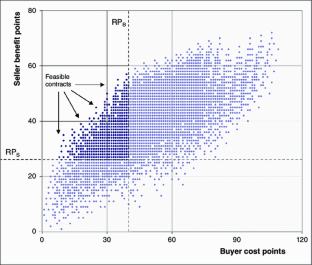 Notes
Germany and China are among the top three exporting nations world-wide and share large volumes of mutual trade with each other. Exports from China to Germany reached EUR 79.5 billion in 2011; exports from Germany to China equaled EUR 64.8 billion (Statistisches Bundesamt 2012).

To derive a name for their proposition, Kelley and Stahelski (1970a) put the focal player's motivational orientation (from cooperative to competitive) into a matrix combined with the other's motivational orientation. For all combinations assumed realistic under their proposition the respective cell in the matrix is marked with a cross. Since the shape of the envelope around all crosses is a triangle, the authors call their proposition the "triangle hypothesis" (see Kelley and Stahelski 1970a, p. 77).

In each sample more dyads were collected, but excluded from the analysis either due to impasses or insufficient negotiation activity identified through an outlier analysis. In the German intracultural sample 3 dyads (2 impasses/1 outlier), in the Chinese intracultural 5 dyads (5/0), in the German–Chinese intercultural 4 dyads (3/1), and in the Chinese-German intercultural 7 dyads (5/2) were removed and are not include in the analysis.

2010: By Harald Neun for his dissertation (Neun 2011); 2012: by Kai Lügger for the purpose of analyzing adaptation.

One reviewer noted that a different incentive scheme may have led to different outcomes. While we cannot rule out this possibility completely, we are quite confident that our choice did not bias our results because all participants in all conditions received the same incentives. Hence, our between-subjects comparisons are not touched by the choice of incentive.

Because English is the primary foreign language taught in both countries and Chinese participants had to pass the College-English-Test 4 to enroll in their university, we feel confident that all participants fully understood the provided information.
References
Adair WL (2003) Integrative sequences and negotiation outcome in same- and mixed-culture negotiations. Int J Confl Manag 14(3/4):273–296. doi:10.1108/eb022902

Adair WL, Brett JM (2004) Culture and negotiation processes. In: Gelfand MJ, Brett JM (eds) The handbook of negotiation and culture. Stanford business books. Stanford University Press, Stanford, pp 158–176

Adair WL, Brett JM (2005) The negotiation dance: time, culture, and behavioral sequences in negotiation. Organ Sci 16(1):33–51. doi:10.1287/orsc.1040.0102

Adair WL, Okumura T, Brett JM (2001) Negotiation behavior when cultures collide: the United States and Japan. J Appl Psychol 86(3):371–385. doi:10.1037//0021-9010.86.3.371

Adair WL, Taylor MS, Tinsley CH (2009) Starting out on the right foot: negotiation schemas when cultures collide. Negot Confl Manag Res 2(2):138–163. doi:10.1111/j.1750-4716.2009.00034.x

Adler N, Graham J (1989) Cross-cultural interaction: the international comparison fallacy? J Int Bus Stud 20(3):515–537. doi:10.1057/palgrave.jibs.8490367

Aldrich JH, Nelson FD (1984) Linear probability, logit, and probit models. Sage Publications, Newbury Park

Alexander JF, Schul PL, Babakus E (1991) Analyzing interpersonal communications in industrial marketing negotiations. J Acad Mark Sci 19(2):129–139. doi:10.1007/BF02726005

Arunachalam V, Wall JA, Chan C (1998) Hong Kong versus US negotiations: effects of culture, alternatives, outcome scales, and mediation. J Appl Soc Psychol 28(14):1219–1244. doi:10.1111/j.1559-1816.1998.tb01675.x

Bakeman R, Gottman J (1986) Observing interaction: an introduction to sequential analysis. Cambridge University Press, New York

Beersma B, De Dreu CK (1999) Negotiation processes and outcomes in prosocially and egoistically motivated groups. Int J Confl Manag 10(4):385–402. doi:10.1108/eb022831

Berry JW (2005) Acculturation: living successfully in two cultures. Int J Intercult Relat 29:697–712. doi:10.1016/j.ijintrel.2005.07.013

Blake R, Mouton JS (1964) The managerial grid. Gulf Publishing Co., Houston

Brett JM (2000) Culture and negotiation. Int J Psychol 35(2):97–104. doi:10.1080/002075900399385

Brett JM, Okumura T (1998) Inter- and intracultural negotiation: US and Japanese negotiators. Acad Manag J 41(5):495–510. doi:10.2307/256938

Brett JM, Shapiro DL, Lytle AL (1998) Breaking the bonds of reciprocity in negotiations. Acad Manag J 41(4):410–424. doi:10.2307/257081

Statistisches Bundesamt (2012) Außenhandel. Destatis, Wiesbaden

Byrne BM, Shavelson RJ, Muthén B (1989) Testing for the equivalence of factor covariance and mean structures: the issue of partial measurement invariance. Psychol Bull 105(3):456. doi:10.1037/0033-2909.105.3.456

Campbell NC, Graham JL, Jolibert A, Meissner HG (1988) Marketing negotiations in France, Germany, the United Kingdom, and the United States. J Mark 52:49–62. doi:10.2307/1251264

Carnevale PJ, Pruitt DG (1992) Negotiation and mediation. Annu Rev Psychol 43(1):531–582. doi:10.1146/annurev.ps.43.020192.002531

Cheung GW, Rensvold RB (1998) Cross-cultural comparisons using non-invariant measurement items. Appl Behav Sci Rev 6(1):93–110. doi:10.1016/S1068-8595(99)80006-3

Cohen J (1960) A coefficient of agreement for nominal scales. Educ Psychol Meas 20(1):37–46. doi:10.1177/001316446002000104

Condon WS (1980) The relation of interactional synchrony to cognitive and emotional processes. In: Key MR (ed) The relationship of verbal and nonverbal communication. De Gruyter, The Hague, pp 49–65

De Dreu CKW (2004) Motivation in negotiation: a social psychological analysis. In: Brett JM, Gelfand MJ (eds) The handbook of negotiation and culture. Stanford Business Books, Stanford, pp 114–138

De Dreu CK, Weingart LR, Kwon S (2000) Influence of social motives on integrative negotiation: a meta-analytic review and test of two theories. J Pers Soc Psychol 78(5):889. doi:10.1037/0022-3514.78.5.889

Demaris A (1992) Logit modeling: practical applications. Sage Publications, Newbury Park

Deutsch M (1949) An experimental study of the effects of co-operation and competition upon group process. Hum Relat 2:199–232. doi:10.1177/001872674900200301

Deutsch M (1973) The resolution of conflict: constructive and destructive processes. Yale University Press, New Haven

Diamantopoulos A, Siguaw JA (2006) Formative versus reflective indicators in organizational measure development: a comparison and empirical illustration. Br J Manag 17(4):263–282. doi:10.1111/j.1467-8551.2006.00500.x

Gelfand MJ, Brett J, Gunia BC, Imai L, Huang T-J, Hsu B-F (2013) Toward a culture-by-context perspective on negotiation: negotiating teams in the United States and Taiwan. J Appl Psychol 98(3):504–513. doi:10.1037/a0031908

Gouldner AW (1960) The norm of reciprocity: a preliminary statement. Am Sociol Rev 25(2):161–178

Graf A, Koeszegi ST, Pesendorfer EM (2012) Cross-cultural negotiations and power distance: strategies applied by Asian and European buyers and sellers in electronic negotiations. Nankai Bus Rev Int 3(3):242–256. doi:10.1108/20408741211264567

Graham JL (1985) Cross-cultural marketing negotiations: a laboratory experiment. Mark Sci 4(2):130–146. doi:10.1287/mksc.4.2.130

Graham JL, Andrews JD (1987) A holistic analysis of Japanese and American business negotiations. J Bus Commun 24(4):63–77. doi:10.1177/002194368702400405

Graham JL, Kim DK, Lin CY, Robinson M (1988) Buyer-seller negotiations around the Pacific Rim: differences in fundamental exchange processes. J Consumer Res 15:48–54

Graham JL, Mintu AT, Rodgers W (1994) Explorations of negotiation behaviors in ten foreign cultures using a model developed in the United States. Manag Sci 40(1):72–95. doi:10.1287/mnsc.40.1.72

Guetzkow H (1950) Unitizing and categorizing problems in coding qualitative data. J Clin Psychol 6:47–58. doi:10.1002/1097-4679(195001)6:1<47:AID-JCLP2270060111>3.0.CO;2-I

Hall ET (1976) Beyond culture. Doubleday, Anchor Press, New York

Hennig-Schmidt H, Li Z, Yang C (2002) Does power influence bargaining outcomes? A video experimental study in Germany and the People's Republic of China. In: Proceedings of the XXVII annual colloquium on research in economic psychology. IAREP/SABE, Turku, pp 161–167

Hofstede G (1991) Cultures and organizations—software of the mind. Mc Graw-Hill, New York

House R, Javidan M (2004) Overview of GLOBE. In: House R, Hanges P, Javidan M, Dorfman P, Gupta V (eds) Culture, leadership, and organizations—the GLOBE study of 62 societies. Sage Publications, Thousand Oaks, pp 9–28

House RJ, Hanges PJ, Javidan M, Dorfman PW, Gupta V (2004) Culture, leadership, and organizations: The GLOBE study of 62 societies. Sage Publications, Thousand Oaks

Javidan M, Dastmalchian A (2009) Managerial implications of the GLOBE project: a study of 62 societies. Asia Pac J Hum Resour 47(1):41–58. doi:10.1177/1038411108099289

Javidan M, Dorfman PW, De Luque MS, House RJ (2006) In the eye of the beholder: cross cultural lessons in leadership from project GLOBE. Acad Manag Perspect 20(1):67–90. doi:10.5465/AMP.2006.1987

Kamins MA, Johnston WJ, Graham JL (1998) A multi-method examination of buyer-seller interactions among Japanese and American businesspeople. J Int Mark 6(1):8–32

Katz L (2006) Negotiating international business: the negotiator's reference guide to 50 countries around the world. Booksurge Llc., Charleston

Kelley HH, Stahelski AJ (1970a) Social interaction basis of cooperators' and competitors' beliefs about others. J Pers Soc Psychol 16:66–91. doi:10.1037/h0029849

Kelley HH, Stahelski AJ (1970b) Errors in perception of intentions in a mixed-motive game. J Exp Soc Psychol 6(4):379–400. doi:10.1016/0022-1031(70)90051-X

Lee K-H, Yang G, Graham JL (2006) Tension and trust in international business negotiations: American executives negotiating with Chinese executives. J Int Bus Stud 37(5):623–641. doi:10.1057/palgrave.jibs.8400215

Lee S, Brett J, Park JH (2012) East Asians' social heterogeneity: differences in norms among Chinese, Japanese, and Korean negotiators. Negot J 28(4):429–452. doi:10.1111/j.1571-9979.2012.00350.x

Lee S, Adair WL, Seo S-J (2013) Cultural perspective taking in cross-cultural negotiation. Group Decis Negot 22(3):389–405. doi:10.1007/s10726-011-9272-4

Liu M (2009) The intrapersonal and interpersonal effects of anger on negotiation strategies: a cross-cultural investigation. Hum Commun Res 35(1):148–169. doi:10.1111/j.1468-2958.2008.01342.x

Liu W, Friedman R, Hong Y-Y (2012) Culture and accountability in negotiation: recognizing the importance of in-group relations. Organ Behav Hum Dec Process 117(1):221–234. doi:10.1016/j.obhdp.2011.11.001

Ma Z, Jaeger A (2005) Getting to yes in China: exploring personality effects in Chinese negotiation styles. Group Decis Negot 14(5):415–437. doi:10.1007/s10726-005-1403-3

Ma Z, Wang X, Jaeger A, Anderson T, Wang Y, Saunders D (2002) Individual perception, bargaining behavior, and negotiation outcomes. Int J Cross Cult Manag 2(2):171–184. doi:10.1177/1470595802002002865

Ma Z, Liang D, Chen H (2013) Negotiating with the Chinese: are they more likely to use unethical strategies? Group Decis Negot 22(4):641–655. doi:10.1007/s10726-012-9285-7

McClintock CG, Liebrand WB (1988) Role of interdependence structure, individual value orientation, and another's strategy in social decision making: a transformational analysis. J Pers Soc Psychol 55(3):396. doi:10.1037/0022-3514.55.3.396

Mintu-Wimsatt A, Calantone RJ (1995) Intra- and inter-cultural negotiations: a Chinese buyer's perspective. J Mark Theory Pract 3:88–98

Natlandsmyr JH, Rognes J (1995) Culture, behavior, and negotiation outcomes: a comparative and cross-cultural study of Mexican and Norwegian negotiators. Int J Confl Manag 6(1):5–29. doi:10.1108/eb022753

Neun H (2011) Verhandlungen im internationalen Vertrieb. Verlag Dr. Kovač, Hamburg

Olekalns M, Smith L (2000) Understanding optimal outcomes. Hum Commun Res 26(4):527–557. doi:10.1111/j.1468-2958.2000.tb00768.x

Patton C, Balakrishnan PV (2010) The impact of expectation of future negotiation interaction on bargaining processes and outcomes. J Bus Res 63(8):809–816. doi:10.1016/j.jbusres.2009.07.002

Pesendorfer EM, Graf A, Koeszegi ST (2007) Relationship in electronic negotiations: tracking behavior over time. Z Betr-wirtsch 77(12):1315–1338. doi:10.1007/s11573-007-0327-6

Petty RE, Cacioppo JT (1996) Addressing disturbing and disturbed consumer behavior: is it necessary to change the way we conduct behavioral science? J Mark Res 33:1–8

Pruitt DG (1981) Bargaining behavior. Academic Press, New York

Pruitt D, Rubin JZ (1986) Social conflict: escalation, impasse, and resolution. Addision-Wesley, Reding

Putnam LL, Jones TS (1982) Reciprocity in negotiations: an analysis of bargaining interaction. Commun Monogr 49(3):171–191. doi:10.1080/03637758209376080

Rosette AS, Brett JM, Barsness Z, Lytle AL (2012) When cultures clash electronically: the impact of email and social norms on negotiation behavior and outcomes. J Cross-Cult Psychol 43(4):628–643

Rubin JZ, Brown BR (1975) The social psychology of bargaining and negotiation. Academic Press, New York

Salacuse JW (1998) Ten ways that culture affects negotiating style: some survey results. Negot J 14(3):221–240. doi:10.1111/j.1571-9979.1998.tb00162.x

Schlenker BR, Goldman HJ (1978) Cooperators and competitors in conflict: a test of the "triangle model". J Confl Resolut 22(3):393–410. doi:10.1177/002200277802200302

Schwartz SH (1994) Beyond individualism/collectivism: new cultural dimensions of values. In: Kim U, Triandis HC, Kagitcibasi C, Choi SC, Yoon G (eds) Individualism and collectivism: theory, methods and applications. Sage Publications, London, pp 85–119

Shi X, Wang J (2011) Cultural Distance between China and US across GLOBE Model and Hofstede Model. Int Bus Manage 2 (1):11–17

Terlutter R, Diehl S, Mueller B (2006) The GLOBE study—applicability of a new typology of cultural dimensions for cross-cultural marketing and advertising research. In: Diehl S, Terlutter R (eds) International advertising and communication - current insights and empirical findings. DUV, Wiesbaden, pp 419–438. doi:10.1007/3-8350-5702-2_22

Thomas KW (1992) Conflict and negotiation processes in organizations. In: Dunnette MD, Hough LM (eds) Handbook of industrial and organizational psychology, 2nd edn. Consulting Psychologists Press, Palo Alto, pp 651–717

Thompson L (1990a) Negotiation behavior and outcomes: empirical evidence and theoretical issues. Psychol Bull 108(3):515. doi:10.1037/0033-2909.108.3.515

Thompson L (1990b) The influence of experience on negotiation performance. J Exp Soc Psychol 26(6):528–544. doi:10.1016/0022-1031(90)90054-P

Tinsley CH, Brett JM (2001) Managing workplace conflict in the United States and Hong Kong. Organ Behav Hum Dec Process 85(2):360–381. doi:10.1006/obhd.2000.2944

Tung RL, Worm V, Fang T (2008) Sino-Western business negotiations Revisited—30 years after China's open door policy. Org Dyn 37(1):60–74. doi:10.1016/j.orgdyn.2007.11.005

Van Lange PA (1992) Confidence in expectations: a test of the triangle hypothesis. Eur J Pers 6(5):371–379. doi:10.1002/per.2410060505

Weingart LR, Hyder EB, Prietula MJ (1996) Knowledge matters: the effect of tactical descriptions on negotiation behavior and outcome. J Pers Soc Psychol 70(6):1205. doi:10.1037/0022-3514.70.6.1205

Weingart LR, Olekalns M, Smith PL (2004) Quantitative coding of negotiation processes. Int Negot 9:441–455. doi:10.1163/1571806053498805

Weiss SE (1994a) Negotiating with romans, part I. Sloan Manag Rev 35(2):51–69

Weiss SE (1994b) Negotiating with romans, part II. Sloan Manag Rev 35(3):85–99

Wilken R, Cornelißen M, Backhaus K, Schmitz C (2010) Steering sales reps through cost information: an investigation into the black box of cognitive references and negotiation behavior. Intern J Res Mark 27(1):69–82. doi:10.1016/j.ijresmar.2009.08.006

Wilken R, Jacob F, Prime N (2013) The ambiguous role of cultural moderators in intercultural business negotiations. Intern Bus Rev 22(4):736–753. doi:10.1016/j.ibusrev.2012.12.001

Zachariassen F (2008) Negotiation strategies in supply chain management. Intern J Phys Distrib Logist Manag 38(10):764–781. doi:10.1108/0960003081091484
Appendix
Appendix
See Tables 4, 5, 6, 7 and Fig. 1.
About this article
Cite this article
Lügger, K., Geiger, I., Neun, H. et al. When East meets West at the bargaining table: adaptation, behavior and outcomes in intra- and intercultural German–Chinese business negotiations. J Bus Econ 85, 15–43 (2015). https://doi.org/10.1007/s11573-013-0703-3
Published:

Issue Date:

DOI: https://doi.org/10.1007/s11573-013-0703-3
Keywords
Negotiation behavior

Adaptation

Intercultural

Intracultural
JEL Classification