Zusammenfassung
Eine moderne Form der Übernahmetaktik durch "Heranschleichen" (auch Creeping-In genannt), in der mittels Cash Settled Equity Swaps die Meldepflichten des WpHG systematisch unterwandert werden, bis spätestens bei einem Aktienanteil von 30 % ein Pflichtangebot für alle noch ausstehenden Aktien abgegeben werden muss, zieht vermehrt Aufmerksamkeit auf sich. Bei dieser Taktik sind die Akquisiteure allerdings nicht an einer vollständigen Übernahme interessiert, sondern beabsichtigen unter Ausnutzung historisch geringer Hauptversammlungspräsenzen lediglich den Erwerb einer Hauptversammlungsmehrheit, mit der bereits wesentliche Entscheidungen über Gewinnverwendung, Kapitalmaßnahmen etc. entscheidend beeinflusst werden können. Da dieses Pflichtangebot mindestens dem Durchschnittskurs der vorangegangenen drei Monate entsprechen muss, ist – auf den ersten Blick – eine große Gefahr für eine ungewollte Annahme des Angebots durch die Aktionäre gegeben. Das Ziel dieser Arbeit besteht in der Analyse der Wirksamkeit des Pflichtangebots. Wir zeigen, dass die Annahmegefahr verringert werden kann, indem die Veröffentlichung des Pflichtangebots auf einen günstigen Zeitpunkt verschoben wird. Je weiter der Aktienkurs den Durchschnittskurs der vorangegangenen drei Monate hierbei überschreitet, desto geringer fällt die Annahmewahrscheinlichkeit aus. Gemäß historischer Renditen kann mit der Vorgabe, dass bei Ankündigung des Pflichtangebots der aktuelle Aktienkurs um mindestens 14 % über dem 3-Monatsdurchschnittskurs liegen muss, was im Mittel alle acht Monate der Fall ist, die Gefahr einer Angebotsannahme auf weniger als fünf Prozent reduziert werden. In Logit-Regressionen wird weiterhin der Einfluss von unternehmensspezifischen und Marktumfeld-Faktoren auf die Annahmegefahr untersucht.
Abstract
A modern method for (partial) acquisitions is the so called creeping-in tactic. In this procedure the acquirer uses cash settled equity swaps to undermine WpHG notification requirements systematically until she holds at least 30% of the voting rights in the target company. In this case the acquirer has the obligation to submit a mandatory takeover bid for the remaining outstanding shares. In many cases acquirers are not interested in a complete acquisition of the target company but rather want to make use of low shareholder presence levels during the general assembly and therefore have the opportunity to significantly influence fundamental decisions like, e.g. allocation of the net income, corporate actions etc. The mandatory takeover bid has to be equal at least to the three months average share price. At first glance, this involves a high risk of an unintentional acceptance by the targets' shareholders. The goal of this paper is to analyze the effectiveness of the mandatory takeover bid. We show that with a temporal shift of the mandatory takeover bid to a point in time when the share price is above the three months average share price an unintentional acceptance is virtually impossible. In a logit-regression company specific context factors for the acceptance risk are indentified and rejected.
This is a preview of subscription content, log in to check access.
Access options
Buy single article
Instant access to the full article PDF.
US$ 39.95
Price includes VAT for USA
Subscribe to journal
Immediate online access to all issues from 2019. Subscription will auto renew annually.
US$ 99
This is the net price. Taxes to be calculated in checkout.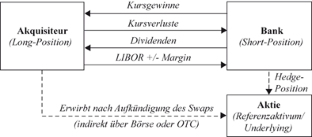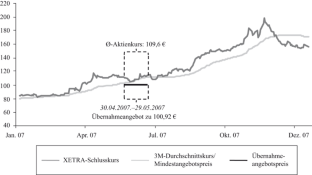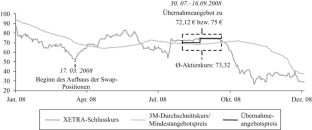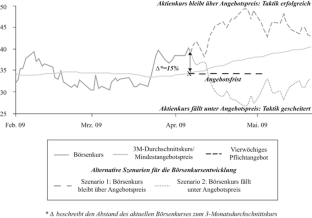 Notes
1.

Allerdings können die Aktienkäufe des Akquisiteurs auch positive Effekte für den Aktienkurs des Zielunternehmens, beispielsweise durch Momentum-Handelsstrategien und/oder durch erhöhte Kaufbereitschaft aufgrund gestiegenen Medieninteresses zur Folge haben (vgl. bspw. Jegadeesh und Titman 1993, Barber und Odean 2008).

2.

Gleichzeitig entsteht jedoch die Pflicht zur Verlustübernahme durch diese sogenannte Obergesellschaft. Verbleibende Minderheitsaktionäre müssen vor die Wahl gestellt werden, einen jährlich anteilig am Grundkapital zu zahlenden Gewinnanspruch beziehen zu können oder alternativ ihre Anteile gegen eine angemessene Abfindung an das herrschende Unternehmen abzugeben.

3.

Wertpapierdienstleistungsunternehmen (Banken), die Aktien im Handelsbestand führen und keine Ausübung der Stimmrechte dieser Aktien beabsichtigen, sind von der im Rahmen des Risikobegrenzungsgesetzes eingeführten unteren Meldeschwelle bei einem 3-prozentigen Stimmrechtsanteil am Zielunternehmen ausgenommen. Für sie gilt gemäß § 23 Abs. 1 S. 1 WpÜG nach wie vor eine Meldepflicht bei Kontrolle eines Stimmrechtsanteils in Höhe von 5 % (vgl. Schanz und Schalast 2008).

4.

Vor Inkrafttreten des Risikobegrenzungsgesetzes musste der Besitz von Aktien und Optionen zur Erreichung der Meldeschwellen des WpHG nicht aggregiert werden.
Literatur
BaFin (2009) Emittentenleitfaden der Bundesanstalt für Finanzdienstleistungsaufsicht [Internetdokument] Bundesanstalt für Finanzdienstleistungsaufsicht URL: http://www.bafin.de/SharedDocs/Downloads/DE/Service/Leitfaeden/emittentenleitfaden__2009,templateId=raw,property=publicationFile.pdf/emittentenleitfaden_2009.pdf. Zugegriffen: 10. June 2011

Barber BM, Odean T (2008) All that glitters: the effect of attention and news on the buying behavior of individual and institutional investors. Rev Financial Stud 21:785–818

Baron P (1989) Tender offers and management resistance. J Finance 38(2):331–343

Baums T, Sauter M (2009) Anschleichen an Übernahmeziele mit Aktienderivaten. Z das gesamte Handelsrecht Wirtsch 4:454–503

Berkovitch E, Khanna N (1990) How target shareholders benefit from value-reducing defensive strategies in takeovers. J Finance 45(1):137–156

Betton S, Eckbo BE, Thorburn KS (2009) Merger negotiations and the toehold puzzle. J Financial Econ 91:158–178

Bhagat S, Dong M, Hirshleifer D, Noah R (2005) Do tender offers create value? New methods and evidence. J Financial Econ 76:3–60

Boone AL, Mulherin JH (2008) Do auctions induce a winner's curse? New evidence from the corporate takeover market. J Financial Econ 89:1–19

Bundesfinanzministerium (2007) Referentenentwurf eines Gesetzes zur Begrenzung der mit Finanzinvestitionen verbundenen Risiken (Risikobegrenzungsgesetz) [Internetdokument] Bundesfinanzministerium URL: http://www.bundesfinanzministerium.de/lang_de/nn_1928/DE/Wirtschaft__und__Verwaltung/Geld__und__Kredit/Aktuelle__Gesetze/Anlage_20Risikobegrenzungsgesetz,templateId=raw,property=publicationFile.pdf, Zugegriffen: 10. June 2011

Comment R, Schwert GW (1995) Poison or placebo? Evidence on the deterrents and wealth effects of modern antitakeover measures. J Financial Econ 39:3–43

Dombret AR (2006) Übernahmeprämien im Rahmen von M&A-Transaktionen. Gabler Verlag, Wiesbaden

Dyck A, Zingales L (2004) Private benefits of control: an international comparison. J Finance 54:537–600

Eckbo BE (2009) Bidding strategies and takeover premiums: a review. J Corp Finance 15:149–178

Faden C (2008) Das Pflichtangebot nach dem Wertpapiererwerbs- und Übernahmegesetz (WpÜG). Cuvillier, Verlag Göttingen

Fama EF, French KR (1993) Common risk factors in the returns of stocks and bonds. J Financial Econ 33:3–56

Hirshleifer D, P'ng I (1989) Facilitation of competing bids and the price of a takeover target. Rev Financial Stud 2:587–606

Hu H, Black B (2007) Hedge funds, insiders, and the decoupling of economic and voting ownership: empty voting and hidden (morphable) ownership. J Corp Finance 13:343–367

Jegadeesh N, Titman S (1993) Returns to buying winners and selling losers: implications for stock market efficiency. J Finance 48:65–91

Jenkinson T, Ljungqvist A (2001) The role of hostile stakes in German corporate governance. J Corp Finance 7:397–446

Khoroshilov Y, Dodonova A (2007) Takeover offers with actively participating targets. Q Rev Econ Finance 47:293–311

La Porta R, Lopez-de-Dilanes F, Shleifer A, Vishny RW (2002) Investor protection and corporate valuation. J Finance 58:1147–1170

Mikkelson WH, Ruback RS (1985) An empirical analysis of the interfirm investment process. J Financial Econ 14:523–553

Porsche AG (2007) Angebotsunterlage. Pflichtangebot an die Aktionäre der Volkswagen AG [Internetdokument] Bundesanstalt für Finanzdienstleistungsaufsicht URL: http://www.bafin.de/nn_722764/SharedDocs/Downloads/DE/Verbraucher/Angebotsunterlagen/porsche,templateId=raw,property=publicationFile.pdf/porsche.pdf. Zugegriffen: 30. Dez. 2007

Ryngaert M, Scholten R (2010) Have changing takeover defense rules and strategies entrenched management and damaged shareholders? The case of defeated takeover bids. J Corp Finance 16:16–37

Schaeffler KG (2008) Freiwilliges Öffentliches Übernahmeangebot (Barangebot) an die Aktionäre der Continental Aktiengesellschaft [Internetdokument] Bundesanstalt für Finanzdienstleistungsaufsicht URL: http://www.bafin.de/nn_722764/SharedDocs/Downloads/DE/Verbraucher/Angebotsunterlagen/schaeffler___C3_84nderung,templateId=raw,property=publicationFile.pdf/schaeffler_%C3%84nderung.pdf. Zugegriffen: 30. Dez. 2008

Schanz KM, Schalast C (2008) Schaeffler KG/Continental AG im Lichte der CSX Corp.-Entscheidung des US District Court for the Southern District of New York: Meldepflichten bei öffentlichen Übernahmen und deren Umgehung durch Einsatz von derivativen Finanzinstrumenten. Working Paper Frankfurt School of Finance and Management

Stulz RM (1988) Managerial control of voting rights, shareholder wealth and the market for corporate control. J Financial Econ 20:25–54

Thaler RH (1988) Anomalies: the winner's curse. J Economic Perspectives 2:191–202
Danksagung
Wir möchten uns für die wertvollen Hinweise des Department Editors Wolfgang Breuer sowie die vielen nützlichen Kommentare der beiden anonymen Gutachter bedanken. Darüber hinaus konnte die Arbeit durch Anregungen von Christian Andres, Theodor Baums, Till Hafner, Maximilian Trossbach, Juliane Proelss und Dirk Schiereck profitieren.
About this article
Cite this article
Koziol, C., Noël, P. & Schweizer, D. Creeping-In als neues Instrument des Erwerbs von Unternehmenskontrollrechten – Taktische Meisterleistung oder unkalkulierbares Risiko?. Z Betriebswirtsch 81, 833–854 (2011). https://doi.org/10.1007/s11573-011-0482-7
Received:

Published:

Issue Date:
Schlüsselwörter
Cash Settled Equity Swaps

Creeping-In

Pflichtangebot

Teilakquisition

Stimmrecht
Keywords
Cash settled equity swaps

Creeping-in

Mandatory takeover bid

Partial acquisition

Voting right
JEL Classification