Abstract
When two eyes are simultaneously stimulated by two inconsistent images, the observer's perception switches between the two images every few seconds such that only one image is perceived at a time. This phenomenon is named binocular rivalry (BR). However, sometimes the perceived image is a piecemeal mixed of two stimuli known as piecemeal perceptions. In this study, a BR task was designed in which orthogonal gratings are presented to the two eyes. The subjects were trained to report 3 states: dominant perceptions (two state matching to perceived grating orientation) and the piecemeal perceptions (third state). We explored the scale-freeness of the BR percept durations considering the two dominant monocular states as well as the piecemeal transition state using detrended fluctuation analysis. Our results reproduced the previous finding of memory in the perceptual switches between the monocular perception states. Moreover, we showed that such memory also exists in the transitory periods of dichoptic piecemeal perceptions. These results support our hypothesis that the pool of unstable piecemeal perceptions could be regarded as separate multiple low-depth basin in the perceptual state landscape. Likewise, the transitions from these piecemeal state basins and stable monocular state basins are faced with resistance. Therefore there is inertia and memory (i.e. positive serial correlation) for the piecemeal dichoptic perception states as well as the monocular states.
Access options
Buy single article
Instant access to the full article PDF.
US$ 39.95
Tax calculation will be finalised during checkout.
Subscribe to journal
Immediate online access to all issues from 2019. Subscription will auto renew annually.
US$ 79
Tax calculation will be finalised during checkout.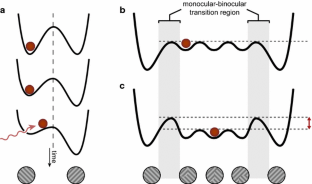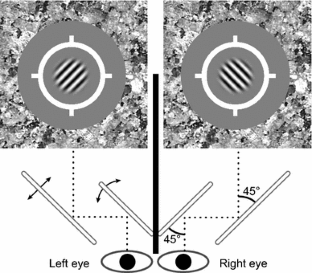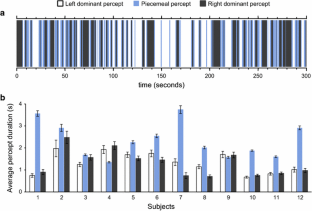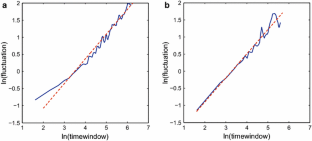 References
Arita M (2005) Scale-freeness and biological networks. J Biochem 138(1):1–4

Barabási AL, Albert R (1999) Emergence of scaling in random networks. Science 286(5439):509–512

Blake R (2001) A primer on binocular rivalry, including current controversies. Brain Mind 2:5–38

Bornas X et al (2015) Long range temporal correlations in EEG oscillations of subclinically depressed individuals: their association with brooding and suppression. Cogn Neurodyn 1(9):53–62

Brainard DH (1997) The psychophysics toolbox. Spat Vis 10:433–436

Brascamp JW, Ee RV, Pestman WR, Van Den Berg AV (2005) Distributions of alternation rates in various forms of bistable perception. J Vis 5:287–298

Brascamp JW, van Ee R, Noest AJ, Jacobs RHAH, van den Berg AV (2006) The time course of binocular rivalry reveals a fundamental role of noise. J Vis 6(11):1244–1256

Brascamp JW, Klink PC, Levelt WJM (2015) The "laws" of binocular rivalry: 50 years of Levelt's propositions. Vis Res 109:20–37

Bressloff PC, Webber MA (2012) Neural field model of binocular rivalry waves. J Comput Neurosci 32:233–252

Conte E, Khrennikov AY, Todarello O, Federici A, Mendolicchio L, Zbilut JP (2009) Mental states follow quantum mechanics during perception and cognition of ambiguous figures. Open Syst Inf Dyn 16(01):85–100

Feldman J (2013) The neural binding problem(s). Cogn Neurodyn 7(1):1–11

Freeman WJ, Breakspear M (2007) Scale-free neocortical dynamics. Scholarpedia 2(2):1357

Freeman WJ, Zhai J (2009) Simulated power spectral density (PSD) of background electrocorticogram (ECoG). Cogn Neurodyn 3(1):97–103

Gao JB, Billock VA, Merk I, Tung WW, White KD, Harris JG, Roychowdhury VP (2006) Inertia and memory in ambiguous visual perception. Cogn Process 7(2):105–112

Hardstone R, Poil SS, Schiavone G, Jansen R, Nikulin VV, Mansvelder HD, Linkenkaer-Hansen K (2012) Detrended fluctuation analysis: a scale-free view on neuronal oscillations. In: Scale-free dynamics and critical phenomena in cortical activity, pp 75–87. doi:10.3389/fphys.2012.00450

He BJ, Zempel JM, Snyder AZ, Raichle ME (2010) The temporal structures and functional significance of scale-free brain activity. Neuron 66(3):353–369

Hohwy J, Roepstorff A, Friston K (2008) Predictive coding explains binocular rivalry: an epistemological review. Cognition 108(3):687–701

Kalarickal GJ, Marshall JA (2000) Neural model of temporal and stochastic properties of binocular rivalry. Neurocomputing 32–33:843–853

Kang MS, Blake R (2008) Enhancement of bistable perception associated with visual stimulus rivalry. Psychon Bull Rev 15(3):586–591

Kang MS, Blake R (2011) An integrated framework of spatiotemporal dynamics of binocular rivalry. Front Hum Neurosci 588:89–97

Kantelhardt JW, Zschiegner SA, Koscielny-Bunde E, Havlin S, Bunde A, Stanley HE (2002) Multifractal detrended fluctuation analysis of nonstationary time series. Phys A 316(1):87–114

Kim YJ, Grabowecky M, Suzuki S (2006) Stochastic resonance in binocular rivalry. Vis Res 46:392–406

Kleiner M, Brainard D, Pelli D, Ingling A, Murray R, Broussard C (2007) What's new in Psychtoolbox-3. Perception 36(14):1

Knapen T, Brascamp J, Pearson J, van Ee R, Blake R (2011) The role of frontal and parietal brain areas in bistable perception. J Neurosci 31(28):10293–10301

Laing CR, Chow CC (2002) A spiking neuron model for binocular rivalry. J Comput Neurosci 12:39–53

Lankheet MJM (2006) Unraveling adaptation and mutual inhibition in perceptual rivalry. Journal of Vision 6:1

Levelt WJ (1965) On binocular rivalry (Doctoral dissertation, Institute for Perception RVO-TNO)

Logothetis NK, Leopold DA, Sheinberg DL (1996) What is rivalling during binocular rivalry? Nature 380:621–624

Manousakis E (2009a) Quantum formalism to describe binocular rivalry. Biosystems 98(2):57–66

Manousakis E (2009b) Quantum theory, consciousness and temporal perception: binocular rivalry. Biosystems 98:57–66

Minati L, Nigri A, Cercignani M, Chan D (2013) Detection of scale-freeness in brain connectivity by functional MRI: signal processing aspects and implementation of an open hardware co-processor. Med Eng Phys 35(10):1525–1531

Moreno-Bote R, Rinzel J, Rubin N (2007) Noise-induced alternations in an attractor network model of perceptual bistability. J Neurophysiol 98:1125–1139

Ozaki Takashi J et al (2012) Traveling EEG slow oscillation along the dorsal attention network initiates spontaneous perceptual switching. Cogn Neurodyn 6(2):185–198

Paraan MR, Bakouie F, Gharibzadeh S (2014) A more realistic quantum mechanical model of conscious perception during binocular rivalry. Front Comput Neurosci 8:15. doi:10.3389/fncom.2014.00015

Pearson J, Brascamp J (2008) Sensory memory for ambiguous vision. Trends Cogn Sci 12(9):334–341

Pelli DG (1997) The videotoolbox software for visual psychophysics: transforming numbers into movies. Spat Vis 10(4):437–442

Peng CK, Buldyrev SV, Goldberger AL, Havlin S, Sciortino F, Simons M, Stanley HE (1992) Long-range correlations in nucleotide sequences. Nature 356(6365):168–170

Pitts MA, Martínez A, Hillyard SA (2010) When and where is binocular rivalry resolved in the visual cortex? J Vis 10(14):25

Robertson CE, Kravitz DJ, Freyberg J, Baron-Cohen S, Baker CI (2013) Slower rate of binocular rivalry in autism. J Neurosci 33:16983–16991

Scocchia L, Valsecchi M, Triesch J (2014) Top-down influences on ambiguous perception: the role of stable and transient states of the observer. Front Hum Neurosci 8:979. doi:10.3389/fnhum.2014.00979

Stam CJ (2005) Nonlinear dynamical analysis of EEG and MEG: review of an emerging field. Clin Neurophysiol 116(10):2266–2301

Stam CJ, de Bruin EA (2004) Scale-free dynamics of global functional connectivity in the human brain. Hum Brain Mapp 22(2):97–109

Stapp HP (2007) The quantum-classical and mind-brain linkages: The quantum zeno effect in binocular rivalry. arXiv preprint arXiv:0710.5569

Tong F (2001) Competing theories of binocular rivalry: a possible resolution. Brain Mind 2(1):55–83

Tong F, Meng M, Blake R (2006) Neural bases of binocular rivalry. Trends Cogn Sci 10(11):502–511

Van Ee R (2009) Stochastic variations in sensory awareness are driven by noisy neuronal adaptation: evidence from serial correlations in perceptual bistability. J Opt Soc Am A 26:2612–2622

Vierck E, Porter RJ, Luty SE, Moor S, Crowe MT, Carter JD, Inder ML, Joyce PR (2013) Further evidence for slow binocular rivalry rate as a trait marker for bipolar disorder. Aust N Z J Psychiatry 47(4):371–379

West BJ (2010) Fractal physiology and the fractional calculus: a perspective. Front Physiol 1:12

Wilson HR, Blake R, Lee SH (2001) Dynamics of travelling waves in visual perception. Nature 412(6850):907–910

Yamaguti Y, Ichiro T, Yoichiro T (2014) Information flow in heterogeneously interacting systems. Cogn Neurodyn 8(1):17–26

Yuvaraj R, Murugappan M (2016) Hemispheric asymmetry non-linear analysis of EEG during emotional responses from idiopathic Parkinson's disease patients. Cogn Neurodyn 10(3):225–234
About this article
Cite this article
Bakouie, F., Pishnamazi, M., Zeraati, R. et al. Scale-freeness of dominant and piecemeal perceptions during binocular rivalry. Cogn Neurodyn 11, 319–326 (2017). https://doi.org/10.1007/s11571-017-9434-4
Received:

Revised:

Accepted:

Published:

Issue Date:
Keywords
Binocular rivalry

Scale-freeness

Piecemeal perceptions

Detrended fluctuation analysis

Consciousness