Abstract
To illuminate candidate neural working mechanisms of Mindfulness-Based Cognitive Therapy (MBCT) in the treatment of recurrent depressive disorder, parallel to the potential interplays between modulations in electro-cortical dynamics and depressive symptom severity and self-compassionate experience. Linear and nonlinear α and γ EEG oscillatory dynamics were examined concomitant to an affective Go/NoGo paradigm, pre-to-post MBCT or natural wait-list, in 51 recurrent depressive patients. Specific EEG variables investigated were; (1) induced event-related (de-) synchronisation (ERD/ERS), (2) evoked power, and (3) inter-/intra-hemispheric coherence. Secondary clinical measures included depressive severity and experiences of self-compassion. MBCT significantly downregulated α and γ power, reflecting increased cortical excitability. Enhanced α-desynchronisation/ERD was observed for negative material opposed to attenuated α-ERD towards positively valenced stimuli, suggesting activation of neural networks usually hypoactive in depression, related to positive emotion regulation. MBCT-related increase in left-intra-hemispheric α-coherence of the fronto-parietal circuit aligned with these synchronisation dynamics. Ameliorated depressive severity and increased self-compassionate experience pre-to-post MBCT correlated with α-ERD change. The multi-dimensional neural mechanisms of MBCT pertain to task-specific linear and non-linear neural synchronisation and connectivity network dynamics. We propose MBCT-related modulations in differing cortical oscillatory bands have discrete excitatory (enacting positive emotionality) and inhibitory (disengaging from negative material) effects, where mediation in the α and γ bands relates to the former.
This is a preview of subscription content, log in to check access.
Access options
Buy single article
Instant access to the full article PDF.
US$ 39.95
Price includes VAT for USA
Subscribe to journal
Immediate online access to all issues from 2019. Subscription will auto renew annually.
US$ 99
This is the net price. Taxes to be calculated in checkout.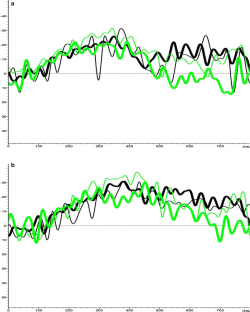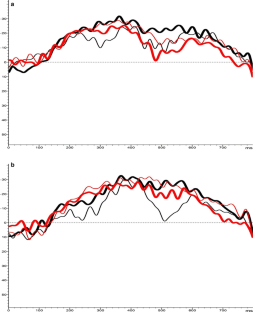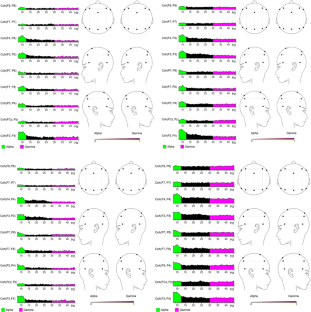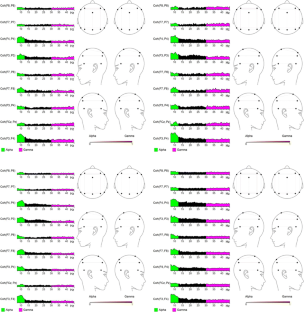 References
Aftanas LI, Golocheikine SA (2001) Human anterior and frontal midline theta and lower alpha reflect emotionally positive state and internalized attention: high-resolution EEG investigation of meditation. Neurosci Lett 310:57–60

Allen JJB, Urry HL, Hitt SK, Coan JA (2004) The stability of resting frontal electroencephalographic asymmetry in depression. Psychophysiology 41:269–280

Arnold JF, Fitzgerald DA, Fernández G, Rijpkema M, Rinck M, Eling PA, Becker ES, Speckens A, Tendolkar I (2011) Rose or black-coloured glasses? Altered neural processing of positive events during memory formation is a trait marker of depression. J Affect Disord 131:214–223

Baer RA, Smith GT, Lykins E, Button D, Krietemeyer J, Sauer S, Walsh E, Duggan D, Williams MG (2008) Construct validity of the Five Facet Mindfulness Questionnaire in meditating and nonmeditating samples. Assessment 15:329–342

Bajulaiye R, Alexopoulos GS (1994) Pseudodementia in geriatric depression. In: Chiu E, Ames D (eds) Functional psychiatric disorders of the elderly. Cambridge University Press, Cambridge

Barnhofer T, Chittka T, Nightingale H, Visser C, Crane C (2010) State effects of two forms of meditation on prefrontal EEG asymmetry in previously depressed individuals. Mindfulness. 1:21–27

Bauer LO, Hesselbrock VM (2002) Lateral asymmetries in the frontal brain: effects of depression and a family history of alcoholism in female adolescents. Alcohol Clin Exp Res 26:1662–1668

Benedek M, Bergner S, Könen T, Fink A, Neubauer AC (2011) EEG alpha synchronization is related to top-down processing in convergent and divergent thinking. Neuropsychologia 49:3505–3511

Bostanov V, Keune PM, Kotchoubey B, Hautzinger M (2012) Event-related brain potentials reflect increased concentration ability after mindfulness-based cognitive therapy for depression: a randomized clinical trial. Psychiatry Res 199:174–180

Bruder GE, Bansai R, Tenke CE, Liu J, Hao X, Warner V, Paterson BS, Weissman MM (2012) Relationship of resting EEG with anatomical MRI measures in individuals at high and low risk for depression. Hum Brain Mapp 33:1325–1333

Cahn BR, Delorme A, Polich J (2010) Occipital gamma activation during vipassana meditation. Cogn Process 11:39–56

Cantero JL, Atienza M, Salas RM, Gómez CM (1999) Alpha EEG coherence in different brain states: an electrophysiological index of the arousal level in human subjects. Neurosci Lett 271:167–170

Carvalho A, Moraes H, Silveira H, Ribeiro P, Piedade RAM, Deslandes AC, Laks J, Versiani M (2011) EEG frontal asymmetry in the depressed and remitted elderly: is it related to the trait or to the state of depression? J Affect Disord 129:143–148

Coan JA, Allen JJB (2004) Frontal EEG asymmetry as a moderator and mediator of emotion. Biol Psychol 67:7–49

De Raedt R, Baert S, Demeyer I, Goeleven E, Raes A, Visser A, Wysmans M, Jansen E, Schacht R, Van Aalderen JR, Speckens A (2012) Changes in attentional processing of emotional information following mindfulness-based cognitive therapy in people with a history of depression: towards an open attention for all emotional experiences. Cogn Ther Res 36:612–620

Dehaene S, Changeux J-P, Naccache L (2011) The global neuronal workspace model of conscious access: from neuronal architectures to clinical applications. In: Dehaene S, Christen Y (eds) Characterizing consciousness: from cognition to the clinic? Research perspectives in neurosciences. Springer, Berlin, pp 55–84

Dillbeck MC, Bronson EC (1981) Short-term longitudinal effects of the transcendental meditation technique on EEG power and coherence. Int J Neurosci 14:147–151

Evans S, Ferrando S, Findler M, Stowell C, Smart C, Haglin D (2008) Mindfulness-based cognitive therapy for generalized anxiety disorder. J Anxiety Disord 22:716–721

Feldman C, Kuyken W (2011) Compassion in the landscape of suffering. Contemp Buddh 12:143–155

Foland-Ross LC, Hamilton PJ, Joorman J, Berman MG, Jonides J, Gotlib IH (2013) The neural basis of difficulties disengaging from negative irrelevant material in major depression. Psychol Sci 24:334–344

Fries P (2009) Neuronal gamma-band synchronization as a fundamental process in cortical computation. Ann Rev Neurosci 32:209–224

Galynker II, Cai J, Ongseng F, Finestone H, Dutta E, Serseni D (1998) Hypofrontality and negative symptoms in major depressive disorder. J Nucl Med 39:608–612

Garland E, Gaylord S, Park J (2009) The role of mindfulness in positive reappraisal. Explore 5:37–44

Geschwind N, Peeters F, Drukker M, van Os J, Wichers M (2011) Mindfulness training increases momentary positive emotions and reward experience in adults vulnerable to depression: a randomised controlled trial. J Consult Clin Psychol 79:618–628

Gotlib IH, Ranganath C, Rosenfeld JP (1998) Frontal EEG alpha asymmetry, depression, and cognitive functioning. Cogn Emot 12:449–478

Graimann B, Pfurtscheller G (2006) Quantification and visualisation of event-related changes in oscillatory brain activity in the time-frequency domain. In: Neuper C, Klimesch W (eds) Event-related dynamics of brain oscillations, vol 159. Elsevier, Amsterdam, pp 79–97

Grant JA, Duerden EG, Courtemanche J, Cherkasova M, Duncan GH, Rainville P (2013) Cortical thickness, mental absorption and meditative practise: possible implications for disorders of attention. Biol Psychol 92:275–281

Hamilton HP, Furman DJ, Chang C, Thomason ME, Dennis E, Gotlib IH (2011) Default-mode and task-positive network activity in major depressive disorder: implications for adaptive and maladaptive rumination. Biol Psychiatry 70:327–333

Hermans D, De Houwer J (1994) Affective and subjective familiarity ratings of 740 Dutch words. Psychol Belg 34:115–139

Jaworska N, Blier P, Fusee W, Knott V (2012) Alpha power, alpha asymmetry and anterior cingulate cortex activity in depressed males and females. J Psychiatr Res 46:1483–1491

Kalcher J, Pfurtscheller G (1995) Discrimination between phase-locked and non-phase-locked event-related EEG activity. Electroenceph Clin Neurophysiol 94:381–384

Kang J-H, Ahn HM, Jeong JW, Hwang I, Kim HT, Kim SH, Kim S-P (2012) The modulation of parietal gamma oscillations in the human electroencephalogram with cognitive reappraisal. NeuroReport 23:995–999

Kemp AH, Griffiths K, Felmingham KL, Shankman SA, Drinkenburg W, Arns M, Clark CR, Bryant RA (2010) Disorder specificity despite comorbidity: resting EEG alpha asymmetry in major depressive disorder and post-traumatic stress disorder. Biol Psychol 85:350–354

Kenny M, Williams JMG (2007) Treatment resistant depressed patients show a good response to mindfulness-based cognitive therapy. Beh Res Ther 45:617–625

Kerr CE, Jones SR, Wan Q, Pritchett DL, Wasserman RH, Wexler A, Villanueva JJ, Shaw JR, Lazar SW, Kaptchuk TJ, Littenberg R, Hämäläinen MS, Moore CI (2011) Effects of mindfulness meditation training on anticipatory alpha modulation in primary somatosensory cortex. Brain Res Bull 85:96–103

Kerr C, Sacchet MD, Lazar SW, Moore CI, Jones SR (2013) Mindfulness starts with the body: somatosensory attention and top-down modulations of cortical alpha rhythms in mindfulness meditation. Front Hum Neurosci 7. doi:10.3389/fnhum.2013.00012

Keune PM, Bostanov V, Hautzinger M, Kotchoubey B (2011) Mindfulness-based cognitive therapy (MBCT), cognitive style, and the temporal dynamics of frontal EEG alpha asymmetry in recurrently depressed patients. Biol Psychol 88:243–252

Keune PM, Bostanov V, Kotchoubey B, Hautzinger M (2012) Mindfulness versus rumination and behavioural inhibition: a perspective from research on frontal brain asymmetry. Pers Individ Diff 53:323–328

Kim YW, Lee S-H, Choi TK, Suh SY, Kim B, Kim CM, Cho SJ, Kim MJ, Kook K, Ryu M, Song SK, Yook K-H (2009) Effectiveness of mindfulness-based cognitive therapy as an adjuvant to pharmacotherapy in patients with panic disorder or generalized anxiety disorder. Depress Anxiety 26:601–606

King AP, Erickson TM, Giardino ND, Favorite T, Rauch SAM, Robinson E, Madhur K, Liberzon I (2013) A pilot study of group mindfulness-based cognitive therapy (MBCT) for combat veterans with posttraumatic stress disorder (PTSD). Depress Anxiety 30:638–645

Klimesch W, Sauseng P, Hanslmayr S (2007) EEG alpha oscillations: the inhibition-timing hypothesis. Brain Res Rev 53:63–88

Kuyken W, Watkins E, Holden E, White K, Taylor RS, Byford S, Evans A, Radford S, Teasdale JD, Dalgleish T (2010) How does mindfulness-based cognitive therapy work? Behav Res Ther 48:1105–1112

Lee T-W, Wu Y-T, Yu YW-Y, Chen M-C, Chen T-J (2011) The implication of functional connectivity strength in predicting treatment response in major depressive disorder: a resting EEG study. Psychiatry Res Neuroimaging 194:372–377

Lehmann D, Faber PL, Achermann P, Jeanmonod D, Gianotti LRR, Pizzagalli D (2001) Brain sources of EEG gamma frequency during volitionally meditation-induced, altered states of consciousness, and experience of the self. Psychiatry Res Neuroimaging 108:111–121

Lutz A, Greischar LL, Rawlings NB, Ricard M, Davidson RJ (2004) Long-term meditators self-induce high-amplitude gamma synchrony during mental practise. PNAS 101:16369–16373

Lutz A, Slagter HA, Dunne JD, Davidson RJ (2008) Attention regulation and monitoring in meditation. Trends Cogn Sci 12:163–169

Malinowski P (2013) Neural mechanisms of attentional control in mindfulness meditation. Front Neurosci 7:8. doi:10.3389/fnins.2013.00008

Ma SH, Teasdale JD (2004) Mindfulness-based cognitive therapy for depression: replication and exploration of differential relapse prevention effects. J Consult Clin Psychol 72:31–40

Müller MM (2000) Oscillatory cortical activities in the gamma band in the human EEG induced by visual stimuli—representation of the stimulus? Acta Neurobiol Exp 60:49–65

Neff KD (2003) Development and validation of a scale to measure self-compassion. Self Identity 2:223–250

Nolen-Hoeksema S, Morrow J (1991) A prospective study of depression and posttraumatic stress symptoms after a natural disaster: the 1989 Loma Prieta earthquake. J Pers Soc Psychol 61:115–121

Northoff G (2007) Psychopathology and pathophysiology of the self in depression—neuropsychiatric hypothesis. J Affect Disord 104:1–14

Ohta H, Yamagata B, Tomioka H, Takahashi T, Yano M, Nakagome K, Mimura M (2008) Hypofrontality in panic disorder and major depressive disorder assessed by multi-channel near-infrared spectroscopy. Depress Anxiety 25:1053–1059

Orme-Johnson DW, Haynes CT (1981) EEG phase coherence, pure consciousness, creativity, and Tm-Sidhi experiences. Int J Neurosci 13:211–217

Palva S, Palva JM (2007) New vistas for α-frequency band oscillations. Trends Neurosci 30:150–158

Pfurtscheller G, Andrew C (1999) Event-related changes of band power and coherence: methodology and interpretation. J Clin Neurophysiol 16:512–519

Pfurtscheller G, Stancák A Jr, Neuper Ch (1996) Event-related synchronization (ERS) in the alpha band—an electrophysiological correlate of cortical idling: a review. Int J Psychophysiol 24:39–46

Reid SA, Duke LM, Allen JJB (1998) Resting frontal electroencephalographic asymmetry in depression: inconsistencies suggest the need to identify mediating factors. Psychophysiology 35:389–404

Ricardo-Garcell J, González-Olvera JJ, Miranda E, Harmony T, Reyes E, Almeida L, Galán L, Díaz D, Ramírez L, Fernández-Bouzas A, Aubert E (2009) EEG sources in a group of patients with major depressive disorders. Int J Psychophysiol 71:70–74

Rihs TA, Michel CM, Thut G (2007) Mechanisms of selective inhibition in visual spatial attention are indexed by alpha-band EEG synchronization. Eur J Neurosci 25:603–610

Rogers MA, Bradshaw JL, Pantelis C, Phillips JG (1998) Frontostriatal deficits in unipolar major depression. Brain Res Bull 47:297–310

Rush AJ, Gullion CM, Basco MR, Jarrett RB, Trivedi MH (1996) The Inventory of Depressive Symptomatology (IDS): psychometric properties. Psychol Med 26:477–486

Sachse S, Keville S, Feigenbaum J (2010) A feasibility study for mindfulness-based cognitive therapy for individuals with borderline personality disorder. Psychol Psychother: Ther Res Prac 84:184–200

Sadaghiani S, Scheeringa R, Lehongre K, Morillon B, Giraud A-L, D'Esposito M, Kleinschmidt A (2012) Alpha-band phase synchrony is related to activity in the fronto-parietal adaptive control network. J Neurosci 32:14305–14310

Sauseng P, Klimesch W, Schabus M, Doppelmayr M (2005) Fronto-parietal EEG coherence in theta and upper alpha reflect central executive functions of working memory. Int J Psychophysiol 57:97–103

Schoenberg PLA, Speckens AEM (2014) Modulation of induced frontocentral theta (Fm-θ) event-related (de-) synchronisation dynamics following mindfulness-based cognitive therapy in major depressive disorder. Cogn Neurodyn. doi:10.1007/s11571-014-9294-0

Segal ZV, Williams JMG, Teasdale JD (2012) Mindfulness-based cognitive therapy for depression, 2nd edn. The Guildford Press, New York

Segrave RA, Cooper NR, Thompson RH, Croft RJ, Sheppard DM, Fitzgerald PB (2011) Individualised alpha activity and frontal asymmetry in major depression. Clin EEG Neurosci 42:45–52

Sheehan DV, Lecrubier Y, Sheehan KH, Amorim P, Janavs J, Weiller E, Hergueta T, Baker R, Dunbar GC (1998) The Mini-International Neuropsychitric Interview (M.I.N.I.): the development and validation of a structured diagnostic psychiatric interview for DSM-IV and ICD-10. J Clin Psychiatry 59:22–33

Siegle GJ, Condray R, Thase ME, Keshavan M, Steinhauer SR (2010) Sustained gamma-band EEG following negative words in depression and schizophrenia. Int J Psychophysiol 75:107–118

Sierra M, Berrios G (2000) The Cambridge depersonalisation scale: a new instrument for the measurement of depersonalisation. Psychiatry Res 93:153–164

Spielberger CD, Gorsuch RL, Lushene R, Vagg PR, Jacobs GA (1983) Manual for the State-Trait Anxiety Inventory. Consulting Psychologists Press, Palo Alto

Stewart JL, Bismark AW, Towers DN, Coan JA, Allen JJB (2010) Resting frontal EEG asymmetry as an endophenotype for depression risk; sex-specific patterns of frontal brain asymmetry. J Abnorm Psychol 119:502–512

Strelets VB, Garakh ZhV, Novototskii-Vlasov VY (2007) Comparative study of the gamma rhythm in normal conditions, during examination stress, and in patients with first depressive episode. Neurosci Behav Physiol 37:387–394

Suhhova A, Bachmann M, Aadamsoo K, Võhma Ü, Lass J, Hinrikus H (2009) EEG coherence as a measure of depressive disorder. IFMBE Proceed 22:353–355

Teasdale JD, Segal ZW, Williams JMG, Ridgeway VA, Souslby JM, Lau MA (2000) Prevention of relapse/recurrence in major depression by mindfulness-based cognitive therapy. J Consult Clin Psychol 68:615–623

Travis F, Shear J (2010) Focused attention, open monitoring and automatic self-transcending: categories to organize meditations from Vedic, Buddhist and Chinese traditions. Conscious Cogn 19:1110–1118

Travis F, Hagga D, Hagelin J, Arenander A, Tanner M, Schneider R (2010) Self-referential awareness: coherence, power, and eloreta patterns during eyes-closed rest, transcendental meditation, and TM-sidhi practise. J Cogn Process 11:21–30

van Aalderen JR, Donders ART, Giommi F, Spinhoven P, Barendregt HP, Speckens AEM (2012) The efficacy of mindfulness-based cognitive therapy in recurrent depressed patients with and without a current depressive episode: a randomized controlled trial. Psychol Med 42:989–1001

van der Helden J, van Schie HT, Rombouts C (2010) Observational learning of new movement sequences is reflected in fronto-parietal coherence. PLoS One 5:e14482

Wang L, Liu X, Guise KG, Knight RT, Ghajar J, Fan J (2010) Effective connectivity of the fronto-parietal network during attentional control. J Cogn Neurosci 22:543–553

Watters AJ, Williams LM (2011) Negative biases and risk for depression; integrating self-report and emotion test markers. Depress Anxiety 28:703–718

Zylowska L, Ackerman DL, Yang MH, Futrell JL, Horton NI, Hale TS, Pataki C, Smalley SL (2008) Mindfulness meditation training in adults and adolescents with ADHD: a feasibility study. J Atten Disord 11:737–746
Acknowledgments
This work was supported by the BrainGain SmartMix Programme for the Netherlands Ministry of Economic Affairs and Netherlands Ministry of Education, Culture and Science, funded by the Organisation for Scientific Research (NWO); and the Netherlands Institute for Advanced Study in the Humanities and Social Sciences. Much appreciation and gratitude to all those who participated in the experiments. The authors give many thanks to Addy de Graaf for generous assistance with research co-ordination; Katrin Scheibe and Magdalena Kowlaczuk for assistance with data collection; Sietske Heusinkveld, Joyce Besselink, Danique Smeijers, Irma Veliscek-van Maren, and the Radboud University Medical Centre for Mindfulness team for helpful assistance with patient recruitment.
Conflict of interest
None.
About this article
Cite this article
Schoenberg, P.L.A., Speckens, A.E.M. Multi-dimensional modulations of α and γ cortical dynamics following mindfulness-based cognitive therapy in Major Depressive Disorder. Cogn Neurodyn 9, 13–29 (2015). https://doi.org/10.1007/s11571-014-9308-y
Received:

Revised:

Accepted:

Published:

Issue Date:
Keywords
Major Depressive Disorder (MDD)

Mindfulness-Based Cognitive Therapy (MBCT)

ERD/ERS

Oscillatory EEG

α-Band coherence

γ-Band

EEG power