Abstract
In this project, we (1) explore perceptions of the social and ethical implications (SEI) of nanotechnology among US scientists who work at the nanoscale, and (2) develop and pilot test an online training module to foster consideration of social and ethical implications in the lab. To meet our first goal, we drew qualitative insights from open-ended survey data collected from scientists affiliated with the National Nanotechnology Infrastructure Network. Our data suggest that while the survey participants responded positively to the idea that consideration of SEI should be a part of the work they do, there was confusion about whether SEI refers to lab safety, research integrity, or something more. This is something we sought to address in the online training module that we developed based on that qualitative data and on feedback collected from experts in nanoethics and lab management. We then pilot tested the module with undergraduate students studying nanotechnology in the National Science Foundation's Research Experiences for Undergraduates (REU) program and with scientists registered to use a National Nanotechnology Coordinated Infrastructure-funded microelectronics research lab. The undergraduate data suggested that students appreciated the SEI training but wished professors and scientists would begin integrating the ideas therein into coursework and mentoring. The scientist data suggested that the module increased understanding of "social and ethical implications," increased the perceived need to implement SEI into workplace routines, and, interestingly, heightened perceptions of risk associated with the scientists' own work. The practical and theoretical implications of this work are discussed.
Access options
Buy single article
Instant access to the full article PDF.
US$ 39.95
Tax calculation will be finalised during checkout.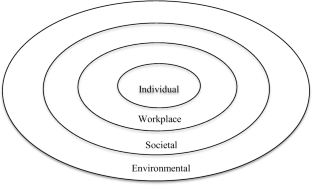 References
1.

Howard CV, Ikah DSK (2006) Nanotechnology and nanoparticles toxicity: a case study of precaution. In: Hunt G, Mehta M (eds) Nanotechnology: risk, ethics and law. Earthscan, London, pp 154–166

2.

Jahnel J (2015) Conceptual questions and challenges associated with the traditional risk assessment paradigm for nanomaterials. Nanoethics 9(3):261–276

3.

Brey P (2017) Ethics of emerging technologies. In: Hansson SO (ed), The ethics of technology. Methods and approaches. Rowman and Littlefield International, London, pp 175–192

4.

Khan A (2015) Ethical and social implications of nanotechnology. QScience Proceedings 2015(4):57. https://doi.org/10.5339/qproc.2015.elc2014.57

5.

Merton RK (1938) Science and the social order. Philos Sci 5(3):321–337

6.

Galston AW (1972) Science and social responsibility: a case history. Ann N Y Acad Sci 196(4):223–235

7.

Allhoff F, Lin P (2006) What's so special about nanotechnology and nanoethics? Int J Appl Philos 20(2):179–190

8.

Commission E (2004) Towards a European strategy on nanotechnology. Brussels, Belgium

9.

Committee HoCSaT (2004) Too little too late? Government investment in nanotechnology. Fifth report of session 2003–2004. House of Commons, London

10.

Roco MC, Bainbridge WS (2002) Converging technologies for improving human performance: integrating from the nanoscale. J Nanopart Res 4(4):281–295

11.

Wood S, Geldart A, Jones R (2008) Crystallizing the nanotechnology debate. Tech Anal Strat Manag 20(1):13–27

12.

$81 million to support new National Nanotechnology Coordinated Infrastructure. (2015). https://www.nsf.gov/news/news_summ.jsp?cntn_id=136211. Accessed 13 June 2018

13.

Palmberg C, Dernis H, Miguet C (2009) Nanotechnology: an overview based on indicators and statistics. (OECD Science, Technology and Industry Working Papers, No. 2009/07), OECD Publishing, Paris 

14.

Office USGP (2003) The 21st century nanotechnology research and development act. Washington, DC

15.

Amato I, Carroll L (1999) Nanotechnology: shaping the world atom by atom. National Science and Technology Council, Committee on Technology, Interagency Working Group on Nanoscience, Engineering, and Technology, Washington, DC

16.

Ferrari A (2010) Developments in the debate on nanoethics: traditional approaches and the need for new kinds of analysis. NanoEthics 4(1):27–52

17.

Drexler KE (2000) Engines of creation: the coming era of nanotechnology. Foresight Institute, Los Altos (orig. 1986)

18.

Omlor AJ, Nguyen J, Bals R, Dinh QT (2015) Nanotechnology in respiratory medicine. Respir Res 16(1):64

19.

Allhoff F (2007) Nanoethics: the ethical and social implications of nanotechnology. John Wiley & Sons, Hoboken

20.

Bacchini F (2013) Is nanotechnology giving rise to new ethical problems? Nanoethics 7(2):107–119

21.

Bennett-Woods D (2008) Nanotechnology: ethics and society. CRC press, Boca Raton

22.

Corley EA, Kim Y, Scheufele DA (2016) Scientists' ethical obligations and social responsibility for nanotechnology research. Sci Eng Ethics 22(1):111–132

23.

Gordijn B, Cutter AM (2014) In pursuit of nanoethics: an introduction. In: Gordijn B, Cutter AM (eds), In pursuit of nanoethics. Springer, Dordrecht, pp 1–11

24.

Macnaghten P, Kearnes MB, Wynne B (2005) Nanotechnology, governance, and public deliberation: what role for the social sciences? Sci Commun 27(2):268–291

25.

McGinn R (2008) Ethics and nanotechnology: views of nanotechnology researchers. Nanoethics 2(2):101–131

26.

McGinn R (2010) Ethical responsibilities of nanotechnology researchers: a short guide. NanoEthics 4(1):1–12

27.

McGinn RE (2010) What's different, ethically, about nanotechnology?: foundational questions and answers. Nanoethics 4(2):115–128

28.

Rasmussen AJ, Ebbesen M, Andersen S (2012) Nanoethics—a collaboration across disciplines. Nanoethics 6(3):185–193

29.

Cutcliffe SH, Pense CM, Zvalaren M (2012) Framing the discussion: nanotechnology and the social construction of technology--what STS scholars are saying. NanoEthics 6(2):81–99

30.

Grunwald A (2005) Nanotechnology—a new field of ethical inquiry? Sci Eng Ethics 11(2):187–201

31.

Scheufele DA, Corley EA, Dunwoody S, Shih T-J, Hillback E, Guston DH (2007) Scientists worry about some risks more than the public. Nat Nanotechnol 2(12):732–734

32.

Viseu A, Maguire H (2012) Integrating and enacting 'social and ethical issues' in nanotechnology practices. NanoEthics 6(3):195–209

33.

Johnson DG (2007) Ethics and technology 'in the making': an essay on the challenge of nanoethics. NanoEthics 1(1):21–30

34.

Kahlor LA, Dudo A, Liang M-C, Lazard AJ, AbiGhannam N (2016) Ethics information seeking and sharing among scientists: the case of nanotechnology. Sci Commun 38(1):74–98

35.

Olmstead M, Bassett D (2009) Teaching nanoethics to graduate students. In: Bassett D, Wysocki A, Brainard S (eds) Monograph: nanoethics graduate education symposium. Center for Workforce Development, University of Washington, Seattle, pp 131–140

36.

Patra D (2011) Responsible development of nanoscience and nanotechnology: contextualizing socio-technical integration into the nanofabrication laboratories in the USA. NanoEthics 5(2):143–157

37.

Miller RL (1976) Mere exposure, psychological reactance and attitude change. Public Opin Q 40(2):229–233

38.

Kjølberg K, Wickson F (2007) Social and ethical interactions with nano: mapping the early literature. NanoEthics 1(2):89–104

39.

Kjølberg KL, Strand R (2011) Conversations about responsible nanoresearch. NanoEthics 5(1):99–113

40.

Allenby B (2006) Macroethical systems and sustainability science. Sustain Sci 1(1):7–13

41.

Fisher E, Maricle G (2014) Higher-level responsiveness? Socio-technical integration within US and UK nanotechnology research priority setting. Sci Public Policy 42(1):72–85

42.

McGregor J, Wetmore JM (2009) Researching and teaching the ethics and social implications of emerging technologies in the laboratory. Nanoethics 3(1):17–30

43.

Foley RW, Bennett I, Wetmore JM (2012) Practitioners' views on responsibility: applying nanoethics. NanoEthics 6(3):231–241

44.

McLeroy KR, Bibeau D, Steckler A, Glanz K (1988) An ecological perspective on health promotion programs. Health Educ Q 15(4):351–377

45.

Arthur W Jr, Bennett W Jr, Edens PS, Bell ST (2003) Effectiveness of training in organizations: a meta-analysis of design and evaluation features. J Appl Psychol 88(2):234–245

46.

Christian LM, Dillman DA, Smyth JD (2008) The effects of mode and format on answers to scalar questions in telephone and web surveys. Advances in Telephone Survey Methodology 12:250–275

47.

Scott J, Carrington PJ (2011) The SAGE handbook of social network analysis. SAGE publications, London

48.

Stern PN (1980) Grounded theory methodology: its uses and processes. J Nurs Scholarsh 12(1):20–23

49.

Silva Costa H, Sethe S, Pêgo AP, Olsson IAS (2011) Scientists' perception of ethical issues in nanomedicine: a case study. Nanomedicine 6(4):681–691

50.

Bronfenbrenner U (1977) Toward an experimental ecology of human development. Am Psychol 32(7):513–531

51.

Griffin RJ, Dunwoody S, Neuwirth K (1999) Proposed model of the relationship of risk information seeking and processing to the development of preventive behaviors. Environ Res 80(2):S230–S245

52.

Kahlor L (2010) PRISM: a planned risk information seeking model. Health Commun 25(4):345–356

53.

Eosco GM, Tallapragada M, McComas KA, Brady M (2014) Exploring societal and ethical views of nanotechnology REUs. NanoEthics 8(1):91–99

54.

National Academy of Sciences, N. A. (2009) On being a scientist: a guide to responsible conduct in research. National Academies Press, Washington, DC
Funding
This study received funding from National Science Foundation National Nanotechnology Coordinated Infrastructure grant ECCS-1542159 and the National Nanotechnology Infrastructure Network Social and Ethical Issues Seed Grant Program.
Additional information
Publisher's Note
Springer Nature remains neutral with regard to jurisdictional claims in published maps and institutional affiliations.
Appendices
Appendix 1. Screenshots of content from the SEI training module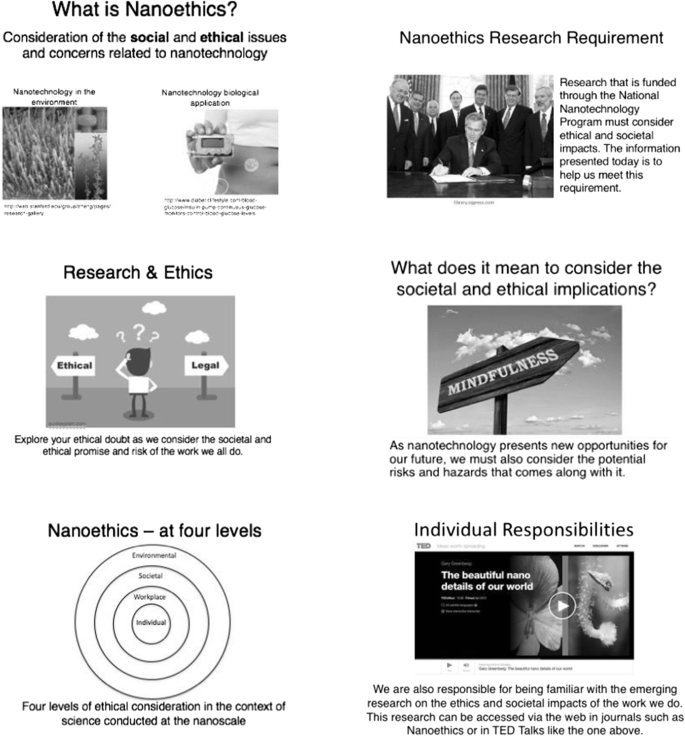 Appendix 2. Study 2 scientist survey
The following survey items ask you to think about the social and ethical implications of nanotechnology. We leave these terms open to your interpretation.
1.

When you hear the phrase "the social and ethical implications of nanotechnology," what does this phrase mean to you? Here we are just looking for your interpretation of the phrase. (Essay response)
Next, please indicate how much you agree or disagree with each of the following statements (these were formatted as 5-point agree-disagree or likelihood scales).
2.

I am familiar with some of the ethical and/or social concerns posed by nanotechnology.

3.

I have thought about the social and/or ethical implications of nanotechnology.

4.

I have come across information about the social and/or ethical implications of nanotechnology.

5.

There is a need for implementing the consideration of nanoethics into my routine practices.

6.

How likely is it that you will be impacted by the potential risks posed by nanotechnology?

7.

How likely is it that your workplace will be impacted by the potential risks posed by nanotechnology?

8.

How likely is it that the environment will be impacted by the potential risks posed by nanotechnology?

9.

How likely is it that society will be impacted by the potential risks posed by nanotechnology?
The following video was developed to introduce you to ways we might think about the social and ethical implications of nanotechnology. Viewing this video is a requirement for working in the MRC labs. After the video, you will need to answer a few questions. The video is about 16 min long. [Trainees viewed the module here.]
10.

We'd like you to reflect once again on the phrase "the social and ethical implications of nanotechnology." What does it refer to? (Essay response)
Please note your level of agreement with the following statements:
11.

There is a need for implementing the consideration of nanoethics into my routine practices.

12.

How might you think about ethics in the context of your own work? (Essay response)

13.

What are the four levels of ethical consideration presented in the video? (Essay response)

14.

How likely is it that you will be impacted by the potential risks posed by nanotechnology?

15.

How likely is it that your workplace will be impacted by the potential risks posed by nanotechnology?

16.

How likely is it that the environment will be impacted by the potential risks posed by nanotechnology?

17.

How likely is it that society will be impacted by the potential risks posed by nanotechnology?

18.

How might you be (or become) an ethical leader? (Essay response)
About this article
Cite this article
Kahlor, L.A., Li, X. & Jones, J. Development and Pilot Testing of an Evidence-Based Training Module for Integrating Social and Ethical Implications into the Lab. Nanoethics 13, 37–52 (2019). https://doi.org/10.1007/s11569-019-00336-5
Received:

Accepted:

Published:

Issue Date:
Keywords
Nanoethics

Social and ethical implications

SEI

Ethics training

Lab training