Zusammenfassung
Das klinische Management von Patienten mit einem Transplantatversagen stellt eine besondere Herausforderung für die behandelnden Nephrologen und Kindernephrologen dar, da viele patientenindividuelle Faktoren berücksichtigt werden müssen, was die Erstellung von generellen Therapieempfehlungen erschwert. Betroffene Patienten müssen zeitnah auf eine anschließende Dialysetherapie oder eine Retransplantation vorbereitet werden. Da diese Patienten ein besonderes Risikokollektiv darstellen, müssen wichtige Entscheidungen wie Dialysebeginn, weiterer Umgang mit der immunsuppressiven Medikation und ggf. Belassen oder Entfernen des alten Transplantats getroffen werden. Dieser Artikel fasst die Literatur zu den zu beachtenden Risikofaktoren zusammen und gibt allgemeine Managementempfehlungen zu Dialysebeginn, Immunsuppression und Indikationen zur Transplantatnephrektomie bei Kindern und Erwachsenen.
Abstract
The management of patients with failure of a kidney transplant can be a challenge to nephrologists and pediatric nephrologists as many individual patient factors have to be considered that make it difficult to give general treatment recommendations. After a failed kidney transplant the patients have to quickly prepared for a return to dialysis or to receive a second transplant. Since these patients are at an increased risk of mortality, important decisions have to be made regarding the beginning of dialysis, continued management of immunosuppressive therapy and the question if and when the failed allograft should be removed. This article summarizes the literature on risk factors that should be taken into account and gives management recommendations for dialysis initiation, immunosuppression and indications for transplant nephrectomy in children and adults.
Access options
Buy single article
Instant access to the full article PDF.
US$ 39.95
Tax calculation will be finalised during checkout.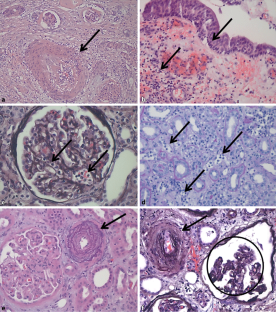 Literatur
1.

Kaplan B, Meier-Kriesche HU (2002) Death after graft loss: an important late study endpoint in kidney transplantation. Am J Transplant 2(10):970–974

2.

Meier-Kriesche HU, Schold JD, Srinivas TR, Reed A, Kaplan B (2004) Kidney transplantation halts cardiovascular disease progression in patients with end-stage renal disease. Am J Transplant 4(10):1662–1668

3.

Rao PS, Schaubel DE, Jia X, Li S, Port FK, Saran R (2007) Survival on dialysis post-kidney transplant failure: results from the Scientific Registry of Transplant Recipients. Am J Kidney Dis 49(2):294–300

4.

Gupta M, Wood A, Mitra N, Furth SL, Abt PL, Levine MH (2015) Repeat kidney transplantation after failed first transplant in childhood: past performance informs future performance. Transplantation 99(8):1700–1708

5.

Bertram JF, Goldstein SL, Pape L, Schaefer F, Shroff RC, Warady BA (2016) Kidney disease in children: latest advances and remaining challenges. Nat Rev Nephrol 12(3):182–191

6.

Chinnakotla S, Verghese P, Chavers B, Rheault MN, Kirchner V, Dunn T et al (2017) Outcomes and risk factors for graft loss: lessons learned from 1,056 pediatric kidney transplants at the University of Minnesota. J Am Coll Surg 224(4):473–486

7.

Mulley WR, Huang LL, Ramessur Chandran S, Longano A, Amos LAR, Polkinghorne KR et al (2017) Long-term graft survival in patients with chronic antibody-mediated rejection with persistent peritubular capillaritis treated with intravenous immunoglobulin and rituximab. Clin Transplant. https://doi.org/10.1111/ctr.13037

8.

Vincenti F, Rostaing L, Grinyo J, Rice K, Steinberg S, Gaite L et al (2016) Belatacept and long-term outcomes in kidney transplantation. N Engl J Med 374(4):333–343

9.

Bertram A, Pabst S, Zimmermann T, Schiffer M, de Zwaan M (2016) How can you be adherent if you don't know how? Transpl Int 29(7):830–832

10.

Dobbels F, Berben L, De Geest S, Drent G, Lennerling A, Whittaker C et al (2010) The psychometric properties and practicability of self-report instruments to identify medication nonadherence in adult transplant patients: a systematic review. Transplantation 90(2):205–219

11.

Kreuzer M, Prufe J, Bethe D, Vogel C, Grosshennig A, Koch A et al (2014) The TRANSNephro-study examining a new transition model for post-kidney transplant adolescents and an analysis of the present health care: study protocol for a randomized controlled trial. Trials 15:505

12.

Pape L, de Zwaan M, Tegtbur U, Feldhaus F, Wolff JK, Schiffer L et al (2017) The KTx360 degrees-study: a multicenter, multisectoral, multimodal, telemedicine-based follow-up care model to improve care and reduce health-care costs after kidney transplantation in children and adults. Bmc Health Serv Res 17(1):587

13.

Cooper BA, Branley P, Bulfone L, Collins JF, Craig JC, Fraenkel MB et al (2010) A randomized, controlled trial of early versus late initiation of dialysis. N Engl J Med 363(7):609–619

14.

Pham PT, Pham PC (2011) Immunosuppressive management of dialysis patients with recently failed transplants. Semin Dial 24(3):307–313

15.

de Jonge H, Bammens B, Lemahieu W, Maes BD, Vanrenterghem Y (2006) Comparison of peritoneal dialysis and haemodialysis after renal transplant failure. Nephrol Dial Transplant 21(6):1669–1674

16.

Budde K, Rath T, Sommerer C, Haller H, Reinke P, Witzke O et al (2015) Renal, efficacy and safety outcomes following late conversion of kidney transplant patients from calcineurin inhibitor therapy to everolimus: the randomized APOLLO study. Clin Nephrol 83(1):11–21

17.

Schulte K, Vollmer C, Klasen V, Brasen JH, Puchel J, Borzikowsky C et al (2017) Late conversion from tacrolimus to a belatacept-based immuno-suppression regime in kidney transplant recipients improves renal function, acid-base derangement and mineral-bone metabolism. J Nephrol 30(4):607–615

18.

Johnston O, Rose C, Landsberg D, Gourlay WA, Gill JS (2007) Nephrectomy after transplant failure: current practice and outcomes. Am J Transplant 7(8):1961–1967

19.

Johnston O, Zalunardo N, Rose C, Gill JS (2007) Prevention of sepsis during the transition to dialysis may improve the survival of transplant failure patients. J Am Soc Nephrol 18(4):1331–1337

20.

Gregoor PJ, Kramer P, Weimar W, van Saase JL (1997) Infections after renal allograft failure in patients with or without low-dose maintenance immunosuppression. Transplantation 63(10):1528–1530

21.

Lopez-Gomez JM, Perez-Flores I, Jofre R, Carretero D, Rodriguez-Benitez P, Villaverde M et al (2004) Presence of a failed kidney transplant in patients who are on hemodialysis is associated with chronic inflammatory state and erythropoietin resistance. J Am Soc Nephrol 15(9):2494–2501

22.

Ayus JC, Achinger SG, Lee S, Sayegh MH, Go AS (2010) Transplant nephrectomy improves survival following a failed renal allograft. J Am Soc Nephrol 21(2):374–380

23.

Del Bello A, Congy-Jolivet N, Sallusto F, Guilbeau-Frugier C, Cardeau-Desangles I, Fort M et al (2012) Donor-specific antibodies after ceasing immunosuppressive therapy, with or without an allograft nephrectomy. Clin J Am Soc Nephrol 7(8):1310–1319

24.

Lair D, Coupel S, Giral M, Hourmant M, Karam G, Usal C et al (2005) The effect of a first kidney transplant on a subsequent transplant outcome: an experimental and clinical study. Kidney Int 67(6):2368–2375

25.

Schleicher C, Wolters H, Kebschull L, Anthoni C, Suwelack B, Senninger N et al (2011) Impact of failed allograft nephrectomy on initial function and graft survival after kidney retransplantation. Transpl Int 24(3):284–291

26.

Phillips BL, Callaghan CJ (2017) Graft nephrectomy in children. Pediatr Nephrol. https://doi.org/10.1007/s00467-017-3697-1

27.

Akman B, Ozdemir FN, Sezer S, Micozkadioglu H, Haberal M (2004) Depression levels before and after renal transplantation. Transplant Proc 36(1):111–113
Ethics declarations
Interessenkonflikt
L. Pape, J.-H. Bräsen und M. Schiffer geben an, dass kein Interessenkonflikt besteht.
Dieser Beitrag beinhaltet keine von den Autoren durchgeführten Studien an Menschen oder Tieren.
Additional information
Redaktion
C. Erley, Berlin
M. Haubitz, Fulda,
U. Heemann, München
J. Hoyer, Marburg
CME-Fragebogen
CME-Fragebogen
Transplantatversagen führt zu einem erhöhten Mortalitätsrisiko bei den betroffenen Patienten durch …
Elektrolytentgleisungen.
hypertensive Krisen.
septische Komplikationen.
Abstoßungen.
Überwässerung.
Vorbereitungen für eine Retransplantation sollten bei Kindern und Jugendlichen getroffen werden …
ab einer GFR von <20 ml/min.
ab einer GFR von <30 ml/min.
ab einer GFR von <40 ml/min.
ab einer GFR von <50 ml/min.
bei Dialysebeginn.
Die Immunsuppression sollte nach Beginn einer Nierenersatztherapie …
unverändert beibehalten werden.
nur bei rezidivierenden Infekten abgesetzt werden.
in Abhängigkeit von der Restdiurese reduziert und angepasst werden.
zur Vermeidung von Abstoßungen zunächst erhöht werden.
bis zu einer erneuten Retransplantation dauerhaft beibehalten werden.
Ein funktionsloses Transplantat …
sollte bei Kindern belassen werden.
sollte bei Erwachsenen entfernt werden.
sollte bei Retransplantation entfernt werden.
stellt ein hohes immunologisches Risiko für eine Retransplantation dar.
wird entfernt, wenn es symptomatisch wird und zu Problemen führt.
Das Mortalitätsrisiko …
steigt mit dem Transplantatversagen signifikant an.
ist höher bei Patienten mit funktionslosem Transplantat.
ist genauso hoch bei transplantnaiven Patienten auf der Warteliste.
korreliert nicht mit der "Netto"-Dialysezeit des Patienten.
ist durch das erhöhte kardiovaskuläre Risiko gesteigert.
Eine Dialysetherapie nach Transplantatversagen …
sollte nur selten als Peritonealdialyse durchgeführt werden.
wird meistens wegen Anurie begonnen.
kann durch eine präemptive Transplantation (z. B. Verwandtenspende) verhindert werden.
wird in der Regel von einer Transplantatnephrektomie begleitet.
setzt das Absetzen der Immunsuppression voraus.
Welche der folgenden Immunsuppressivagruppen sollte bei Transplantatversagen bei Kindern als Erstes reduziert werden?
Steroide
Calcineurininhibitoren
Proliferationshemmer
mTOR-inhibitoren
Antikörper
Eine Retransplantation nach Transplantatversagen ist nicht verkompliziert durch …
donorspezifische Antikörper.
Verschlechterung der Gefäßsituation.
erhöhte Panel-reaktive Antikörper.
Probleme vaskulärer Reanastomosierung.
erhöhtes Mortalitätrisiko.
Keine sichere Indikation für eine Transplantatnephrektomie ist/sind …
Symptome einer schweren Abstoßung.
schwere Infektion des Transplantats.
EPO-Resistenz.
hypertensive Entgleisungen.
rückläufige Restdiurese bzw. Anurie.
Eine Umstellung der Immunsuppression bei schneller Reduktion der Transplantatfunktion …
kann nicht ohne histologischen Abstoßungsnachweis erfolgen.
sollte bei Kindern nicht durchgeführt werden.
muss früh genug durchgeführt werden, um einen Effekt zu haben.
ist in der Regel mit Absetzen des Calcineurininhibitors verbunden.
sollte erst bei Unterschreiten eines GFR-Werts von 20 ml/min erfolgen.
About this article
Cite this article
Pape, L., Bräsen, JH. & Schiffer, M. Transplantatversagen. Nephrologe 13, 61–69 (2018). https://doi.org/10.1007/s11560-017-0214-2
Schlüsselwörter
Transplantatnephrektomie

EPO-Resistenz

Chronische Rejektion

Dialyse

Immunsuppression
Keywords
Transplant nephrectomy

EPO resistance

Chronic rejection

Dialysis

Immunosuppression