Zusammenfassung
Hintergrund
Die akute Nierenschädigung (ANS) ist häufig und mit hoher Mortalität und Morbidität assoziiert. Während generelle Therapieansätze für die ANS nur sehr begrenzt bestehen, erscheint eine spezifische Ursachentherapie unabdingbar.
Ziel der Arbeit/Methoden
Mit einer Übersicht der aktuellen Literatur aus klinischer und histopathologischer Sicht und eigenen Erfahrungen der Autoren soll eine Einschätzung zur Wertigkeit der Nierenbiopsie bei ANS erfolgen.
Ergebnisse/Diskussion
Einerseits ist die umgehende Sicherung der Ursache eines Funktionsverlustes bei beispielsweise Transplantatnieren oft kaum ohne histopathologische Einschätzung zu erreichen. Andererseits wird das sichere Fundament für eine potenziell schädigende Therapie durch Diagnosesicherung, insbesondere Aktivität und Ausmaß betreffend, gefestigt. Darüber hinaus sind überraschende, aus den bis dahin vorliegenden klinisch-serologischen Befunden nicht eruierbare Diagnosen bei Weitem nicht ungewöhnlich. Schließlich ist die histopathologische Feststellung des Ausmaßes chronischer Veränderungen (glomeruläre Sklerose, Tubulusatrophie und interstitielle Fibrose, Arterio- und Arteriolosklerose) für eine Therapieentscheidung von grundlegender Bedeutung. Eine Nierenbiopsie muss jedoch unter Abwägung der Risiken und des potenziellen Nutzens für den Patienten erfolgen, da insbesondere bei Risikopatienten, etwa auf einer Intensivstation, Blutungskomplikationen nicht selten sind. Dennoch erscheinen morphologische Parameter einer Nierenbiopsie bei ANS für eine evidenzbasierte personalisierte Versorgung unserer Patienten wichtig.
Abstract
Background
Acute kidney injury (AKI) is a widespread condition with severe detrimental effects on patient outcome. To date, general pharmacological therapies are not well-established; therefore, a specific therapeutic approach tailored to the underlying cause of AKI seems to be crucial.
Aim and methods
We provide an overview of recent publications questioning the importance of percutaneous renal biopsies in patients suffering from AKI. Additionally, we show examples of the clinical and histopathological experience from a tertiary hospital.
Results/discussion
Several reasons favor the histopathological evaluation of the underlying conditions in patients with AKI: Firstly, a rapid clarification of the cause of AKI and loss of function by other methods, e. g. after kidney transplantation, is often not possible without a histopathological assessment. Secondly, characterization of the disease, especially activity and severity, is important prior to the initiation of a potentially damaging therapy. Thirdly, clinical or serological data might not be available at the time of biopsy. Unexpected findings are therefore not unusual. Further knowledge of chronic changes (e.g. glomerular sclerosis, tubular atrophy, interstitial fibrosis and arterial lesions) is essential for planning therapeutic strategies. These and other morphological parameters of a kidney biopsy in AKI seem important in terms of an evidence-based personalized approach to the treatment of patients; however, a strict risk-benefit analysis must be performed for each individual patient, as critically ill patients are especially susceptible to severe bleeding complications.
Access options
Buy single article
Instant access to the full article PDF.
US$ 39.95
Tax calculation will be finalised during checkout.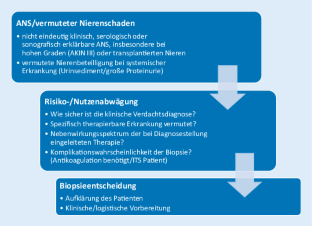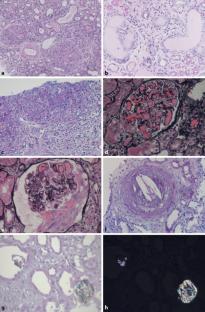 Literatur
1.

Cameron JS, Hicks J (1997) The introduction of renal biopsy into nephrology from 1901 to 1961: a paradigm of the forming of nephrology by technology. Am J Nephrol 17(3-4):347–358

2.

Fogo AB (2003) Approach to renal biopsy. Am J Kidney Dis 42(4):826–836

3.

Dhaun N, Bellamy CO, Cattran DC et al (2014) Utility of renal biopsy in the clinical management of renal disease. Kidney Int 85(5):1039–1048

4.

Corapi KM, Chen JL, Balk EM et al (2012) Bleeding complications of native kidney biopsy: a systematic review and meta-analysis. Am J Kidney Dis 60(1):62–73

5.

Kitterer D, Gurzing K, Segerer S et al (2015) Diagnostic impact of percutaneous renal biopsy. Clin Nephrol 84(6):311–322

6.

Prasad N, Kumar S, Manjunath R et al (2015) Real-time ultrasound-guided percutaneous renal biopsy with needle guide by nephrologists decreases post-biopsy complications. Clin Kidney J 8(2):151–156

7.

Jennette J, Olson J, Schwartz M et al (2015) Chapter 3: Primer on the pathologic diagnosis of renal disease. In: Heptinstall's pathology of the kidney, 7. Aufl. Wolters Kluwer, Philadelphia, S 91–123

8.

Thomas ME, Blaine C, Dawnay A et al (2015) The definition of acute kidney injury and its use in practice. Kidney Int 87(1):62–73

9.

Wald R, Quinn RR, Adhikari NK et al (2012) Risk of chronic dialysis and death following acute kidney injury. Am J Med 125(6):585–593

10.

Kaushal GP, Shah SV (2014) Challenges and advances in the treatment of AKI. J Am Soc Nephrol 25(5):877–883

11.

Bellomo R, Kellum JA, Ronco C et al (2017) Acute kidney injury in sepsis. Intensive Care Med 43(6):816–828. doi:10.1007/s00134-017-4755-7

12.

Leaf DE, Srivastava A, Zeng X et al (2016) Excessive diagnostic testing in acute kidney injury. BMC Nephrol 17:9

13.

Augusto JF, Lassalle V, Fillatre P et al (2012) Safety and diagnostic yield of renal biopsy in the intensive care unit. Intensive Care Med 38(11):1826–1833

14.

Howie AJ (2007) Handbook of renal biopsy pathology. Springer, Berlin Heidelberg

15.

Solez K, Racusen LC, Marcussen N et al (1993) Morphology of ischemic acute renal failure, normal function, and cyclosporine toxicity in cyclosporine-treated renal allograft recipients. Kidney Int 43(5):1058–1067

16.

Singh L, Singh G, Sharma A et al (2015) A comparative study on renal biopsy before and after long-term calcineurin inhibitors therapy: an insight for pathogenesis of its toxicity. Hum Pathol 46(1):34–39

17.

Nankivell BJ, P'Ng CH, O'Connell PJ et al (2016) Calcineurin inhibitor nephrotoxicity through the lens of longitudinal histology: comparison of cyclosporine and tacrolimus eras. Transplantation 100(8):1723–1731

18.

Hansen-Hagge C, Bräsen JH, Kielstein JT (2017) Acute kidney injury from intravenous immunoglobulins – an avoidable complication. Z Rheumatol 76(3):279–280

19.

Lefaucheur C, Loupy A, Vernerey D et al (2013) Antibody-mediated vascular rejection of kidney allografts: a population-based study. Lancet 381(9863):313–319

20.

Haas M, Sis B, Racusen LC et al (2014) Banff 2013 meeting report: inclusion of c4d-negative antibody-mediated rejection and antibody-associated arterial lesions. Am J Transplant 14(2):272–283

21.

Loupy A, Haas M, Solez K et al (2017) The Banff 2015 kidney meeting report: current challenges in rejection classification and prospects for adopting molecular pathology. Am J Transplant 17(1):28–41

22.

Bandari J, Fuller TW, Turner capital I UiURM et al (2016) Renal biopsy for medical renal disease: indications and contraindications. Can J Urol 23(1):8121–8126
Ethics declarations
Interessenkonflikt
J.J. Schmidt, J.T. Kielstein und J.H. Bräsen geben an, dass kein Interessenkonflikt besteht.
Dieser Beitrag beinhaltet keine von den Autoren durchgeführten Studien an Menschen oder Tieren.
Additional information
Redaktion
T. Feldkamp, Kiel
O. Witzke, Essen
About this article
Cite this article
Schmidt, J.J., Kielstein, J.T. & Bräsen, J.H. Stellenwert der Nierenbiopsie bei akuter Nierenschädigung. Nephrologe 12, 323–328 (2017). https://doi.org/10.1007/s11560-017-0179-1
Schlüsselwörter
Nierengewebe

Akutes Nierenversagen

Morphologische Parameter

Histopathologie

Diagnose
Keywords
Renal tissue

Acute renal failure

Morphologic parameters

Histopathology

Diagnosis