Zusammenfassung
Minimal-Change-Nephropathie ("minimal change disease", MCD) und fokal-segmentale Glomerulosklerose (FSGS) sind histopathologisch definierte Podozytopathien, die sich klinisch als nephrotisches Syndrom manifestieren. Während die MCD vor allem bei Kindern auftritt und meist benigne verläuft, zeigt die FSGS eine höhere Prävalenz bei Erwachsenen und oftmals einen gleichzeitigen Verlust der Nierenfunktion bis hin zur terminalen Niereninsuffizienz. Primäre und sekundäre FSGS sind hinsichtlich Ätiologie, Klinik und Therapieoptionen erheblich differierende Erkrankungen [1, 2]. Bezüglich der Pathogenese von MCD und FSGS haben sich in den letzten Jahren neue Hypothesen etabliert, welche in die klinische Diagnostik noch nicht Einzug gehalten haben, jedoch langfristig zu einem besseren Verständnis der Erkrankungen und möglicherweise zu neuen Therapieansätzen beitragen könnten.
Abstract
Minimal change disease (MCD) and focal segmental glomerulosclerosis (FSGS) are histopathologically defined podocytopathies which are clinically manifested as nephrotic syndrome. While MCD is most commonly seen in children and usually exhibits a benign clinical course, FSGS has a higher prevalence in adult patients and often leads to a deterioration of renal function possibly resulting in end-stage renal disease. Primary and secondary FSGS differ substantially concerning etiology, clinical presentation and therapy [1, 2]. New hypotheses have been established in recent years regarding the pathogenesis of MCD and FSGS but have not yet been incorporated into clinical diagnostics. However, these insights might translate into a better understanding of these diseases in the long run and possibly contribute to new therapeutic approaches.
Access options
Buy single article
Instant access to the full article PDF.
US$ 39.95
Tax calculation will be finalised during checkout.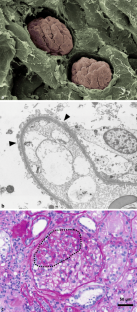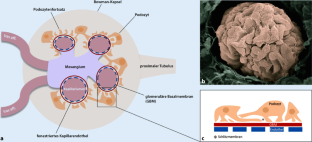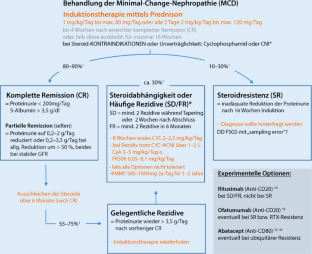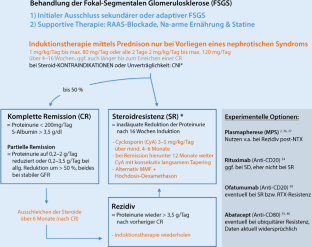 Literatur
1.

Hogan J, Radhakrishnan J (2013) The treatment of minimal change disease in adults. J Am Soc Nephrol 24(5):702–711

2.

D'Agati V, Kaskel FJ, Falk RJ (2011) Focal segmental glomerulosclerosis. N Engl J Med 365(25):2398–2411

3.

Orth SR, Ritz E (1998) The Nephrotic Syndrome. N Engl J Med 338(17):1202–1211

4.

Wiggins RC (2007) The spectrum of podocytopathies: a unifying view of glomerular diseases. Kidney Int 71(12):1205–1214

5.

Kang HG, Cheong H (2015) Il. Nephrotic syndrome: what's new, what's hot? Korean J Pediatr 58(8):275–282

6.

Meyrier AY (2009) Treatment of focal segmental glomerulosclerosis with immunophilin modulation: when did we stop thinking about pathogenesis? Kidney Int 76(5):487–491

7.

Glassock RJ (2003) Secondary minimal change disease. Nephrol Dial Transplant 18(Suppl 6):vi52–i58

8.

Abdel-Hafez M, Shimada M, Lee PY, Johnson RJ, Garin EH (2010) Idiopathic nephrotic syndrome and atopy: is there a common link? Am J Kidney Dis 54(5):945–953

9.

Bertelli R, Bonanni A, Di Donato A, Cioni M, Ravani P, Ghiggeri GM (2015) Regulatory T cells and minimal change nephropathy: in the mid of a complex network. Clin Exp Immunol. doi: 10.1111/cei.12675

10.

Lai K-W, Wei C-L, Tan L-K et al (2007) Overexpression of interleukin-13 induces minimal-change-like nephropathy in rats. J Am Soc Nephrol 18(5):1476–1485

11.

Reiser J, Von Gersdorff G, Loos M et al (2004) Induction of B7-1 in podocytes is associated with nephrotic syndrome. J Clin Invest 113(10):1390–1397

12.

Garin EH, Mu W, Arthur JM et al (2010) Urinary CD80 is elevated in minimal change disease but not in focal segmental glomerulosclerosis. Kidney Int 78(3):296–302

13.

Shimada M, Ishimoto T, Lee PY et al (2012) Toll-like receptor 3 ligands induce CD80 expression in human podocytes via an NF-kB-dependent pathway. Nephrol Dial Transplant 27(1):81–89

14.

Gagliardini E, Novelli R, Corna D et al (2015) B7-1 is not induced in podocytes of human and experimental diabetic nephropathy. J Am Soc Nephrol. doi: 10.1681/ASN.2015030266

15.

Clement LC, Avila-Casado C, Macé C et al (2011) Podocyte-secreted angiopoietin-like-4 mediates proteinuria in glucocorticoid-sensitive nephrotic syndrome. Nat Med 17(1):117–122

16.

Clement LC, Macé C, Avila-Casado C, Joles JA, Kersten S, Chugh SS (2014) Circulating angiopoietin-like 4 links proteinuria with hypertriglyceridemia in nephrotic syndrome. Nat Med 20(1):37–46

17.

Cara-Fuentes G, Changli W, Segarra A et al (2014) CD80 and suPaR in patients with minimal change disease and focal segmental gomerulosclerosis: diagnostic and pathogenic significance. Pediatr Nephrol 29(8):1363–1371

18.

Sethi S, Glassock RJ, Fervenza FC (2015) Focal segmental glomerulosclerosis: towards a better understanding for the practicing nephrologist. Nephrol Dial Transplant 30(3):375–384

19.

D'Agati VD, Alster JM, Jennette JC et al (2013) Association of histologic variants in FSGS clinical trial with presenting features and outcomes. Clin J Am Soc Nephrol 8(3):399–406

20.

Kestilä M, Lenkkeri U, Männikkö M et al (1998) Positionally cloned gene for a novel glomerular protein-nephrin – is mutated in congenital nephrotic syndrome. Mol Cell 1(4):575–582

21.

Barua M, Brown EJ, Charoonratana VT, Genovese G, Sun H, Pollak MR (2012) Mutations in the INF2 gene account for a significant proportion of familial but not sporadic focal and segmental glomerulosclerosis. Kidney Int 83(2):316–322

22.

Parsa A, Kao WHL, Xie D et al (2013) APOL1 risk variants, race, and progression of chronic kidney disease. N Engl J Med 369(23):2183–2196

23.

Santin S, Bullich G, Tazon-Vega B et al (2011) Clinical utility of genetic testing in children and adults with steroid-resistant nephrotic syndrome. Clin J Am Soc Nephrol 6(5):1139–1148

24.

Glomerulonephritis Work Group. KDIGO Clinical Practice Guideline for Glomerulonephritis (2012) Kidney Disease: Improving Global Outcomes (KDIGO). Kidney Int 2(Suppl):139–274

25.

Gallon L, Leventhal J, Skaro A, Kanwar Y, Alvarado A (2012) Resolution of recurrent focal segmental glomerulosclerosis after retransplantation. N Engl J Med 366(17):1648–1649

26.

Wei C, El Hindi S, Li J et al (2011) Circulating urokinase receptor as a cause of focal segmental glomerulosclerosis. Nat Med 17(8):952–960

27.

Jefferson AJ, Shankland SJ (2013) Has the circulating permeability factor in primary FSGS been found? Kidney Int 84(2):235–238

28.

Meijers B, Maas RJH, Sprangers B et al (2014) The soluble urokinase receptor is not a clinical marker for focal segmental glomerulosclerosis. Kidney Int 85(3):636–640

29.

Maas RJ, Deegens JK, Wetzels JF (2014) Permeability factors in idiopathic nephrotic syndrome: historical perspectives and lessons for the future. Nephrol Dial Transplant 29(12):2207–2216

30.

Gebeshuber CA, Kornauth C, Dong L et al (2013) Focal segmental glomerulosclerosis is induced by microRNA-193a and its downregulation of WT1. Nat Med 19(4):481–487

31.

Wu J, Zheng C, Fan Y et al (2014) Downregulation of microRNa-30 facilitates podocyte injury and is prevented by glucocorticoids. J Am Soc Nephrol 25(1):92–104

32.

Floege A, Floege J (2013) KDIGO-Leitlinien zur Behandlung von Glomerulonephritiden. Nephrologe 8(4):327–335

33.

Zhao L, Cheng J, Zhou J, Wu C, Chen J (2015) Enhanced steroid therapy in adult minimal change nephrotic syndrome: a systematic review and meta-analysis. Intern Med 54:2101–2108

34.

Kronbichler A, Bruchfeld A (2014) Rituximab in adult minimal change disease and focal segmental glomerulosclerosis. Nephron Clin Pract 128:277–282

35.

Garin EH, Reiser J, Cara-Fuentes G et al (2015) Case series: CTLA4-IgG1 therapy in minimal change disease and focal segmental glomerulosclerosis. Pediatr Nephrol 30(3):469–477

36.

Straatmann C, Kallash M, Killackey M et al (2014) Success with plasmapheresis treatment for recurrent focal segmental glomerulosclerosis in pediatric renal transplant recipients. Pediatr Transplant 18(1):29–34

37.

Park HS, Hong Y, Sun IO et al (2014) Effects of pretransplant plasmapheresis and rituximab on recurrence of focal segmental glomerulosclerosis in adult renal transplant recipients. Korean J Intern Med 29(4):482–488

38.

Malaga-Dieguez L, Bouhassira D, Gipson D, Trachtman H (2015) Novel therapies for FSGS: preclinical and clinical studies. Adv Chronic Kidney Dis 22(2):e1–e6

39.

Basu B (2014) Ofatumumab for rituximab-resistant nephrotic syndrome. N Engl J Med 370(13):1268–1270

40.

Yu C-C, Fornoni A, Weins A et al (2013) Abatacept in B7-1–Positive Proteinuric Kidney Disease. N Engl J Med 369(25):2416–2423
Ethics declarations
Interessenkonflikt
J. F. Grünewald und T. B. Huber geben an, dass kein Interessenkonflikt besteht.
Dieser Beitrag beinhaltet keine Studien an Menschen oder Tieren.
Additional information
Redaktion
J. Floege, Aachen
About this article
Cite this article
Huber, T.B., Grünewald, J.F. Nephrotisches Syndrom. Nephrologe 11, 106–115 (2016). https://doi.org/10.1007/s11560-015-0018-1
Schlüsselwörter
"Minimal-Change"-Glomerulopathie

Fokal-Segmentale Glomerulosklerose

Niereninsuffizienz

Podozyt

Nephrotisches Syndrom
Keywords
Minimal change disease

Focal segmental glomerulosclerosis

Renal insuffciency

Podocyte

Nephrotic syndrome