Zusammenfassung
Die Gefäßverkalkung in der Urämie ist nach wie vor eine der wesentlichen Herausforderungen in der Nephrologie. Kardiovaskuläre Komplikationen stehen an erster Stelle der Morbidität und Mortalität von Dialysepatienten. Das Verstehen der Zusammenhänge der Entstehung von Gefäßverkalkungen sowie ein Früherkennen von Patienten mit besonders hohem Risiko für kardiovaskuläre Komplikationen sowie mögliche neue Therapien sind für eine Präventivmedizin essenziell. Die bis vor einiger Zeit herrschende Meinung einer allein passiven Entstehung der Kalzifikation gilt als überholt und ist durch Ergebnisse abgelöst worden, die ein aktives biologisches Geschehen beschreiben. Die Entwicklungen in den letzten Jahren konnten zeigen, dass eine Reihe von Verkalkungsinhibitoren und zellulärer Mechanismen beteiligt sind. In dieser Übersichtsarbeit werden wir den aktuellen Stand der Pathomechanismen der Gefäßkalzifikation erläutern sowie diese letzten Erkenntnisse zusammenfassen. Darüber hinaus werden wir neue therapeutische Strategien diskutieren.
Abstract
Uremic vascular calcification is still a major challenge in nephrology. Cardiovascular complications contribute substantially to morbidity and mortality of patients with renal replacement therapy. Understanding the development of vascular calcification and enabling the reliable identification of patients at high risk for cardiovascular complications as well as the development of new therapeutic options are of utmost importance. The traditional view of the development of vascular calcification as a passive process has been challenged since results emerged supporting an active, cell-driven pathomechanistic process instead. This review gives an update on the current hypotheses on the development of vascular calcification and a summary of the latest results. In addition new therapeutic strategies for tackling vascular calcification will be discussed.
Access options
Buy single article
Instant access to the full article PDF.
US$ 39.95
Tax calculation will be finalised during checkout.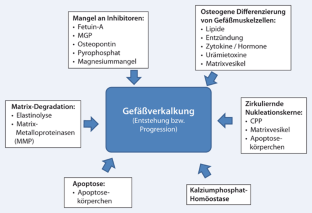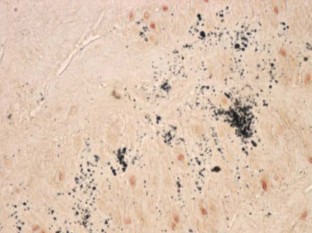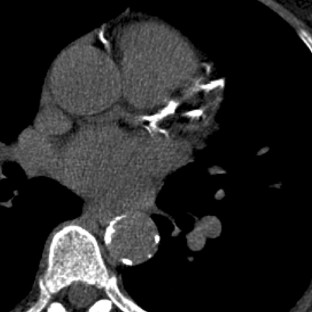 Literatur
1.

Adirekkiat S, Sumethkul V, Ingsathit A et al (2010) Sodium thiosulfate delays the progression of coronary artery calcification in haemodialysis patients. Nephrol Dial Transplant 25:1923–1929

2.

Brandenburg VM, Cozzolino M, Ketteler M (2011) Calciphylaxis: a still unmet challenge. J Nephrol 24:142–148

3.

Cranenburg EC, Brandenburg VM, Vermeer C et al (2009) Uncarboxylated matrix Gla protein (ucMGP) is associated with coronary artery calcification in haemodialysis patients. Thromb Haemost 101:359–366

4.

Floege J, Kim J, Ireland E et al (2011) Serum iPTH, calcium and phosphate, and the risk of mortality in a European haemodialysis population. Nephrol Dial Transplant 26:1948–1955

5.

Hamano T, Matsui I, Mikami S et al (2010) Fetuin-mineral complex reflects extraosseous calcification stress in CKD. J Am Soc Nephrol 21:1998–2007

6.

Herrmann M, Schafer C, Heiss A et al (2012) Clearance of fetuin-a-containing calciprotein particles is mediated by scavenger receptor-a. Circ Res 111(5):575–584

7.

Kircelli F, Peter ME, Sevinc OE et al (2012) Magnesium reduces calcification in bovine vascular smooth muscle cells in a dose-dependent manner. Nephrol Dial Transplant 27:514–521

8.

Krueger T, Westenfeld R, Ketteler M et al (2009) Vitamin K deficiency in CKD patients: a modifiable risk factor for vascular calcification? Kidney Int 76(1):18–22

9.

Krüger T, Brandenburg V, Schlieper G et al (2012) Sailing between Scylla and Charybdis: oral long-term anticoagulation in dialysis patients. Nephrol Dial Transplant [Epub ahead of print]

10.

Marechal C, Coche E, Goffin E et al (2012) Progression of coronary artery calcification and thoracic aorta calcification in kidney transplant recipients. Am J Kidney Dis 59:258–269

11.

Mathews SJ, Las FL de, Podaralla P et al (2011) Effects of sodium thiosulfate on vascular calcification in end-stage renal disease: a pilot study of feasibility, safety and efficacy. Am J Nephrol 33:131–138

12.

Noordzij M, Cranenburg EM, Engelsman LF et al (2011) Progression of aortic calcification is associated with disorders of mineral metabolism and mortality in chronic dialysis patients. Nephrol Dial Transplant 26:1662–1669

13.

Pai A, Leaf EM, El-Abbadi M, Giachelli CM (2011) Elastin degradation and vascular smooth muscle cell phenotype change precede cell loss and arterial medial calcification in a uremic mouse model of chronic kidney disease. Am J Pathol 178:764–773

14.

Pasch A, Farese S, Graber S et al (2012) Nanoparticle-based test measures overall propensity for calcification in serum. J Am Soc Nephrol 23(10):1744–1752

15.

Pasch A, Schaffner T, Huynh-Do U et al (2008) Sodium thiosulfate prevents vascular calcifications in uremic rats. Kidney Int 74:1444–1453

16.

Price PA, Faus SA, Williamson MK (1998) Warfarin causes rapid calcification of the elastic lamellae in rat arteries and heart valves. Arterioscler Thromb Vasc Biol 18:1400–1407

17.

Riser BL, Barreto FC, Rezg R et al (2011) Daily peritoneal administration of sodium pyrophosphate in a dialysis solution prevents the development of vascular calcification in a mouse model of uraemia. Nephrol Dial Transplant 26:3349–3357

18.

Russo D, Corrao S, Battaglia Y et al (2011) Progression of coronary artery calcification and cardiac events in patients with chronic renal disease not receiving dialysis. Kidney Int 80:112–118

19.

Schlieper G, Aretz A, Verberckmoes SC et al (2010) Ultrastructural analysis of vascular calcifications in uremia. J Am Soc Nephrol 21:689–696

20.

Schlieper G, Brandenburg V, Ketteler M, Floege J (2009) Sodium thiosulfate in the treatment of calcific uremic arteriolopathy. Nat Rev Nephrol 5:539–543

21.

Schlieper G, Westenfeld R, Kruger T et al (2011) Circulating nonphosphorylated carboxylated matrix gla protein predicts survival in ESRD. J Am Soc Nephrol 22:387–395

22.

Schurgers LJ, Joosen IA, Laufer EM (2012) Vitamin K-antagonists accelerate atherosclerotic calcification and induce a vulnerable plaque phenotype. PLoS One 7(8):e43229

23.

Shantouf RS, Budoff MJ, Ahmadi N et al (2010) Total and individual coronary artery calcium scores as independent predictors of mortality in hemodialysis patients. Am J Nephrol 31:419–425

24.

Shroff RC, McNair R, Skepper JN et al (2010) Chronic mineral dysregulation promotes vascular smooth muscle cell adaptation and extracellular matrix calcification. J Am Soc Nephrol 21:103–112

25.

Verbeke F, Van BW, Honkanen E et al (2011) Prognostic value of aortic stiffness and calcification for cardiovascular events and mortality in dialysis patients: outcome of the calcification outcome in renal disease (CORD) study. Clin J Am Soc Nephrol 6:153–159

26.

Wang AY (2011) Vascular and valvular calcification in chronic peritoneal dialysis patients. Int J Nephrol 2011:198045

27.

Watanabe R, Lemos MM, Manfredi SR et al (2010) Impact of cardiovascular calcification in nondialyzed patients after 24 months of follow-up. Clin J Am Soc Nephrol 5:189–194

28.

Westenfeld R, Krueger T, Schlieper G et al (2012) Effect of vitamin K2 supplementation on functional vitamin K deficiency in hemodialysis patients: a randomized trial. Am J Kidney Dis 59:186–195

29.

Westenfeld R, Schlieper G, Woltje M et al (2011) Impact of sirolimus, tacrolimus and mycophenolate mofetil on osteoclastogenesis – implications for post-transplantation bone disease. Nephrol Dial Transplant 26:4115–4123

30.

Yamada K, Fujimoto S, Nishiura R et al (2007) Risk factors of the progression of abdominal aortic calcification in patients on chronic haemodialysis. Nephrol Dial Transplant 22:2032–2037

31.

Yuen D, Pierratos A, Richardson RM, Chan CT (2006) The natural history of coronary calcification progression in a cohort of nocturnal haemodialysis patients. Nephrol Dial Transplant 21:1407–1412
Interessenkonflikt
TK ist als Referent für die Firmen Sanofi/Genzyme, Abbott, Fresenius, Roche und Tecomedical tätig und erhält ein Beraterhonorar von der Firma Sanofi/Genzyme. GS erhielt Honorare für Vorträge und/oder Beratertätigkeit bzw. Forschungsdrittmittel von Amgen, Fresenius, Sanofi/Genzyme, Gambro und Köhler-Chemie.
About this article
Cite this article
Krüger, T., Schlieper, G. Kardiovaskuläre Kalzifikationen bei Niereninsuffizienz. Nephrologe 8, 28–36 (2013). https://doi.org/10.1007/s11560-012-0648-5
Schlüsselwörter
Gefäßverkalkung

Kalziproteinpartikel

Matrix-Gla-Protein (MGP)

Vitamin K

Pyrophosphat

Thiosulfat
Keywords
Vascular calcification

Calciprotein particles

Matrix Gla protein

Vitamin K

Pyrophosphate

Thiosulfate