Zusammenfassung
Die akute tubulointerstitelle Nephritis tritt meist als Reaktion auf Infekte oder Medikamente auf. Die Symptome der akuten Form sind hoch akut: Flankenschmerzen, Fieber, Oligoanurie. Doch die Symptome können auch subakut sein oder ganz fehlen. Wenn dadurch die anzuschuldigende Medikation fortgeführt wird, kommt es zum Übergang in eine chronische interstitielle Nephritis. Diese ist häufig das Endstadium anderer Nierenschäden, z. B. chronischer Infektionen, aber auch immunologischer Erkrankungen einschließlich der chronischen Transplantatabstoßung. Die Analgetikanephropathie als Folge einer jahrelangen Einnahme von Mischanalgetika ist deutlich zurückgegangen, durch soziokulturell bedingte Verhaltensänderung oder auch durch Änderung des Medikamentenangebotes. Das klassische Merkmal dieser toxischen Nierenschädigung sind Papillennekrosen. Die "Chinese herbs nephropathy" und die Balkan-Nephropathie sind ebenfalls toxische Nephropathien, hervorgerufen durch Aristolochia-Gewächse, teils in chinesischen Tees, teils durch Kontamination von Getreide mit der gemeinsam wachsenden Pflanze. Bei den toxischen Nephropathien kommt es vermehrt zu Urothelkarzinomen.
Abstract
Acute tubulo-interstitial nephritis is usually a reaction to infection or medication. The symptoms of the acute form may be lumbar pain, fever, and oligo-anuria, sometimes exanthema. However, symptoms may also be subacute or absent. If medication is continued in this setting, the nephritis may become chronic and irreversible. Chronic interstitial nephritis is often the end-stage of other renal diseases, in particular chronic infection, but also immunological diseases including chronic renal allograft rejection. Analgesic nephropathy due to the intake of mixed analgesics over many years has become rare, either due to socio-cultural changes or to changes in the range of medications on offer. The classic diagnostic sign of toxic nephropathy is papillary necrosis. Both Chinese herbs nephropathy and Balkan nephropathy are also toxic nephropathies caused by the Aristolochia plant, partly in the form of Chinese tea preparations and partly as a result of grain contamination due to plants growing in close proximity to one another. Toxic nephropathies are often associated with urothelial carcinoma.
Access options
Buy single article
Instant access to the full article PDF.
USD 39.95
Price excludes VAT (USA)
Tax calculation will be finalised during checkout.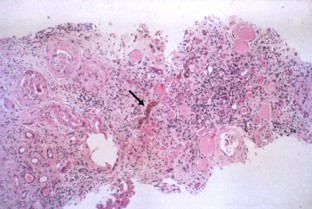 Literatur
Arenello F, Sacristan JA (1993) Allopurinol hypersensitivity syndrome: a review. Ann Pharmacother 27:337–343

Baldwin AB, Ballon HS, Cameron EC, Rae A (1980) Acute interstitial nephritis associated with thiazide diuretics; clinical and pathologic observations in three cases. Am J Med 69:939–943

Biermer A (1860) Ein ungewöhnlicher Fall von Scharlach. Virchow Arch 19:537–545

Brezin JH, Katz SM, Schwartz AB, Chinitz JL (1979) Reversible renal failure and nephrotic syndrome associated with nonsteroidal anti-inflammatory drugs. N Engl J Med 301:1271–1273

Buysen JGM, Houthoff HJ, Krediet RT, Arisz L (1990) Acute interstitial nephritis: a linical and morphological study in 27 patients. Nephrol Dial Transplant 5:94–99

Cotran RS, Rubin RH, Tolkoff-Rubin NE (1986) Tubulo-interstitial diseases. In: Brenner BM, Rector FC (eds) The Kidney; vol II. WB Saunders, Philadelphia pp 1143–1173

Councilman WT (1898) Acute interstitial nephritis. J Exp Med 3:393–420

De Broe ME, Elseviers MM (1998) Analgesic nephropathy. N Engl J Med 338:446–452

Debelle FD, Vanherweghem JL, Nortier JL (2008) Aristolochic acid nephropathy: a worldwide problem. Kidney Int 74:158–169

Dubach UC, Rosner B, Pfister E (1983) Epidemiologic study of abuse of analgesics containing phenacetin. Renal morbidity and mortality. N Engl J Med 308:357–362

Ellis D, Fried WA, Yunis EJ, Blau EB (1981) Acute interstitial nephritis in children: A report of 13 cases and review of the literature. Pediatrics 67:862–870

González E, Gutiérrez E, Galeano C et al (2008) De nefritis intersticiales. Early steroid treatment improves the recovery of renal function in patients with drug-induced interstitial nephritis. Kidney Int 73:940–946

Heptinstall RH (1992) Interstitial nephritis. In: Heptinstall RH (ed) Pathology of the kidney, vol II, 4th edn. Little, Brown, Boston Toronto, pp 1315–1368

Kleinknecht D, Landais P, Goldfarb B (1986) Analgesic and non-steroidal anti-inflammatory drug-associated acute renal failure: a prospective collaborative study. Clin Nephrol 25:275–281

Magil AB, Ballon HS, Cameron EC, Rae A (1980) Acute interstitial nephritis with thiazide diuretics, clinical and pathologic observations in three cases. Am J Med 69:939–943

Melnick MPJ (1943) Acute interstitial nephritis with uremia. Arch Pathol 36:499–504

More RH, McMillan GC, Duff GL (1946) The pathology of sulphonamide allergy in man. Amer J Path 22:703–735

Nessi R, Bonoldi GL, Redaelli B, Di Filippo G (1976) Acute renal failure after rifampicin: a case report and survey of the literature. Nephron 16:148–159

Ooi BS, Jao W, First MR et al (1975) Acute interstitial nephritis. A clinical and pathologic study based on renal biopsy. Am J Am 59:614–628

Pusey CD, Saltissi D, Bloodworth L et al (1983) Drug-induced interstitial nephritis: clinical and pathological features and the response to high dose steroid therapy. Quart J Med 306:194–211

Schainuck LL. Striker GE, Cutler RE, Benditt EP (1970) Structural-functional correlations in renal disease. Part II: The coorelations. Human Pathol 1:631–641

Schwarz A, Keller F, Kunzendorf U et al (1988) Characteristics and clinical course of hemodialysis patients with analgesic-associated nephropathy. Clin Nephrol 29:299–306

Schwarz A, Krause PH, Keller F et al (1988) Granulomatous interstial nephritis after non-steroidal anti-inflammatory drugs. Am J Nephrol 8:410–416

Schwarz A, Krause PH, Kunzendorf U et al (2000) The outcome of acute interstitial nephritis: risk factors for he transition from acute to chronic interstitial nephritis. Clin Nephrol 54:179–190

Stefanovic V, Cukuranovic R, Miljkovic S et al (2009) Fifty years of Balkan endemic nephropathy: challenges of study using epidemiological method. Ren Fail 31:409–418

Vannerweghem JL, Depierreux M, Telemans C et al (1993) Rapidly progressive interstitial renal fibrosis in young womwn: association with slimming regimen including Chinese herbs. Lancet 341:387–391

Zollinger HU, Mihatsch MJ (1979) Morphology of acute interstitial nephritis. Contr Nephrol 16:118–125

Zollinger UH, Spühler O (1950) Nonsuppurative chronic interstitial nephritis. Schweiz Z Pathol Bakteriol 13:807–811
Interessenkonflikt
Die korrespondierende Autorin gibt an, dass kein Interessenkonflikt besteht.
About this article
Cite this article
Schwarz, A. Nichtinfektiöse tubulointerstitielle Nephritis. Nephrologe 5, 299–306 (2010). https://doi.org/10.1007/s11560-010-0416-3
Published:

Issue Date:

DOI: https://doi.org/10.1007/s11560-010-0416-3
Schlüsselwörter
Keywords