Zusammenfassung
Der Begriff interstitielle Fibrose und Tubulusatrophie (IFTA) beschreibt die uniforme Vernarbung des Interstitiums der Niere, die für sich genommen nicht spezifisch für eine zugrunde liegende Erkrankung ist. Sowohl primär glomeruläre als auch primär interstitielle Erkrankungen der Niere (letztere sind deutlich seltener) führen bei chronischem Verlauf gleichermaßen zu IFTA. Dabei bestimmt das Ausmaß der Fibrose wesentlich die Prognose der Erkrankung. Verschiedene Mechanismen für die Entstehung von IFTA, ausgehend von glomerulären Schäden, welche die Bowman-Kapsel einbeziehen, Hypoxie, epithelial-mesenchymale/endothelial-mesenchymale/perizytär-mesenchymale Transdifferenzierung werden diskutiert. IFTA stellt keine Diagnose dar, sondern beschreibt eine vermutlich irreversible Reaktion der Niere auf verschiedene Schädigungen.
Abstract
Interstitial fibrosis and tubular atrophy (IFTA) represent uniform scarring of the interstitial zone of the kidney that is not restricted to a specific disorder. Glomerular as well as primary interstitial disorders lead to IFTA, as they progress to pursue a chronic course. Primary interstitial diseases are much rarer compared to glomerular diseases. The extent of fibrosis mainly determines the prognosis and outcome of renal diseases in general. Different mechanisms have been proposed to explain the development of IFTA: evolvement from glomerular damage that involves Bowman's capsule, hypoxia, epithelial-mesenchymal, endothelial-mesenchymal and pericytic-mesenchymal transition. IFTA is not a specific diagnosis but forms a final common track of different modalities of damage, which is most likely irreversible.
Access options
Buy single article
Instant access to the full article PDF.
USD 39.95
Price excludes VAT (USA)
Tax calculation will be finalised during checkout.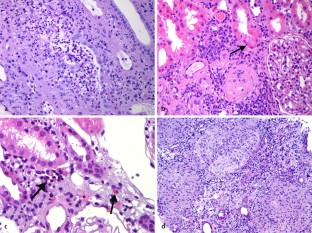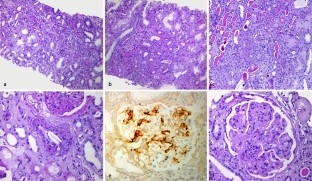 Literatur
Yu F, Wu LH, Tan Y et al (2010) Tubulointerstitial lesions of patients with lupus nephritis classified by the 2003 International Society of Nephrology and Renal Pathology Society system. Kidney Int 77(9):820–829

Coppo R, Troyanov S, Camilla R et al (2010) The oxford IgA nephropathy clinicopathological classification is valid for children as well as adults. Kidney Int

Bohle A, Grund KE, Mackensen S, Tolon M (1977) Correlations between renal interstitium and level of serum creatinine concentrations and renal interstitial volume. Morphometric investigations of biopsies in perimembranous glomerulonephritis. Virchows Arch A Pathol Anat Histol 373:15–22

Bohle A, Backensen-Haen S, Gise H von (1987) Significance of tubulo-interstitial changes in the renal cortex for the excretory function and concentration ability of the kidney. Am J Nephrol 7:421–433

Mackensen-Haen S, Bader R, Grund KE, Bohle A (1981) Correlations between renal cortical interstitial fibrosis, atrophy of proximal tubules and impairment of glomerular filtration rate. Clin Nephrol 15:167–171

Schainuck LI, Striker GE, Cutler RE, Benditt EP (1970) Structural-functional correlations in renal disease. Hum Pathol 1:631–641

Müller GA, Markovic-Lipkovski J, Fran J, Rodemann HP (1992) The role of interstitial cells in the progression of renal disease. J Am Soc Nephrol 2:S198–S205

Meyer TW (2003) Tubular injury in glomerular disease. Kidney Int 63:774–787

Ruggenenti P, Perna A, Remuzzi G (2003) Retarding progression of chronic renal disease: The neglected issue of residual proteinuria. Kidney Int 63:2254–2261

Eddy AA, Giachelli CM (1995) Renal expression of genes that promote interstitial inflammation and fibrosis in rats with protein-overload proteinuria. Kidney Int 47:1546–1557

Einecke G, Sis B, Reeve J et al (2009) Antibody-mediated microcirculation injury is the major cause of late kidney transplant failure. Am J Transplant 9(11):2520–2231

Kang DH, Joly AH, Oh SW et al (2001) Impaired angiogenesis in the remnant kidney model: I. Potential role of vascular endothelial growth factor and thrombospondin-1. J Am Soc Nephrol 12:1434–1447

Kriz W, LeHir M (2005) Pathways to nephron loss starting from glomerular diseases – insights from animal models. Kidney Intern 67:404–419

Nanguka M (2004) Mechanisms of tubulointerstitial injury in the kidney, final common pathways to end-stage renal failure. Intern Med 43(1):9–17
Interessenkonflikt
Keine Angaben
About this article
Cite this article
Bröcker, V., Kreipe, H. & Haller, H. Tubulointerstitielle Fibrose. Nephrologe 5, 284–292 (2010). https://doi.org/10.1007/s11560-010-0413-6
Published:

Issue Date:

DOI: https://doi.org/10.1007/s11560-010-0413-6
Schlüsselwörter
Keywords