Zusammenfassung
Thrombotische Mikroangiopathien (TMA) stellen eine heterogene Gruppe von Krankheitsbildern dar, gemeinsam ist ihnen ein akutes Syndrom aus mikroangiopathischer hämolytischer Anämie, Thrombozytopenie und Organmanifestationen. Während das diarrhöinduzierte hämolytisch-urämische Syndrom unverändert die häufigste TMA-Form darstellt, haben neue Einsichten zu nicht-Diarrhoe-induzierten (sog. D–induzierten) TMA-Formen in den letzten Jahren zu einer auf pathogenetischen Aspekten basierenden Einteilung geführt. Insbesondere weisen neue Erkenntnisse auf die Rolle einer reduzierten Aktivität der von-Willebrand-Faktor spaltenden Protease ADAMTS 13 in der Pathogenese der thrombotischen thrombozytopenen Purpura hin und auf die Rolle von defekten komplementregulatorischen Proteinen in der Pathogenese von D–hämolytisch-urämischen Syndromen. Erstmalig kann daher eine rational begründete Therapie eingesetzt werden (z. B. Immunsuppression bei Auto-Antikörpern gegen ADAMTS 13, Faktor-H-Substitution durch Plasmatherapie bei Mutationen im Faktor H). Dennoch ist zurzeit eine pathogenetisch basierte Einteilung der meisten übrigen TMA-Formen (z. B. im Gefolge von immunologischen Systemkrankheiten, Malignomen, Medikamenten oder nach Transplantationen) nach wie vor nicht möglich, dementsprechend ist die Therapie überwiegend empirisch.
Abstract
Thrombotic microangiopathies (TMA) are a heterogenous group of diseases characterized by an acute syndrome of microangiopathic hemolytic anemia, thrombocytopenia, and organ manifestations. While the diarrhea-induced hemolytic uremic syndrome continues to represent the most common type of TMA, new insights in the case of non-diarrhea (D)-induced TMA types have recently led to a new classification based on pathogenetic mechanisms. These new insights point particularly to the role of reduced activity of the von Willebrand factor cleaving protease ADAMTS 13 in the pathogenesis of thrombotic thrombocytopenic purpura and also to the role of defects in complement-regulatory proteins in the pathogenesis of D-hemolytic uremic syndromes. For the first time it is possible to initiate a pathophysiologically based therapy in these cases (e.g. immunosuppression in cases of autoantibodies against ADAMTS 13, factor H substitution by plasma therapy in cases of mutated factor H). Nevertheless at present such pathogenesis-based classification is not possible in most other TMA types (e.g. in the course of immunologic diseases, malignancies, administered drugs, or following transplantations) and thus therapy remains largely empiric in such cases.
Access options
Buy single article
Instant access to the full article PDF.
USD 39.95
Price excludes VAT (USA)
Tax calculation will be finalised during checkout.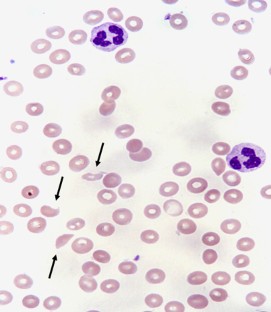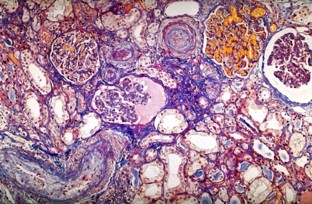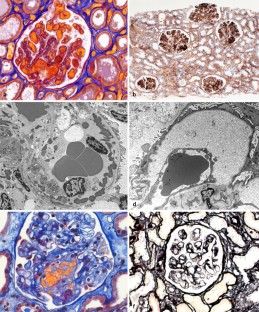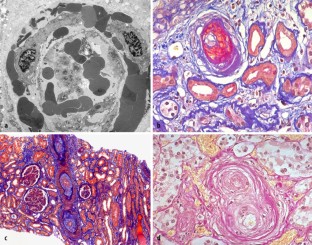 Literatur
Alpers CE (2003) Light at the end of the TUNEL: HIV-associated thrombotic microangiopathy. Kidney Int 63: 385–396

Banno F, Kokame K, Okuda T et al. (2006) Complete deficiency in ADAMTS13 is prothrombotic, but it alone is not sufficient to cause thrombotic thrombocytopenic purpura. Blood 107: 3161–3166

Caprioli J, Noris M, Brioschi S et al. (2006) Genetics of HUS: the impact of MCP, CFH and IF mutations on clinical presentation, response to treatment and outcome. Blood 108: 1267–1279

Chang A, Kowalewska J, Smith KD et al. (2006) A clinicopathologic study of thrombotic microangiopathy in the setting of IgA nephropathy. Clin Nephrol 66: 397–404

Copelovitch L, Kaplan BS (2007) The thrombotic microangiopathies. Pediatr Nephrol

Eremina V, Jefferson JA, Kowalewska J et al. (2008) VEGF inhibition and renal thrombotic microangiopathy. N Engl J Med 358: 1129–1136

Fakhouri F, Fremeaux-Bacchi V (2007) Does hemolytic uremic syndrome differ from thrombotic thrombocytopenic purpura? Nat Clin Pract Nephrol 3: 679–687

Fakhouri F, Vernant JP, Veyradier A et al. (2005) Efficiency of curative and prophylactic treatment with rituximab in ADAMTS13-deficient thrombotic thrombocytopenic purpura: a study of 11 cases. Blood 106: 1932–1937

Francis KK, Kalyanam N, Terrell DR et al. (2007) Disseminated malignancy misdiagnosed as thrombotic thrombocytopenic purpura: A report of 10 patients and a systematic review of published cases. Oncologist 12: 11–19

Furlan M, Robles R, Galbusera M et al. (1998) von Willebrand factor-cleaving protease in thrombotic thrombocytopenic purpura and the hemolytic-uremic syndrome. N Engl J Med 339: 1578–1584

George JN (2006) Clinical practice. Thrombotic thrombocytopenic purpura. N Engl J Med 354: 1927–1935

Gerber A, Karch H, Allerberger F et al. (2002) Clinical course and the role of shiga toxin-producing Escherichia coli infection in the hemolytic-uremic syndrome in pediatric patients, 1997-2000 in Germany and Austria: a prospective study. J Infect Dis 186: 493–500

Hingorani S (2008) Chronic kidney disease after liver, cardiac, lung, heart-lung and hematopoietic stem cell transplant. Pediatr Nephrol

Licht C, Stapenhorst L, Simon T et al. (2004) Two novel ADAMTS13 gene mutations in thrombotic thrombocytopenic purpura/hemolytic-uremic syndrome (TTP/HUS). Kidney Int 66: 955–958

Nguyen L, Li X, Duvall D, Terrell DR et al. (2008) Twice-daily plasma exchange for patients with refractory thrombotic thrombocytopenic purpura: the experience of the Oklahoma Registry, 1989 through 2006. Transfusion 48: 349–357

Nolasco LH, Turner NA, Bernardo A et al. (2005) Hemolytic uremic syndrome-associated Shiga toxins promote endothelial-cell secretion and impair ADAMTS13 cleavage of unusually large von Willebrand factor multimers. Blood 106: 4199–4209

Noris M, Bucchioni S, Galbusera M et al. (2005) Complement factor H mutation in familial thrombotic thrombocytopenic purpura with ADAMTS13 deficiency and renal involvement. J Am Soc Nephrol 16: 1177–1183

Ono T, Mimuro J, Madoiwa S et al. (2006) Severe secondary deficiency of von Willebrand factor-cleaving protease (ADAMTS13) in patients with sepsis-induced disseminated intravascular coagulation: its correlation with development of renal failure. Blood 107: 528–534

Perkins RM, Reynolds JC, Ahuja TS et al. (2006) Thrombotic microangiopathy in United States long-term dialysis patients. Nephrol Dial Transplant 21: 191–196

Ponticelli C, Banfi G (2006) Thrombotic microangiopathy after kidney transplantation. Transpl Int 19: 789–794

Ruggenenti P, Noris M, Remuzzi G (2001) Thrombotic microangiopathy, hemolytic uremic syndrome and thrombotic thrombocytopenic purpura. Kidney Int 60: 831–846

Ruutu T, Barosi G, Benjamin RJ et al. (2007) Diagnostic criteria for hematopoietic stem cell transplant-associated microangiopathy: results of a consensus process by an International Working Group. Haematologica 92: 95–100

Trachtman H, Cnaan A, Christen E et al. (2003) Effect of an oral Shiga toxin-binding agent on diarrhea-associated hemolytic uremic syndrome in children: a randomized controlled trial. JAMA 290: 1337–1344

van den Born BJ, van der Hoeven NV, Groot E et al. (2008) Association between thrombotic microangiopathy and reduced ADAMTS13 activity in malignant hypertension. Hypertension 51: 862–866

Zhang B, Xing C, Yu X et al. (2008) Renal thrombotic microangiopathies induced by severe hypertension. Hypertens Res 31: 479–483

Zheng XL, Sadler JE (2008) Pathogenesis of thrombotic microangiopathies. Annu Rev Pathol 3: 249–277
Interessenkonflikt
Der korrespondierende Autor gibt an, dass kein Interessenkonflikt besteht.
About this article
Cite this article
Floege, J., Mihatsch, M. & Eitner, F. Thrombotische Mikroangiopathien. Nephrologe 3, 452–463 (2008). https://doi.org/10.1007/s11560-008-0230-3
Published:

Issue Date:

DOI: https://doi.org/10.1007/s11560-008-0230-3
Schlüsselwörter
Keywords