Zusammenfassung
Der systemische Lupus erythematosus (SLE) ist eine Autoimmunerkrankung, die durch die Synthese antinukleärer Antikörper gekennzeichnet ist. Nucleosomen, bestehend aus Histonen und DNA, sind die primäre antigene Struktur, die zur Bildung komplementaktivierender Antigen-Antikörper-Komplexe an Basalmembranen führt. Die lichtmikroskopische, immunhistologische und ultrastrukturelle Diagnostik von Haut- und Nierenbiopsien kann zur Diagnosesicherung, Abschätzung der Prognose und zu Therapieentscheidungen wesentlich beitragen, insbesondere wenn semiquantitative Aktivitäts- und Chronizitätsscores ermittelt werden.
Abstract
Systemic lupus erythematosus (SLE) is an autoimmune disease characterized by synthesis of antinuclear antibodies. Nucleosomes, composed of histones and DNA, are the primary antigenic structure, which leads to complement-activating antigen-antibody complexes deposited at the glomerular basement membrane. The diagnostic work-up of skin and kidney biopsies—by light microscopy, immunohistology and electron microscopy—contributes significantly to the diagnosis, assessment of prognosis and therapeutic decisions. Semiquantitative scores of activity and chronicity improve the value of a histopathologic renal biopsy report.
This is a preview of subscription content,
to check access.
Access this article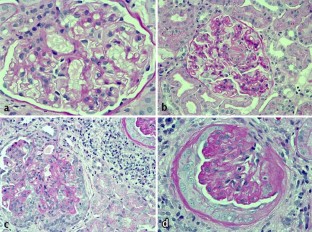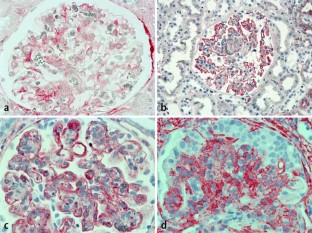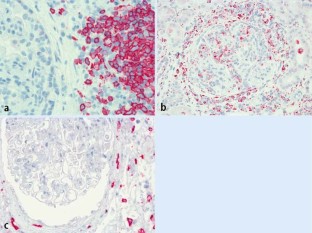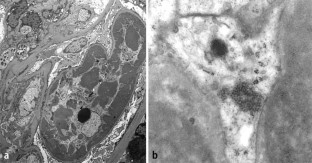 Literatur
Asherson RA, Cervera R (1994) 'Primary', 'secondary' and other variants of the antiphospholipid syndrome. Lupus 3: 293–298

Dieker JW, Vlag J van der, Berden JH (2002) Triggers for anti-chromatin autoantibody production in SLE. Lupus 11: 856–864

Esdaile JM, Federgreen W, Quintal H et al. (1991) Predictors of one year outcome in lupus nephritis: the importance of renal biopsy. Q J Med 81: 907–918

Esdaile JM, Levinton C, Federgreen W et al. (1989) The clinical and renal biopsy predictors of long-term outcome in lupus nephritis: a study of 87 patients and review of the literature. Q J Med 72: 779–833

Esdaile JM, Mackenzie T, Barre P et al. (1992) Can experienced clinicians predict the outcome of lupus nephritis? Lupus 1: 205–214

Kalaaji M, Mortensen E, Jorgensen L et al. (2006) Nephritogenic lupus antibodies recognize glomerular basement membrane-associated chromatin fragments released from apoptotic intraglomerular cells. Am J Pathol 168: 1779–1792

Kramers C, Hylkema MN, Bruggen MC van et al. (1994) Anti-nucleosome antibodies complexed to nucleosomal antigens show anti-DNA reactivity and bind to rat glomerular basement membrane in vivo. J Clin Invest 94: 568–577

Medzhitov R, Janeway CA Jr (2000) How does the immune system distinguish self from nonself? Semin Immunol 12: 185–188; discussion 257–344

Mohan C, Adams S, Stanik V, Datta SK (1993) Nucleosome: a major immunogen for pathogenic autoantibody-inducing T cells of lupus. J Exp Med 177: 1367–1381

Mortensen ES, Fenton KA, Rekvig OP (2008) The central role of nucleosomes revealed. Am J Pathol 172: 275–283

Pollak VE (1995) Glomerular thrombosis predicts progression of glomerulonephritis: can we prevent progression? Am J Kidney Dis 26: 535–540

Schmiedeke TM, Stockl FW, Weber R et al. (1989) Histones have high affinity for the glomerular basement membrane. Relevance for immune complex formation in lupus nephritis. J Exp Med 169: 1879–1894

Shibata S, Sasaki T, Harpel P, Fillit H (1994) Autoantibodies to vascular heparan sulfate proteoglycan in systemic lupus erythematosus react with endothelial cells and inhibit the formation of thrombin-antithrombin III complexes. Clin Immunol Immunopathol 70: 114–123

Tan EM, Cohen AS, Fries JF et al. (1982) The 1982 revised criteria for the classification of systemic lupus erythematosus. Arthritis Rheum 25: 1271–1277

Tax WJ, Kramers C, Bruggen MC van, Berden JH (1995) Apoptosis, nucleosomes, and nephritis in systemic lupus erythematosus. Kidney Int 48: 666–673

Weening JJ, D'Agati VD, Schwartz MM et al. (2004) The classification of glomerulonephritis in systemic lupus erythematosus revisited. Kidney Int 65: 521–530

Yung RL, Johnson KJ, Richardson BC (1995) New concepts in the pathogenesis of drug-induced lupus. Lab Invest 73: 746–759
Interessenkonflikt
Keine Angaben
About this article
Cite this article
Gröne, E., Gröne, H. Pathologie der Lupus-Nephritis. Nephrologe 3, 195–202 (2008). https://doi.org/10.1007/s11560-008-0176-5
Published:

Issue Date:

DOI: https://doi.org/10.1007/s11560-008-0176-5
Schlüsselwörter
Keywords