Zusammenfassung
Amyloidosen sind eine sehr heterogene Krankheitsgruppe mit zerebralen und extrazerebralen Manifestationen. Über 26 verschiedene Proteine können Amyloid bilden. Die Immunglobulin-Leichtketten-assoziierte AL-Amyloidose ist die häufigste systemisch auftretende Form, gefolgt von der hereditären und nichthereditären ATTR-Amyloidose und der AA-Amyloidose. Etwa 5% aller Amyloidosen sind erblich. Frühzeitige Diagnose und korrekte Klassifikation stellen unverändert große Herausforderungen dar. Eine genaue Klassifikation des Amyloids und der Amyloidose ist für die Prognoseabschätzung und Therapieplanung unverzichtbar.
Abstract
Amyloidoses are a heterogeneous group of diseases with cerebral and extracerebral manifestations. More than 26 different amyloid proteins have been identified. Immunoglobulin light-chain-associated (AL) amyloidosis is the most prevalent systemic form, followed by hereditary and nonhereditary ATTR amyloidosis and AA amyloidosis. Approximately 5% of amyloidoses are inherited. Early diagnosis and correct classification is of paramount importance to help assess the prognosis and tailor the patient's treatment.
This is a preview of subscription content,
to check access.
Access this article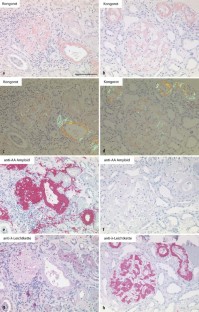 Literatur
Benson MD (2003) The hereditary amyloidoses. Best Pract Res Clin Rheumatol 17: 909–927

Benson MD (2005) Ostertag revisited: the inherited systemic amyloidoses without neuropathy. Amyloid 12: 75–87

Benson MD, Kincaid JC (2007) The molecular biology and clinical features of amyloid neuropathy. Muscle Nerve 36: 411–423

Bergesio F, Ciciani AM, Manganaro M et al. (2008) Renal involvement in systemic amyloidosis: an Italian collaborative study on survival and renal outcome. Nephrol Dial Transplant 23: 941–951

Bergesio F, Ciciani AM, Santostefano M et al. (2007) Renal involvement in systemic amyloidosis – an Italian retrospective study on epidemiological and clinical data at diagnosis. Nephrol Dial Transplant 22: 1608–1618

Connors LH, Lim A, Prokaeva T et al. (2003) Tabulation of human transthyretin (TTR) variants, 2003. Amyloid 10: 160–184

Eriksson M, Büttner J, Todorov T et al. (in press) Prevalence of germline mutations in the TTR gene in a consecutive series of surgical pathology specimens with ATTR amyloid. Am J Surg Pathol

Falk RH, Comenzo RL, Skinner M (1997) The systemic amyloidoses. N Engl J Med 337: 898–909

Gertz MA, Lacy MQ, Dispenzieri A (2002) Immunoglobulin light chain amyloidosis and the kidney. Kidney Int 61: 1–9

Helin HJ, Korpela MM, Mustonen JT, Pasternack AI (1995) Renal biopsy findings and clinicopathologic correlations in rheumatoid arthritis. Arthritis Rheum 38: 242–247

Ishii W, Matsuda M, Nakamura N et al. (2003) Phenol Congo red staining enhances the diagnostic value of abdominal fat aspiration biopsy in reactive AA amyloidosis secondary to rheumatoid arthritis. Intern Med 42: 400–405

Kazatchkine MD, Husby G, Araki S et al. (1993) Nomenclature of amyloid and amyloidosis – WHO-IUIS nomenclature sub-committee. Bull Who 71: 105–108

Kebbel A, Röcken C (2006) Immunohistochemical classification of amyloid in surgical pathology revisited. Am J Surg Pathol 30: 673–683

Lachmann HJ, Booth DR, Booth SE et al. (2002) Misdiagnosis of hereditary amyloidosis as AL (primary) amyloidosis. N Engl J Med 346: 1786–1791

Linke RP (2000) Highly sensitive diagnosis of amyloid and various amyloid syndromes using Congo red fluorescence. Virchows Arch 436: 439–448

Merlini G, Bellotti V (2003) Molecular mechanisms of amyloidosis. N Engl J Med 349: 583–596

Nakano M, Ueno M, Nishi S et al. (1998) Analysis of renal pathology and drug history in 158 Japanese patients with rheumatoid arthritis. Clin Nephrol 50: 154–160

Ostertag B (1932) Demonstration einer eigenartigen familiären Paramyloidose. Zentralbl Pathol 56: 253–254

Puchtler H, Sweat F, Levine M (1962) On the binding of Congo red by amyloid. J Histochem Cytochem 10: 355–364

Röcken C, Ernst J, Hund E et al. (2006) Interdisziplinäre Leitlinien zur Diagnostik und Therapie der extrazerebralen Amyloidosen. Dtsch Med Wochenschr 131: S45–S66

Röcken C, Schwotzer E, Linke RP, Saeger W (1996) The classification of amyloid deposits in clinicopathological practice. Histopathology 29: 325–335

Röcken C, Sletten K (2003) Amyloid in surgical pathology. Virchows Arch 443: 3–16

Schena FP, Pannarale G, Carbonara MC (1996) Clinical and therapeutic aspects of renal amyloidosis. Nephrol Dial Transplant (Suppl 9) 11: 63–68

Spuler S (2004) Amyloid-Myopathie. In: Spuler S, Moers A (Hrsg) Muskelkrankheiten. Schattauer, Stuttgart, S 253–256

Spuler S, Emslie-Smith A, Engel AG (1998) Amyloid myopathy: an underdiagnosed entity. Ann Neurol 43: 719–728

Suhr OB, Friman S, Ericzon BG (2005) Early liver transplantation improves familial amyloidotic polyneuropathy patients' survival. Amyloid 12: 233–238

Westermark P, Benson MD, Buxbaum JN et al. (2007) A primer of amyloid nomenclature. Amyloid 14: 179–183

Westermark P, Sletten K, Johansson B, Cornwell GG III (1990) Fibril in senile systemic amyloidosis is derived from normal transthyretin. Proc Natl Acad Sci U S A 87: 2843–2845

Zeldenrust S, Gertz M, Uemichi T et al. (2003) Orthotopic liver transplantation for hereditary fibrinogen amyloidosis. Transplantation 75: 560–561
Interessenkonflikt
Der korrespondierende Autor gibt an, dass kein Interessenkonflikt besteht.
About this article
Cite this article
Röcken, C. Pathologie der Amyloidosen. Nephrologe 3, 275–284 (2008). https://doi.org/10.1007/s11560-008-0169-4
Published:

Issue Date:

DOI: https://doi.org/10.1007/s11560-008-0169-4
Schlüsselwörter
Keywords