Zusammenfassung
Die diabetische Nephropathie (DN) ist in den westlichen Ländern die häufigste Ursache einer terminalen Niereninsuffizienz bei Erwachsenen. Sie geht mit einer typischen klinischen Symptomatik (Mikroalbuminurie im Frühstadium; dann große Proteinurie) einher und zeigt ein Spektrum an assoziierten morphologischen Nierenveränderungen, die von einer leichten mesangialen Matrixvermehrung und Verdickung der glomerulären Basalmembranen über eine diffuse oder klassische noduläre Glomerulosklerose (Kimmelstiel-Wilson) bis hin zu Endstadiumsveränderungen mit fortgeschrittener glomerulärer Obliteration, Tubulusatrophie, interstitieller Fibrose und Arterio-Arteriolosklerose reichen. Die wichtigsten morphologischen Differenzialdiagnosen der großen Proteinurie im Erwachsenenalter sind Amyloidose, Leichtkettenerkrankung und die membranoproliferative Glomerulonephritis. Selten finden sich zusätzlich zu einer DN auch andere Nierenerkrankungen wie Immunkomplex-Glomerulonephritiden oder eine Nierenbeteiligung bei Systemerkrankungen, sodass bei untypischem Verlauf oder Symptomatik der Nierenerkrankung eine Nierenbiopsie zur Abklärung in jedem Fall empfohlen wird.
Abstract
Diabetic nephropathy (DN) is the leading cause (25%) of chronic renal failure in adults in the western world and has one of the worst survival rates for individuals receiving renal replacement therapy. Typical morphologic features of the disease are thickening of the glomerular basement membrane, mesangial expansion with diffuse or nodular glomerulosclerosis (Kimmelstiel–Wilson nodules), and arteriolar hyalinosis. DN usually develops after 10–15 years of diabetic mellitus and is progressive in nature, resulting in end-stage kidney disease. There is, however, recent evidence that glomerular and tubulointerstitial lesions in DN are to some extent reversible after correction of hyperglycemia. This is not the case, though, for vascular changes. Apart from the typical course of DN, there are a few conditions with an atypical course or symptoms that may result from another renal disease that is superimposed on DN, such as kidney changes in systemic diseases or in immune complex glomerulonephritis; these require a diagnostic kidney biopsy.
Access options
Buy single article
Instant access to the full article PDF.
USD 39.95
Price excludes VAT (USA)
Tax calculation will be finalised during checkout.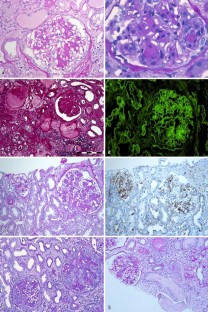 Literatur
Bhalla V, Nast CC, Stollenwerk N et al. (2003) Recurrent and de novo diabetic nephropathy in renal allografts. Transplantation 75: 66–71

Caramori ML, Kim Y, Huang C et al. (2002) Cellular basis of diabetic nephropathy: 1. Study design and renal structural-functional relationships in patients with long-standing type 1 diabetes. Diabetes 51: 506–513

Dalla Vestra M, Saller A, Mauer M, Fioretto P (2001) Role of mesangial expansion in the pathogenesis of diabetic nephropathy. J Nephrol (Suppl 4) 14: S51–S57

Dalla Vestra M, Masiero A, Roiter AM et al. (2003) Is podocyte injury relevant in diabetic nephropathy? Studies in patients with type 2 diabetes. Diabetes 52: 1031–1035

Drummond K, Mauer M, International Diabetic Nephropathy Study Group (2002) The early natural history of nephropathy in type 1 diabetes: II. Early renal structural changes in type 1 diabetes. Diabetes 51: 1580–1587

ERA-EDTA Registry (ed) (2006) ERA-EDTA registry 2004 annual report. Academic Medical Center, Department of Medical Informatics, Amsterdam, The Netherlands

Fioretto P, Mauer M (2007) Histopathology of diabetic nephropathy. Semin Nephrol 27: 195–207

Fioretto P, Sutherland DE, Najafian B, Mauer M (2006) Remodeling of renal interstitial and tubular lesions in pancreas transplant recipients. Kidney Int 69: 907–912

Fioretto P, Steffes MW, Sutherland DE et al. (1998) Reversal of lesions of diabetic nephropathy after pancreas transplantation. N Engl J Med 339: 69–75

Frei U, Schober-Halstenberg HJ (Hrsg) (2006) Nierenersatztherapie in Deutschland. QuaSi-Niere Jahresbericht 2005/2006, Berlin, Deutschland

Gross ML, El-Shakmak A, Ziebart H et al. (2003) ACE-inhibitors but not endothelin receptor blockers prevent podocyte loss in early diabetic nephropathy. Diabetologica 46: 856–868

Gross ML, Ritz E, Schoof A et al. (2003) Glomerular damage in the SHR/N-cp type 2 diabetes model: Comparison of an ACE inhibitor and endothelin receptor blocker. Lab Invest 83: 1267–1277

Gross ML, Ritz E, Schoof A et al. (2004) Comparison of renal morphology in the Streptozotocin and the SHR/N-cp models of diabetes. Lab Invest 84: 452–464

Kimmelstiel P, Wilson C (1936) Intercapillary lesions in glomeruli of the kidney. Am J Pathol 12: 83

Mauer M, Drummond K (2002) The early natural history of nephropathy in type 1 diabetes: I. Study design and baseline characteristics of the study participants. Diabetes 51: 1572–1579

Mogensen CE, Andersen MJ (1973) Increased kidney size and glomerular filtration rate in early juvenile diabetes. Diabetes 22: 706–712

Osterby R, Gundersen HJG (1975) Glomerular size and structure in diabetes mellitus. I. Early abnormalities. Diabetologia 11: 225–229

Osterby R, Parving HH, Hommel E et al. (1990) Glomerular structure and function in diabetic nephropathy. Early to advanced stages. Diabetes 39: 1057–1063

Osterby R (1997) Renal changes in the diabetic kidney. Nephrol Dial Transplant 12: 1282–1283

Osterby R, Hartmann A, Nyengaard JR, Bangstad HJ (2002) Development of renal structural lesions in type-1 diabetic patients with microalbuminuria. Observations by light microscopy in 8-year follow-up biopsies. Virchows Arch 440: 94–101

Osterby R, Hartmann A, Bangstad HJ (2002) Structural changes in renal arterioles in Type I diabetic patients. Diabetologia 45: 542–549

Paueksakon P, Revelo MP, Ma LJ et al. (2002) Microangiopathic injury and augmented PAI-1 in human diabetic nephropathy. Kidney Int 61: 2142–2148

Pagtalunan ME, Miller PL, Jumping-Eagle S et al. (1997) Podocyte loss and progressive glomerular injury in type II diabetes. J Clin Invest 99: 342–348

Parving HH (1996) Initiation and progression of diabetic nephropathy. N Engl J Med 335: 1682–1683

Saito Y, Kida H, Takeda S (1988) Mesangiolysis in diabetic glomeruli: its role in the formation of nodular lesions. Kidney Int 34: 389–396

Steffes MW, Osterby R, Chavers B, Mauer SM (1989) Mesangial expansion as a central mechanism for loss of kidney function in diabetic patients. Diabetes 38: 1077–1081

Stout LC, Kumar S, Whorton EB (1993) Focal mesangiolysis and the pathogenesis of the Kimmelstiel-Wilson nodule. Hum Pathol 24: 77–89

Wolf G (2002) Molecular mechanisms of diabetic mesangial cell hypertrophy: a proliferation of novel factors. J Am Soc Nephrol 13: 2611–2613
Interessenkonflikt
Die korrespondierende Autorin gibt an, dass kein Interessenkonflikt besteht.
About this article
Cite this article
Amann, K., Benz, K. Diabetes mellitus. Nephrologe 2, 319–324 (2007). https://doi.org/10.1007/s11560-007-0101-3
Published:

Issue Date:

DOI: https://doi.org/10.1007/s11560-007-0101-3
Schlüsselwörter
Keywords