Abstract
International organizations (I0) have centralized their public communication to a large extent over recent decades by undertaking a broader codification of communication tasks as well as a departmentalization of these tasks within units of IO bureaucracies. The paper provides the first systematic analysis of this important development in institutional design using a novel data set on the organization of public communication in 48 IOs between 1950 and 2015. It identifies self-legitimation as a key driver of centralization in the face of increased levels of politicization, that is, public awareness and activism directed at IOs. Empirically, the study suggests that the centralization of public communication significantly increases as transnational civil society organizes and gains access to IO decision-making. Further, politicization in terms of contentious activism and public scandals substantially accounts for varying levels of centralization across IOs.
Access options
Buy single article
Instant access to the full article PDF.
US$ 39.95
Tax calculation will be finalised during checkout.
Subscribe to journal
Immediate online access to all issues from 2019. Subscription will auto renew annually.
US$ 79
Tax calculation will be finalised during checkout.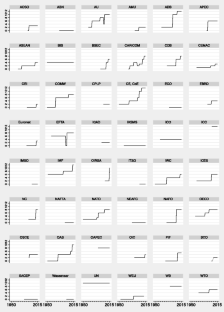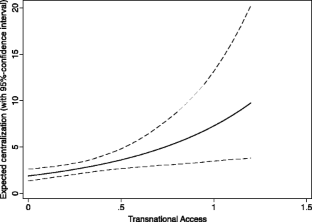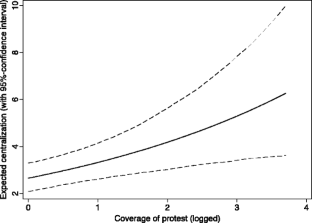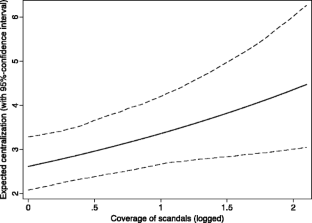 Notes
1.

Concepts such as "development communication" (Servaes 2007) and "public diplomacy'"(Altman and Shore 2014) reflect framing strategies of communication practitioners, which seek to legitimize communication as a governance tool. Similarly, the concept of "public information" is far too narrow as it has been predominantly used by political actors as well as academics to signal a strong focus on communication as a mechanism to enhance IO transparency and accountability (UNGA 1946; Brüggemann 2008). In the same vein, my definition comes close to the professional understanding of public relations as "the management of communication between an organisation and its publics" (Grunig and Hunt 1984: 6–8). However, as a professional label "public relations" is strongly associated with professional standards such as "excellence"(Grunig 1992), which are problematic for analyses that are meant to include organized IO communication regardless of professionalism.

2.

3.

Note that the "centralization" of public communication as discussed here does not imply or even suggest that "decentralized" capacities to communicate on the level of local offices or projects are unimportant or even reduced. On the contrary, where significant organizational resources are spent on public communication at the project level, such spending typically calls for the enhancement of structures at headquarter level in order to allow for proper coordination, planning, and programming of communication efforts "on the ground" (Coldevin 2001; Servaes 2007).

4.

Criterion 1 and 2 distinguish IOs from temporary institutions and conferences created on an ad hoc basis and without the necessary capacity to act autonomously of their principals; through criterion 3 all those organizations are set aside that are predominantly non-governmental and bilateral institutions as well as mere 'emanations' of existing IOs. Pevehouse et al. 2004; Wallace and Singer 1970.

5.

The two IOs that were not included due to a lack of reliable information about public communication structures are the Andean Community and the Fund for the Development of Indigenous Peoples in Latin America and the Caribbean.

6.

Even if access is handled restrictively on many occasions, new opportunity—such as to file written statements tabled at important meetings—arguably increase the likelihood that significant parts of the organization will become aware of transnational demands. Further, institutional access may significantly empower representatives of nonstate organizations to more convincingly lobby for transnational demands, making those demands more credible as an eminent challenge to the organization's legitimacy in its societal environment (Joachim 2003; Steffek et al. 2008; Scholte 2011).

7.

This is also highly plausible for theoretical reasons, as observed overdispersion (variance being larger than the mean) can be assumed to reasonably reflect interdependencies in the occurrence of task assignments in a given IO-year. One obvious reason of such clustering is the weighting of counted tasks by departmentalization.

8.

For later years (2011–2015), the values of the variable Transnational Access are based on a search of more recent general rules of procedures (the main kind of documents TransAccess based their coding on) and specific documents on civil-society relations for all those IO bodies selected by Tallberg and colleagues. The values of TNA Access in the given IO-year equals the value in 2010, unless I found evidence for the release of such documents (indicating possible changes we could arguably not code with an acceptable level of consistency with the TransAccess project). Where I found such changes, the variable is set to "missing" for the given and later IO-years.

9.

Exploratory analyses also suggest a more inclusive reporting of protest activities by AP compared to Reuters. In line with the social movement literature, I assume protest activities addressing IOs to be a rather recent phenomenon; hence the absence of access to AP content before 1977 seems acceptable. Relevant articles published by AP were identified in the LexisNexis-database using the keywords 'demonstrat*' and 'protest*' in conjunction with the mentions of the respective IO.

10.

To allow for the estimation of data points beyond 2010, I proceeded as follows: Information was gathered about changing tasks of existing IO bodies or the establishment of new ones after 2010. For years in which no evidence of relevant changes could be found, the values of Local Activities in the given year equals its value in 2010. Where such changes were found, the variable is set to 'missing.'

11.

More specifically, I do not observe the codification of "research" as a communication task in the five smallest IOs (in terms of budgets in 2010), that is, NEAFC, EUROMET, ACSO, IKSMS, and SACEP. The smallest IO in the sample codifying research as a communication task is NAFO, with an annual budget of about 900,000 Euro in 2010, which might indicate that budget constraints effectively prevent small IOs from defining "research" as a communication task.

12.

Log-likelihood tests of the dispersion parameter of all models presented indicate that Poisson models would be inferior because of overdispersion.

13.

Simulations use the program CLARIFY (Tomz et al. 2003) and are based on a code provided by Braidwood (2012). Please note that Figures 2, 3 and 4 stem from two slightly simplified models (with biannual fixed effects) to allow the inclusion of all other control variables and clustered standard errors (Figures 2 and 4 are based on Model 10, Figure 3 on Model 11, both fully reported in the online appendix, Table A.4).
References
Abbott, K. W., & Snidal, D. (1998). Why states act through formal international organizations. Journal of Conflict Resolution, 42(1), 3–32.

Aghi, M., & McKee, N. (2000). Involving people, evolving behaviour. Penang and New York: Southbound and United Nations Children's Fund.

Aldrich, H., & Herker, D. (1977). Boundary spanning roles and organization structure. Academy of Management Review, 2(2), 217–230.

Alleyne, M. D. (2003). Global lies? : Propaganda, the UN, and world order. In Houndmills, Basingstoke, Hampshire. New York: Palgrave Macmillan.

Altides, C. (2009). Making EU politics public. How the EU institutions develop public communication. Baden-Baden: Nomos.

Altman, T., & Shore, C. (2014). Paradoxes of 'public diplomacy': Ethnographic perspectives on the European Union delegations in the antipodes. [article]. The Australian Journal of Anthropology, 25(3), 337–356. doi:10.1111/taja.12102.

Anheier, H. K., Glasius, M., & Kaldor, M. (2001). Global civil society 2001. Oxford: Oxford University Press.

APEC. (2014). APEC Secretariat's communications and public affairs strategic plan: 2014–2016. Singapore: Asia-Pacific Economic Cooperation.

Archibugi, D. (2008). The global commonwealth of citizens: Toward cosmopolitan democracy. New Jersey: Princeton University Press.

Avant, D. D., Finnemore, M., & Sell, S. K. (2010). Who governs the globe? In D. D. Avant, M. Finnemore, & S. K. Sell (Eds.), Who Governs the Globe? (pp. 1–35). New York: Cambridge University Press.

Barnett, M. N., & Finnemore, M. (2004). Rules for the world. International organizations in global politics. Ithaca/London: Cornell University Press.

Bazbauers, A. R. (2014) The wolfensohn, wolfowitz, and zoellick presidencies: Revitalising the neoliberal agenda of the world bank. In Forum for Development Studies, (Vol. 41, pp. 91–114, Vol. 1): Taylor & Francis.

Beck, U. (2004). Der kosmopolitische Blick oder: Krieg ist Frieden. Suhrkamp: Frankfurt A.M.

Bedford, K. (2009). Developing partnerships: Gender, sexuality, and the reformed world bank. Minneapolis and London: U of Minnesota Press.

Bennett, W. L., Pickard, V. W., Iozzi, D. P., Schroeder, C. L., Lagos, T., & Caswell, C. E. (2004). Managing the public sphere: Journalistic construction of the great globalization debate. The Journal of Communication, 54(3), 437–455.

Bernstein, S. (2011). Legitimacy in intergovernmental and non-state global governance. Review of International Political Economy, 18(1), 17–51.

Biegoń, D. (2013). Specifying the arena of possibilities: Post-structuralist narrative analysis and the European Commission's legitimation strategies. JCMS: Journal of Common Market Studies, 51(2), 194–211. doi:10.1111/j.1468-5965.2012.02310.x.

Bob, C. (2012). The global right wing and the clash of world politics (Cambridge studies in contentious politics). New York: Cambridge University Press.

Boin, A., 't Hart, P., & McConnell, A. (2009). Crisis exploitation: Political and policy impacts of framing contests. Journal of European Public Policy, 16(1), 81–106.

Boomgaarden, H. G., Schuck, A. R. T., Elenbaas, M., & de Vreese, C. H. (2011). Mapping EU attitudes: Conceptual and empirical dimensions of Euroscepticism and EU support. European Union Politics, 12(2), 241–266. doi:10.1177/1465116510395411.

Braidwood, T. (2012). CLEAR-PLOT: Automating clarify & predicted values for chart generation. http://travisbraidwood.altervista.org/dataverse.html. Accessed 15 June 2017.

Brändström, A., & Kuipers, S. (2003). From 'normal incidents' to political crises: Understanding the selective politicization of policy Failures1. Government and Opposition, 38(3), 279–305.

Brüggemann, M. (2008). Europäische Öffentlichkeit durch Öffentlichkeitsarbeit? Die Informationspolitik der Europäischen Kommission (1ed.). Wiesbaden: VS Verlag für Sozialwissenschaften.

Brühl, T. (2010). Representing the people? NGOs in international negotiations. In J. Steffek & K. Hahn (Eds.), Evaluating transnational NGOs. Legitimacy, Acountability and representation (pp. 181–199). Houndsmills: Palgrave.

Buchanan, A., & Keohane, R. O. (2006). The legitimacy of global governance institutions. Ethics & International Affairs, 20(4), 405–437.

Cameron, C. A., & Trivedi, P. K. (1998). Regression analysis of count data (Vol. 30, economic society monographs). Cambridge: Cambridge University Press.

Cárdenas, E. J. (2000). UN financing: Some reflections. European Journal of International Law, 11(1), 67–75.

Coldevin, G. (2001). Participatory communication and adult learning for rural development. Journal of International Communication, 7(2), 51–69.

de Wilde, P. (2011). How politicisation affects european integration: Contesting the EU budget in the Netherlands, Denmark and Ireland. Oslo: Faculty of Social Sciences, University of Oslo.

Defourny, V. (2003). Public information in the UNESCO: Towards a strategic role. In K. Sriramesh & D. Vercic (Eds.), The global public relations handbook. Theory, research, and practice (pp. 425–440). Mahwah: Routledge.

della Porta, D. (2007). The global justice movement: Cross-national and transnational perspectives. Boulder: Paradigm.

Dellmuth, L. M. (2016). The knowledge gap in world politics: Assessing the sources of citizen awareness of the United Nations security council. Review of International Studies, 42(4), 673–700. doi:10.1017/S0260210515000467.

Dellmuth, L. M., & Tallberg, J. (2015). The social legitimacy of international organisations: Interest representation, institutional performance, and confidence extrapolation in the United Nations. Review of International Studies, 41(03), 451–475.

Dimitrov, R. (2014). Bringing communication up to agency: UNESCO reforms its visibility. Public Relations Inquiry, 3(3), 293–318. doi:10.1177/2046147x14544396.

Dingwerth, K., Lehmann, I., Reichel, E., Weise, T., & Witt, A. (2015). Many Pipers, Many Tunes? Die Legitimationskommunikation internationaler Organisationen in komplexen Umwelten. In E. d. Conceição-Heldt, M. Koch, & A. Liese (Eds.), Internationale organisationen: Autonomie, politisierung, interorganisationale beziehungen und wandel (1st ed., pp. 191–217). Baden-Baden: Nomos.

Drori, G. S., Meyer, J. W., & Hwang, H. (2006). Globalization and organization: World society and organizational change. Oxford: Oxford University Press.

Ecker-Ehrhardt, M. (2012). Cosmopolitan politicization: How perceptions of interdependence foster citizens' expectations in international institutions. European Journal of International Relations, 18(3), 481–508.

Ecker-Ehrhardt, M. (2014). Why parties politicise international institutions: On globalisation backlash and authority contestation. Review of International Political Economy, 21(6), 1275–1312.

Falk, R. (1995). On humane governance. Toward a new global politics. The world order models project report of the global civilization initiative. University Park: The Pennsylvania State University Press.

Florini, A. (Ed.). (2007). The right to know. Transparency for an open world. New York: Columbia University Press.

Florini, A. M., & Simmons, P. J. (2000). What the world needs now? In A. M. Florini (Ed.), The third force: The rise of transnational civil society (pp. 1–15). Tokyo and Washington, DC: Japan Center for International Change and Carnegie En- dowment for International Peace.

Furia, P. A. (2005). Global citizenship, anyone? Cosmopolitanism, privilege and public opinion. Global Society, 19(4), 331–359.

Gibson, J. (2008). The myth of the multitude: The endogenous demise of Alter-globalist politics. Global Society, 22(2), 253–275.

Gilson, J. (2011). Structuring accountability: Civil society and the Asia-Europe meeting. In J. A. Scholte (Ed.), Building global democracy (pp. 206–224). Cambridge: Cambridge University Press.

Grigorescu, A. (2007). Transparency of intergovernmental organizations: The roles of member states, international bureaucracies and nongovernmental organizations. International Studies Quarterly, 51(3), 625–648.

Gronau, J. (2015). Die selbstlegitimation internationaler institutionen: G8 und G20 im vergleich (staatlichkeit im wandel, vol. band 24). Campus Verlag: Frankfurt am Main.

Gronau, J., & Schmidtke, H. (2016). The quest for legitimacy in world politics–international institutions' legitimation strategies. Review of International Studies, 42(03), 535–557.

Grunig, J. E. (1992). Excellence in public relations and communication management (communication textbook series public relations). Hillsdale: L. Erlbaum Associates.

Grunig, J. E., & Hunt, T. (1984). Managing Public Relations. New York: Rinehart and Winston.

Hahn, K., & Holzscheiter, A. (2013). The ambivalence of advocacy: Representation and contestation in global NGO advocacy for child workers and sex workers. Global Society, 27(4), 497–520. doi:10.1080/13600826.2013.823914.

Hannerz, U. (1990). Cosmopolitans and locals in world culture. Theory, culture and society, 7(2), 237–251.

Held, D. (2002). Law of states, law of people: Three models of sovereignty. Legal Theory, 8(1), 1–44.

Henderson, D. (1999). The MAI affair: A story and its lessons. London: Royal Institute for International Affairs.

Heupel, M., Hirschmann, G., & Zürn, M. (2015). Internationale Organisationen und der Schutz der Menschenrechte. In E. d. Conceição-Heldt, M. Koch, & A. Liese (Eds.), Internationale Organisationen: Autonomie, Politisierung, interorganisationale Beziehungen und Wandel (1st ed., pp. 428–456). Baden-Baden: Nomos Verlagsgesellschaft mbH & Co. KG.

Hurd, I. (1999). Legitimacy and Authority in International Politics. International Organization, 53(2), 379–408.

Joachim, J. (2003). Framing issues and seizing opportunities: The UN, NGOs, and women's rights. International Studies Quarterly, 47(2), 247–274.

Johnson, T. (2011). Guilt by association: The link between states' influence and the legitimacy of intergovernmental organizations. The Review of International Organizations, 6(1), 57–84.

Jowett, G. S., & O'Donnell, V. (1992). Propaganda and Persuasion. London: Sage.

Keck, M., & Sikkink, K. (1998). Activists beyond Borders: Transnational advocacy networks in international politics. Ithaca: Cornell University Press.

Koremenos, B., Lipson, C., & Snidal, D. (2001). The rational Design of International Institutions. International Organization, 55(4), 761–799.

Kriesi, H., Grande, E., Lachat, R., Dolezal, M., Bornschier, S., & Frey, T. (2008). West European politics in the age of globalization. Cambridge: Cambridge University Press.

Lehmann, I. A. (1999). Peacekeeping and public information: caught in the crossfire (Cass series on peacekeeping, Vol. 5). London and Portland: F. Cass.

Lehmann, I. A. (2011). The political and cultural dynamics of united nations media scandals: from waldheim to annan. MEDIA@ LSE electronic working papers no. 22. London: London School of Economics and Political Science.

L'Etang, J. (2009). Public relations and diplomacy in a globalized world: An issue of public communication. American Behavioral Scientist, 53(4), 607–626. doi:10.1177/0002764209347633.

Liese, A. (2010). Explaining varying degrees of openness in the food and agriculture organization of the United Nations (FAO). In C. Jönsson, & J. Tallberg (Eds.), Transnational actors in global governance (pp. 88–109). Houndmills: Palgrave Macmillan.

Long, S. J., & Freese, J. (2006). Regression Models for Categorical Dependent Variables Using Stata (2ed.). College Station: Stata Press.

Marshall, M., Jaggers, K., & Gurr, T. (2016). Polity IV project: Political regime characteristics and transitions, 1800–2015. INSCR. Vienna: Center for Systemic Peace.

Mau, S., Mewes, J., & Zimmermann, A. (2008). Cosmopolitan attitudes through transnational practices? Global Networks: A Journal of Transnational Affairs, 8(1), 1–24.

Mefalopulos, P. (2008). Development communication sourcebook: Broadening the boundaries of communication. Washington, DC: World Bank Publications.

Meyer, C. O. (2009). Does European Union politics become mediatized? The case of the European Commission. Journal of European Public Policy, 16(7), 1047–1064.

Meyer, J. A., & Califano, M. G. (2006). Good intentions corrupted: The oil-for-food scandal and the threat to the UN. New York: Public Affairs.

Meyer, J. W., Boli, J., & Thomas, G. M. (1987). Ontology and rationalization in the western cultural account. In G. M. Thomas & J. W. Meyer (Eds.), Institutional structure: Constituting state, society, and the individual (pp. 12–37). Beverly Hills: Sage.

Moulin, C., & Nyers, P. (2007). "We live in a country of UNHCR" - refugee protests and global political society. International Political Sociology, 1(4), 356–372.

NATO. (2009). NATO strategic communications policy. Brussels: North Atlantic Treaty Organization.

Nissen, S. (2010). Kommunikation in der Krise. Entwicklung und Erfolgsbedingungen der EU-Informationspolitik. Zeitschrift für Politikberatung, 57(4), 453–473.

Norris, P. (2000). Global Governance & Cosmopolitan Citizens. In J. S. Nye Jr. & J. D. Donahue (Eds.), Governance in a globalizing world (pp. 155–177). Washington, DC: Brookings Institution Press.

Nullmeier, F., Bigeon, D., Nonhoff, M., Schmidtke, H., & Schneider, S. (2010). Prekäre legitimitäten: rechtfertigung von herrschaft in der postnationalen konstellation. Campus: Frankfurt A. M.

OAS. (1977). Executive order no. 77–1. Subject: objectives and activities of the department of public information. Washington, D.C.: Organization of American States.

OAS. (1982). Orden ejecutiva no. 82–1. Asunto: oficina del secretario general. Washington, D.C.: Organization of American States.

OAS. (1992). Executive order no. 92–1. Subject: creation and structure of the Department of public information. Washington, D.C.: Organization of American States.

OAS. (1997). Executive order no. 97–4. Subject: office of external relations. Washington, D.C.: Organization of American States.

OAS. (2006). Annual report of the secretary general 2005–2006. Washington, D.C.: Organization of American States.

OAS (2012). Executive order no. 08–01 rev. 5. Subject: structure of the general secretariat. Washington, D.C.: Organization of American States.

O'Brian, R., Goetz, A. M., Scholte, J. A., & Williams, M. (2000). Contesting global governance: Multilateral institutions and global social movements. Cambridge: Cambridge University Press.

Odell, J., & Eichengreen, B. (1998). The United States, the ITO, and the WTO: Exit options, agent slack, and presidential leadership. In A. O. Krueger (Ed.), The WTO as an international organization (pp. 181–206). Chicago: Chicago University Press.

Odugbemi, S., & Lee, T. (2011). Accountability through public opinion: From inertia to public action. Washington, DC: World Bank Publications.

Pevehouse, J., Nordstrom, T., & Warnke, K. (2004). The correlates of war 2 international governmental organizations data version 2.0. Conflict Management and Peace Science, 21(2), 101–119.

Pianta, M., & Zola, D. (2005). The rise of global movements, 1970-2005. Paper presented at the ACI Meeting, Paris, 30 September-1 October 2005.

Polachek, S. W., Robst, J., & Chang, Y.-C. (1999). Liberalism and interdependence: Extending the trade-conflict model. Journal of Peace Research, 36(4), 405–422.

Price, R. (2003). Transnational civil society and advocacy in world politics. World Politics, 55(4), 579–606.

Putnam, R. D. (1988). Diplomacy and domestic politics: The logic of two-level games. International Organisation, 42(3), 427.

Rauh, C. (2012). Politicisation, issue salience, and consumer policies of the European commission: does public awareness and contestation of supranational matters increase the responsiveness of Europe's central agenda-setter?. Dissertation. Berlin: Freie Universität Berlin.

Raustiala, K. (1997). States, NGOs, and international environmental institutions. International Studies Quarterly, 41(4), 719–740.

Reus-Smit, C. (2007). International crises of legitimacy. International Politics, 44(2–3), 157–174.

Risso, L. (2014). Propaganda and intelligence in the Cold War: the NATO Information Service (studies in intelligence). Milton Park, Abingdon, Oxon. New York: Routledge.

Rochon, T. (1988). The politics of the peace movement in Western Europe. Princton: Princeton University Press.

Rosenau, J. N. (1995). Governance in the twenty-first century. Global Governance, 1(1), 13–43.

Rosenau, J. N. (2003). Distant proximities. Dynamics beyond globalization. Princeton: Princeton University Press.

Sanchez, T., & Urpelainen, J. (2014). A strategic theory of effective monitoring arrangements for international institutions. Journal of Theoretical Politics, 26(4), 599–628. doi:10.1177/0951629813511550.

Schlagheck, D. M. (2016). Corruption at the United Nations: A Nonprofit, Humanitarian Organization Confronts Ethical and Financial Misconduct. In C. Funderburk (Ed.), Political Corruption in Comparative Perspective: Sources, Status and Prospects (pp. 165–173). London and New York: Routledge.

Schmitter, P. C. (1969). Three neo-functionalist hypotheses about international integration. International Organization, 23(1), 161–166.

Scholl, C., & Freyberg-Inan, A. (2013). Hegemony's dirty tricks: Explaining counter-globalization's weakness in times of neoliberal crisis. Globalizations, 10(4), 619–634.

Scholte, J. A. (2011). Global governance, accountability and civil society. In J. A. Scholte (Ed.), Building global democracy? Civil society and accountable global governance (pp. 8–41). Cambridge: Cambridge University Press.

Seabrooke, L. (2007). Legitimacy gaps in the world economy: Explaining the sources of the IMF's legitimacy crisis. International Politics, 44(2), 250–268.

Servaes, J. (2007). Harnessing the UN system into a common approach on communication for development. International Communication Gazette, 69(6), 483–507.

Smith, C. B. (2004). The politics of US–UN reengagement: Achieving gains in a hostile environment. International Studies Perspectives, 5(2), 197–215.

Steffek, J. (2007). Legitimacy in international relations: From state compliance to citizen consensus. In A. Hurrelmann, S. Schneider, & J. Steffek (Eds.), Legitimacy in the age of global politics (pp. 175–192). Houndmills: Palgrave Macmillan.

Steffek, J., Kissling, C., & Nanz, P. (Eds.). (2008). Civil society Partizipation in European and global governance. A cure for the democratic deficit? Houndmills: Palgrave Macmillan.

Suchman, M. C. (1995). Managing legitimacy: Strategic and institutional approaches. The Academy of Management Review, 20(3), 571–610.

Symons, J. (2011). The legitimation of international organisations: Examining the identity of the communities that grant legitimacy. Review of International Studies, 37(05), 2557–2583.

Szerszynski, B., & Urry, J. (2002). Cultures of cosmopolitanism. The Sociological Review, 50(4), 461–481.

Tallberg, J., Sommerer, T., Squatrito, T., & Jönsson, C. (2013). The opening up of international organizations: Transnational access in global governance. Cambridge: Cambridge University Press.

Tallberg, J., Sommerer, T., Squatrito, T., & Jönsson, C. (2014). Explaining the transnational Design of International Organizations. International Organization, 68(04), 741–774. doi:10.1017/S0020818314000149.

Tarrow, S. (2001). Transnational politics: Contention and institutions in international politics. Annual Review of Political Science, 4(1), 1–20.

Thompson, J. (2000). Political scandal: Power and visibility in the media age. Cambridge: Polity.

Tomz, M., Wittenberg, J., & King, G. (2003). CLARIFY: Software for interpreting and presenting statistical results. Journal of Statistical Software, 8(1), 1–30.

UNGA. (1946). Resolution 13 (I). Organization of the Secretariat. A/RES/13(I). New York City: United Nations.

Urbinati, N. (2003). Can Cosmopolitical democracy be democratic? In D. Archibugi (Ed.), Debating Cosmopolitics (pp. 67–85). London: Verso.

Wallace, M., & Singer, D. J. (1970). Intergovernmental organization in the global system, 1815-1964: A quantitative description. International Organization, 24(02), 239–287.

Walton, J., & Shefner, J. (1994). Latin America: Popular protest and the state. In J. Walton (Ed.), Free Markets & Food Riots (pp. 97–134). Oxford: Blackwell Publishers Ltd..

Weber, M. (1978). Economy and society: An outline of interpretive sociology. Berkeley: Univ of California Press.

Willetts, P. (2000). From" consultative arrangements" to" partnership": The changing status of NGOs in diplomacy at the UN. Global Governance, 6(2), 191–212.

WorldBank. (2011). A guide to the world bank. (3rd ed. ed.). Washington, D.C.: World Bank.

Zaum, D. (2006). The Authority of International Administrations in international society. Review of International Studies, 32(3), 455–473.

Zürn, M., Binder, M., & Ecker-Ehrhardt, M. (2012). International authority and its politicization. International Theory, 4(1), 69–106.
Acknowledgements
Research for this article was funded by the German Research Foundation (EC 323/1-2). Essential research assistance by Manuel Hofmann, Stefan Wiechmann, Florence Wild, Minna Ålander, Roisin Cronin and Laura Jung is gratefully acknowledged. I wish to give special thanks to the three anonymous reviewers, and Axel Dreher for detailed comments and recommendations.
About this article
Cite this article
Ecker-Ehrhardt, M. Self-legitimation in the face of politicization: Why international organizations centralized public communication. Rev Int Organ 13, 519–546 (2018). https://doi.org/10.1007/s11558-017-9287-y
Keywords
International organization

Institutional design

Communication

Politicization

Legitimation

Transnational civil society

Non-state access

Political protest

Political scandal
JEL Classification