Abstract
The rise of China as a "non-traditional" development partner has been one of the most important phenomena in the field over the past decade. The lack of transparency in Chinese development projects, coupled with an uninterested stance towards governance, lead many to wonder if Chinese engagement will contribute to or undermine existing development efforts. This paper adds to the debate by inquiring as to the relationship of Chinese development efforts with perceptions of, and experiences with, corruption when projects are closely-located to those from a traditional donor, the World Bank. Taking advantage of spatial data, the paper evidences an association between the location of a larger number of Chinese projects and higher experiences with and, to some extent, perceptions of corruption when accounting for co-located World Bank projects. Likewise, while World Bank projects are associated with lower levels of corruption in the absence of Chinese projects, this relationship disappears when Chinese projects are nearby. However, these relationships only hold for Chinese projects which are not "aid-like," suggesting that the differentiation of Chinese overseas flows is an important consideration when studying China as a development partner.
Access options
Buy single article
Instant access to the full article PDF.
USD 39.95
Price includes VAT (USA)
Tax calculation will be finalised during checkout.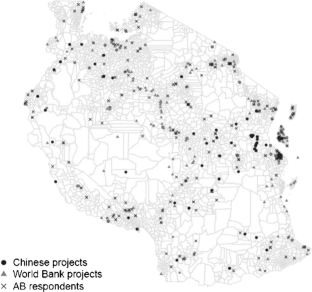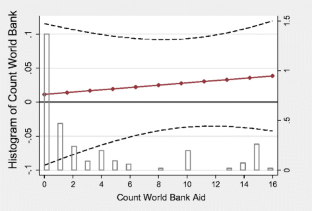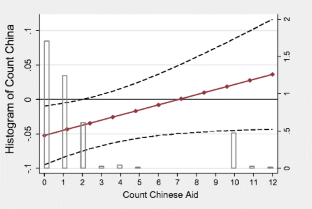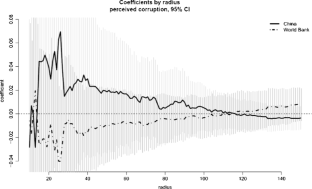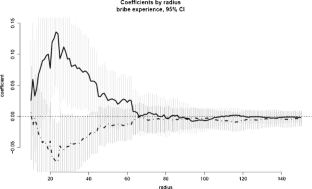 Notes
1.

A survey conducted by the Front Against Corrupt Elements in Tanzania (FACEIT) and the Tanzanian Prevention and Combating of Corruption Bureau (PCCB) in 2009 found that most citizens understand corruption as demand for unofficial payment (92.5%), as opposed to demand for sex (29.4%) or abuse of power (25.9%). Perception beyond these facets of corruption was limited, with respondents failing to perceive informal payments for services or embezzlement and fraud as corrupt practices (PCCB, 2009).

2.

We thank an anonymous reviewer for this insight.

3.

E.g. LaFraniere, S. and J. Grobler "China Spreads Aid in Africa, With a Catch" New York Times, September 21, 2009; "Report: Chinese smuggled ivory out of Tanzania during state visit" Al Jazeera, November 6, 2014; "Chinese bribes in Dar, admits China Envoy", The Citizen, July 15, 2014.

4.

However, as Winters (2014) shows, this aim is not always achieved, due to heterogeneous project effects that are further elaborated below.

5.

Indeed, the World Bank refused to fund the Tanzania-Zimbabwe railroad subsequently financed by China.

6.

"Summary of Results. Afrobarometer Round 6 Survey in Tanzania, 2014" available at : http://afrobarometer.org/sites/default/files/publications/Summary%20of%20results/tan_r6_sor_en.pdfaccessed 22/10/2016. We utilize only the 6th round of the Afrobarometer for several reasons. Practically, many projects, including the 2nd phase of the national fiberoptic project (discussed further below) have completion dates after earlier rounds of the survey, including the 5th round. Additionally, while AidData has made excellent strides towards capturing the timing of the projects, we remain skeptical about the potential for close temporal identification due to the fact that the data often include the same start or end dates at all project locations for a project at multiple locations. Moreover, it is unclear to us that the timing for corruption would necessarily immediately follow a start or end date. Accordingly, we are most comfortable using the latest round of surveys and taking the cumulative projects over the period, with the idea that our theoretical mechanisms are likely to lead to changes that endure or repeat over time. A project that could convincingly tackle issues of temporal identification would be a significant step forward in this literature.

7.

The response categories to this question were ordinal, with "yes," "no," "maybe" and "don't know" as the permissible options. We recode the data as a binary variable coded as 1 for "yes" answers and as 0 for answers of "maybe" and "no", dropping the "don't know" responses.

8.

Importantly, this data maps project locations such that the same project may be listed in multiple locations. We discuss this in more depth below.

9.

We only include projects coded with precision code "1" or "2" by AidData.

10.

Full lists of both Chinese and World Bank projects used in the analysis can be found in Appendix I.

11.

The mean VIF between China, World Bank, Resources, the Urban indicator and the Government Party indicator is 2.40 with a maximum VIF of 4.55. The condition number for these variables is 7.88.

12.

There is also support for Hypotheses 1, 2 and 4 for corruption perceptions when using the REPOA data. These results are presented and discussed in Section A3 of Online Appendix I. There remains no support, however, for Hypothesis 4 in the Afrobarometer data as shown in Figure A1 in Online Appendix I.

13.

All interactions plots were generated modifying code used to produce similar figures in Copelovitch and Ohls (2012).

14.

15.

16.

17.

18.

Where Knutsen et al. (2016) find that the method used to geo-code the Afrobarometer respondents is precise to roughly 15 km, while AidData projects at precision code "2" are precise to 25 km.

19.

Our results available in Online Appendix I also suggest a weakly significant (α = 0.10) positive relationship between resources and local experiences of corruption.

20.

Where BenYishay et al. (2016) are able to incorporate temporal identification by combining "active years" of a project with a panel of forestry satellite data, allowing for observation of changes in the same forest area over a number of years.
Reference
Abdenur, A. E. (2014). China and the BRICS development bank: legitimacy and multilateralism in south–south cooperation. IDS Bulletin, 45(4), 85–101.

Afrobarometer briefing paper (2006) Combating corruption in Tanzania: perceptions and experience. Available at: http://www.afrobarometer.org/publications/bp33-combating-corruption-tanzania-perception-and-experience Accessed April 5, 2016.

Altincekic, C., & Bearce, D. H. (2014). Why there should be no political foreign aid curse. World Development, 64, 18–32.

Alves, A. C. (2013). Chinese economic statecraft: a comparative study of China's oil-backed loans in Angola and Brazil. Journal of Current Chinese Affairs, 42(1), 99–130.

Annen, K., & Knack, S. (2015). On the delegation of aid implementation to multilateral agencies. World Bank Policy Research Working Paper, (7455). Washington, DC.

Asongu, S. A., & Nwachukwu, J. (2014). Foreign aid and governance in Africa.

Attila, J. (2009). Individual attitudes toward anti-corruption policies in sub-Saharan Africa: Microeconometric evidence. Economics Bulletin, 29(3), 1927–1933.

Bailey, M. (1975). Tanzania and China. African Affairs, 74(294), 39–50.

Baldwin, K. & Winters, M. (2016). Can international aid change the politics of service delivery? Working paper, August 2016.

Belousova, V., Goel, R. K., & Korhonen, I. (2016). Corruption perceptions versus corruption incidence: competition for rents across Russian regions. Journal of Economics and Finance, 40(1), 172–187.

BenYishay, A., Parks, B., Runfola, R., Trichler, R. (2016). Forest cover impacts of Chinese development projects in ecologically sensitive areas. Paper presented at SAIS CARI 2016 Conference. October 13–14. Washington, DC.

Berthélemy, J. C. (2006). Bilateral donors' interest vs. recipients' development motives in aid allocation: do all donors behave the same? Review of Development Economics, 10(2), 179–194.

Brautigam, D. (2009). The dragon's gift: the real story of China in Africa: OUP Oxford.

Bräutigam, D. (2011). Aid 'with Chinese characteristics': Chinese foreign aid and development finance meet the OECD-DAC aid regime. Journal of International Development, 23(5), 752–764.

Bräutigam, D. A., & Knack, S. (2004). Foreign aid, institutions, and governance in sub-Saharan Africa*. Economic Development and Cultural Change, 52(2), 255–285.

Brazys, S. R. (2013). Evidencing donor heterogeneity in aid for trade. Review of International Political Economy, 20(4), 947–978.

Brazys, S. R. (2016). Aid and governance: negative returns? The European Journal of Development Research, 28(2), 294–313.

Breen, M., & Gillanders, R. (2015). Political trust, corruption, and ratings of the IMF and the World Bank. International Interactions, 41(2), 337–364.

Calabrese, R., & Elkink, J. (2014). "Estimators of binary spatial autoregressive models: A Monte Carlo study." Journal of Regional Science 54(4):664–687.

Case, A. C. (1991). Spatial patterns in household demand. Econometrica: Journal of the Econometric Society, 953–965.

Case, A. (1992). Neighborhood influence and technological change. Regional Science and Urban Economics, 22(3), 491–508.

Charron, N. (2011). Exploring the impact of foreign aid on corruption: has the "anti-corruption movement" been effective? The Developing Economies, 49(1), 66–88.

Collier, P. (2007). The bottom billion. Economic Review-Deddington, 25(1), 17.

Copelovitch, M. S., & Ohls, D. (2012). Trade, institutions, and the timing of GATT/WTO accession in post-colonial states. The Review of International Organizations, 7(1), 81–107.

De Haan, A. (2011). Will China change international development as we know it? Journal of International Development, 23(7), 881–908.

Dettman, S. & Pepinsky, T. (2016). Resource shocks and public and local public goods: a tale of two districts. Working paper. Accessed at http://cpd.berkeley.edu/wp-content/uploads/2016/02/paper-for-berkeley-presentation.pdf 29-10-2016.

Dietrich, S., Mahmud, M., & Winters, M. S. (2015). Foreign aid, foreign policy, and domestic government legitimacy: experimental evidence from Bangladesh, AidData Working Paper No. 16. Williamsburg.

Djankov, S., Montalvo, J. G., & Reynal-Querol, M. (2008). The curse of aid. Journal of Economic Growth, 13(3), 169–194.

Donchev, D., & Ujhelyi, G. (2014). What do corruption indices measure? Economics and Politics, 26(2), 309–331.

Dreher, A., Fuchs, A., Parks, B., Strange, A. M., & Tierney, M. J. (2015). Apples and dragon fruits: the determinants of aid and other forms of state financing from China to Africa. International Studies Quarterly, forthcoming.

Dreher, A., Fuchs, A., Hodler, R., Parks, B., Raschky, P. A., & Tierney, M. J. (2016). Aid on demand: African leaders and the geography of China's foreign assistance, AidData Working Paper No. 3 Revised. Williamsburg.

Findley, M. G., Harris, A. S., Milner, H. V., & Nielson, D. (2015). Elite and mass support for foreign aid versus government programs: experimental evidence from uganda.

Fleming, M. (2004). "Techniques for estimating spatially dependent discrete choice models": Advances in spatial econometrics. In L. Anselin, R. Florax & S. Rey (Eds.), Methodology, tools and applications (pp. 145–167) Berlin: Springer.

Furukawa, M. (2014). Management of the international development aid system aid system and the creation of political space for China: the case of Tanzania.

Gutmann, J., Padovano, F., & Voigt, S. (2015). Perception vs. experience: explaining differences in corruption measures using microdata. Experience: Explaining Differences in Corruption Measures Using Microdata (September 11, 2015). Available at: https://papers.ssrn.com/sol3/papers.cfm?abstract_id=2659349.

Gyimah-Brempong, K. (2002). Corruption, economic growth, and income inequality in Africa. Economics of Governance, 3(3), 183–209.

Hernandez, D. (2015). Are "new" donors challenging World Bank conditionality?. University of Heidelberg Department of Economics Discussion Paper Series No. 601. Heidelberg.

Hinga, J., & Yiguan, Q. (2013). China-Africa cooperation–an outstanding relationship built on mutual respect and common benefits: a review. International Research Journal of Social Sciences, 2(9), 26–32.

Holtom, D. (2005). Reconsidering the power of the IFIs: Tanzania & the world bank, 1978-1985. Review of African Political Economy, 32(106), 549–568.

Hout, W. (2007). The politics of aid selectivity: good governance criteria in World Bank. US and Dutch development assistance: Routledge.

Isaksson, A. S. (2015). Corruption along ethnic lines: a study of individual corruption experiences in 17 African countries. The Journal of Development Studies, 51(1), 80–92.

Isaksson, A. S., & Kotsadam, A. (2016). Chinese aid and local corruption. University of Gothenburg Working Papers in Economics No. 667. June 2016. Goteborg.

Kilby, C., & Dreher, A. (2010). The impact of aid on growth revisited: do donor motives matter? Economics Letters, 107(3), 338–340.

Kim, S., & Lightfoot, S. (2011). Does 'DAC-ability'really matter? The emergence of non-DAC donors: introduction to policy arena. Journal of International Development, 23(5), 711–721.

Knutsen, C. H., Kotsadam, A., Olsen, E. H., & Wig, T. (2016). Mining and local corruption in Africa. American Journal of Political Science. Early View 13 September 2016. doi: 10.1111/ajps.12268

Leeuw, F. L., Van Gils, G. H., & Kreft, C. (1999). Evaluating anti-corruption initiatives underlying logic and mid-term impact of a World Bank program. Evaluation, 5(2), 194–219.

LeSage, J. P. (2000). Bayesian estimation of limited dependent variable spatial autoregressive models. Geographical Analysis, 32(1), 19–35.

Lopez-Valcarcel, B. G., Jiménez, J. L., & Perdiguero, J. (2014). Danger: local corruption is contagious!. Unpublished manuscript. http://www.alde.es/encuentros/anteriores/xviieea/trabajos/g/pdf/179.pdf .

Manda, C., Knowles, J., Connors, J., & Mwombela, S. (2014). Borders: social interaction and economic and political integration of the east African community.

Mawdsley, E., Savage, L., & Kim, S. M. (2014). A 'post-aid world'? Paradigm shift in foreign aid and development cooperation at the 2011 Busan high level forum. The Geographical Journal, 180(1), 27–38.

McMillen, D. P. (1992). Probit with spatial autocorrelation. Journal of Regional Science, 32(3), 335–348.

Milner, H. V., Nielson, D. L., & Findley, M. G. (2016). Citizen preferences and public goods: comparing preferences for foreign aid and government programs in Uganda. The Review of International Organizations, 11(2), 219–245.

Molenaers, N., Dellepiane, S., & Faust, J. (2015). Political conditionality and foreign aid. World Development, 75, 2–12.

Morgan, S. L., & Winship, L. (2007). Counterfactuals and causal inference. Methods and principles for social research. New York: Cambridge University Press.

Moshi, H., Mtui, J., & es Salaam, D. (2008). Scoping studies on China-Africa economic relations: the case of Tanzania. Nairobi: AERC (mimeo).

Muchapondwa, E., Nielson, D., Parks, B., Strange, A. M., & Tierney, M. J. (2014). Ground-truthing'Chinese development finance in Africa: field evidence from South Africa and Uganda. WIDER Working Paper.

Mwombela, S. (2015) What shapes Tanzanians' image of China? Findings from the Afrobarometer Round 6 Survey in Tanzania, Repoa, Policy Research for Development. [ONLINE] Available at: http://www.repoa.or.tz/images/uploads/TAN_R6_dissemination_2_Chinese_Engagement_25Feb2015.pdf [Accessed 15 August 2015]

Okada, K., & Samreth, S. (2012). The effect of foreign aid on corruption: a quantile regression approach. Economics Letters, 115(2), 240–243.

Olken, B. A. (2009). Corruption perceptions vs. corruption reality. Journal of Public Economics, 93(7), 950–964.

Olken, B. A., & Pande, R. (2011). Corruption in developing countries (no. w17398). National Bureau of Economic Research.

Payer, C. (1983). Tanzania and the World Bank. Third World Quarterly, 5(4), 791–813.

Pearl, J. (2000). Causality: models, reasoning, and inference. Cambridge: Cambridge University Press.

Pehnelt, G. (2007). The political economy of China's aid policy in Africa. Jena Economic Research Paper (2007–051).

Richmond, S., & Alpin, C. (2013). Governments falter in fight to curb corruption: the people give most a failing grade. Afrobarometer Policy paper(4).

Schudel, C. J. W. (2008). Corruption and bilateral aid: a dyadic approach. Journal of Conflict Resolution, 52(4), 507–526.

Sigalla, H. L. (2014). Changing trends in the Tanzania–China relationship. Österreichische Zeitschrift für Soziologie, 39(1), 61–78.

Smets, L., & Knack, S. (2016). World Bank lending and the quality of economic policy. The Journal of Development Studies, 52(1), 72–91.

Steinwand, M. C. (2015). Compete or coordinate? Aid fragmentation and lead donorship. International Organization, 69(2), 443.

Strange, A. M., Park, B., Tierney, M. J., Fuchs, A., Dreher, A., & Ramachandran, V. (2013). China's development finance to Africa: a media-based approach to data collection. Center for Global Development working paper(323).

Strange, A. M., Dreher, A., Fuchs, A., Parks, B., & Tierney, M. J. (2015). Tracking underreported financial flows China's development finance and the aid–conflict nexus revisited. Journal of Conflict Resolution, 0022002715604363.

Sun, Y. (2014). Africa in China's foreign policy. The Brookings Institution.

Tobler, W. R. (1970). A computer movie simulating urban growth in the Detroit region. Economic Geography, 46, 234–240.

Tull, D. M. (2006). China's engagement in Africa: scope, significance and consequences. The Journal of Modern African Studies, 44(03), 459–479.

Ugur, M. (2014). Corruption's direct effects on Per-capita income growth: a meta-analysis. Journal of Economic Surveys, 28(3), 472–490.

Wang, F.-L., & Elliot, E. A. (2014). China in Africa: presence, perceptions and prospects. Journal of Contemporary China, 23(90), 1012–1032.

Wang, X., & Ozanne, A. (2000). Two approaches to aid in Africa: China and the West. In Prepared for the International Conference "Ten Years Of 'War Against Poverty': What Have We Learned Since, 2000. 2010–2020.

Wilhelm, S., & Godinho de Matos, M. (2013). "Estimating spatial probit models in R." The R Journal 5(1), 130–143.

Winters, M. S. (2010). Choosing to target: what types of countries get different types of World Bank projects. World Politics, 62(03), 422–458.

Winters, M. S. (2014). Targeting, accountability and capture in development projects. International Studies Quarterly, 58(2), 393–404.

World Bank (1998) Support to the Government of Tanzania's Anti-Corruption Program. World Bank Poverty Reduction and Social Development Unit Africa Region. October 1998. Available at: http://www1.worldbank.org/publicsector/anticorrupt/TanzaniaGCA.pdf accessed 29-10-2016.

Zhao, S. (2014). A neo-colonialist predator or development partner? China's engagement and rebalance in Africa. Journal of Contemporary China, 23(90), 1033–1052.

Zhu, B. (2016). MNCs, rents, and corruption: evidence from China. American Journal of Political Science. Early Views. doi: 10.1111/ajps.12259

Zimmermann, F., & Smith, K. (2011). More actors, more money, more ideas for international development co-operation. Journal of International Development, 23(5), 722–738.
Electronic supplementary material
About this article
Cite this article
Brazys, S., Elkink, J.A. & Kelly, G. Bad neighbors? How co-located Chinese and World Bank development projects impact local corruption in Tanzania. Rev Int Organ 12, 227–253 (2017). https://doi.org/10.1007/s11558-017-9273-4
Keywords
China

World Bank

ODA

OOF

Development

Corruption

Governance

AidData

Tanzania

Africa
JEL Classification