Abstract
International human rights institutions often rely on "naming and shaming" to promote compliance with global norms. Critics charge that such institutions are too politicized; states condemn human rights violations selectively, based on their strategic interests, while protecting friends and allies. In this view, politicization undermines shaming's credibility and thus its effectiveness. This paper offers an alternative account of such institutions and the mechanism by which they promote human rights. We argue that interstate shaming is an inherently political exercise that operates through strategic relationships, not in spite of them. While states are less likely to criticize their friends and allies, any criticism they do offer is more influential precisely because of this pre-existing partnership. We test this argument through quantitative analysis of the most elaborate human rights mechanism in the international system: the United Nations Universal Periodic Review. We find that states are more lenient towards their strategic partners in the peer-review process. Yet when they do criticize, their recommendations are accepted more often than substantially identical recommendations emanating from other states with fewer strategic ties. Insofar as shaming disseminates powerful signals regarding political relationships between states, these interactions can be meaningful and influential, even as they remain selective and politicized.
This is a preview of subscription content, log in to check access.
Access options
Buy single article
Instant access to the full article PDF.
US$ 39.95
Price includes VAT for USA
Subscribe to journal
Immediate online access to all issues from 2019. Subscription will auto renew annually.
US$ 99
This is the net price. Taxes to be calculated in checkout.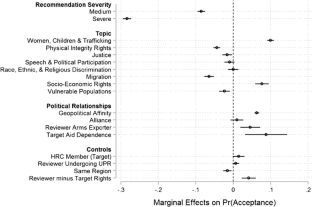 Notes
1.

Several of these studies compare shaming emanating from various kinds of actors (i.e., NGOs, Western media, foreign governments, intergovernmental organizations), but do not disaggregate further.

2.

The basis of country reviews include: (a) the Charter of the UN; (b) the Universal Declaration of Human Rights; (c) human rights instruments to which a State is party; and (d) voluntary pledges and commitments made by the State, including those undertaken when presenting their candidature for election to the HRC (General Assembly resolution 60/251 2006, para. 1–2).

3.

Although not every state voted to pass Resolution 60/251 (notably, the United States voted against it), participation in the UPR, both as a reviewer and as a state under review, is voluntary.

4.

Reviews typically last 3.5 h; the SuR's overall speaking time is 70 min while other states have a total of 140 min (UPR Info 2015).

5.

The troika has no specific role during the interactive dialogue itself. Following the review, the troika is responsible for preparing the report of the Working Group, containing a full account of the proceedings.

6.

For another example of the relational approach applied to naming and shaming, see Esarey and DeMeritt (2016), who argue that the impact of shaming on aid depends on the political relationship between donor and recipient.

7.

It is beyond the scope of this paper to address when and why states shame their strategic allies. Future studies may examine this phenomenon in greater depth, for instance by investigating whether the correlates of inter-ally criticism differs from other shaming relations.

8.

Indeed, by controlling for shared region in our analyses, our findings support this view. We do not claim that strategic relations are more important or influential than cultural or geographic relations. However, we believe that strategic ties involve a specific mechanism that is distinct from the influence of shared geography and/or culture. For that reason, we limit our analysis to strategic relations in this study.

9.

At the time of writing, data from reviews occurring in Sessions 21 through 26 were not yet available.

10.

See online Appendix, available on the Review of International Organizations' webpage, for details.

11.

12.

E.g., "share best practices," "request technical assistance."

13.

Our results are also robust with a 4-point ordinal variable. See online Appendix.

14.

Aid (Reviewer to Target) is operationalized slightly different across analysis. In the first analyses exploring reviewer behavior, this variable represents the proportion of total aid donations the reviewer spends on the target. Larger numbers reflect greater interest in the welfare of the SuR. In the second analysis exploring target behavior, Aid (Reviewer to Target) reflects the proportion of target's total aid receipts that comes from the target. This reflects the degree of aid dependence the SuR has on the reviewing country.

15.

These clusters are based on co-occurrences of themes in recommendations. See online Appendix for details. As a robustness check, we estimated the empirical models described below using slightly different groupings, which had no substantive effect on the main findings.

16.

Our argument states that shaming is conditional on the political relationship between sender and target. We chose to estimate this conditional relationship through two-stage selection models. An alternative empirical approach would be to estimate an interactive model on all dyads, where we interact the issuance of a recommendation with the various indicators for political relationships. This would be problematic for three reasons. First, reviewer states often issue multiple recommendations. Our current set-up estimates effects at the recommendation level. Second, this model wouldn't take into account that political relationships influence the severity of recommendations. Third, and most importantly, we don't have outcome data for countries that don't receive recommendations. For these reasons, we believe our two-stage approach is the appropriate way to model our parameters of interest.

17.

Time constraints limit the number of states participating during the interactive dialogue, and commentators have a mere three minutes to make recommendations. This structure incentivizes the SuR to solicit the input of friendly states, which tend to eschew harsh criticism in favor of praise and positive feedback, often with the understanding of reciprocal treatment when it comes time for their own review. As one diplomat put it, many states view the UPR as a means to "protect" and "support" each other from criticism, especially criticism emanating from Western Europe (McMahon 2012b, 16).

18.

In the regression analyses below, some targets in the UPR process, such as Palestine and the Vatican, drop out because they are not UN member states.

19.

Only comments presented orally during the working group sessions are entered into the record (McMahon 2012b, 13). When states are HRC members, they typically have human rights delegations in Geneva that are expected to participate in sessions. If states are themselves undergoing a UPR review, they may be more likely to give softer reviews, but we include an indicator that captures this as a control.

20.

21.

The UN's independent experts play a role on the margin but they rarely expose rights violations that were not already otherwise known (Piccone and Piccone 2012).
References
Alesina, A., & Dollar, D. (2000). Who gives foreign aid to whom and why? Journal of Economic Growth, 5(1), 33–63. doi:10.1023/A:1009874203400.

Ausderan, J. (2014). How naming and shaming affects human rights perceptions in the shamed country. Journal of Peace Research, 51(1), 81–95.

Barry, C. M., Clay, K. C., & Flynn, M. E. (2012). Avoiding the spotlight: human rights shaming and foreign direct investment. International Studies Quarterly, 57(3), 532–544.

Bartels, L. M. (2002). Beyond the running tally: partisan bias in political perceptions. Political Behavior, 24(2), 117–150. doi:10.1023/A:1021226224601.

Blanton, S. L. (2005). Foreign policy in transition? Human rights, democracy, and U.S. arms exports. International Studies Quarterly, 49(4), 647–668. doi:10.1111/j.1468-2478.2005.00382.x.

Boockmann, B., & Dreher, A. (2010). Do human rights offenders oppose human rights resolutions in the United Nations? Public Choice, 146(3–4), 443–467.

Bowcott, O. (2015) UK and Saudi Arabia 'in Secret Deal' over Human Rights Council Place. The Guardian, September 29, sec. UK news. http://www.theguardian.com/uk-news/2015/sep/29/uk-and-saudi-arabia-in-secret-deal-over-human-rights-council-place.

Channel 4 News (2015). "David Cameron Challenged over Saudi Arabian Teenager." Channel 4 News, October 6. http://www.channel4.com/news/david-cameron-challenged-over-saudi-arabian-teenager.

Cole, W. M. (2012a). Government respect for gendered rights: the effect of the convention on the elimination of discrimination against women on Women's rights outcomes, 1981–20041. International Studies Quarterly, 57, 233–249.

Cole, W. M. (2012b). Institutionalizing shame: the effect of human rights committee rulings on abuse, 1981–2007. Social Science Research, 41(3), 539–554.

DeMeritt, J. H. R. (2012). International organizations and government killing: does naming and shaming save lives? International Interactions, 38(5), 597–621.

Edwards, M. S., Scott, K. M., Allen, S. H., Irvin, K. (2008). Sins of Commission? Understanding Membership Patterns on the United Nations Human Rights Commission. Political Research Quarterly, 61(3), 390–402.

Esarey, J., & DeMeritt, J. H. R. (2016). Political context and the consequences of naming and shaming for human rights abuse. International Interactions, 0(0), 1–30. doi:10.1080/03050629.2016.1223656.

Fariss, C. (2014). Respect for human rights has improved over time: modeling the changing standard of accountability. The American Political Science Review, 108(2), 297–318.

FIACAT. (2009). "UPR: An Ambivalent Exersice." The International Federation of Action by Christians for the Abolition of Torture (FIACAT). http://www.upr-info.org/sites/default/files/general-document/pdf/-fiacat_ambivalent_exercise_2009_e.pdf.

Finnemore, M. (1996). Norms, culture, and world politics: insights from Sociology's institutionalism. International Organization, 50(02), 325–347.

Finnemore, M., & Sikkink, K. (2001). Taking stock: the constructivist research program in international relations and comparative politics. Annual Review of Political Science, 4(1), 391–416.

Franklin, J. C. (2008). Shame on you: the impact of human rights criticism on political repression in Latin America. International Studies Quarterly, 52(1), 187–211.

General Assembly resolution 60/251. (2006). "Human Rights Council." A/RES/60/251. http://www2.ohchr.org/english/bodies/hrcouncil/docs/A.RES.60.251_En.pdf.

Gibler, D. M. (2009). International military alliances 1648–2008. Washington, D.C.: CQ Press.

Goertz, G., & Diehl, P. F. (1992). Toward a theory of international norms. Journal of Conflict Resolution, 36(4), 634.

Goldberg, J. (2015). "When Beheading Won't Do the Job, the Saudis Resort to Crucifixion." The Atlantic, September 24. http://www.theatlantic.com/international/archive/2015/09/saudi-arabia-beheading-crucifixion-nimr/407221/.

Goodliffe, J., & Hawkins, D. (2009). A funny thing happened on the way to Rome: explaining international criminal court negotiations. The Journal of Politics, 71(03), 977–997. doi:10.1017/S0022381609090835.

Goodman, R., & Jinks, D. (2013). Socializing states: promoting human rights through international law. New York: Oxford University Press.

Gordon, M.R., & D.D. Kirkpatrick. (2015). Kerry Warns Egypt Human Rights Abuses Can Hurt Fight Against Terrorism. The New York Times, August 2. http://www.nytimes.com/2015/08/03/world/middleeast/kerry-in-egypt-discusses-balancing-human-rights-and-terror-fight.html.

Greenhill, B. (2010). The company you keep: international socialization and the diffusion of human rights norms. International Studies Quarterly, 54(1), 127–145.

Greenwald, G. (2015). U.S. Government Celebrates Its Arming of the Egyptian Regime With a YouTube Video. The Intercept, August 3. https://theintercept.com/2015/08/03/u-s-government-celebrates-arming-egyptian-regime-youtube-video/.

Gujadhur, S., & Limon, M. (2016). Toward the Third Cycle of The UPR: Stick of Twist?. Geneva: Universal Rights Group.

Guzman, A. T. (2007). How international law works: a rational choice theory. New York: Oxford University Press.

Hafner-Burton, E. (2008). Sticks and stones: naming and shaming the human rights enforcement problem. International Organization, 62(04), 689–716.

Hafner-Burton, E., & Ron, J. (2013). The Latin bias: regions, the Anglo-American media, and human rights. International Studies Quarterly, 57(3), 474–491.

Hafner-Burton, E., & Tsutsui, K. (2005). Human rights in a globalizing world: the paradox of empty Promises1. American Journal of Sociology, 110(5), 1373–1411.

Hendrix, C. S., & Wong, W. H. (2013). When is the pen truly mighty? Regime type and the efficacy of naming and shaming in curbing human rights abuses. British Journal of Political Science, 43(03), 651–672.

Hill, D. W., Moore, W. H., & Mukherjee, B. (2013). Information politics versus organizational incentives: when are amnesty International's '"naming and shaming"' reports biased? International Studies Quarterly, 57(2), 219–232.

Hug, S. (2016). Dealing with human rights in international organizations. Journal of Human Rights, 15(1), 21–39. doi:10.1080/14754835.2015.1032224.

Hug, S., & Lukács, R. (2013). Preferences or blocs? Voting in the United Nations human rights council. The Review of International Organizations, 9(1), 83–106.

Ingraham, C. (2015). Why One of the World's Worst Human Rights Offenders Is Leading a U.N. Human Rights Panel. The Washington Post, September 28. https://www.washingtonpost.com/news/wonk/wp/2015/09/28/why-one-of-the-worlds-worst-human-rights-offenders-is-leading-a-un-human-rights-panel/.

Johnston, A. I. (2001). Treating international institutions as social environments. International Studies Quarterly, 45(4), 487–515.

Katzenstein, P. (Ed.) (1996). The culture of National Security: norms and identity in world politics. New York: Columbia University Press.

Kelley, J. G., & Simmons, B. A. (2015). Politics by number: indicators as social pressure in international relations. American Journal of Political Science, 59(1), 55–70.

Krain, M. (2012). J'accuse! Does naming and shaming perpetrators reduce the severity of genocides or Politicides?1. International Studies Quarterly, 56(3), 574–589.

Lebovic, J. H., & Voeten, E. (2006). The politics of shame: the condemnation of country human rights practices in the UNCHR. International Studies Quarterly, 50(4), 861–888.

Lebovic, J. H., & Voeten, E. (2009). The cost of shame: international organizations and foreign aid in the punishing of human rights violators. Journal of Peace Research, 46(1), 79–97.

Mchangama, J., and Rhodes, A.. (2013). UN Reviews Show Dysfunction of Human Rights Discourse and Practice. The Huffington Post, May 13. http://www.huffingtonpost.com/aaron-rhodes/un-reviews-show-dysfuncti_b_3265250.html.

McMahon, E.R. (2012a). Assessing the First Cycle of the UN Human Rights Council Universal Periodic Review: Herding Cats and Sheep." In Presentation at the Annual Meeting of the Midwest Political Science Association, Chicago, 12–15.

McMahon, E.R. (2012b). The Universal Periodic Review: A Work in Progress. Friedrich Ebert Stiftung. http://library.fes.de/pdf-files/bueros/genf/09297.pdf.

Meernik, J., Aloisi, R., Sowell, M., & Nichols, A. (2012). The impact of human rights organizations on naming and shaming campaigns. Journal of Conflict Resolution, 56(2), 233–256.

Murdie, A., & Davis, D. R. (2012). Shaming and blaming: using events data to assess the impact of human rights INGOs. International Studies Quarterly, 56(1), 1–16.

Murdie, A., & Urpelainen, J. (2015). Why pick on us? Environmental INGOs and state shaming as a strategic substitute. Political Studies, 63(2), 353–372.

Nielsen, R. A. (2013). Rewarding human rights? Selective aid sanctions against repressive states. International Studies Quarterly, 57(4), 791–803. doi:10.1111/isqu.12049.

Piccone, T., & Piccone, T. J. (2012). Catalysts for change: how the UN's independent experts promote human rights. Washington, D.C.: Brookings Institution Press.

Rahn, W. M. (1993). The role of partisan stereotypes in information processing about political candidates. American Journal of Political Science, 37(2), 472–496. doi:10.2307/2111381.

Ramos, H., Ron, J., & Thoms, O. N. T. (2007). Shaping the northern Media's human rights coverage, 1986—2000. Journal of Peace Research, 44(4), 385–406.

Ron, J., Ramos, H., & Rodgers, K. (2005). Transnational information politics: NGO human rights reporting, 1986–2000. International Studies Quarterly, 49(3), 557–588.

Ropp, S. C., Sikkink, K., & Risse, T. (Eds.) (1999). The power of human rights: international norms and domestic change. New York: Cambridge University Press.

Schaefer, B.D., & Groves, S. (2016) The U.S. Universal Periodic Review: Flawed from the Start. The Heritage Foundation. Accessed January 19. http://www.heritage.org/research/reports/2010/08/the-us-universal-periodic-review-flawed-from-the-start.

Simmons, B. A. (2009). Mobilizing for human rights: international law in domestic politics. New York: Cambridge University Press.

Simmons, B. A., Dobbin, F., & Garrett, G. (2007). The global diffusion of public policies: social construction, coercion, competition, or learning. Annual Review of Sociology, 33, 449–472.

Towns, A. E. (2012). Norms and social hierarchies: understanding international policy diffusion 'from below'. International Organization, 66(02), 179–209.

UN Watch (2009). A Mutual Praise Society: Country Scorecard and Evaluation of the Universal Periodic Review System of the U.N. Human Rights Council. UN Watch. http://www.upr-info.org/sites/default/files/general-document/pdf/-mutual_praise_society.pdf.

United Nations Secretary-General (2005a). In Larger Freedom: Towards Development, Security and Human Rights for All : Report of the Secretary-General. United Nations Publications.

United Nations Secretary-General (2005b) Explanatory Note by the Secretary-General, A/59/2005/Add.1. In In Larger Freedom: Toward Development, Security and Human Rights for All. United Nations General Assembly. http://www.preventionweb.net/files/resolutions/N0535601.pdf.

UPR Info (2014). Beyond Promises. UPR Info. http://www.upr-info.org/sites/default/files/general-document/pdf/2014_beyond_promises.pdf.

UPR Info (2015). What Is the UPR? UPR Info. Accessed August 24. http://www.upr-info.org/en/upr-process/what-is-it.

Vieira de Mello, S. (2003). Commission's Structures Are Sound, Problems Can Be Surmounted, High Commissioner Says as Main UN Human Rights Body Ends Session. Presented at the Closing meeting of the fifty-ninth Session of the Commission on Human Rights, April 25. http://www.usp.br/svm/textos/t-dh-07.php.
Acknowledgements
An earlier version of this article was presented at the Annual Meeting of the American Political Science Association (San Francisco, 2015), the Human Rights in an Age of Ambiguity conference (New York City, 2016), and the International Relations colloquium at the University of California, Berkeley. For helpful commends, we thank the participants at those workshops, especially Marc Limon, Jeanette Money, and Laura Stoker. We are grateful to Erin Sielaff and Mathison Clore for excellent research assistance. This research was supported in part by the University of California Institute for Global Conflict and Cooperation and the University of California Berkeley Institute of International Studies.
Electronic supplementary material
About this article
Cite this article
Terman, R., Voeten, E. The relational politics of shame: Evidence from the universal periodic review. Rev Int Organ 13, 1–23 (2018). https://doi.org/10.1007/s11558-016-9264-x
Keywords
United Nations

Universal periodic review

Human rights

Naming and shaming

Quantitative analysis
JEL Classification