Abstract
An important literature examines the attempts by the international community in inducing or coercing conflict parties in civil wars to refrain from committing atrocities against the civilian population. We examine in this article whether a non-governmental actor, the distinctively neutral and independent International Committee of the Red Cross, whose mission includes the promotion of humanitarian law and the protection of the civilian population, has such a restraining effect on the conflict parties. Our results suggest that the more time has passed since the ratification of the relevant Geneva Conventions and Protocols, the larger is the risk of civilian victimization. We cannot find evidence that the ICRC's presence in conflict zones and the seminars it conducts to spread humanitarian law make a crucial difference. Case studies of Bosnia and Darfur indicate that shaming strategies and thus a relatively unusual instrument for the traditionally neutral actor did not abate the killings; the statistical evidence in the form of Granger causality tests rather show that the killing and harming precedes the naming and shaming.
Access options
Buy single article
Instant access to the full article PDF.
USD 39.95
Price excludes VAT (USA)
Tax calculation will be finalised during checkout.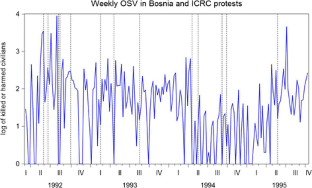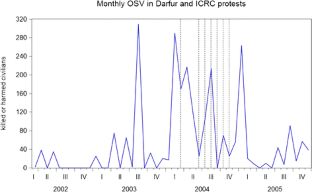 Notes
Subsequent landmark developments in the evolution of the Law of War include the Geneva conventions of 1906, 1929, and 1949 as well as the The Hague (1899, 1907) conventions. Three protocols, which date from 1977 and 2005 respectively, have amended the 1949 Geneva Convention and have led to stronger legal protection of civilian victims of war.

Whether the ICRC is a strictly private or a hybrid international organization is subject to discussion (see Forsythe 2005). Although largely supported by states, since only individuals of Swiss nationality and not states are members with voting rights in the Assembly, the ICRC's main governing body, we refer to it as a non-governmental organization.

Schneider and Bussmann (2013: 635), based on Eck and Hultman (2007) define one-sided violence as "lethal or harmful acts that an organized group, which can be either a rebel organization or government actors, directs against unarmed individuals. The aggression results in the immediate physical harming or death of more than one person."

To protect its delegates, the organization refrained from calling the killings in Rwanda "genocide." Former president Kellenberger (2004: 602) nevertheless insists that the ICRC acted decisively: "It would be hard to conceive of a more dramatic and urgent public appeal to the international community than that of 28 April 1994."

However, a study found no evidence that an international criminal tribunal or domestic human rights trials had any impact on the recurrence of civil war or a country's human rights record (Meernik et al. 2010).

We drop Rwanda from our regressions as an outlier because of its high number of civilian victims but the results are robust if we include it in the tests. We also excluded the observation accounting for 9/11 as this is an event that does not take place in an internal armed conflict setting.

A modified Wald statistic indicated groupwise heteroskedasticity in the residual of the fixed effects model why we conduct our tests with robust standard errors clustered on the state.

Missions are of a temporary nature and sometimes can be only a trip of a Geneva official to a country to establish first contact. Thus, our analyses do not include these missions.

The regional delegations typically attend to several countries in the region but are not necessarily heavily involved in each state. Besides, the yearly reports do not always distinguish very clearly among the various activities of the regional delegation according to target country. Therefore, we only consider the ICRC as active in a country if the regional delegation had its main office there.

All variables extracted from the ICRC annual reports were coded by two independent coders. The correlation for the presence variable was .88, for seminars .66, for participants .73. Divergent cases were individually verified and corrected.

We relied on ICRC press releases (only available for 2004) and news reports of Le Monde (who has a permanent correspondent in Geneva), Le Figaro (from 1990 to 2003), New York Times, and BBC Monitoring (1989).

Condemnations in the first category stand for defensive verbal conflict and summarize statements in which the ICRC uses phrases as reject, protest or deny. The middle category stands for offensive verbal conflict, with the organization accusing, demanding, warning or threatening the warring parties. The most intensive action indicates events in which the organization demonstrated or reduced its relationship in the conflict area in response to the actions taken by the conflict parties.

We describe the coding instructions in a related paper (Schneider and Bussmann 2013), which also includes a discussion of the advantages and disadvantages of using newspaper reports for estimating how intensive the political violence is in a particular conflict.

We only have three observations in our whole sample with zero values, namely Moldova in 1992 and Eritrea in 1997 and 1999 why our tests with the dummy variable for ratification of the GC-IV-1949 will be of limited value only.

All test of robustness can be found in the web appendix.

In these tests the control variables in the model on rebel violence were highly significant underlining the importance of estimating with fixed-effects, which is however problematic in the negative-binomial model as too many observations drop out.

If a country had ratified the GC-IV-1949 already 10 years longer we could observe an increase in the log of OSV by the government of 0.3213 (SE 0.1204) which is, after the exponential transformation, the equivalent of 1.37 more civilian victims killed by the government and 0.0342 (SE 0.2073), or 1.03 more civilians killed by the rebels. Having ratified the additional protocol 10 years earlier would be related to a reduction of 0.1000 (SE 0.1879), or 1.10 fewer killings by government forces and a plus of 0.4676 (SE 0.3944), or 1.59 more civilian victims by rebel forces. Calculations of substantive effects are done with Clarify (Tomz et al. 2003). We had to base the estimation on a pooled model as panel estimation is not supported by Clarify. This did change some of the results of the control variables but not the main conclusions on our results for IHL ratification. However, the findings in columns 2 and 4 were no longer significant.

In different model specifications, e.g., controlling for an indicator variable for whether there was one-sided violence by the government in the previous year, controlling for one-sided violence by the rebel side, or for regime transition and collapse, years since independence, and type of political regime, these findings are robust. The ICRC variables show very similar results if estimated with a negative binomial model.

The 2SLS tests are based on instrumental variable (2sls) estimation using the ivreg2 command with robust standard errors and country dummies that had to be partialled out to have full rank. All additional test with potential instruments are reported in the web appendix.

We lag all independent variables by one year.

The ICRC conducted seminars in slightly more than half of our observations. We also tested the number of military/police personnel that attended these seminars whenever the respective information was provided in the annual reports. The variable was not significant, neither if estimated as an ordinal five-valued scale (with values from 1 to 5 if 1–9, 10–99, 100–999, 1000–9999, or 10,000 and more police and/or military personnel attended the IHL seminars).

Similar results to the ones reported in Table 4 could be obtained in Granger causality tests for series in which we used weekly data for Darfur. We also tested different numbers of lags.
References
Audet, F. (2011). L'acteur humanitaire en crise existentielle : Les défis du nouvel espace humanitaire. Études Internationales, 42(4), 447–472.

Axelrod, R. (1984). The evolution of cooperation. New York: Basic Books.

Balmer, D. (1984). Grünspan. Mensch und Humanität. Zürich: Abedul.

Ben-Tov, A. (1990). Das Rote Kreuz kam zu spät. Zürich: Amman.

Bercovitch, J., & Schneider, G. (2000). Who mediates? The political economy of international conflict management. Journal of Peace Research, 37(2), 145–165.

Branch, A. (2009). Humanitarianism, violence, and the camp in northern Uganda. Civil Wars, 11(4), 477–501.

Bugnion, F. (2000). Le Comité International de la Croix-Rouge et la protection des victimes de la guerre. Geneva: Comité Internationale de la Croix-Rouge.

Cole, W. M. (2012). Human rights as myth and ceremony? Reevaluating the effectiveness of human rights treaties, 1981–2007. American Journal of Sociology, 117(4), 1131–1171.

Correlates of War Project. (2008). State system membership list, v2008.1. http://correlatesofwar.org. Accessed 19 Aug 2015.

Delorenzi, S. (1999). Contending with the impasse in international humanitarian law. Geneva: International Committee of the Red Cross.

DeMeritt, J. H. R. (2012). International organizations and government killing: Does naming and shaming save lives? International Interactions, 38(5), 597–621.

Downes, A. B. (2008). Targeting civilians in war. Ithaca: Cornell University Press.

Eck, K., & Hultman, L. (2007). One-sided violence against civilians in war: Insights from new fatality data. Journal of Peace Research, 44(2), 233–246.

Fast, L. A. (2007). Characteristics, context and risk: NGO insecurity in conflict zones. Disasters, 31(2), 130–154.

Fast, L. A. (2010). Mind the gap: Documenting and explaining violence against aid workers. European Journal of International Relations, 16(3), 365–389.

Favez, J.-C. (1988). Une mission impossible ? Le CICR, les déportations et les camps de concentration nazi. Lausanne: Éditions Payot.

Finnemore, M. (1993). International organization as teachers of norms: The United Nations educational, scientific, and cultural organization and science policy. International Organization, 47(4), 565–597.

Finnemore, M. (1996). National interests in international society. Ithaca, NY: Cornell University Press.

Finnemore, M., & Sikkink, K. (1998). International norm dynamics and political change. International Organization, 52(4), 887–917.

Forsythe, D. P. (2005). The humanitarians: The International Committee of the Red Cross. Cambridge: Cambridge University Press.

Gauri, V. (2011). The cost of complying with human rights treaties: The convention on the rights of the child and basic immunization. Review of International Organizations, 6(1), 33–56.

Gilligan, M. J. (2006). Is enforcement necessary for effectiveness? A model of the international criminal regime. International Organization, 60(4), 935–976.

Gleditsch, N. P., Wallensteen, P., Eriksson, M., Sollenberg, M., & Strand, H. (2002). Armed conflict 1946–2001: A new dataset. Journal of Peace Research, 39(5), 615–637.

Goldstein, J. S. (1992). A conflict-cooperation scale for WEIS events data. Journal of Conflict Resolution, 36(3), 369–385.

Goodman, R., & Jinks, D. (2004). How to influence states: Socialization and international human rights law. Duke Law Journal, 54(3), 621–703.

Hafner-Burton, E. M. (2005). Trading human rights: How preferential trade agreements influence government repression. International Organization, 59(3), 593–629.

Hafner-Burton, E. M. (2008). Sticks and stones: Naming and shaming the human rights enforcement problem. International Organization, 62(4), 689–716.

Hafner-Burton, E. M. (2009). Forced to be good. Why trade agreements boost human rights. Ithaca: Cornell University Press.

Hafner-Burton, E. M., & Tsutsui, K. (2007). Justice lost! The failure of international human rights law to matter where needed most. Journal of Peace Research, 44(4), 407–425.

Hathaway, O. A. (2007). Why do countries commit to human rights treaties? Journal of Conflict Resolution, 51(4), 588–621.

Hendrix, C. S., & Wong, W. H. (2013). When is the pen truly mighty? Regime type and the efficacy of naming and shaming in curbing human rights abuses. British Journal of Political Science, 43(3), 651–672.

Heston, A., Summers, R., & Aten, B. (2009). Penn World Table Version 6.3, Center for International Comparisons of Production, Income and Prices: University of Pennsylvania.

Hultman, L. (2010). Keeping peace or spurring Violence? Unintended effects of peace operations on violence against civilians. Civil Wars, 12(1&2), 29–46.

Hultman, L., Kathman, J., & Shannon, M. (2013). United Nations peacekeeping and civilian protection in civil war. American Journal of Political Science, 57(4), 875–891.

International Committee of the Red Cross (2009). Annual Report 2008. Geneva: ICRC.

Jo, H., & Thomson, C. P. (2014). Legitimacy and compliance with international law: Access to detainees in civil conflicts, 1991–2006. British Journal of Political Science, 44(2), 323–355.

Kalyvas, S. N. (2006). The logic of violence in civil war. Cambridge: Cambridge University Press.

Kellenberger, J. (2004). Speaking out or remaining silent in humanitarian work. Revue Internationale de la Croix Rouge/International Review of the Red Cross, 86(855), 593–609.

Krain, M. (2005). International intervention and the severity of genocides and politicides. International Studies Quarterly, 49(3), 363–387.

Krain, M. (2012). J'accuse! Does naming and shaming perpetrators reduce the severity of genocides or politicides? International Studies Quarterly, 56(3), 574–589.

Ku, C., & Brun, J. C. (2003). Neutrality and the ICRC contribution to contemporary humanitarian operations. International Peacekeeping, 10(1), 56–72.

Kuperman, A. J. (2001). The limits of humanitarian interventions: Genocide in Rwanda. Washington D.C.: Brookings Institution Press.

Kydd, A. (2003). Which side are you on? Bias, credibility and mediation. American Journal of Political Science, 47(4), 597–611.

Kydland, F. E., & Prescott, E. C. (1977). Rules rather than discretion: The inconsistency of optimal plans. The Journal of Political Economy, 85(3), 473–492.

LaPorta, R., Lopez-de-Silanes, F., & Shleifer, A. (2008). The economic consequences of legal origins. Journal of Economic Literature, 46(2), 285–332.

Lütkepohl, H. (2005). New introduction to multiple time series analysis. Berlin: Springer.

Marshall, M. G., & Jaggers, K. (2002). Polity IV dataset. Center for International Development and Conflict Management, University of Maryland.

McCalla, R. B. (1996). NATO's persistence after the Cold War. International Organization, 50(3), 445–475.

Meernik, J., Nichols, A., & King, K. L. (2010). The impact of international tribunals and domestic trials on peace and human rights after civil war. International Studies Perspectives, 11(4), 309–334.

Moravcsik, A. (1995). Explaining international human rights regimes. European Journal of International Relations, 1(2), 157–189.

Morrow, J. D. (2007). When do states follow the laws of war? American Political Science Review, 101(3), 559–572.

Morrow, J. D. (2014). Order within anarchy. The laws of war as an international institution. Cambridge: Cambridge University Press.

Murdie, A. M., & Davis, D. R. (2011). Shaming and blaming: Using event data to assess the impact of human rights in INGOs. International Studies Quarterly, 56(1), 1–16.

Murdie, A., & Peksen, D. (2014). The impact of human rights INGO shaming on humanitarian interventions. Journal of Politics, 76(1), 215–228.

Neumayer, E. (2005). Do international human rights treaties improve respect for human rights? Journal of Conflict Resolution, 49(6), 925–953.

Pierson, P. (2003). Politics in time: history, institutions, and social analysis. Princeton: Princeton University Press.

Risse, T., Ropp, S. C., & Sikkink, K. (Eds.). (1999). The power of human rights. International norms and domestic change. Cambridge: Cambridge University Press.

Schneider, G., & Bussmann, M. (2013). Accounting for the dynamics of one-sided violence: Introducing KOSVED. Journal of Peace Research, 50(5), 635–644.

Schneider, G., Bussmann, M., & Ruhe, C. (2012). The dynamics of mass killings: Testing time-series models of one-sided violence in the Bosnian civil war. International Interactions, 38(4), 443–461.

Simmons, B. A. (2009). Mobilizing for human rights: international law in domestic politics. Cambridge: Cambridge University Press.

Simmons, B. (2010). Treaty compliance and violation. Annual Review of Political Science, 13, 273–296.

Tomz, M., Wittenberg, J., & King, G. (2003). CLARIFY: Software for interpreting and presenting statistical results. Version 2.1. Stanford University, University of Wisconsin, and Harvard University. http://gking.harvard.edu/.

Valentino, B. A. (2004). Final solutions: mass killing and genocide in the 20th century. Ithaca: Cornell University Press.

Valentino, B. A., Huth, P. K., & Croco, S. E. (2010). Bear any burden? How democracies minimize the costs of war. Journal of Politics, 72(2), 528–544.

Weinstein, J. M. (2007). Inside rebellion: the politics of insurgent violence. Cambridge: Cambridge University Press.

Wood, R. M., Kathman, J. D., & Gent, S. E. (2012). Armed intervention and civilian victimization in intrastate conflicts. Journal of Peace Research, 49(5), 647–660.

Young, O. R. (1967). Intermediaries: third parties in international crises. Princeton: Princeton University Press.
Acknowledgments
The article has profited from comments by the audiences at several conferences and seminars. We are especially grateful to Kristin Eck, Erik Gartzke, Michaela Mattes, and Winfried Pohlmeier as well as the editor and two anonymous reviewers for detailed recommendations. We would also like to thank the Deutsche Stiftung Friedensforschung for supporting our research under grant DSF 004/07 and Isabel Schneider, Romy Escher, Sebastian Kuhn, Marina Beielstein, Kristof Lintz, Ivo Sieder and Oliver Neumann for research assistance, and the ICRC for access to its library resources and a discussion with ICRC collaborator Dominique Loye about our results.
Electronic supplementary material
Below is the link to the electronic supplementary material.
About this article
Cite this article
Bussmann, M., Schneider, G. A porous humanitarian shield: The laws of war, the red cross, and the killing of civilians. Rev Int Organ 11, 337–359 (2016). https://doi.org/10.1007/s11558-015-9233-9
Published:

Issue Date:

DOI: https://doi.org/10.1007/s11558-015-9233-9
Keywords
Civil war

Laws of war

Geneva conventions

International Committee of the Red Cross

One-sided violence

Compliance