Abstract
While international cooperation research emphasizes institutional design, states mostly interact with existing organizations. How do states choose organizations for cooperation? We develop a theory of agency choice for development projects, emphasizing the importance of domestic institutions, the scope of cooperation, and the resources of the implementing agency. If states are to cooperate with funding agencies that have abundant resources, such as the World Bank, they must accept more stringent conditions on project implementation. We argue states accept the stringent conditions that resourceful organizations demand if the public goods from project implementation are highly valuable. Empirically, this is the case for democratic states, large projects, and projects that produce national instead of global public goods. We test this theory using data on 2,882 Global Environment Facility (GEF) projects, 1991–2011. The GEF offers an ideal case because various implementing agencies are responsible for the actual projects. States implement projects in collaboration with the World Bank, which has the most expertise and resources among the GEF's implementing agencies, if their regime type is democracy, the project size is large, and the benefits are primarily national. Qualitative evidence sheds light on causal mechanisms.
Access options
Buy single article
Instant access to the full article PDF.
US$ 39.95
Tax calculation will be finalised during checkout.
Subscribe to journal
Immediate online access to all issues from 2019. Subscription will auto renew annually.
US$ 79
Tax calculation will be finalised during checkout.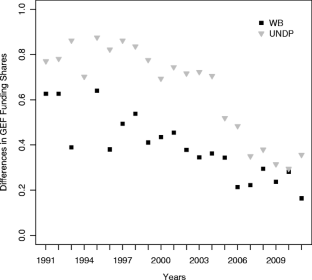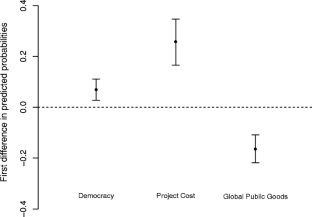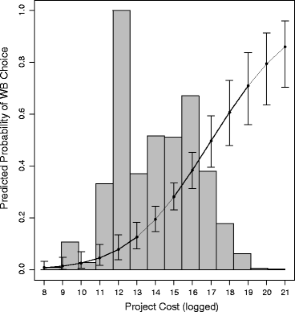 Notes
1.

Originally, all GEF projects were implemented by one or a combination of three executing agencies: the UNDP, the United Nations Environment Programme (UNEP), and the WB. As of 2012, there are ten such agencies, including a number of additional UN agencies and regional development banks.

2.

Based on a coding of 50 random GEF projects, we ascertain in the Online Appendix available on the journal's webpage that GEF agencies contribute on average about 19 % of project funds, confirming that financial resources are one of the most important contributions that funding agencies bring to the table. Funding from other sources, such as private capital (12 %), NGOs (2 %), or other concessionary, non-recipient funding (5 %), is more limited.

3.

4.

5.

Occasionally, an additional agency is assigned to assist implementation. The GEF's description of comparative advantages suggests that policy intervention is important in selecting a primary agency; focal area expertise, where it exists, is listed second.

6.

7.

In terms of AidData Environment, our indicator is set to 1 if a project is coded either "environmental strictly defined — green" or "environmental broadly defined — green." Our indicator is set to 0 if a project is coded "environmental strictly defined — brown," "environmental broadly defined — brown," "neutral," "dirty strictly defined," or "dirty broadly defined."

8.

In checking the robustness of our results, we also estimate random effects probit regressions. Our findings are robust to this specification; we present complete results in the Online Appendix.

9.

As Fig. 1 shows, while partnering with the UNDP has been consistently less costly than cooperating with the WB, the difference shrank somewhat following the GEF's adoption of the RAF.

10.

We estimate both standard OLS and weighted regressions modeling each country's variance as the inverse of the number of GEF projects. Both robustness tests validate the hypotheses.

11.

Multiplicative interaction effects are not necessarily needed in non-linear models to account for non-linear effects. As suggested by Berry et al. (2010) we implemented likelihood ratio tests to check if the inclusion of interaction effects is warranted. Further details can be found in the Online Appendix.

12.

The interview questionnaire and additional details on the interview process can be found in the Online Appendix.

13.

For 1,000 draws from a multivariate normal based on model (1), we find a mean effect of -9 percentage points (-3 and -14 percentage points as lower and upper confidence bounds, respectively) for a change from local to global public goods. The mean effect for increases in total project costs by one standard deviation above the mean is 17 percentage points, with 12 and 23 percentage points as the lower and upper end of the 95 % confidence interval. The substantive effects for a change from an autocratic to a democratic regime type are weakest in absolute value, with an average increase of only 4 percentage points and a confidence interval ranging from 1 to 8 percentage points.
References
Ai, C., & Norton, E.C. (2003). Interaction terms in logit and probit models. Economics Letters, 80(1), 123–129.

Barbut, M. (2012). Telephone interview with the CEO of the Global Environment Facility. September 2012.

Barrett, S. (2003). Environment and statecraft: the strategy of environmental treaty-making. Oxford: Oxford University Press.

Bayer, P., Marcoux, C., Urpelainen, J. (2013). Leveraging private capital for climate mitigation: evidence from the Clean Development Mechanism. Ecological Economics, 96, 14–24.

Berry, W.D., DeMeritt, J.H.R., Esarey, J. (2010). Testing for interaction in binary logit and probit models: is a product term essential?American Journal of Political Science, 54(1), 248–266.

Brambor, T., Clark, W.R., Golder, M. (2006). Understanding interaction models: improving empirical analyses. Political Analysis, 14(1), 63–82.

Bueno de Mesquita, B., Smith, A., Siverson, R.M., Morrow, J.D. (2003). The logic of political survival. Cambridge: MIT Press.

Busch, M.L. (2007). Overlapping institutions, forum shopping, and dispute settlement in international trade. International Organization, 61(4), 735–761.

Carter, D.B., & Signorino, C.S. (2010). Back to the future: modeling time dependence in binary data. Political Analysis, 18(3), 271–292.

Cheibub, J. A., Gandhi, J., Vreeland, J. R. (2010). Democracy and dictatorship revisited. Public Choice, 143(1-2), 67–101.

Clémençon, R. (2006). What future for the Global Environment Facility? Journal of Environment and Development, 15(1), 50–74.

Dahl, R.A. (1967). Pluralist democracy in the United States: conflict and consent. Chicago: Rand McNally.

Dreher, A. (2009). IMF conditionality: theory and evidence. Public Choice, 141(1–2), 233–267.

Dreher, A., Sturm, J.-E., Vreeland, J.R. (2009). Development aid and international politics: does membership on the UN Security Council influence World Bank decisions? Journal of Development Economics, 88(1), 1–18.

Fleck, R.K., & Kilby, C. (2006). World Bank independence: a model and statistical analysis of US influence. Review of Development Economics, 10(2), 224–240.

GEF (2007). Comparative advantages of the GEF agencies. http://www.thegef.org/gef/node/427. Accessed 30 Sept 2012.

Grossman, G.M., & Helpman, E. (1994). Protection for sale. American Economic Review, 84(4), 833–850.

Helfer, L.R. (2004). Regime shifting: the TRIPs agreement and new dynamics of international intellectual property lawmaking. Yale Journal of International Law, 29, 1–83.

Hicks, R.L., Parks, B.C., Roberts, J.T., Tierney, M.J. (2008). Greening aid? understanding the environmental impact of development assistance. New York: Oxford University Press.

Hofmann, S.C. (2011). Why institutional overlap matters: CSDP in the European security architecture. Journal of Common Market Studies, 49(1), 101–120.

Humphrey, C., & Michaelowa, K. (2013). Shopping for development: multilateral lending, shareholder composition and borrower preferences. World Development, 44, 142–155.

Johnson, T., & Urpelainen, J. (2012). A strategic theory of regime integration and separation. International Organization, 66(4), 645–677.

Jupille, J., Mattli, W., Snidal, D. (2013). Institutional choice in global commerce. New York: Cambridge University Press.

Jupille, J., & Snidal, D. (2006). The choice of international institutions: cooperation alternatives and strategies. Working Paper, University of Colorado at Boulder and University of Chicago.

Kaja, A., & Werker, E. (2010). Corporate governance at the World Bank and the dilemma of global governance. World Bank Economic Review, 24(2), 171–198.

Keohane, R.O., & Victor, D.G. (2011). The regime complex for climate change. Perspectives on Politics, 9(1), 7–23.

Kilby, C. (2009). The political economy of conditionality: an empirical analysis of World Bank loan disbursements. Journal of Development Economics, 89(1), 51–61.

King, G., Tomz, M., Wittenberg, J. (2000). Making the most of statistical analyses: improving interpretation and presentation. American Journal of Political Science, 44(2), 341–355.

Lyne, M.M., Nielson, D.L., Tierney, M.J. (2009). Controlling coalitions: social lending at the multilateral development banks. Review of International Organizations, 4(4), 407–433.

Meyer, J.W., Boli, J., Thomas, G.M., Ramirez, F.O. (1997). World society and the nation-state. American Journal of Sociology, 103(1), 144–181.

Milner, H.V. (2006). Why multilateralism? foreign aid and domestic principal-agent problems. In D.G. Hawkins, D.A. Lake, D.L. Nielson, M.J. Tierney (Eds.), Delegation and agency in international organizations. New York: Cambridge University Press.

Nielson, D.L., & Tierney, M.J. (2003). Delegation to international organizations: agency theory and World Bank Environmental Reform. International Organization, 57(2), 241–276.

Olson, M. (1982). The rise and decline of nations: economic growth, stagflation, and social rigidities. New Haven: Yale University Press.

Pevehouse, J., Nordstrom, T., Warnke, K. (2004). The Correlates of War 2 international governmental organizations data version 2.0. Conflict Management and Peace Science, 21(2), 101–119.

Rodrik, D. (1995). Why is there multilateral lending? NBER Working Paper 5160.

Sharma, S.D. (1996). Building effective international environmental regimes: the case of the Global Environment Facility. Journal of Environment and Development, 5(1), 73–86.

Stigler, G.J. (1972). Economic competition and political competition. Public Choice, 13(1), 91–106.

Stone, R.W. (2008). The scope of IMF conditionality. International Organization, 62(4), 589–620.

Stone, R.W. (2011). Controlling institutions: international organizations and the global economy. New York: Cambridge University Press.

Sykes, A.O. (2008). Transnational forum shopping as a trade and investment issue. Journal of Legal Studies, 37(2), 339–378.

Tendler, J. (1975). Inside foreign aid. Baltimore: Johns Hopkins University Press.

Truman, D. (1951). The governmental process: political interests and public opinion. New York: Knopf.

Vreeland, J.R. (2003). The IMF and economic development. New York: Cambridge University Press.

Winters, M.S. (2010). Choosing to target: what types of countries get different types of World Bank projects. World Politics, 62(3), 422–458.

Wintrobe, R. (1998). The political economy of dictatorship. New York: Cambridge University Press.

Wittman, D.A. (1995). The myth of democratic failure: why political institutions are efficient. Chicago: University of Chicago Press.

World Bank (2006). Policy conditions in World Bank investment lending. Operations Policy and Country Services. http://www-wds.worldbank.org/external/default/WDSContentServer/IW3P/IB/2006/08/03/000090341_20060803094631/Rendered/PDF/36924.pdf. Accessed 30 Sept 2012.
Acknowledgments
An earlier version of this paper was presented at the 6th Political Economy of International Organizations Conference, held at the Universities of Mannheim and Heidelberg, February 7–9, 2013. We thank all conference participants for their comments and are particularly indebted to Katharina Michaelowa, Ulrich Wagner, Axel Dreher, and three anonymous reviewers for their helpful feedback.
Electronic supplementary material
Below is the link to the electronic supplementary material.
About this article
Cite this article
Bayer, P., Marcoux, C. & Urpelainen, J. Choosing international organizations: When do states and the World Bank collaborate on environmental projects?. Rev Int Organ 9, 413–440 (2014). https://doi.org/10.1007/s11558-013-9184-y
Keywords
International organizations

International cooperation

Foreign aid

Environment

Donor-recipient interactions

Global Environment Facility
JEL Classifications