Abstract
We examined the effects of International Monetary Fund (IMF) supervised programs on changes in government respect for physical integrity rights in developing countries between 1981 and 2003. A longer period under an IMF program increased government use of torture and extra judicial killing and also worsened the overall human rights conditions in developing countries. The use of a two-stage model ruled out the possibility that human rights practices would have worsened even if IMF programs had not been in effect. Previous studies of the impacts of IMF programs also found that they had worsened government respect for human rights. However, those studies did not control for the effects of selection. We found preliminary evidence that the worsened human rights conditions persisted even after the reforms in program lending of the late 1990s.
Access options
Buy single article
Instant access to the full article PDF.
US$ 39.95
Tax calculation will be finalised during checkout.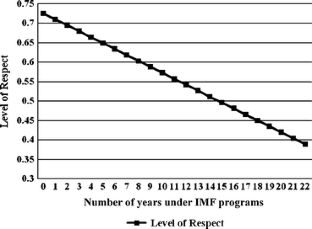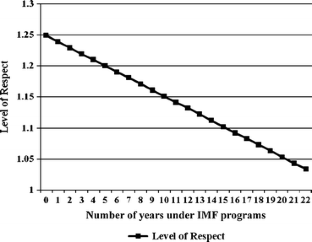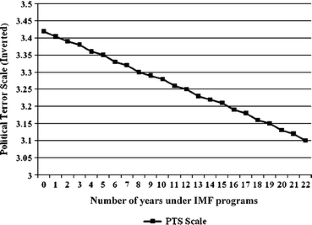 Notes
1.

The ESAF was renamed to the Poverty Reduction and Growth Facility (PRGF) in 1999.

2.

We include all four different types of IMF facilities.

3.

The formal mission of the World Bank, when it was first established as a UN agency, was to address issues of economic development, while the IMF was to focus on helping to correct balance of payments problems. Since 1980, the missions of the two international financial institutions have become more similar, and there is increasing cooperation between them in developing country-specific strategies to promote economic development (Abouharb and Cingranelli 2007; Blackmon 2008; Jayarajah et al. 1996).

4.

IMF program lending had no effect on the frequency of a government's use of political imprisonment or disappearances.

5.

Some scholars have argued that a weak state is necessary for the protection of physical integrity rights. According to this view, a relatively limited government is fundamental to all human freedoms. Limited government reduces barriers to the functioning of the free market, allowing human beings to pursue their own interests in their own ways and allowing them to pursue opportunities that are likely to be lost if human freedom is restricted (Friedman 1962; Hayek 1984). With regard to the physical integrity human rights examined here, Cranston (1964) has argued that respect for these rights only requires forbearance on the part of the state.

6.

7.

For a more nuanced view, see Abouharb and Cingranelli (2007).

8.

Subsequently, the HIPC was strengthened and renamed "the Enhanced HIPC Initiative" (Blackmon 2008).

9.

10.

See for example the findings of Landman (2005).

11.

Note that the value of numbers of years under IMF programs maximizes at 22 rather than 23 because we exclude the first year a government enters into a program unless it is already under conditionality from a previous loan.

12.

These are available from the authors upon request.

13.

These results are available as a web appendix on the Review of International Organization's website.
References
Abouharb, M. R., & Cingranelli, D. (2006). The human rights effects of World Bank structural adjustment lending, 1981–2000. International Studies Quarterly, 50(2), 233–262.

Abouharb, M. R., & Cingranelli, D. (2007). Human rights and structural adjustment: The impact of the IMF and World Bank. New York: Cambridge University Press.

Achen, C. H. (1986). The statistical analysis of quasi experiments. Berkley: University of California Press.

Alexander, N. (2006). The IMF and the World Bank Group: An overview of selected financial and accountability issues. Citizens' Network on Essential Services. http://www.servicesforall.org.

Banks, A. S. (2002). Cross-national time-series data archive [computer file]. Binghamton, NY: Computer Solutions Unlimited.

Bird, G., & Willett, T. (2004). IMF conditionality, implementation and the new political economy of ownership. Comparative Economic Studies, 46(3), 423–450.

Blackmon, P. (2008). Rethinking Poverty through the Eyes of the International Monetary Fund and the World Bank. International Studies Review, 10, 179–202.

Capdevila, G. (2001). IMF not taking into account human rights issues. Global Policy Forum. http://www.globalpolicy.org. Accessed 13 August 2007.

Callaghy, T. (1990). Lost between state and market: The politics of economic adjustment in Ghana, Zambia, and Nigeria. In: J. Nelson (Ed.), Economic crisis and policy choice: The politics of adjustment in the third world (pp. 257–319). Princeton: Princeton University Press.

Cingranelli, D. L., & Richards, D. L. (1999a). Measuring the level, pattern, and sequence of government respect for physical integrity rights. International Studies Quarterly, 43(2), 407–418.

Cingranelli, D. L., & Richards, D. L. (1999b). Respect for human rights after the end of the Cold War. Journal of Peace Research, 36(5), 511–534.

Cingranelli, D. L., & Richards, D. L. (2004). The Cingranelli-Richards (CIRI) human rights data project. http://www.humanrightsdata.com.

Commonwealth Secretariat (1989). Engendering adjustment for the 1990s: Report of a Commonwealth expert group on women and structural adjustment. London: Commonwealth Secretariat.

Collier, D. (1991). The comparative method: Two decades of change. In: D. Rustow, & K. Erickson (Eds.), Comparative political dynamics: Global research perspectives (pp. 7–31). New York: Harper Collins.

Collier, P. (2003). Natural Resources, Development and Conflict: Channels of causation and Policy Interventions, World Bank.

Cranston, M. (1964). What are human rights?. New York: Basic Books.

Davenport, C., & Armstrong II, D. A. (2004). Democracy and the violation of human rights: A statistical analysis from 1976–1996. American Journal of Political Science, 48(3), 538–554.

Davies, J. C. (1969). The J-Curve of rising and declining satisfactions as cause of some great revolutions and a contained rebellion. In H. D. Graham, & T. R. Gurr (Eds.), Violence in America: Historical and comparative perspectives (pp. 547–576). Washington, DC, National Commission on the Causes and Prevention of Violence: U.S. Government Printing Office.

Davidson, J. (2002). Overcoming resistance to change. Public Management, 84(11), 20–23.

Dollar, D., & Svensson, J. (2000). What explains the success or failure of structural adjustment programmes? The Economic Journal, 110, 894–917.

Donnelly, J. (2003). Universal human rights in theory and practice. 2nd ed. Ithaca, NY: Cornell University Press.

Dreher, A. (2006). IMF and economic growth: The effects of programs, loans, and compliance with conditionality. World Development, 34(5), 769–788.

Dreher, A., & Jensen, N. M. (2007). Independent actor or agent? An empirical analysis of the impact of US interests on IMF conditions. The Journal of Law and Economics, 50(1), 105–124.

Feierabend, I. K., & Feierabend, R. L. (1966). Aggressive behavior within polities 1948–1962: a cross-national study. Journal of Conflict Resolution, 10, 249–271.

Franklin, J. (1997). IMF conditionality, threat perception, and political repression: A cross-national analysis. Comparative Political Studies, 30, 576–606.

Friedman, M. (1962). Capitalism and Freedom. Chicago, IL: University of Chicago Press.

Gibney, M., & Dalton, M. (1996). The political terror scale. In Human rights and developing countries (pp. 124–156). Greenwich, CT: JAI Press.

Gibney, M., Cornett, L., & Wood, R. (2007). Political Terror Scale 1976–2006. Data Retrieved from the Political Terror Scale Web site: http://www.politicalterrorscale.org/.

Gleditsch, N. P., Wallensteen, P., Eriksson, M., Sollenberg, M., & Håvard, S. (2002). Armed conflict 1946–2001: a new dataset. Journal of Peace Research, 39, (5), 615–637 http://www.prio.no/jpr/datasets.asp.

Gurr, T. R. (1968). Psychological Factors in Civil Violence. World Politics, 20(2), 245–278.

Haggard, S. (1995). Democracy and economic growth. In Structural adjustment: Retrospect and prospect (pp. 199–219). Wesport, CT: Praeger Publishers.

Hayek, F. A. (1984). Principles and expedience. In The essence of Hayek pp. 299–317. Stanford, CA: Hoover Institution Press.

Heckman, J. J. (1988). The microeconomic evaluation of social programs and economic institutions. In Chung-Hua Series of Lectures by Invited Eminent Economists. No. 14. Taipei: The Institute of Economics Academia Sinica.

Hensel, P. (2006). ICOW Colonial History Data Set. Version 0.4. Released 13 June 2006 http://garnet.acns.fsu.edu/~phensel/icowdata.html#colonies.

Isham, J., Kaufman, D., & Pritchett, L. H. (1997). Civil liberties, democracy, and the performance of government projects. World Bank Economic Review, 11(2), 219–42.

Jayarajah, C. A. B., Branson, W. H., Sen, B. (1996). The social dimensions of adjustment: International Monetary Fund experience, 1980–1993. An International Monetary Fund Operations Evaluation Study.

Joyce, J. P. (1992). The economic characteristics of IMF program countries. Economics Letters, 38, 237–242.

Kaufman, D. (2004). Human rights and governance: The empirical challenge. Paper presented at a conference co-sponsored by the Ethical Globalization Initiative and the NYU Center for Human Rights and Global Justice. New York City: New York University March 1.

Keith, L. C., & Poe, S. C. (2000). The United States, the IMF, and human rights. In: D. F. Forsythe (Ed.), The United States and human rights (pp. 273–299). Lincoln, NE: University of Nebraska Press.

Kienle, E. (2001). A Grand Delusion: Democracy and Economic Reform in Egypt. London: I. B. Tauris.

Killick, T. (1996). IMF programmes in developing countries: Design and impact. London: Overseas Development Institute.

Landman, T. (2005). Protecting human rights: A comparative study. Washington, DC: Georgetown University Press.

Leite, S. P. (2001). Human rights and the IMF. Finance and Development, 38(4). http://www.imf.org.

McCormick, J., & Mitchell, N. (1997). Human rights violations, umbrella concepts, and empirical analysis. World Politics, 49(4), 510–525.

McLaren, L. M. (1998). The effect of IMF austerity programs on human rights violations: An exploratory analysis of Peru, Argentina, and Brazil. Paper presented at the 1998 Meeting of the Midwest Political Science Association.

Mitchell, N., & McCormack, J. (1988). Economic and political explanations of human rights violations. World Politics, 40(4), 176–198.

Moore, M. (1998). Death without taxes: Democracy, state capacity, and aid dependence in the fourth world. In M. Robinson, & G. White (Eds.), The Democratic Developmental State: Politics and Institutional Design. Oxford: Oxford University Press.

Moore, M. (2007). How Does Taxation Affect the Quality of Governance? Working Paper 280. Institute of Development Studies. University of Sussex: UK.

Pettifor, A. (2001). Global economic justice: Human rights for debtor nations. Journal of Human Development, 2(1), 47–51.

Pion-Berlin, D. (1983). Political repression and economic doctrines. Comparative Political Studies, 16, 37–66.

Pion-Berlin, D. (1984). The political economy of state repression in Argentina. In M. Stohl, & G. A. Lopez (Eds.), The state as terrorist: The dynamics of governmental violence and repression (pp. 99–123). Westport, CT: Greenwood.

Pion-Berlin, D. (1989). The ideology of state terror: Economic doctrine and political repression in Argentina and Peru. Boulder, CO: Lynne Rienner.

Pion-Berlin, D. (1991). Between confrontation and accommodation: Military and government policy in democratic Argentina. Journal of Latin American Studies, 23, 543–566.

Poe, S. C., & Tate, C. N. (1994). Repression of physical integrity in the 1980s: a global analysis. American Political Science Review, 88(4), 853–872.

Poe, S. C., Tate, C. N., & Keith, L. C. (1999). Repression of the human right to physical integrity revisited: A global cross-national study covering the years 1976–1993. International Studies Quarterly, 43, 291–313.

Policzer, P. (2004). How organizations shape human rights violations. In: S. C. Carey, & S. C. Poe (Eds.), Understanding human rights violations (pp. 221–238). Burlington, VT: Ashgate.

Przeworski, A., & Vreeland, J. R. (2000). The effects of IMF programs on economic growth. The Journal of Development Economics, 62, 385–421.

Sen, A. (1999). Development as freedom. New York: Anchor Books.

Stiglitz, J. (2002). Globalization and its discontents. New York: WW Norton.

Stone, R. (2004). The political economy of IMF lending in Africa. American Political Science Review, 98(4), 577–592.

Structural Adjustment Participatory Review International Network (SAPRIN) (2004). Structural adjustment: The SAPRI report. London: Zed Books.

Van de Walle, N. (2001). African economies and the politics of permanent crisis, 1979–1999. Cambridge: Cambridge University Press.

Vreeland, J. R. (2002). The effect of IMF programs on labor. World Development, 30(1), 21–139.

Vreeland, J. R. (2003). The IMF and economic development. Cambridge: Cambridge University Press.

World Bank (1998). Development and human rights: The role of the world bank. Washington, D.C.: World Bank.

World Bank (2005). Human rights. FAQs. http://web.worldbank.org/
Acknowledgements
We would like to thank David Clark, Axel Dreher, David Sobek, Randall Stone and James Vreeland for their comments on earlier versions of this manuscript. This research was supported by a grant (No.SES-0318273) from the Political Science Division of the National Science Foundation.
Electronic Supplementary Material
Below is the link to the electronic supplementary material
About this article
Cite this article
Abouharb, M.R., Cingranelli, D.L. IMF programs and human rights, 1981–2003. Rev Int Organ 4, 47 (2009). https://doi.org/10.1007/s11558-008-9050-5
Received:

Revised:

Accepted:

Published:
Keywords
International Monetary Fund

Conditionality

Human rights

Physical integrity rights
JEL Codes