Abstract
Cintractia (Anthracoideaceae, Ustilaginomycotina) is a widespread genus of smut fungi that parasitizes species of Cyperaceae. Specimens of Cintractia spp. on species of Cyperus s. lat. were examined to resolve their taxonomy, including a species on Cyperus aromaticus, which is an invasive weed in Australia. A phylogenetic species concept was used to show that Cintractia limitata s. lat. contains three different species, Cintractia limitata, C. tangensis, and a new species C. kyllingae. The proposed taxonomy is based on phylogenetic analyses of the ITS rDNA region and on the position of the sori in diverse parts of inflorescences examined in approximately 100 specimens of Cintractia. A morphological synapomorphy in C. tangensis is sori with firmly agglutinated spore masses around the base of the peduncles, rarely in the spikelets. Cintractia limitata forms powdery spore masses between flowers and is known only to occur on Cyperus species with spikelets in capitate heads. Cintractia kyllingae was found on Cy. aromaticus and may have potential as a biological control agent in Australia.
This is a preview of subscription content,
to check access.
Access this article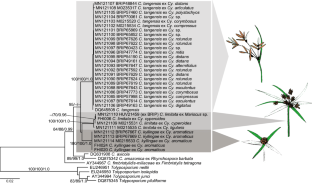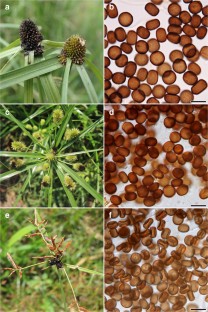 Data availability
Sequence data have been deposited in GenBank.
References
Barreto RW, Evans HC (1995) Mycobiota of the weed Cyperus rotundus in the state of Rio de Janerio, with an elucidation of its associated Puccinia complex. Mycol Res 99:407–419. https://doi.org/10.1016/S0953-7562(09)80638-2

Bauters K, Larridon I, Reynders M, Huygh W, Asselman P, Vrijdaghs A, Muasya AM, Goetghebeur P (2014) A new classification for Lipocarpha and Volkiella as infrageneric taxa of Cyperus (Cypereae, Cyperoideae, Cyperaceae): insights from species tree reconstruction supplemented with morphological and floral developmental data. Phytotaxa 166:1–32. https://doi.org/10.11646/phytotaxa.166.1.1

Begerow D, Stoll M, Bauer R (2006) A phylogenetic hypothesis of Ustilaginomycotina based on multiple gene analyses and morphological data. Mycologia 98:906–916. https://doi.org. https://doi.org/10.1080/15572536.2006.11832620

Berkeley MJ (1852) Enumeration of some fungi from St. Domingo Annals and Magazine of Natural History 9:192–200

Clinton GP (1902) North American Ustilagineae. J Mycol 8:128–156

Clinton GP (1904) North American Ustilagineae. Proceedings of the Boston Society for Natural History 31:329–529

Denchev CM, Denchev TT (2012) New records of smut fungi. 6. Mycotaxon 121:215–223

Guo L (2000) Flora Fungorum Sinicorum, vol 12. Science Press, Beijing, China, Ustilaginaceae

Hennings P (1905) Fungi Africae orientalis. IV Bot Jb 38:102–118

Holm LG, Plucknett DL, Pancho JV, Herberger JP (1977) The world's worst weeds: distribution and biology. University Press of Hawaii, East-West Center

Katoh K, Standley DM (2013) MAFFT multiple sequence alignment software version 7: improvements in performance and usability. Mol Biol Evol 30:772–780. https://doi.org/10.1093/molbev/mst010

Kruse J, Choi Y, Thines M (2017) New smut-specific primers for the ITS barcoding of Ustilaginomycotina. Mycol Progress 16:213–221. https://doi.org/10.1007/s11557-016-1265-x

Kruse J, Dietrich W, Zimmermann H, Klenke F, Richter U, Richter H, Thines M (2018) Ustilago species causing leaf-stripe smut revisited. IMA Fungus:49–73. https://doi.org/10.5598/imafungus.2018.09.01.05

Kumar S, Stecher G, Tamura K (2016) MEGA7: molecular evolutionary genetics analysis version 7.0 for bigger datasets. Mol Biol Evol 33:1807–1874. https://doi.org/10.1093/molbev/msw054

Larridon I, Reynders M, Huygh W, Bauters K, Putte K, Muasya AM, Boeckx P, Simpson D, Vrijdaghs A, Goetghebeur P (2011) Affinities in C3 Cyperus lineages (Cyperaceae) revealed using molecular phylogenetic data and carbon isotope analysis. Bot J Linn Soc 167:19–46. https://doi.org/10.1111/j.1095-8339.2011.01160.x

Larridon I, Bauters K, Reynders HW, Muasya AM, Simpson DA, Goetghebeur P (2013) Towards a new classification of the giant paraphyletic genus Cyperus (Cyperaceae): phylogenetic relationships and generic delimitation in C4 Cyperus. Bot J Linn Soc 172:106–126. https://doi.org/10.1111/boj.12020

Larridon I, Bauters K, Reynders M, Huygh W, Goetghebeur P (2014) Taxonomic changes in C4 Cyperus (Cypereae, Cyperoideae, Cyperaceae): combining the sedge genera Ascolepis, Kyllinga and Pycreus into Cyperus s.l. Phytotaxa 166:33–48. https://doi.org/10.11646/phytotaxa.166.1.2

Ling L (1950) Studies in the genus Cintractia. II C axicola and related species. Mycologia 42:646–653

Matheny PB, Gossman JA, Zalar P, Arun Kumar TK, Hibbett DS (2006) Resolving the phylogenetic position of the Wallemiomycetes: an enigmatic major lineage of Basidiomycota. Can J Bot 84:1794–1805

Muasya AM, Simpson DA, Chase MW (2002) Phylogenetic relationships in Cyperus L. s.l. (Cyperaceae) inferred from plastid DNA sequence data. Bot J Linn Soc 138:145–153. https://doi.org/10.1046/j.1095-8339.2002.138002145.x

Piątek M (2012) The identity of Cintractia disciformis: reclassification and synonymy of a southern Asian smut parasitic on Carex sect. Aulocystis. IMA Fungus 3:39–43. https://doi.org/10.5598/imafungus.2012.03.01.05

Piątek M (2013) The identity of Cintractia carpophila var. kenaica: reclassification of a North American smut on Carex micropoda as a distinct species of Anthracoidea. IMA Fungus 4:103–109. https://doi.org/10.5598/imafungus.2013.04.01.10

Piepenbring M (1995) Trichocintractia, a new genus for Cintractiautriculosa (Ustilaginales). Can J Bot 73:1089–1096

Piepenbring M (2000) The species of Cintractia s.l. (Ustilaginales, Basidiomycota). Nova Hedwigia 70:289–372

Piepenbring M, Begerow D, Oberwinkler F (1999) Molecular sequence data assess the value of morphological characteristics for a phylogenetic classification of species of Cintractia. Mycologia 91:485–498

Reid C, Carter R, Urbatsch L (2014) Phylogenetic insights into New World Cyperus (Cyperaceae) using nuclear ITS sequences. Brittonia 66:292–305. https://doi.org/10.1007/s12228-014-9324-6

Reid C, Doyle V, Carter J, Vargas-Rodriguez Y, Urbatsch L (2017) Molecular systematics of targeted flat sedges (Cyperus, Cyperaceae) of the Americas. Plant Ecol Evol 150:343–357. https://doi.org/10.5091/plecevo.2017.1262

Ronquist F, Huelsenbeck JP (2003) MrBayes: Bayesian phylogenetic inference under mixed models. Bioinformatics 19:1572–1574. https://doi.org/10.1093/bioinformatics/btg180

Shivas RG, Beasley DR, McTaggart AR (2014) Online identification guides for Australian smut fungi (Ustilaginomycotina) and rust fungi (Pucciniales). IMA Fungus 5:195–202. https://doi.org/10.5598/imafungus.2014.05.02.03

Stamatakis A (2014) RAxML version 8: a tool for phylogenetic analysis and post-analysis of large phylogenies. Bioinformatics 30:1312–1313. https://doi.org/10.1093/bioinformatics/btu033

Stoll M, Piepenbring M, Begerow D, Oberwinkler F (2003) Molecular phylogeny of Ustilago and Sporisorium species (Basidiomycota, Ustilaginales) based on internal transcribed spacer (ITS) sequences. Can J Bot 81:976–984

Tai FL (1979) Sylloge Fungorum Sinicorum. Science Press, Beijing, China

Vánky K (2004) Pilocintractia gen. nov. (Ustilaginomycetes). Mycol Balc 1:169–174

Vánky K (2007) Smut fungi of the Indian subcontinent. Polish Botanical Studies 26:3–265

Vánky K (2012) The smut fungi of the world. APS Press, St Paul, Minnesota, USA

Vánky K, Lutz M (2008) The generic position of Schizonella isolepidis. In: Vánky K (Ed.) Taxonomic studies on Ustilaginomycetes - 28. Mycotaxon 106:155–157

Vánky K, Shivas RG (2008) Fungi of Australia. CSIRO Publishing, Melbourne, Australia, The smut fungi

Vánky K, Vánky C (2002) An annotated checklist of Ustilaginomycetes in Malawi, Zambia and Zimbabwe. Lidia 5:157–176

Vánky K, Vánky C, Denchev CM (2011) Smut fungi in Africa – a checklist. Mycol Balc 8:1–77

Vitelli JS, Madigan BA, van Haaren PE (2010) Control techniques and management strategies for the problematic Navua sedge (Cyperus aromaticus). Invas Plant Sci Mana 3:315–326. https://doi.org/10.1614/IPSM-D-09-00036.1

Wang QM, Begerow D, Groenewald M, Li X-Z, Theelen B, Bai F-Y, Boekhout T (2015) Multigene phylogeny and taxonomic revision of yeasts and related fungi in the Ustilaginomycotina. Stud Mycol 81:55–83. https://doi.org/10.1016/j.simyco.2015.10.004
Acknowledgments
The authors wish to thank Prof. Dr. Meike Piepenbring for providing images of Cintractia spp. on Cyperus rotundus and Cyperus cyperoides in the field. Marjan Shivas is thanked for collecting specimens. Permits for the collection and export of specimens from Africa were obtained from the National Museums of Kenya, the Forestry Research Institute, Ibadan, Nigeria, and the Commission for Science and Technology, Tanzania.
Funding
This project was supported by the AgriFutures Australia (formerly Rural Industries Research and Development Corporation), through funding from the Australian Government Department of Agriculture, Water and the Environment as part of its Rural Research and Development for Profit Program and the Queensland Department of Agriculture and Fisheries.
Ethics declarations
Conflict of interest
The authors declare that there is no conflict of interest.
Additional information
Section Editor: Dominik Begerow
Publisher's note
Springer Nature remains neutral with regard to jurisdictional claims in published maps and institutional affiliations.
About this article
Cite this article
Kruse, J., McTaggart, A.R., Dhileepan, K. et al. Broad and narrow host ranges in resolved species of Cintractia limitata s. lat. (Anthracoideaceae, Ustilaginomycotina) on Cyperus. Mycol Progress 20, 191–201 (2021). https://doi.org/10.1007/s11557-020-01664-7
Received:

Revised:

Accepted:

Published:

Issue Date:

DOI: https://doi.org/10.1007/s11557-020-01664-7
Keywords