Abstract
This paper describes and illustrates five species of Helicosporium sensu lato, which represents the partial result of an investigation of fungal diversity associated with submerged wood and decaying culms of Miscanthus floridulus (Poaceae) from freshwater streams in Alishan area, Chiayi County, Taiwan, which was carried out during the years 2016 and 2017. Neohelicomyces longisetosus sp. nov. and Helicosporium flavidum sp. nov. are described and illustrated; the former is proposed based on molecular and morphological data, whereas the latter is based on morphology only. Pseudohelicomyces talbotii, a new record for Taiwan, is renamed as Parahelicomyces talbotii because the former genus was a homonym and thus illegitimate. The other six illegitimate Pseudohelicomyces species are transferred to Parahelicomyces as new combinations. Two other species, namely Acanthohelicospora guianensis and Neohelicosporium sympodiophorum, are also new records for Taiwan. A taxonomic key to Helicosporium sensu stricto is provided. Current generic circumscription of helicosporous taxa based on phylogeny is briefly discussed.
Access options
Buy single article
Instant access to the full article PDF.
US$ 39.95
Tax calculation will be finalised during checkout.
Subscribe to journal
Immediate online access to all issues from 2019. Subscription will auto renew annually.
US$ 79
Tax calculation will be finalised during checkout.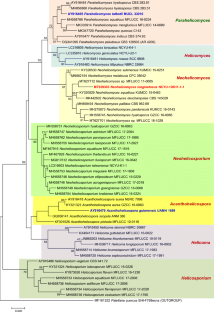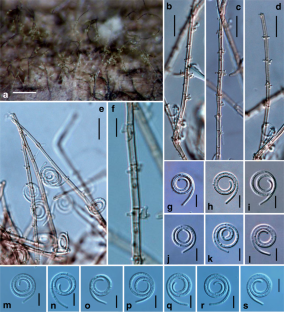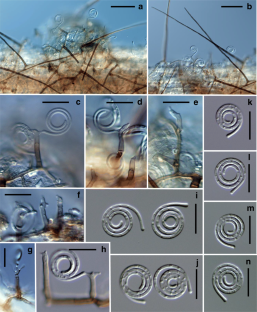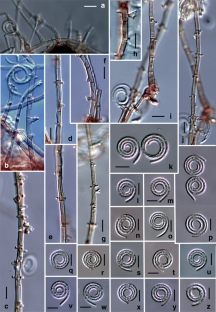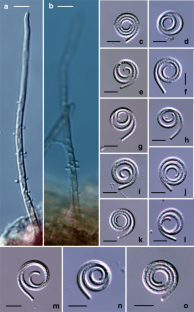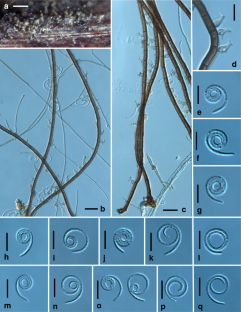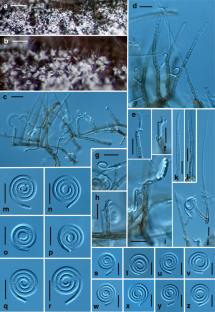 Data availability
The authors declare that all data and materials as well as software application or custom code support their published claims and comply with field standards. The sequence data generated in this study are deposited in NCBI GenBank.
References
Boonmee S, Zhang Y, Chomnunti P, Chukeatirote E, Tsui CKM, Bahkali AH, Hyde KD (2011) Revision of lignicolous Tubeufiaceae based on morphological re-examination and phylogenetic analysis. Fungal Divers 51:63–102. https://doi.org/10.1007/s13225-011-0147-4

Boonmee S, Rossman AY, Liu JK, Li WJ, Dai DQ, Bhat JD, Gareth Jones EB, McKenzie EHC, Xu JC, Hyde KD (2014) Tubeufiales, ord. nov., integrating sexual and asexual generic names. Fungal Divers 68:239–298. https://doi.org/10.1007/s13225-014-0304-7

Brahmanage RS, Lu YZ, Bhat DJ, Wanasinghe DN, Yan JY, Hyde KD, Boonmee S (2017) Phylogenetic investigations on freshwater fungi in Tubeufiaceae (Tubeufiales) reveals the new genus Dictyospora and new species Chlamydotubeufia aquatica and Helicosporium flavum. Mycosphere 8:917–933. https://doi.org/10.5943/mycosphere/8/7/8

Chen JL (1994) Taxonomic study of the hyphomycetes, Deuteromycotina from Taiwan. PhD Dissertation, National Taiwan University, Taipei, Taiwan, 547 pp.

Chouhan JS, Panwar KS (1980) Hyphomycetes of Mount Abu - V. - Indian Phytopath 33: 285–291

Crous PW, Schumacher RK, Akulov A, Thangavel R, Hernandez-Restrepo M, Carnegie AJ, Cheewangkoon R, Wingfield MJ, Summerell BA, Quaedvlieg W, Coutinho TA, Roux J, Wood AR, Giraldo A, Groenewald JZ (2019a) New and interesting fungi 2. Fungal Systemat Evol 3:57–134

Crous PW, Wingfield MJ, Lombard L, Roets F, Swart WJ et al (2019b) Fungal planet description sheets: 951–1041. Persoonia - Molecular Phylogeny and Evolution of Fungi 43:223–425. https://doi.org/10.3767/persoonia.2019.43.06

Cruz ACR, Gusmão LFP, Leão-Ferreira SM, Castañeda-Ruiz RF (2009) Conidial fungi from the semi-arid Caatinga biome of Brazil. New species and new records of Helicosporium. Mycotaxon 110:53–64. https://doi.org/10.5248/110.53

Deighton FC (1976) Studies on Cercospora and allied genera. VI. Pseudocercospora Speg., Pantospora Cif. and Cercoseptoria Petr. Mycol Pap 140:1–169

Deighton FC, Pirozynski KA (1966) Microfungi II Brooksia and Grallomyces; Acrogenotheca ornata. sp. nov.; the genus Xenosporium. Mycol Pap 105:21–35

Dharkar N, Subhedar A, Hande D, Shahezad MA (2010) Two new fungal species from Vidarbha, India. Jour Mycol Pl Pathol 40:235–237

Doilom M, Dissanayake AJ, Wanasinghe DN, Boonmee S, Liu JK, Bhat DJ, Taylor JE, Bahkali AH, McKenzie EH, Hyde KD (2017) Microfungi on Tectona grandis (teak) in Northern Thailand. Fungal Divers 82:107–182. https://doi.org/10.1007/s13225-016-0368-7

Edgar RC (2004) MUSCLE: multiple sequence alignment with high accuracy and high throughput. Nucleic Acids Res 32:1792–1797

Ellis MB (1971) Dematiaceous Hyphomycetes. X. Mycol Pap 125:1–30

Gams W, Holubová-Jechová V (1976) Chloridium and some other dematicaceous hyphomycetes growing on decaying wood. Stud Mycol 13:1–99

Goh TK (1999) Single-spore isolation using a hand-made glass needle. Fungal Divers 2:47–63

Goh TK, Kuo CH (2018) A new species of Helicoön from Taiwan. Phytotaxa 46:141–156

Goos RD (1980) Some helicosporous fungi from Hawaii. Mycologia 72:595–610

Goos RD (1985) A review of the anamorph genus Helicomyces. Mycologia 77:606–618. https://doi.org/10.2307/3793359

Goos RD (1986) A review of the anamorph genus Helicoma. Mycologia 78:744–761. https://doi.org/10.2307/3807519

Goos RD (1987) Fungi with a twist: the helicosporous hyphomycetes. Mycologia 79:1–22. https://doi.org/10.2307/3807740

Goos RD (1989) On the anamorph genera Helicosporium and Drepanospora. Mycologia 81:356–374. https://doi.org/10.2307/3760074

Goos RD, Abdulla SK, Fisher PJ, Webster J (1985) The anamorph genus Helicodendron. Trans Brit Mycol Soc 84:423–435

Goos RD, Abdulla SK, Fisher PJ, Webster J (1986) The anamorph genus Helicoon. Trans Brit Mycol Soc 87:115–122

Grove WB (1886) New or noteworthy fungi. III. J Bot Br Foreign 24:197–207

Hotson JW (1912) Culture studies of fungi producing bulbils and similar propagative bodies. Proc Amer Acad Arts Sci 48:228–306

Hughes SJ (1958) Revisiones hyphomycetum aliquot cum appendice de nominibus rejiciendis. Can J Bot 36:727–836. https://doi.org/10.1139/b58-067

Hyde KD, Hongsanan S, Jeewon R, Bhat DJ, McKenzie EHC, Jones EBG, Phookamsak R, Ariyawansa HA, Boonmee S, Zhao Q, Abdel-Aziz FA, Abdel-Wahab MA, Banmai S, Chomnunti P, Cui BK, Daranagama DA, Das K, Dayarathne MC, de Silva NI, Dissanayake AJ, Doilom M, Ekanayaka AH, Gibertoni TB, Góes-Neto A, Huang SK, Jayasiri SC, Jayawardena RS, Konta S, Lee HB, Li WJ, Lin CG, Liu JK, Lu YZ, Luo ZL, Manawasinghe IS, Manimohan P, Mapook A, Niskanen T, Norphanphoun C, Papizadeh M, Perera RH, Phukhamsakda C, Richter C, de Santiago ALCMA, Drechsler-Santos ER, Senanayake IC, Tanaka K (2016) Fungal diversity notes 367–490: taxonomic and phylogenetic contributions to fungal taxa. Fungal Divers 80:1–270. https://doi.org/10.1007/s13225-016-0373-x

Index Fungorum (2020) http://www.indexfungorum.org/names/Names.asp. Accessed 3 December 2020.

Jayasiri SC, Hyde KD, Jones EBG, McKenzie EHC, Jeewon R, Phillips AJL, Bhat DJ, Wanasinghe DN, Liu JK, Lu YZ, Kang JC, Xu J, Karunarathna SC (2019) Diversity, morphology and molecular phylogeny of Dothideomycetes on decaying wild seed pods and fruits. Mycosphere 10:1–186. https://doi.org/10.5943/mycosphere/10/1/1

Kodsueb R, Jeewon R, Vijaykrishna D, McKenzie EHC, Lumyong P, Lumyong S, Hyde KD (2006) Systematic revision of Tubeufiaceae based on morphological and molecular data. Fungal Divers 21:105–130

Kumar S, Stecher G, Tamura K (2016) MEGA7: Molecular Evolutionary Genetics Analysis version 7.0 for bigger datasets. Mol Biol Evol 33:1870–1874. https://doi.org/10.1093/molbev/msw054

Kuo CH, Goh TK (2018a) Two new species of helicosporous hyphomycetes from Taiwan. Mycol Prog 17:557–569. https://doi.org/10.1007/s11557-018-1384-7

Kuo CH, Goh TK (2018b) A new species and a new record of Helicomyces from Taiwan. Mycoscience 59:433–440. https://doi.org/10.1016/j.myc.2018.04.002

Linder DH (1929) A monograph of the helicosporous fungi imperfecti. Ann Missouri Bot Gard 16:227–388. https://doi.org/10.2307/2394038

Linder DH (1931) Brief notes on the helicosporae with descriptions of four new species. Ann Missouri Bot Gard 18:9–16. https://doi.org/10.2307/2394042

Lu YZ, Boonmee S, Bhat DJ, Hyde KD, Kang JC (2017a) Helicosporium luteosporum sp. nov. and Acanthohelicospora aurea (Tubeufiaceae, Tubeufiales) from terrestrial habitats. Phytotaxa 319:241–253. https://doi.org/10.11646/phytotaxa.319.3.3

Lu YZ, Boonmee S, Liu JK, Hyde KD, McKenzie EHC, Eungwanichayapant PD, Kang JC (2017b) Multi-gene phylogenetic analyses reveals Neohelicosporium gen. nov. and five new species of helicosporous hyphomycetes from aquatic habitats. Mycol Prog 17:631–646. https://doi.org/10.1007/s11557-017-1366-1

Lu YZ, Liu JK, Hyde KD, Jeewon R, Kang JC, Fan C, Boonmee S, Bhat DJ, Luo ZL, Lin CG, Eungwanichayapant PD (2018) A taxonomic reassessment of Tubeufiales based on multi-locus phylogeny and morphology. Fungal Divers 92:131–344

Luo ZL, Bhat DJ, Jeewon R, Boonmee S, Bao DF, Zhao YC, Chai HM, Su HY, Su XJ, Hyde KD (2017) Molecular phylogeny and morphological characterization of asexual fungi (Tubeufiaceae) from freshwater habitats in Yunnan. China. Cryptogam Mycol 38:27–53

Moore RT (1953) The North Central Helicosporae. Proceedings of the Iowa Academy Science 60:202–216.

Moore RT (1954) Three new species of Helicosporae. Mycologia 46:89–92

Moore RT (1955) Index to the Helicosporae. Mycologia 47:90–103. https://doi.org/10.2307/3755758

Moore RT (1957) Index to the Helicosporae: addendum. Mycologia 49:580–587. https://doi.org/10.2307/3756160

Moore RT (1962) Hiospira, a new genus of the Helicosporae. Trans Br Mycol Soc 45:143–146

Morgan AP (1892) North American Helicosporae. Cincinnati Soc Nat Hist Jour 15:39–52

Morgan-Jones G, Goos RD (1992) Chloridium virescens and Helicosporium virescens, binominals for different fungi based on the same basionym Dematium virescens. Mycologia 84:921–923

Nees CG (1817) Das System der Pilze und Schwämme. Würzburg, pp. 331.

Petrak F (1953) Ein Beitrag zur Pilzflora Floridas. Sydowia 7:1–4.

Pirozynski K (1972) Microfungi of Tanzania I. Miscellaneous fungi on oil palm. Mycol Pap 129:1–29

Rao PR, Rao D (1964) Some helicosporae from Hyderabad. - II. Mycopathol Mycol Applic 24:27–34

Rao VG, Varghese KIM (1988) Interesting Microfungi. VI. Three new taxa of Hyphomycetes from India. Intern Jour Mycol Lichenol 3:295–301

Reddy BS, Rao D, Rao V (1970) A new helicosporous hyphomycete from India. Curr Sci 39:214–215

Rossman AY, Allen WC, Castlebury LA (2016) New combination of plant-associated fungi resulting from the change to one name for fungi. IMA Fung 7:1–7

Sambrook J, Russell DW (2001) Molecular cloning: a laboratory manual. Cold Spring Harbor Laboratory Press, Cold Spring Harbor, NY. 2344 pp. https://doi.org/10.1016/0307-4412(83)90068-7

Singh PN, Singh SK (2016) Additions to helicoid fungi from India. Curr Res Environ Appl Mycol 6:248–255

Sivanesan A (1984) The bitunicate ascomycetes and their anamorphs. Vaduz, Lubrecht & Cramer Ltd 701 p

Taiwan Biodiversity Information Facility (2020) http://taibif.tw/en/catalogue_of_life/browse. Accessed 27 October 2020.

Tamura K, Nei M (1993) Estimation of the number of nucleotide substitutions in the control region of mitochondrial DNA in humans and chimpanzees. Mol Biol Evol 10:512–526

Tibpromma S, Hyde KD, McKenzie EH, Bhat DJ, Phillips AJ, Wanasinghe DN, Samarakoon MC, Jayawardena RS, Dissanayake AJ, Tennakoon DS, Doilom M, Phookamsak R, Tang AMC, Xu J, Mortimer PE, Promputtha I, Maharachchikumbura SSN, Khan S, Karunarathna SC (2018) Fungal diversity notes 840–928: microfungi associated with Pandanaceae. Fungal Divers 93:1–160. https://doi.org/10.1007/s13225-018-0408-6(0123456789

Tsui CKM, Goh TK, Hyde KD, Hodgkiss IJ (2001) New species or records of Cacumisporium, Helicosporium, Monotosporella and Bahusutrabeeja on submerged wood in Hong Kong streams. Mycologia 93:389–397. https://doi.org/10.1080/00275514.2001.12063170

Tsui CKM, Sivichai S, Berbee ML (2006) Molecular systematics of Helicoma, Helicomyces and Helicosporium and their teleomorphs inferred from rDNA sequences. Mycologia 98:94–104. https://doi.org/10.3852/mycologia.98.1.94

Tzean SS, Hsieh WH, Chang TT, Wu SH, Ho HM (2015) Mycobiota Taiwanica. Department of Plant Pathology and Microbiology, National Taiwan University, Taipei, Taiwan. Vol. 1–5, 3rd edn. 4406 pp.

Valenzuela E, Garnica S (2000) Pseudohelicomyces, a new anamorph of Psilocybe. Mycol Res 104:738–741. https://doi.org/10.1017/s0953756299002117

White TJ, Bruns T, Lee S, Taylor JW (1990) Amplification and direct sequencing of fungal ribosomal RNA genes for phylogenetics. In: Innis MA, Gelfand DH, Sninsky JJ, White YJ (eds) PCR protocols: a guide to methods and application. Academic Press, San Diego, pp 315–322. https://doi.org/10.1016/b978-0-12-372,180-8.50042-1

Zhao GZ, Liu XZ, Wu WP (2007) Helicosporous hyphomycetes from China. Fungal Divers 26:313–524
Acknowledgments
We would like to thank Dr. Jie-Hao Ou for a discussion on the phylogeny of helicosporous fungi. We appreciate the two anonymous reviewers of this paper for giving us valuable comments and constructive input to our work. Mr. Chiao-Chih Chien and Mr. Liang-Yung Chen are thanked for their help in collecting plant materials in the field. Thanks are extended to Ms. Shing-Yu Lin and Ms. Hsin-Yi Peng for general technical support.
Funding
This research was financially supported by the Ministry of Science and Technology of Taiwan (Grant Number 108-2621-B-415-001) and the Ministry of Economic Affairs of Taiwan (Grant Number 109EC-17-A-22-0525).
Ethics declarations
Conflict of interest
The authors declare that they have no conflict of interest.
Additional information
Publisher's note
Springer Nature remains neutral with regard to jurisdictional claims in published maps and institutional affiliations.
Section Editor: Roland Kirschner
Supplementary information
About this article
Cite this article
Hsieh, SY., Goh, TK. & Kuo, CH. New species and records of Helicosporium sensu lato from Taiwan, with a reflection on current generic circumscription. Mycol Progress 20, 169–190 (2021). https://doi.org/10.1007/s11557-020-01663-8
Received:

Revised:

Accepted:

Published:

Issue Date:
Keywords
Freshwater fungi

Helicosporous hyphomycetes

Mitosporic fungi

Taxonomy

Tubeufiaceae