Abstract
Five new taxa from Phytophthora ITS clade 2a are described from Cinnamomum cassia plantations and adjacent waterways in Van Yen, Vietnam, disturbed rainforest in the Hela Province of Papua New Guinea and from disturbed forest on Christmas Island. Phylogenetic analyses were performed using data from nuclear regions (ITS, β-tubulin; heat shock protein 90) and mitochondrial regions (cytochrome c oxidase subunit 1; cytochrome c oxidase subunit 2; NADH dehydrogenase subunit 1; ribosomal protein L10). The molecular data supported recognition of three species: Phytophthora insulinativitatica, P. multibullata and P. x vanyenensis, and two informal taxa: P. sp. germisporangia and P. sp. awatangi. P. x vanyenensis appears to be a hybrid between P. mekongensis and an unknown species. P. multibullata and P. sp. germisporangia are phylogenetically close to P. citrophthora, but morphologically distinct. P. insulinativitatica is most closely related to P. botryosa, but has distinct morphology. P. sp. germisporangia and P. sp. awatangi were morphologically distinct and separated in the phylogeny based on mitochondrial sequences, but their nuclear sequences were identical. When comparing the sequences of these new species to that available on GenBank, it became evident that some of these species shared similarity with isolates submitted to GenBank under other species names. A re-evaluation of all P. meadii and P. colocasiae ITS sequence data identified an additional 7 putatively new species all isolated from Asia. The results support the view that many more Phytophthora species remain to be discovered in the Asia-Pacific region.
Access options
Buy single article
Instant access to the full article PDF.
US$ 39.95
Tax calculation will be finalised during checkout.
Subscribe to journal
Immediate online access to all issues from 2019. Subscription will auto renew annually.
US$ 79
Tax calculation will be finalised during checkout.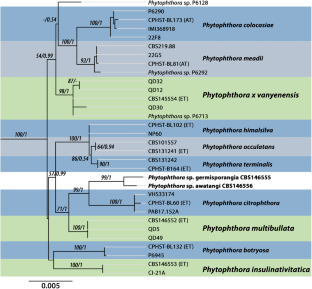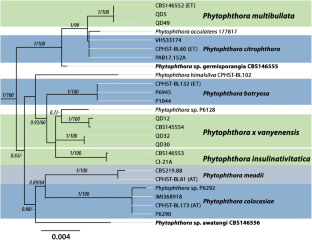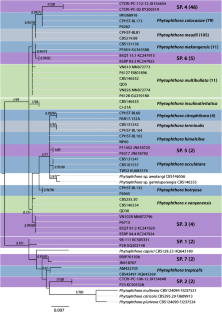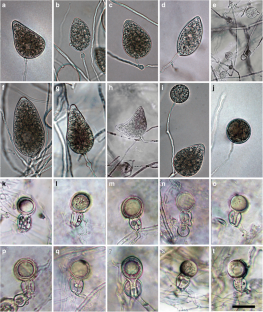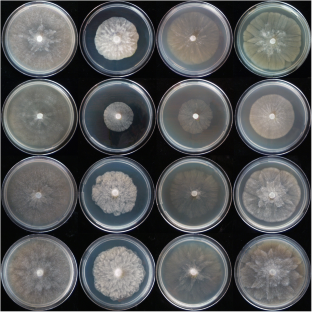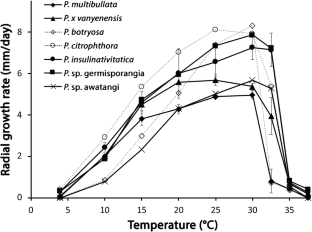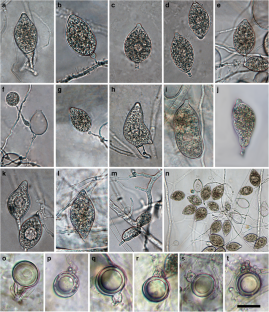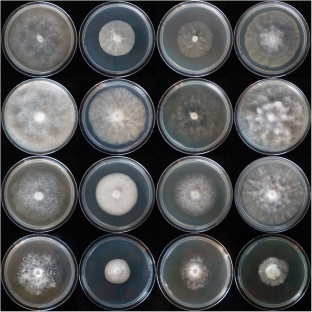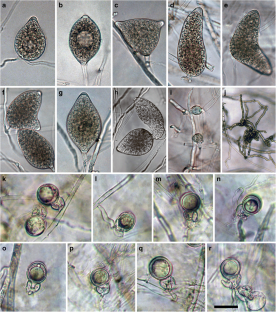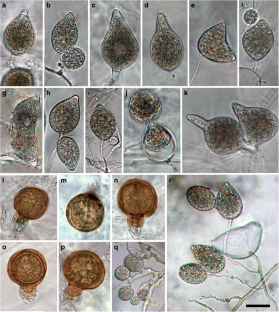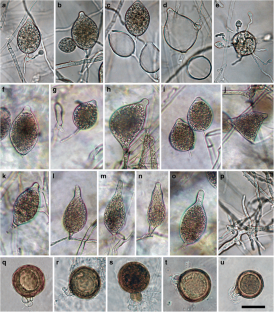 Data availability
All new sequences have been uploaded to GenBank. All sequence alignments are available from Dryad (https://doi.org/10.5061/dryad.02v6wwq22). Type cultures have been submitted to CBS (WesterDijk Fungal Biodiversity Institute, Utrecht, The Netherlands). Species names have been submitted to MycoBank.
References
Abad ZG, Burgess TI, Bienapfl JC, Redford AJ, Coffey M, & Knight L (2019) IDphy: molecular and morphological identification of Phytophthora based on the types. USDA APHIS PPQ S&T Beltsville Lab, USDA APHIS PPQ S&T ITP, Centre for Phytophthora Science and Management, and World Phytophthora Collection. Retrieved from https://idtools.org/id/phytophthora/index.php

Brasier CM, Kirk SA, Delcan J, Cooke DEL, Jung T, Man in't Veld WA (2004) Phytophthora alni sp. nov. and its variants: designation of emerging heteroploid hybrid pathogens spreading on Alnus trees. Mycol Res 108:1172–1184

Burgess TI (2015) Molecular characterization of natural hybrids formed between five related indigenous clade 6 Phytophthora species. PLoS One 10:e0134225

Cacciola SO, La Spada F, Hoa NV, Jung MH, Scanu B (2017) Phytophthora mekongensis Cacciola & N.V. Hoa, sp. nov. Fungal Planet description sheet: 615. Persoonia 38:363

Chee KH (1969) Leaf fall due to Phytophthora botryosa. Planters' Bulletin Rubber Research Institute of Malaya 104:190–198

Cooke DEL, Drenth A, Duncan JM, Wagels G, Brasier CM (2000) A molecular phylogeny of Phytophthora and related Oomycetes. Fungal Genet Biol 30:17–32

Dick MW (1990) Keys to Pythium. University of Reading Press, Reading

Érsek T, English JT, Schoelz JE (1995) Creation of species hybrids of Phytophthora with modified host ranges by zoospore fusion. Phytopathology 85:1343–1347

Erwin DC, Ribeiro OK (1996) Phytophthora diseases worldwide. APS Press, St. Paul

Goodwin SB, Fry WE (1994) Genetic analyses of interspecific hybrids between Phytophthora infestans and Phytophthora mirabilis. Experimental Mycol 18:20–32

Hansen EM, Reeser PW, Sutton W (2012) Phytophthora beyond agriculture. Annu Rev Phytopathol 50:359–378

Hüberli D, Tommerup IC, Hardy GES (2000) False-negative isolations or absence of lesions may cause mis-diagnosis of diseased plants infected with Phytophthora cinnamomi. Aust Plant Pathol 29:164–169

Jafari F, Mostowfizadeh-Ghalamfarsa R, Safaiefarahani B, Burgess TI (2020) Potential host range of four Phytophthora interspecific hybrids from Clade 8a. Plant Pathol 69:1281–1290. https://doi.org/10.1111/ppa.13205

Jung T, Chang TT, Bakonyi J, Seress D, Pérez-Sierra A, Yang X, Hong C, Scanu B et al (2016) Diversity of Phytophthora species in natural ecosystems of Taiwan and association with disease symptoms. Plant Pathol 66:194–211

Jung T, Horta-Jung M, Cacciola SO, Cech T, Bakonyi J, Seress D, Mosca S, Schena L et al (2017a) Multiple new cryptic pathogenic Phytophthora species from Fagaceae forests in Austria, Italy and Portugal. IMA Fungus 8:219–244

Jung T, Horta-Jung M, Scanu B, Seress D, Kovács GM, Maia C, Pérez-Sierra A, Chang T et al (2017b) Six new Phytophthora species from ITS Clade 7a including two sexually functional heterothallic hybrid species detected in natural ecosystems in Taiwan. Persoonia 38:100–135

Jung T, Durán A, Sanfuentes von Stowasser E, Schena L, Mosca S, Fajardo S, González M, Navarro Ortega AD et al (2018) Diversity of Phytophthora species in Valdivian rainforests and association with severe dieback symptoms. Forest Pathol 48:e12443

Jung T, Scanu B, Brasier CM, Webber J, Milenković I, Corcobado T, Tomšovský M, Pánek M et al (2020) A survey in natural forest ecosystems of Vietnam reveals high diversity of both new and described Phytophthora taxa including P. ramorum. Forests 11:93

Leonian LH (1925) Physiological studies on the genus Phytophthora. Am J Bot 12:444–498

Lin MJ, Ko WH (2008) Occurrence of isolates of Phytophthora colocasiae in Taiwan with homothallic behavior and its significance. Mycol 100:727–734

Man in't Veld WA, de Cock AWAM, Summerbell RC (2007) Natural hybrids of resident and introduced Phytophthora species proliferating on multiple new hosts. Eur J Plant Pathol 117:25–33

Man in't Veld WA, Rosendahl KCHM, Hong C (2012) Phytophthora x serendipita sp. nov. and P. x pelgrandis, two destructive pathogens generated by natural hybridization. Mycol 104:1390–1396

Man in't Veld WA, Rosendahl KCHM, van Rijswick PCJ, Meffert JP, Westenberg M, van de Vossenberg BTLH, Denton G, van Kuik FAJ (2015) Phytophthora terminalis sp. nov. and Phytophthora occultans sp. nov., two invasive pathogens of ornamental plants in Europe. Mycol 107:54–65

McRae W (1918) Phytophthora meadii n. sp, on Hevea brasiliensis. Memoirs of the Department of Agriculture in India. Botanical Series 9:219–273

Oh E, Gryzenhout M, Wingfield BD, Wingfield MJ, Burgess TI (2013) Surveys of soil and water reveal a goldmine of Phytophthora diversity in South African natural ecosystems. IMA Fungus 4:123–131

Park B, Martin F, Geiser DM, Kim H-S, Mansfield MA, Nikolaeva E, Park S-Y, Coffey MD et al (2013) Phytophthora database 2.0: update and future direction. Phytopathol 103:1204–1208

Posada D (2008) jModelTest: phylogenetic model averaging. Mol Biol Evol 25:1253–1256

Puglisi I, De Patrizio A, Schena L, Jung T, Evoli M, Pane A, Van Hoa N, Van Tri M et al (2017) Two previously unknown Phytophthora species associated with brown rot of Pomelo (Citrus grandis) fruits in Vietnam. PloS One 12:e0172085

Raciborski M (1900) Parasitic algae and fungi, Java. Batavia Bulletin of the New York State Museum 19:189

Ronquist F, Teslenko M, van der Mark P, Ayres DL, Darling A, Höhna S, Larget B, Liu L et al (2011) MrBayes 3.2: efficient Bayesian phylogenetic inference and model choice across a large model space. Syst Biol 61:539–542

Safaiefarahani B, Mostowfizadeh-Ghalamfarsa R, Hardy GES, Burgess TI (2016) Species from within the Phytophthora cryptogea complex and related species, P. erythroseptica and P. sansomeana, readily hybridize. Fungal Biol 120:975–987

Sakalidis ML, Ray JD, Lanoiselet V, Hardy GES, Burgess TI (2011) Pathogenic Botryosphaeriaceae associated with Mangifera indica in the Kimberley Region of Western Australia. Eur J Plant Pathol 130:379–391. https://doi.org/10.1007/s10658-011-9760-z

Sarker SR, McComb JA, Burgess TI, Hardy GES (2020) Antimicrobials in Phytophthora isolation media and the growth of Phytophthora species. Plant Pathol 69:1426–1436. https://doi.org/10.1111/ppa.13224

Scott P, Bader M, Burgess TI, Hardy GESJ, Williams N (2019) Global biogeography and invasion risk of the plant destroyer genus Phytophthora. Environ Sci Pol 101:175–182. https://doi.org/10.1016/j.envsci.2019.08.020

Stamatakis A (2014) RAxML version 8: a tool for phylogenetic analysis and post-analysis of large phylogenies. Bioinformatics 30:1312–1313

Vettraino A-M, Brasier CM, Brown AV, Vannini A (2011) Phytophthora himalsilva sp. nov. an unusually phenotypically variable species from a remote forest in Nepal. Fungal Biol 115:275–287

Waterhouse GM (1963) Key to the species of Phytophthora de Bary. Mycology Paper no. 92. vol 92. Mycology Paper. CMI Kew, UK

White TJ, Bruns T, Lee S, Taylor J (1990) Amplification and direct sequencing of fungal ribosomal RNA genes for phylogenetics. In: Innes MA, Gelfand DH, Sninsky JJ, White TJ (eds) PCR protocols: a guide to methods and applications. Academic Press, San Diego, pp 315–322
Acknowledgements
The senior author received a joint PhD scholarship between the Vietnam Government and Murdoch University. The authors would like to thank Prof. Alex George for helping with Latin names and Emeritus Prof. Jen McComb for editing and giving valuable suggestions. Prof. Chuanexue Hong kindly provided additional information on isolate 46C3. The staff from the Forest Protection Research Centre of Vietnam Academy of Forest Sciences helped with the collection of data. Diane White provided much appreciated molecular technical support.
Funding
Provided by Murdoch University as part of PhD student operational funds and by the Forest Protection Research Centre of Vietnam Academy of Forest Sciences.
Ethics declarations
Conflict of interest
The authors declare that they have no conflict of interest.
Ethics approval
Not applicable.
Consent to participate
Not applicable.
Consent for publication
Not applicable.
Code availability
Not applicable.
Additional information
Publisher's note
Springer Nature remains neutral with regard to jurisdictional claims in published maps and institutional affiliations.
Section Editor: Marco Thines
Electronic Supplementary Material
About this article
Cite this article
Dang, Q.N., Pham, T.Q., Arentz, F. et al. New Phytophthora species in clade 2a from the Asia-Pacific region including a re-examination of P. colocasiae and P. meadii. Mycol Progress 20, 111–129 (2021). https://doi.org/10.1007/s11557-020-01656-7
Received:

Revised:

Accepted:

Published:

Issue Date:
Keywords
Phytophthora insulinativitatica
P. multibullata
P. x vanyenensis
P. sp. germisporangia and P. sp. awatangi

Hybrid species

Cryptic species

Molecular phylogenetics

Vietnam