Abstract
Amongst the complicated group of Peziza with blue-violet-purplish hymenial surface, P. petersii, P. proteana f. proteana and f. sparassoides were studied using both morphological and molecular approaches (analysis of the nrITS and RPB2 sequences). The nrITS sequences were successfully obtained from the holotypes of Aleuria proteana, P. pseudoviolacea and Underwoodia campbellii. The epitype collection of P. petersii was designated, and its nrITS and RPB2 regions were sequenced. Our analyses showed that (i) P. proteana and P. petersii are a single species, and since P. petersii Berk. was published in 1875 and Aleuria proteana Boud. in 1899, the prioritary name is the former; (ii) P. proteana f. sparassoides (Boud.) Korf, the "cabbage-head fungus", is a distinct evolutionary line and is here recognised at species level using the oldest available epithet that can be combined in Peziza, Underwoodia campbellii Sacc. Consequently, Peziza campbellii nov. comb. is introduced.
Access options
Buy single article
Instant access to the full article PDF.
US$ 39.95
Tax calculation will be finalised during checkout.
Subscribe to journal
Immediate online access to all issues from 2019. Subscription will auto renew annually.
US$ 79
Tax calculation will be finalised during checkout.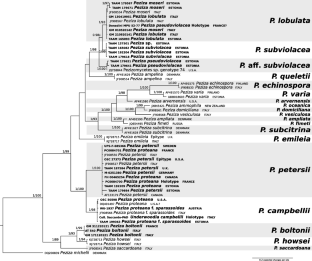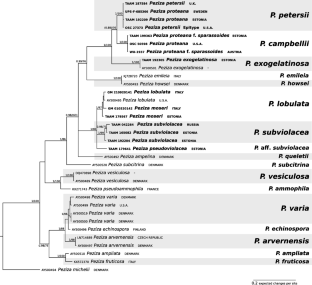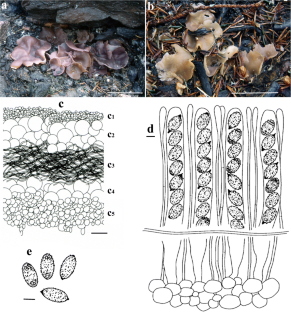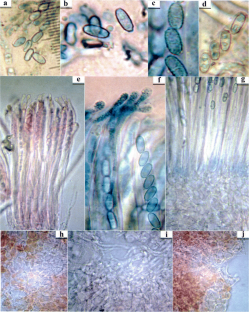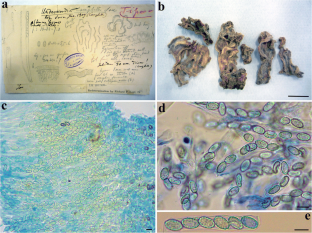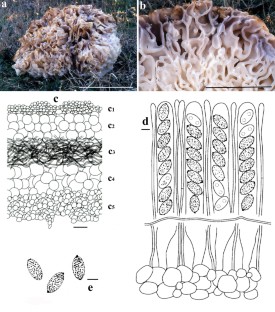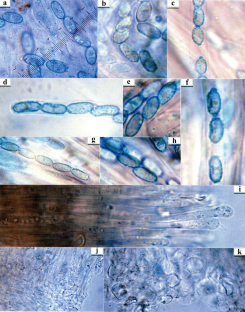 References
Al-Khesraji TO (2018) Two Peziza taxa (Peziza proteana f. proteana (Boud.) Seaver and Peziza proteana f. sparassoides (Boud.) Korf) new to Iraq and bordering countries. African J Plant Sci 12(2):24–27

Antonín V (2005) Daleomyces phillipsii (Ascomycota, Pezizaceae), new Moravian finds and its distribution in the Czech Republic. Czech Mycol 57(3–4):249–256

Baral O (1981) Der "Kohlkopfpilz" Peziza proteana f. sparassoides, ein sonderbarer Großbecherling und sein Vorkommen in Deutschland. Südwestdeutsche Pilzrundschau (Stuttgart) 17(2):17–20

Barseghyan GS, Wasser SP (2007) Peziza proteana f. sparassoides - a rare taxon for asian mycobiota from Israel. Mycol Balc 4:161–164

Barseghyan GS, Wasser SP (2011) The genus Peziza Dill. ex Fr. (Pezizales, Ascomycota) in Israel. Ascomycete.org 2(4):39–50

Berkeley MJ (1875) Notices of North American fungi. Grevillea 3(28):145–160

Beug M, Bessette AE, Bessette AR (2014) Ascomycete fungi of North America - a mushroom reference guide. University of Texas Press, Austin

Bon M (1970) Flore héliophile des macromycètes de la zone maritime picarde. Bull Soc Mycol Fr 86:79–213

Boudier E (1887) Champignons nouveaux rares ou peu connue de France. Bull Soc mycol Fr 3:145–155

Boudier E (1899) Note sur quelques champignons nouveaux des environs de Paris. Bull Soc mycol Fr 15:4–54

Boudier E (1907) Icones Mycologicae ou iconographie des champignons de France, vol 2. Pl. 194–421. Paul Klincksieck, Paris

Bussy J (1967) Fructification gigantesque de Galactinia proteana (Boud.) var. sparassoides Boud. dans la région lyonnaise. Bull Mens Soc Linn Lyon 36(7):281–286

Cetto B (1989) I funghi dal vero, vol 6. Saturnia, Trento

Ciana O (1987) Découverte en Valais de Peziza proteana fo. sparassoides Boud. Schweiz Z Pilzk 87(3):50–52

Cooke MC (1876) Mycographia, seu Icones fungorum. Vol. 1, Discomycetes; Part IV. William and Norgate, London

Cooke MC (1879) New Zealand Fungi. Grevillea 8(48):54–68

Darriba D, Taboada GL, Doallo R, Posada D (2012) jModelTest 2: more models, new heuristics and parallel computing. Nat Methods 9(8):772. https://doi.org/10.1038/nmeth.2109

Dennis RWG (1981) British Ascomycetes. Cramer, Vaduz

Dissing H (2000) Pezizales. In: Hansen L, Knudsen H (eds) Nordic Macromycetes, Ascomycetes, vol 1. Nordsvamp, Copenhagen, pp 55–127

Donadini J-C (1975) Discomycètes operculés de Provence. Bull Soc Linn Provence 28:69–89

Donadini J-C (1981) Le genre Peziza dans le sud-est de la France. Univ. de Provence, Marseille

Donadini J-C (1985) Peziza martinii sp. nov. de la section Violaceae sect. nov. du sous-genre Galactinia (Cooke) Donad. Bull Soc Linn Provence 35:167–176

Dougoud R (2001) Clé des Discomycètes carbonicoles. Doc Mycol 30(120):15–29

Drummond AJ, Ashton B, Cheung M, Heled J, Kearse M, Moir R, Stones-Havas S, Thierer T, Wilson A (2010) Geneious 5.3. www.geneious.com

Durand EJ (1919) Peziza proteana var. sparassoides in America. Mycologia 11(1):1–3

Felsenstein J (1985) Confidence limits on phylogenies: an approach using the bootstrap. Evolution 39:783–791

Foley H (1954) Sur l'existence en Haute-Marne de Galactinia proteana Boud. var. sparassoides Boud. Bull Mens Soc linn Lyon 23(7):200

Forin N, Nigris S, Voyron S, Girlanda M, Vizzini A, Casadoro G, Baldan B (2018) Next generation sequencing of ancient fungal specimens: the case of the Saccardo Mycological Herbarium. Front Ecol Evol 6:129

Gardes M, Bruns TD (1993) ITS primers with enhanced specificity for Basidiomycetes - application to the identification of mycorrhizae and rusts. Mol Ecol 2:113–118

Geesing J (1984) Peziza proteana var. sparassoides nieuw voor Nederland. Coolia 27(2):33–35

Gilli C, Gilli L (2001) Un champignon singulier récolté à Nice. Peziza proteana forme sparassoides (Boud.) Korf. Riviéra Sci 85:31–38

Ginns J (1983) Peziza proteana. Fungi Canadenses 248:1–2

Govi G, Innocenti G (1979) Una rara Pezizacea. Micol Ital 8(3):23–24, 27

Gruaz A, Vialard J (2000) Une espèce peu commune des charbonnières, Peziza petersii Berk. & M. A. Curtis. Bull Féd Mycol Dauphiné-Savoie 159:9–11

Haffner J (1993) Recent findings of Ascomycetes.11. Stipitate forms of the genus Peziza. 2. Persoonia 15(2):179–185

Hansen K, Sandal SK, Dissing H (1998) New and rare species of Pezizales from calcareous woodlands in Denmark. Nord J Bot 18(5):611–626

Hansen K, Læssøe T, Pfister DH (2001) Phylogenetics of the Pezizaceae, with an emphasis on Peziza. Mycologia 93(5):958–990

Hansen K, Læssøe T, Pfister DH (2002) Phylogenetic diversity in the core group of Peziza inferred from ITS sequences and morphology. Mycol Res 106(8):879–902

Hansen K, LoBuglio KF, Pfister DH (2005) Evolutionary relationships of the cup-fungus genus Peziza and Pezizaceae inferred from multiple nuclear genes: RPB2, β-tubulin, and LSU rDNA. Mol Phylogenet Evol 36:1–23

Hohmeyer H (1986) Ein Schlüssel zu den europaeischen Arten der Gattung Peziza L. Z Mykol 52(1):161–188

Jaederfeldt K (1997) Is a cup fungus allowed to have any look? Yes, if your name is Peziza proteana f. sparassoides. Jordstjärnan 18(1):8–12

Jahn H, Wiegand K (1977) Massenvorkommen des "Kohlkopfpilzes", Peziza proteana f. sparassoides, bei Köln/Rhein. Westf Pilzbriefe 11(3–4):55–58

Kaminskyj S (2001) Peziza proteana var. sparassoides, an unusual fungus found on a farm in Fiske, Saskatchewan. Blue Jay 59:153–156

Kasparek F (2000) Über einige bemerkenswerte Schlauchpilze. Der Tintling 2000(1):9–15

Katoh K, Misawa K, Kuma K, Miyata T (2002) MAFFT: a novel method for rapid multiple sequence alignment based on fast Fourier transform. Nucleic Acids Res 30:3059–3066. https://doi.org/10.1093/nar/gkf436

Korf RP (1956) Daleomyces, Durandiomyces and other sparassoid forms of operculate Discomycetes. Mycologia 48(5):711–718

Korf RP (1973) Sparassoid ascocarps in Pezizales and Tuberales. Rept Tottori Mycol Inst 10:389–403

Læssøe T, Petersen JH (2019) Fungi of temperate Europe, vol 2. Princeton University Press, Princeton and Oxford

Lantieri A, Medardi G, Alvarado P (2016) Morphological and phylogenetic clarification of Peziza arvernensis, P. pseudovesiculosa, P. pseudosylvestris, and P. domiciliana. Mycotaxon 131(4):827–839

Le Gal M (1939) Quelques Galactinia de la flore française. Rev Mycol (Paris) 4:169–186

Le Gal M (1953) Les Discomycetes de Madagascar. Prodr Fl Mycol Madag 4:1–465

Liu YJ, Whelen S, Hall BD (1999) Phylogenetic relationships among Ascomycetes: evidence from an RNA Polymerse II Subunit. Mol Biol Evol 16:1799–1808

Maas-Geesteranus RA (1967) De Fungi van Nederland II. Pezizales – deel I. Wet Meded K Ned Natuurhist Ver 69:1–72

Malençon G (1979) Nouvelles contributions à la flore mycologique du Maroc II: Discomycètes. Bull Soc Mycol Fr 95(2):119–137

Margaine F (1961) Notes diverses. Bull Soc Hist Nat Pays de Montbéliard 1961:7–8

Massee GE (1895) British Fungus-Flora 4:1–522

Medardi G (2006) Atlante fotografico degli Ascomiceti d'Italia. A.M.B. Fondazione Centro Studi Micologici, Vicenza

Medardi G, LoBuglio KF, Pfister DH, Lantieri A (2014a) Morphological and molecular study of Peziza emileia and P. howsei, two distinct taxa. Mycol Prog 13:1227–1234

Medardi G, Lantieri A, Cacialli G (2014b) Nomenclatural revision of four Peziza species. Mycotaxon 128:203–204

Miller MA, Pfeiffer W, Schwartz T (2010) Creating the CIPRES science gateway for inference of large phylogenetic trees. In: Institute of Electrical and Electronics Engineers. Proceedings of the Gateway Computing Environments Workshop (GCE) 14 Nov 2010, New Orleans. https://doi.org/10.1109/gce.2010.5676129

Monti G, Marchetti M, Gorreri L, Franchi P (1992) Funghi e cenosi di aree bruciate. Pacini, Pisa

Moravec J (1982) Daleomyces phillipsii in Czechoslovakia (Discomycetes, Pezizaceae). Česká Mykol 36(2):109–113

Moravec J, Spooner BM (1988) Peziza vacinii (Pezizales), with notes on taxonomy of related brown-spored species. Trans Brit Mycol Soc 90(1):43–48

Mornand J, Péan R (1994) Quelques pézizes rares en Anjou (suite). Bull Trim Soc Ét Sci Anjou 89:5–11

Mornand J, Péan R (1995) Contribution à la connaissance des champignons de Maine-et-Loire. 4. Discomycètes (= Pezizomycetideae). Bull Soc Mycol Fr 111(1):3–32

Moser M (1963) Ascomyceten. Kleine Kryptogamenflora, Bd. IIa. Verlag G. Fischer, Stuttgart

Pacioni G (1987) I funghi delle aree bruciate nel bacino del mediterraneo. Micol Veg Mediterranea 2(2):67–136

Phillips R (1981) Mushrooms and other Fungi of Great Britain and Europe. Pan, London

Pouchet A (1954) Une forme géante de «Galactinia proteana Boud. var. sparassoides Boud.» récoltée près de Valence (Drôme). Bull Mens Soc Linn Lyon 23(4):87–88

Priou J-P, Delannoy A (2005) Peziza rifaii, une pézize exotique trouvée en France. Bull Soc Mycol Fr 121(2):111–117

Rehner SA, Buckley E (2005) A Beauveria phylogeny inferred from nuclear ITS and EF1-α sequences: evidence for cryptic diversification and links to Cordyceps teleomorphs. Mycologia 97:84–98

Rifai MA (1968) The Australasian Pezizales in the herbarium of the Royal Botanic Gardens, Kew. Verh Kon Ned Akad Wetensch Afd Natuurk Tweede Sect 57(3):1–295

Ronquist F, Teslenko M, van der Mark P, Ayres DL, Darling A, Höhna S, Larget B, Liu L, Suchard MA, Huelsenbeck JP (2012) MrBayes 3.2: efficient Bayesian phylogenetic inference and model choice across a large model space. Syst Biol 61:539–542. https://doi.org/10.1093/sysbio/sys029

Saccardo PA (1909) Notae mycologicae. Series XI. Ann Mycol 7(5):432–437

Schieferdecker K (1963) Durandiomyces phillipsii (Massee) Seaver neu für Deutschland. Z Pilzkd 1:26–28

Schindelin J, Arganda-Carreras I, Frise E, Kaynig V, Longair M, Pietzsch T, Preibisch S, Rueden C, Saalfeld S, Schmid B, Tinevez JY, White DJ, Hartenstein V, Eliceiri K, Tomancak P, Cardona A (2012) Fiji: an open-source platform for biological-image analysis. Nat Methods 9:676–682

Seaver FJ (1917) Photographs and descriptions of cup-fungi: V. Peziza proteana and Peziza violacea. Mycologia 9(1):1–3

Seaver FJ (1928) The North American Cup-fungi (Operculates). Published by the Author, New York

Seaver FJ (1933) Photographs and descriptions of Cup-Fungi: XIX: the cabbage-head fungus. Mycologia 25(3):157–159

Siquier JL, Salom JC, Lillo IF (1998) Contribució al coneixement micolögic de les Illes Balears. VIII. Revista Catalana Micol 21:33–44

Spooner B (2001) The larger cup fungi in Britain – part 3. The genera Peziza and Plicaria. Field Mycol 2(2):51–59

Stamatakis A (2006) RAxML-VI-HPC: maximum likelihood-based phylogenetic analyses with thousands of taxa and mixed models. Bioinformatics 22:2688–2690. https://doi.org/10.1093/bioinformatics/btl446

Svrček M (1976) A revision of species of the genus Peziza Dill. ex St-Amans described by J. Velenovský. I. Česká Mykol 30(3–4):129–134

Svrček M (1977) New combinations and new taxa in operculate Discomycetes (Pezizales). Česká Mykol 31(2):69–71

Thiers B (n.d.) index Herbariorum. A global directory of public herbaria and associated staff. New York Botanical Garden's Virtual Herbarium. Available from: http://sweetgum.nybg.org/science/ih. Accessed 15 January 2020

Van Vooren N (2003) Étude systématique et nomenclaturale des pézizes blanches. III. Peziza proteana et sa forme sparassoides. Bull Mycol Bot Dauphinè-Savoie 170:47–58

Van Vooren N (2014) Contribution à la connaissance des Pézizales (Ascomycota) de Rhône-Alpes – 2e partie. Cahiers de la FMBDS 4:1–172

Van Vooren N (2017) Contribution à la connaissance des Pézizales (Ascomycota) de Rhône-Alpes – 3e partie. Cahiers de la FMBDS 5:1–126

Van Vooren N, Dougoud R, Fellmann B (2018) Contribution to the knowledge of Peziza with multiguttulate ascospores, including P. retrocurvatoides sp. nov. Mycol Prog 17:65–76

Vizzini A, Lantieri A, Medardi G, Ercole E, Cacialli G (2016) Phylogeny and morphology of the Peziza ammophila complex (Pezizales, Ascomycota), with description of two new species and a new form. Mycol Prog 15:883–901

White TJ, Bruns T, Lee S, Taylor JW (1990) Amplification and direct sequencing of fungal ribosomal RNA genes for phylogenetics. In: Innis MA, Gelfand DH, Sninsky JJ, White TJ (eds) PCR Protocols: a guide to methods and applications. Academic Press Inc., New York, pp 315–322. https://doi.org/10.1016/b978-0-12-372180-8.50042-1

Wuilbaut J-J (1999) Peziza proteana f. sparassoides, espèce remarquable récoltée dans la région de Mons. Miscellanea Mycol 58:39–40

Zuccherelli A (1993) I funghi delle pinete delle zone mediterranee. Vol. 1. Longo Angelo ed., Ravenna
Acknowledgements
The authors sincerely are grateful to the curators of the institutional herbaria and the owners of the private ones for having put at our disposal the large number of samples whose study has contributed to the realization of this work. Marco Floriani (Pergine Valsugana, Trento, Italy) is thanked for resolving some nomenclatural problems and Paolo Cugildi (Dolcè, Verona, Italy) for providing photos of P. campbellii. HT acknowledges funding from the Estonian Science Foundation (project IUT20-30) and the European Regional Development Fund (Centre of Excellence EcolChange).
Additional information
Publisher's note
Springer Nature remains neutral with regard to jurisdictional claims in published maps and institutional affiliations.
Section Editor: Roland Kirschner
About this article
Cite this article
Vizzini, A., Medardi, G., Tamm, H. et al. Study and clarification of Peziza petersii and P. proteana (Ascomycota, Pezizaceae), and Underwoodia campbellii resurrected for the "cabbage-head fungus" (formerly P. proteana f. sparassoides). Mycol Progress 19, 505–523 (2020). https://doi.org/10.1007/s11557-020-01575-7
Received:

Revised:

Accepted:

Published:

Issue Date:
Keywords
Pezizomycetes

Pezizales

Gyromitra phillipsii
Peziza lobulata
nrITS DNA and RPB2 sequences

Morphology

Taxonomy