Abstract
A new genus Fasciodontia is described to classify Xylodon bugellensis, known mostly from Europe, and one new species, F. brasiliensis, collected in Atlantic rainforests of Brazil. A new combination F. bugellensis is proposed and the lectotype for this taxon was selected. The genus is characterized by fascicles of skeletal-like hyphae in aculeal trama and thick-walled basidiospores. The generic concept was supported by Bayesian and Maximum Likelihood molecular phylogenetic reconstructions based on the ITS region and D1/D2 domains of 28S rRNA gene. The morphological distinctions between Lyomyces pruni and F. bugellensis (earlier considered as conspecific) and their phylogenetic independence are described and illustrated. Additionally, Deviodontia pilaecystidiata is put into the genus Kneiffiella; Hyphodontia mongolica is referred to synonyms of K. pilaecystidiata. The phylogenetic position of Hastodontia halonata, Kneiffiella alienata, and Lyomyces fimbriatus are discussed for the first time, and the new combination Lyomyces fimbriatus is introduced.
Access options
Buy single article
Instant access to the full article PDF.
USD 39.95
Price excludes VAT (USA)
Tax calculation will be finalised during checkout.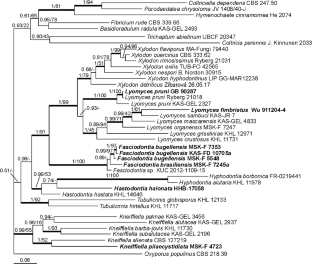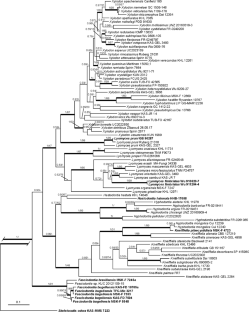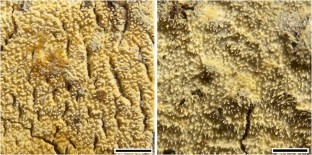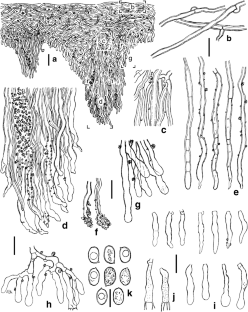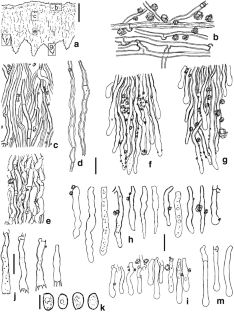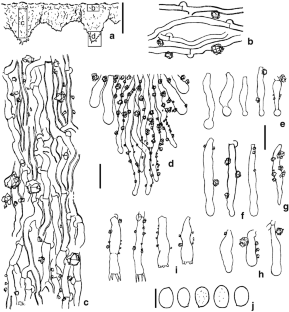 References
Ariyawansa HA, Hyde KD, Jayasiri SC et al (2015) Fungal diversity notes 111–252–taxonomic and phylogenetic contributions to fungal taxa. Fungal Divers 7:27–274. https://doi.org/10.1007/s13225-015-0346-5

Benson DA, Cavanaugh M, Clark K, Karsch-Mizrachi I, Ostell J, Pruitt KD, Sayers EW (2018) GenBank. Nucleic Acids Res 46(D1):D41–D47. https://doi.org/10.1093/nar/gkx1094

Bernicchia A, Gorjón SP (2010) Corticiaceae s. l. (Fungi Europaei). Edizioni Candusso

Braun U (2018) Annotated list of taxonomic novelties published in "Herbarium Vivum Mycologicum" issued by J. F. Klotzsch and G. L. Rabenhorst between 1832 and 1855. Schlechtendalia 34:3–90

Bunyard BA, Chaichuchote S, Nicholson MS, Royse DJ (1996) Ribosomal DNA analysis for resolution of genotypic classes of Pleurotus. Mycol Res 100:143–150. https://doi.org/10.1016/S0953-7562(96)80112-2

Chen JJ, Zhou LW, Ji XH, Zhao CL (2016) Hyphodontia dimitica and H. subefibulata spp. nov. (Schizoporaceae, Hymenochaetales) from southern China based on morphological and molecular characters. Phytotaxa 269:1–13. https://doi.org/10.11646/phytotaxa.269.1.1

Chen CC, Wu SH, Chen CY (2017) Three new species of Hyphodontia s.l. (Basidiomycota) with poroid or raduloid hymenophore. Mycol Prog 16:553–564. https://doi.org/10.1007/s11557-017-1286-0

Chen CC, Wu SH, Chen CY (2018) Xylodon subflaviporus sp. nov. (Hymenochaetales, Basidiomycota) from East Asia. Mycoscience 59:343–352. https://doi.org/10.1016/j.myc.2017.12.004

Collopy PD, Largeteau-Mamoun ML, Romaine CP, Royse DJ (2001) Molecular phylogenetic analyses of Verticillium fungicola and related species causing dry bubble disease of the cultivated button mushroom, Agaricus bisporus. Phytopathology 91:905–912. https://doi.org/10.1094/PHYTO.2001.91.9.905

Dai SJ, Vlasák J, Tomšovský M, Wu F (2017) Porodaedalea chinensis (Hymenochaetaceae, Basidiomycota)-a new polypore from China. Mycosphere 8:986–993. https://doi.org/10.5943/mycosphere/8/6/2

Eriksson J (1958) Studies in the Heterobasidiomycetes and Homobasidiomycetes – Aphyllophorales of Muddus National Park in North Sweden. Symb Bot Upsal 16:1–172

Eriksson J, Ryvarden L (1976) The Corticiaceae of North Europe, Vol. 4: Hyphodermella—Mycoacia. Fungiflora, Oslo

Fernández-López J, Martín MP, Dueñas M, Telleria MT (2018) Multilocus phylogeny reveals taxonomic misidentification of the Schizopora paradoxa (KUC8140) representative genome. MycoKeys 38:121–127. https://doi.org/10.3897/mycokeys.38.28497

Fukami T, Dickie IA, Wilkie PJ, Paulus BC, Park D, Roberts A, Buchanan PK, Allen RB (2010) Assembly history dictates ecosystem functioning: evidence from wood decomposer communities. Ecol Lett 13:675–684. https://doi.org/10.1094/PHYTO.2001.91.9.905

Gardes M, Bruns TD (1993) ITS primers with enhanced specificity for basidiomycetes–application to the identification of mycorrhizae and rusts. Mol Ecol 2:113–118. https://doi.org/10.1111/j.1365-294X.1993.tb00005.x

Greslebin AG, Rajchenberg M (2000) The genus Hyphodontia in the Patagonian Andes forests of Argentina. Mycologia 92:1155–1165. https://doi.org/10.2307/3761483

Hjortstam K (1991) Athelopsis instead of Pteridomyces (Corticiaceae, Basidiomycetes). Mycotaxon 42:149–154

Hjortstam K, Ryvarden L (2002) Studies in tropical corticioid fungi (Basidiomycota, Aphyllophorales): Alutaceodontia, Botryodontia, Hyphodontia s.s. and Kneiffiella. Synopsis Fungorum 15:7–17

Hjortstam K, Ryvarden L (2007a) Checklist of corticioid fungi (Basidiomycotina) from the tropics, subtropics, and the southern hemisphere. Synopsis Fungorum 22:27–146

Hjortstam K, Ryvarden L (2007b) Studies in corticioid fungi from Venezuela III (Basidiomycotina, Aphyllophorales). Synopsis Fungorum 23:56–107

Hjortstam K, Ryvarden L (2009) A checklist of names in Hyphodontia sensu stricto–sensu lato and Schizopora with new combinations in Lagarobasidium, Lyomyces, Kneiffiella, Schizopora, and Xylodon. Synopsis Fungorum 26:33–55

Jang Y, Jang S, Lee J, Lee H, Lim YW, Kim C, Kim JJ (2016) Diversity of wood-inhabiting polyporoid and corticioid fungi in Odaesan National Park, Korea. Mycobiology 44:217–236. https://doi.org/10.5941/MYCO.2016.44.4.217

Kan YH, Qin WM, Zhou LW (2017) Hyphodontia mollissima sp. nov. (Schizoporaceae, Hymenochaetales) from Hainan, southern China. Mycoscience 58:297–301. https://doi.org/10.1016/j.myc.2017.04.003

Katoh K, Standley DM (2013) MAFFT multiple sequence alignment software version 7: improvements in performance and usability. Mol Biol Evol 30:772–780. https://doi.org/10.1093/molbev/mst010

Kumar S, Stecher G, Tamura K (2016) MEGA7: molecular evolutionary genetics analysis version 7.0 for bigger datasets. Mol Biol Evol 33:1870–1874. https://doi.org/10.1093/molbev/msw054

Langer E (1994) Die Gattung Hyphodontia John Eriksson. Bibl Mycol 154:1–298

Larsson KH (2007) Re-thinking the classification of corticioid fungi. Mycol Res 111:1040–1063. https://doi.org/10.1016/j.mycres.2007.08.001

Larsson KH, Parmasto E, Fischer M, Langer E, Nakasone KK, Redhead SA (2006) Hymenochaetales: a molecular phylogeny for the hymenochaetoid clade. Mycologia 98:926–936. https://doi.org/10.3852/mycologia.98.6.926

Martini E (2016) Xylodon bugellensis. Crusts and gells: Descriptions and reports of resupinate Aphyllophorales and Heterobasidiomycetes Issue № 7, 27 Apr 2016. http://www.aphyllo.net

Melo I, Tellería MT (1997) Hyphodontia bugellensis (Basidiomycetes, Corticiaceae) in the Iberian Peninsula. Portugaliae Acta Biologica, Série B, Sistemática, ecologia, biogeografia e paleontologia 17:105–109

Nilsson RH, Tedersoo L, Abarenkov K, Ryberg M, Kristiansson E, Hartmann M, Schoch CL, Nylander JAA, Bergsten J, Porter TM, Jumpponen A, Vaishampayan P, Ovaskainen O, Hallenberg N, Bengtsson-Palme J, Eriksson KM, Larsson KH, Larsson E, Kõljalg U (2012) Five simple guidelines for establishing basic authenticity and reliability of newly generated fungal ITS sequences. MycoKeys 4:37–63. https://doi.org/10.3897/mycokeys.4.3606

Nylander JAA (2004) MrModeltest v2. Program distributed by the author. Evolutionary Biology Centre, Uppsala University. https://github.com/nylander/MrModeltest2

O'Donnell K (1993) Fusarium and its near relatives. In: Reynolds DR, Taylor JW (eds) Fungal systematics; the fungal holomorph: mitotic, meiotic and pleomorphic speciation. CAB International, Wallingford, pp 223–225

Paulus B, Hallenberg N, Buchanan PK, Chambers GK (2000) A phylogenetic study of the genus Schizopora (Basidiomycota) based on ITS DNA sequences. Mycol Res 104:1155–1163. https://doi.org/10.1017/S0953756200002720

Rambaut A (2012) FigTree v1.4http://tree.bio.ed.ac.uk/software/figtree. Accessed 5 December 2012

Riebesehl J, Langer E (2017) Hyphodontia s.l. (Hymenochaetales, Basidiomycota): 35 new combinations and new keys to all 120 current species. Mycol Prog 16:637–666. https://doi.org/10.1007/s11557-017-1299-8

Riebesehl J, Langer EJ, Ordynets A, Striegel MM, Witzany C (2015) Hyphodontia borbonica, a new species from La Réunion. Mycol Prog 14:104. https://doi.org/10.1007/s11557-015-1126-z

Riebesehl J, Yurchenko E, Nakasone KK, Langer E (2019) Phylogenetic and morphological studies in Xylodon (Hymenochaetales, Basidiomycota) with the addition of four new species. MycoKeys 47:97–137. https://doi.org/10.3897/mycokeys.47.31130

Ronquist F, Huelsenbeck JP (2003) MrBayes 3: Bayesian phylogenetic inference under mixed models. Bioinformatics 19:1572–1574. https://doi.org/10.1093/bioinformatics/btg180

Rosenthal LM, Larsson KH, Branco S, Chung JA, Glassman SI, Liao HL, Peay KG, Smith DP, Talbot JM, Taylor JW, Vellinga EC, Vilgalys R, Bruns TD (2017) Survey of corticioid fungi in North American pinaceous forests reveals hyperdiversity, underpopulated sequence databases, and species that are potentially ectomycorrhizal. Mycologia 109:115–127. https://doi.org/10.1080/00275514.2017.1281677

Species Fungorum (2019). http://www.speciesfungorum.org. Accessed 9 Nov 2019

Turland NJ, Wiersema JH, Barrie FR, Greuter W, Hawksworth DL, Herendeen PS, Knapp S, Kusber W-H, Li D-Z, Marhold K, May TW, McNeill J, Monro AM, Prado J, Price MJ, Smith GF (eds) (2018) International code of nomenclature for algae, fungi, and plants (Shenzhen code) adopted by the Nineteenth International Botanical Congress, Shenzhen, China, July 2017. Regnum Vegetabile 159. Glashütten: Koeltz Botanical Books. https://doi.org/10.12705/Code.2018

Vilgalys R, Hester M (1990) Rapid genetic identification and mapping of enzymatically amplified ribosomal DNA from several Cryptococcus species. J Bacteriol 172:4238–4246. https://doi.org/10.1128/jb.172.8.4238-4246.1990

Viner I, Spirin V, Zíbarová L, Larsson KH (2018) Additions to the taxonomy of Lagarobasidium and Xylodon (Hymenochaetales, Basidiomycota). MycoKeys 41:65–90. https://doi.org/10.3897/mycokeys.41.28987

Vu D, Groenewald M, De Vries M, Gehrmann T, Stielow B, Eberhardt U, Al-Hatmi A, Groenewald JZ, Cardinali G, Houbraken J, Boekhout T, Crous PW, Robert V, Verkley GJM (2019) Large-scale generation and analysis of filamentous fungal DNA barcodes boosts coverage for kingdom fungi and reveals thresholds for fungal species and higher taxon delimitation. Stud Mycol 92:135–154. https://doi.org/10.1016/j.simyco.2018.05.001

Wang M, Chen YY (2017) Phylogeny and taxonomy of the genus Hyphodontia (Hymenochaetales, Basidiomycota) in China. Phytotaxa 309:45–54. https://doi.org/10.11646/phytotaxa.309.1.4

Wang Y, Lai Z, Li XX, Yan RM, Zhang ZB, Yang HL, Zhu D (2016) Isolation, diversity and acetylcholinesterase inhibitory activity of the culturable endophytic fungi harboured in Huperzia serrata from Jinggang Mountain, China. World J Microbiol Biotechnol 32:1–23. https://doi.org/10.1007/s11274-015-1966-3

White TJ, Bruns TD, Lee SB, Taylor JW (1990) Amplification and direct sequencing of fungal ribosomal RNA genes for phylogenetics. In: Innis MA, Gelfand DH, Sninsky JJ, White TJ (eds) PCR protocols: a guide to methods and applications. Academic Press, New York, pp 315–322

Wu SH (1990) The Corticiaceae (Basidiomycetes) subfamilies Phlebioideae, Phanerochaetoideae and Hyphodermoideae in Taiwan. Acta Bot Fenn 142:1–123

Xiong HX, Dai YC, Wu SH (2010) Two new species of Hyphodontia from China. Mycologia 102:918–922. https://doi.org/10.3852/09-139

Yurchenko E, Kotiranta H (2007) Rare corticioid fungi (Basidiomycota, Aphyllophorales) from northern Belarus. Mycena 7:20–47

Yurchenko E, Wu SH (2014) Three new species of Hyphodontia with peg-like hyphal aggregations. Mycol Prog 13:533–545. https://doi.org/10.1007/s11557-013-0935-1

Yurchenko E, Riebesehl J, Langer E (2017) Clarification of Lyomyces sambuci complex with the descriptions of four new species. Mycol Prog 16:865–876. https://doi.org/10.1007/s11557-017-1321-1

Zhao CL, Cui BK, Dai YC (2014) Morphological and molecular identification of two new species of Hyphodontia (Schizoporaceae, Hymenochaetales) from southern China. Cryptogam Mycol 35:87–97. https://doi.org/10.7872/crym.v35.iss1.2014.87
Acknowledgments
The authors are grateful to Uwe Braun, the curator of herbarium in the Institute of Biology, Martin-Luther-Universität Halle-Wittenberg (HAL), for the help in lectotypification of Fasciodontia bugellensis. We are thankful to Ellen Larsson, the curator of fungal collection at the University of Göteborg (GB), for providing the specimens of Lyomyces pruni and Kneiffiella pilaecystidiata for our studies; to Karen K. Nakasone and Beatriz Ortiz-Santana (Center of Forest Mycology Research, Madison, USA) for giving us the specimens of Hastodontia halonata, and Lyomyces fimbriatus from CFMR collection; to Manuel Striegel (University of Regensburg, Germany) and Frank Dämmrich (Limbach-Oberfrohna, Germany) for the additional specimens of Fasciodontia bugellensis. Significant technical support for this study was provided by Ulrike Frieling and Sylvia Heinemann (University of Kassel, Germany). The three anonymous reviewers are acknowledged for the critical considerations of the manuscript.
Ethics declarations
Conflict of interest
The authors declare that they have no conflict of interest.
Additional information
Section Editor: Yu-Cheng Dai
Publisher's note
Springer Nature remains neutral with regard to jurisdictional claims in published maps and institutional affiliations.
About this article
Cite this article
Yurchenko, E., Riebesehl, J. & Langer, E. Fasciodontia gen. nov. (Hymenochaetales, Basidiomycota) and the taxonomic status of Deviodontia. Mycol Progress 19, 171–184 (2020). https://doi.org/10.1007/s11557-019-01554-7
Received:

Revised:

Accepted:

Published:

Issue Date:

DOI: https://doi.org/10.1007/s11557-019-01554-7
Keywords