Abstract
Omphalotaceae is the family of widely distributed and morphologically diverse marasmioid and gymnopoid agaric genera. Phylogenetic studies have included the family in Agaricales, grouping many traditionally and recently described genera of saprotrophic or parasitic mushroom-producing fungi. However, some genera in Omphalotaceae have not reached a stable concept that reflects monophyletic groups with identifiable morphological circumscription. This is the case of Gymnopus and Marasmiellus, which have been the target of two opposing views: (1) a more inclusive Gymnopus encompassing Marasmiellus, or (2) a more restricted Gymnopus (s. str.) while Marasmiellus remains a distict genus; both genera still await a more conclusive phylogenetic hypothesis coupled with morphological recognition. Furthermore, some new genera or undefined clades need more study. In the present paper, a phylogenetic study was conducted based on nrITS and nrLSU in single and multilocus analyses including members of the Omphalotaceae, more specifically of the genera belonging to the /letinuloid clade. The resulting trees support the view of a more restricted Gymnopus and a distinct Marasmiellus based on monophyletic and strongly supported clades on which their morphological circumscriptions and taxonomic treatments are proposed herein. The results also provide evidence for the description of two new genera: Paragymnopus and Pusillomyces. Pusillomyces manuripioides sp. nov. (type species of the genus) is described with morphological description, taxonomic and ecological remarks, and illustrations.
Access options
Buy single article
Instant access to the full article PDF.
US$ 39.95
Tax calculation will be finalised during checkout.
Subscribe to journal
Immediate online access to all issues from 2019. Subscription will auto renew annually.
US$ 79
Tax calculation will be finalised during checkout.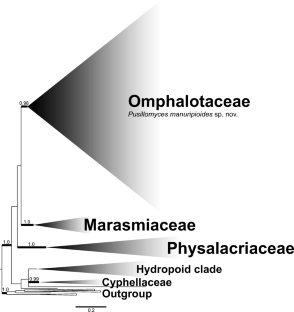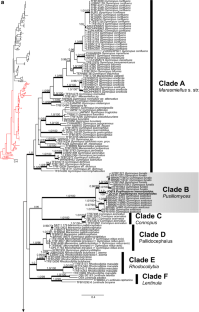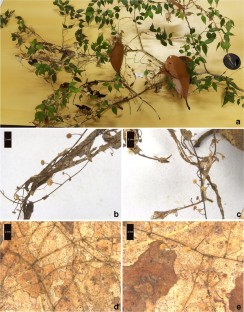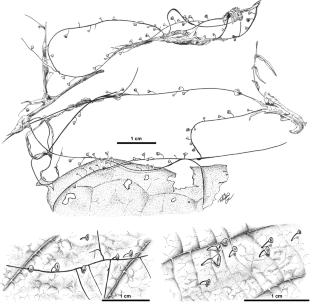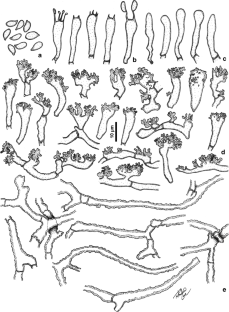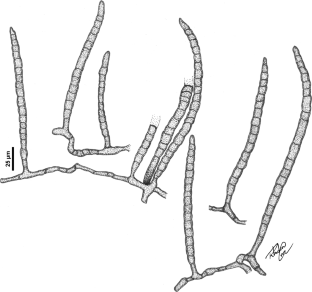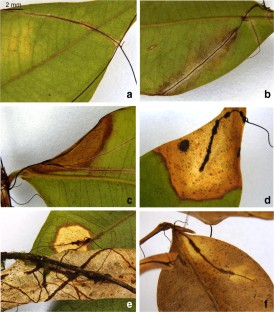 References
Antonín V, Noordeloos ME (1997) A monograph of Marasmius, Collybia and related genera in Europe. Part 2: Collybia, Gymnopus, Rhodocollybia, Crinipellis, Chaetocalathus, and additions to Marasmiellus. Libri Botanici 17:1–256

Antonín V, Noordeloos ME (2010) A monograph of marasmioid and collybioid fungi in Europe. IHW-Verlag, Eching

Antonín V, Halling RE, Noordeloos ME (1997) Generic concepts within the groups of Marasmius and Collybia sensu lato. Mycotaxon 63:359–368

Antonín V, Ryoo R, Ka K-H (2014) Marasmioid and gymnopoid fungi of the Republic of Korea. 7. Gymnopus sect. Androsacei. Mycol Prog 13:703–718. https://doi.org/10.1007/s11557-013-0953-z

Berkeley MJ (1856) Decades of fungi. Decades LI - LIV. Rio Negro fungi. Hooker's J Bot Kew Gard Misc 8:129–144

Binder M, Hibbett DS (2002) Higher-level phylogenetic relationships of Homobasidiomycetes (mushroom-forming fungi) inferred from four rDNA regions. Mol Phylogenet Evol 22:76–90. https://doi.org/10.1006/mpev.2001.1043

César E, Bandala VM, Montoya L, Ramos A (2018) A new Gymnopus species with rhizomorphs and its record as nesting material by birds (Tyrannideae) in the subtropical cloud forest from eastern Mexico. MycoKeys 42:21–34. https://doi.org/10.3897/mycokeys.42.28894

Coimbra VRM, Pinheiro FGB, Wartchow F, Gibertoni TB (2015) Studies on Gymnopus sect. Impudicae (Omphalotaceae, Agaricales) from Northern Brazil: two new species and notes on G. montagnei. Mycol Prog 14:110. https://doi.org/10.1007/s11557-015-1131-2

Darriba D, Taboada GL, Doallo R, Posada D (2012) jModelTest 2: more models, new heuristics and parallel computing. Nat Methods 9:772. https://doi.org/10.1038/nmeth.2109

Dennis RWG (1961) Fungi venezuelani: IV, Agaricales. Kew Bull 15:67–156

Dentinger BTM, Gaya E, O'Brien H, Suz LM, Lachlan R, Díaz-Valderrama JR, Koch RA, Aime MC (2016) Tales from the crypt: genome mining from fungarium specimens improves resolution of the mushroom tree of life. Biol J Linn Soc 117:11–32. https://doi.org/10.1111/bij.12553

Desjardin DE, Gordon SA, Petersen RH (1993) Observations on two rhizomorph-forming species of Marasmiellus. Mycol Res 97:111–122. https://doi.org/10.1016/S0953-7562(09)81147-7

Dutta AK, Wilson AW, Antonín V, Acharya K (2015) Taxonomic and phylogenetic study on gymnopoid fungi from Eastern India. I. Mycol Prog 14:1–18. https://doi.org/10.1007/s11557-015-1094-3

Edgar RC (2004) MUSCLE: a multiple sequence alignment method with reduced time and space complexity. BMC Bioinform 5:113. https://doi.org/10.1186/1471-2105-5-113

Halling RE (1983) The genus Collybia (Agaricales) in the northeastern United States and adjacent Canada. Mycol Mem 8:1–148

Halling RE (1996) Notes on Collybia. V. Gymnopus section Levipedes in tropical South America with comments on Collybia. Brittonia 48:487–494. https://doi.org/10.2307/2807862

Hughes KW, Mather DA, Petersen RH (2010) A new genus to accommodate Gymnopus acervatus (Agaricales). Mycologia 102:1463–1478. https://doi.org/10.3852/09-318

Kämmerer A, Besl H, Bresinsky A (1985) Omphalotaceae fam. nov. und Paxillaceae, ein chemotaxonomischer Vergleich zweier Pilzfamilien der Boletales. Plant Syst Evol 150:101–118. https://doi.org/10.1007/BF00985571

Kearse M, Moir R, Wilson A, Stones-Havas S, Cheung M, Sturrock S, Buxton S, Cooper A, Markowitz S, Duran C, Thierer T, Ashton B, Meintjes P, Drummond A (2012) Geneious basic: an integrated and extendable desktop software platform for the organization and analysis of sequence data. Bioinformatics 28:1647–1649. https://doi.org/10.1093/bioinformatics/bts199

Kühner R (1933) Etudes sur le genre Marasmius. Botaniste 25:57–116

Kühner R (1980) Les hyménomycetes agaricoides (Agaricales, Tricholomatales, Pluteales, Russulales). Bull Soc Linn Lyon 49:1–1027

Küppers H (2002) Atlas de los colores. Editorial Blume, Barcelona

Mata JL, Petersen RH, Hughes KW (2001) The genus Lentinula in the Americas. Mycologia 93:1102–1112. https://doi.org/10.2307/3761671

Mata JL, Hughes KW, Petersen RH (2004a) Phylogenetic placement of Marasmiellus juniperinus. Mycoscience 45:214–221. https://doi.org/10.1007/S10267-004-0170-3

Mata JL, Halling RE, Hughes KW, Petersen RH (2004b) Rhodocollybia in neotropical montane forests. Mycol Prog 3:337–352. https://doi.org/10.1007/s11557-006-0104-x

Mata JL, Hughes KW, Petersen RH (2006) An investigation of /omphalotaceae (Fungi: Euagarics) with emphasis on the genus Gymnopus. Sydowia 58:191–189

Matheny PB, Curtis JM, Hofstetter V, Aime MC, Moncalvo J-M, Ge ZW, Yang ZL, Slot JC, Ammirati JF, Baroni TJ, Bougher NL, Hughes KW, Lodge DJ, Kerrigan RW, Seidl MT, Aanen DK, DeNitis M, Daniele GM, Desjardin DE, Kropp BR, Norvell LL, Parker A, Vellinga EC, Vilgalys R, Hibbett DS (2006) Major clades of Agaricales: a multilocus phylogenetic overview. Mycologia 98:984–997. https://doi.org/10.1080/15572536.2006.11832627

Moncalvo J-M, Lutzoni FM, Rehner SA, Johnson J, Vilgalys R (2000) Phylogenetic relationships of agaric fungi based on nuclear large subunit ribosomal DNA sequences. Syst Biol 49:278–305. https://doi.org/10.1093/sysbio/49.2.278

Moncalvo J-M, Vilgalys R, Redhead SA, Johnson JE, James TY, Aime MC, Hofstetter V, Verduin SJW, Larsson E, Baroni TJ, Thorn RG, Jacobsson S, Clémençon H, Miller OK Jr (2002) One hundred and seventeen clades of euagarics. Mol Phyl Evol 23:357–400. https://doi.org/10.1016/S1055-7903(02)00027-1

Murrill WA (1916) Agaricaceae Tribe Agariceae. N Am Flora 9:297–374

Nylander JAA (2004) Mr. Modeltest v2. Program distributed by the author. Evolutionary Biology Centre, Uppsala University, Uppsala, Sweden

Pegler DN (1983) The genus Lentinula (Tricholomataceae tribe Collybieae). Sydowia 36:227–239

Petersen RH, Hughes KW (2016) Micromphale sect. Perforantia (Agaricales, Basidiomycetes); expansion and phylogenetic placement. MycoKeys 18:1–122. https://doi.org/10.3897/mycokeys.18.10007

Petersen RH, Hughes KW (2017) An investigation on Mycetinis (Euagarics, Basidiomycota). MycoKeys 24:1–138. https://doi.org/10.3897/mycokeys.24.12846

Petersen RH, Hughes KW (2019) Two additional species of Gymnopus (Euagarics, Basidiomycotina). MycoKeys 45:1–24. https://doi.org/10.3897/mycokeys.45.29350

Retnowati A (2018) The species of Marasmiellus (Agaricales: Omphalotaceae) from Java and Bali. Gard Bull (Singapore) 70:191–258

Robert V, Vu D, Amor ABH, van de Wiele N, Brouwer C, Jabas B, Szoke S, Dridi A, Triki M, ben Daoud S, Chouchen O, Vaas L, de Cock A, Stalpers JA, Stalpers D, Verkley GJM, Groenewald M, dos Santos FB, Stegehuis G, Li W, Wu L, Zhang R, Ma J, Zhou M, Gorjón SP, Eurwilaichitr L, Ingsriswang S, Hansen K, Schoch C, Robbertse B, Irinyi L, Meyer W, Cardinali G, Hawksworth DL, Taylor JW, Crous PW (2013) MycoBank gearing up for new horizons. IMA Fungus 4:371–379. https://doi.org/10.5598/imafungus.2013.04.02.16

Ronquist F, Teslenko M, van der Mark P, Ayres D, Darling A, Höhna S, Larget B, Liu L, Suchard MA, Huelsenbeck JP (2012) MrBayes 3.2: efficient Bayesian phylogenetic inference and model choice across a large model space. Syst Biol 61:539–542. https://doi.org/10.1093/sysbio/sys029

Sandoval-Leiva PA, McDonald JV, Thorn RG (2016) Gymnopanella nothofagi, a new genus and species of gymnopoid fungi (Omphalotaceae) from Chilean Nothofagus forests. Mycologia 108:820–827. https://doi.org/10.3852/15-303

Singer R (1939) Phylogenie und Taxonomie der Agaricales. Schweiz Z Pilzk 17:71–73

Singer R (1960) Monographs of South American Basidiomycetes, especially those of the east slope of the Andes and Brazil. 3. Reduced marasmioid genera in South America. Sydowia 14:258–280

Singer R (1976) Marasmieae (Basidiomycetes – Tricholomataceae). Flora Neotrop Monogr 17:1–347

Singer R (1986) The Agaricales in modern taxonomy, 4th edn. Koeltz Scientific Books, Koenigstein

Stamatakis S (2006) RAxML-VI-HPC: maximum likelihood-based phylogenetic analyses with thousands of taxa and mixed models. Bioinformatics 22:2688–2690. https://doi.org/10.1093/bioinformatics/btl446

Vellinga EC, Kuyper TW, Ammirati J, Desjardin DE, Halling RE, Justo A, Læssøe T, Lebel T, Lodge DJ, Matheny BP, Methven AS, Moreau PA, Mueller GM, Noordeloos ME, Nuytinck J, Ovrebo CL, Verbeken A (2015) Six simple guidelines for introducing new genera of fungi. IMA Fungus 6:65–68

White TJ, Bruns TD, Lee S, Taylor J (1990) Amplification and direct sequencing of fungal ribosomal RNA genes for phylogenetics. In: Innis MA, Sninsky DH, White TJ (eds) PCR protocols: a guide to methods and applications. Academic Press Inc, New York, pp 315–322

Wilson AW, Desjardin E (2003) A phylogenetic analysis of the Gymnopus/ Marasmiellus complex using nLSU sequence data. Abstracts, Mycological Society of America 99

Wilson AW, Desjardin DE (2005) Phylogenetic relationships in the gymnopoid and marasmioid fungi (Basidiomycetes, euagarics clade). Mycologia 97:667–679. https://doi.org/10.1080/15572536.2006.11832797

Wilson AW, Desjardin DE, Horak E (2004) Agaricales of Indonesia. 5. The genus Gymnopus from Java and Bali. Sydowia 56:137–210
Acknowledgments
The authors thank the INPA Herbarium for contributing to this publication, R.H.S.F. Cruz for doing the illustrations, Dr. Tarciso de Sousa Filgueiras for reviewing the names in Latin, Dr. Genevieve Gates (Honorary Associate in Mycology and Forest Ecology, Tasmanian Institute of Agriculture) for reviewing the English writing and the anonymous reviewers for relevant contribution to this paper. The authors also thank the financial and logistical support from the Fundação de Amparo à Pesquisa do Estado do Amazonas – FAPEAM, the Centro de Estudos Integrados da Biodiversidade Amazônica (INCT-CENBAM), the Conselho Nacional de Desenvolvimento Científico e Tecnológico (CNPq), the Biodiversity Research Program (PPBio), and the Japan Science and Technology Agency /Japan International Cooperation Agency - Science and Technology Research Partnership for Sustainable Development (JST/JICA-SATREPS). Study registered in SISGen (Sistema Nacional de Gestão do Patrimônio Genético e do Conhecimento Tradicional Associado) number A44535D.
Funding
This study was supported by "Coordenação de Aperfeiçoamento de Pessoal de Nível Superior – CAPES" with a scholarship from "Programa Nacional de Pós-doutorado – PNPD" granted to J.J.S. de Oliveira, post-doctoral fellow of DIBOT, and other to T.S. Cabral, post-doctoral fellow of DIGEN, INPA. For R. Vargas-Isla, a scholarship from "Ação Orçamentária – MCTIC/PT 19.571.2021.20VD.0001 (C, T & I para Pesquisa, Desenvolvimento, Conservação, Valoração e Sustentabilidade dos Recursos Naturais Brasileiros).
Additional information
Publisher's note
Springer Nature remains neutral with regard to jurisdictional claims in published maps and institutional affiliations.
Section Editor: Zhu-Liang Yang
Electronic supplementary material
About this article
Cite this article
Oliveira, J.J.S., Vargas-Isla, R., Cabral, T.S. et al. Progress on the phylogeny of the Omphalotaceae: Gymnopus s. str., Marasmiellus s. str., Paragymnopus gen. nov. and Pusillomyces gen. nov.. Mycol Progress 18, 713–739 (2019). https://doi.org/10.1007/s11557-019-01483-5
Received:

Revised:

Accepted:

Published:

Issue Date:
Keywords
Agaricales

Amazon forest

Marasmioid

Gymnopoid

Plant pathogen

Taxonomy