Abstract
Anupama gen. nov. is described from the Kerala State of India with a single species, Anupama indica sp. nov. In the field, Anupama can be characterized by its small to medium-sized, tricholomatoid basidiocarps lacking veils of any kind and growing on the soil, a brownish pileus with a glabrous, somewhat waxy surface, crowded, sinuate lamellae, and a solid, orange-gray stipe tapering towards the base. The diagnostic microscopic features include hyaline, smooth, inamyloid basidiospores, abundant cheilocystidia and scarce pleurocystidia, subregular lamellar trama, a cutis-type pileipellis, and clamped hyphae. The multigene phylogenetic analyses based on two independent data matrices revealed the taxonomic position of Anupama within the Biannulariaceae, in which it formed a lineage distinct from other genera. A taxonomic description, photographs of the basidiocarps in their natural habitat and the microscopic structures, comparisons with phenetically and phylogenetically related genera of the family, phylograms showing the placement of the new genus, and a key to the genera of the family are provided.
Access options
Buy single article
Instant access to the full article PDF.
US$ 39.95
Tax calculation will be finalised during checkout.
Subscribe to journal
Immediate online access to all issues from 2019. Subscription will auto renew annually.
US$ 79
Tax calculation will be finalised during checkout.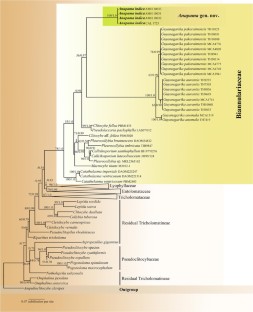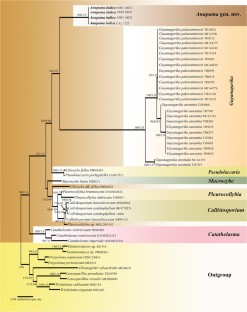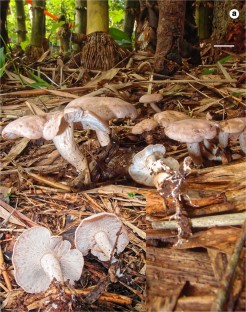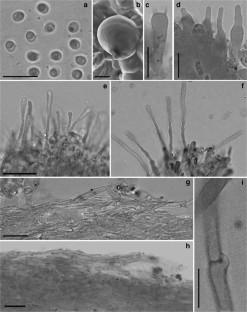 References
Alvarado P, Moreau PA, Dima B, Vizzini A, Consiglio G, Moreno G, Setti L, Kekki T, Huhtinen S, Liimatainen K, Niskanen T (2018) Pseudoclitocybaceae fam. nov. (Agaricales, Tricholomatineae), a new arrangement at family, genus and species level. Fungal Divers 90:109–133 https://doi.org/10.1007/s13225-018-0400-1

Ammirati JF, Parker AD, Matheny PB (2007) Cleistocybe, a new genus of Agaricales. Mycoscience 48:282–289 https://doi.org/10.1007/S10267-007-0365-5

Anonymous (2004) The Online Auction Color Chart. Online Auction Color Chart Company, Palo Alto

Baroni TJ, Matheny PB (2011) A re-evaluation of Gasteroid and Cyphelloid species of Entolomataceae from eastern North America. Harv Pap Bot 16:293–310 https://doi.org/10.3100/0.25.016.0205

Baroni TJ, Bocsusis N, Lodge DJ, Lindner DL (2008) A new species of Pleurocollybia (Tricholomataceae; Agaricales; Basidiomycetes) from Belize. Mycotaxon 103:353–363

Baroni TJ, Hofstetter V, Largent DL, Vilgalys R (2011) Entocybe is proposed as a new genus in the Entolomataceae (Agaricomycetes, Basidiomycota) based on morphological and molecular evidence. North American Fungi 6:1–19. https://doi.org/10.2509/naf2011.006.012

von Beck G (1922) Das System der Blätterpilze (Agaricineae). Pilz- und Kräuterfreund 5:228–236

Binder M, Hibbett DS, Larsson KH, Larsson E, Langer E, Langer G (2005) The phylogenetic distribution of resupinate forms across the major clades of mushroom-forming fungi (Homobasidiomycetes). Syst Biodivers 3:113–157 https://doi.org/10.1017/S1477200005001623

Co-David DLV, Langeveld D, Noordeloos ME (2009) The molecular phylogeny and spore evolution of Entolomataceae. Persoonia 23:147–176. https://doi.org/10.3767/003158509X480944

Darriba D, Taboada G, Doallo R, Posada D (2012) jModelTest 2: more models, new heuristics and parallel computing. Nat Methods 9:772. https://doi.org/10.1038/nmeth.2109

De Fine Licht HH, Boomsma JJ, Aanen DK (2006) Presumptive horizontal symbiont transmission in the fungus-growing termite Macrotermes natalensis. Mol Ecol 15:3131–3138 https://doi.org/10.1111/j.1365-294X.2006.03008.x

Farook AV, Khan SS, Manimohan P (2013) A checklist of agarics (gilled mushrooms) of Kerala State, India. Mycosphere 4:97–131. https://doi.org/10.5943/mycosphere/4/1/6

Gouy M, Guindon S, Gascuel O (2010) SeaView version 4: a multiplatformgraphical user interface for sequence alignment and phylogenetic tree building. Mol Biol Evol 27:221–224. https://doi.org/10.1093/molbev/msp259

Grubisha LC, Levsen N, Olson MS, Taylor DL (2012) Intercontinental divergence in the Populus-associated ectomycorrhizal fungus, Tricholoma populinum. New Phytol 194:548–560. https://doi.org/10.1111/j.1469-8137.2012.04066.x

Hofstetter V, Redhead SA, Kauff F, Moncalvo JM, Matheny PB, Vilgalys R (2014) Taxonomic revision and examination of ecological transitions of the Lyophyllaceae (Basidiomycota, Agaricales) based on a multigene phylogeny. Cryptogam. Mycologia 35:399–425. https://doi.org/10.7872/crym.v35.iss4.2014.399

Hongo T (1959) Notes on Japanese larger fungi (14). J Jap Bot 34:239–246

Hwang SK, Kim JG (1995) Nucleotide sequence analysis of the 5S ribosomal RNA gene of the mushroom Tricholoma matsutake. J Microbiol 33:136–141

Hyde KD, Zhou D, Dalisay T (2002) Bambusicolous fungi: a review. Fungal Divers 9:1–14

Hyde KD, Hongsanan S, Jeewon R et al (2016) Fungal diversity notes 367-491: taxonomic and phylogenetic contributions to fungal taxa. Fungal Divers 80:1–270. https://doi.org/10.1007/s13225-016-0373-x

Jülich W (1981) Higher taxa of Basidiomycetes. Bibl Mycol 85:1–485

Kluting KL, Baroni TJ, Bergemann SE (2014) Toward a stable classification of genera within the Entolomataceae: phylogenetic re-evaluation of the Rhodocybe-Clitopilus clade. Mycologia 106:1127–1142. https://doi.org/10.3852/13-270

Kornerup A, Wanscher JH (1978) Methuen handbook of colour, 3rd edn. Methuen & Co., London

Lanfear R, Frandsen PB, Wright AM, Senfeld T, Calcott B (2017) PartitionFinder 2: new methods for selecting partitioned models of evolution for molecular and morphological phylogenetic analyses. Mol Biol Evol 34:772–773. https://doi.org/10.1093/molbev/msw260

Larsson A (2014) AliView: a fast and lightweight alignment viewer and editor for large data sets. Bioinformatics 30:3276–3278. https://doi.org/10.1093/bioinformatics/btu531

Latha KPD, Manimohan P (2018) A new species of Hygrocybe from Kerala State, India. Phytotaxa 385:013–022. https://doi.org/10.11646/phytotaxa.385.1.2

Latha KPD, Raj KNA, Cherolil T, Sharafudheen SA, Manimohan P (2016) Three new species of Calocybella from India based on morphology and molecular phylogeny. Phytotaxa 255:133–143. https://doi.org/10.11646/phytotaxa.255.2.2

Lavorato C, Vizzini A, Ge ZW, Contu M (2015) Redescription of Clitocybe umbrinopurpurascens (Basidiomycota, Agaricales) and revision of Neohygrophorus and Pseudoomphalina. Phytotaxa 219:043–057. https://doi.org/10.11646/phytotaxa.219.1.3

Liu P (1994) Classification of the genus Tricholomopsis from the Southwestern China. Acta Mycol Sin 3:181–187

Lodge DJ, Padamsee M, Matheny PB et al (2014) Molecular phylogeny, morphology, pigment chemistry and ecology in Hygrophoraceae (Agaricales). Fungal Divers 64:1–99 https://doi.org/10.1007/s13225-013-0259-0

Lovejoy RH (1910) Some new saprophytic fungi of the middle Rocky Mountain region. Bot Gaz (Crawfordsville) 50:383–385

Manimohan P, Leelavathy KM (1989) Some agarics new to India. Sydowia 41:200–208

Matheny PB (2005) Improving phylogenetic inference of mushrooms with RPB1 and RPB2 nucleotide sequences (Inocybe; Agaricales). Mol Phylogenet Evol 35:1–20 https://doi.org/10.1016/j.ympev.2004.11.014

Matheny PB, Curtis JM, Hofstetter V et al (2006) Major clades of Agaricales: a multilocus phylogenetic overview. Mycologia 98:982–995. https://doi.org/10.1080/15572536.2006.11832627

Matheny PB, Moreau PA, Vizzini A, Harrower E, De Haan A, Contu M, Curti M (2015) Crassisporium and Romagnesiella: two new genera of dark-spored Agaricales. Syst Biodivers 13:28–41. https://doi.org/10.1080/14772000.2014.967823

Matheny PB, Baroni TJ, Simoni A, Rojas MEH, Sánchez-García M, Gates GM (2017) The wild edible mushroom Pleurocollybia cibaria from Peru is a species of Gerhardtia in the Lyophyllaceae (Agaricales). Cryptogam. Mycologia 38:205–212. https://doi.org/10.7872/crym/v38.iss2.2017.205

Miller MA, Pfeiffer W, Schwartz T (2010) Creating the CIPRES Science Gateway for inference of large phylogenetic trees, in: Proceedings of the Gateway Computing Environments Workshop (GCE) 14 Nov. 2010. Institute of Electrical and Electronics Engineers, New Orleans, LA. https://doi.org/10.1109/GCE.2010.5676129

Moncalvo JM, Lutzoni FM, Rehner SA, Johnson J, Vilgalys R (2000) Phylogenetic relationships of agaric fungi based on nuclear large subunit ribosomal DNA sequences. Syst Biol 49:278–305 https://doi.org/10.1093/sysbio/49.2.278

Moncalvo JM, Vilgalys R, Redhead SA, Johnson JE, James TY, Aime MC, Hofstetter V, Verduin SJ, Larsson E, Baroni TJ, Thorn GR, Jacobsson S, Clémençon H, Miller OK Jr (2002) One hundred and seventeen clades of euagarics. Mol Phylogenet Evol 23:357–400. https://doi.org/10.1016/S1055-7903(02)00027-1

Moncalvo JM, Baroni TJ, Bhatt RP, Stephenson SL (2004) Rhodocybe paurii, a new species from the Indian Himalaya. Mycologia 96:859–865 https://doi.org/10.2307/3762118

Moreno G, Contu M, Ortega A, Platas G, Pelaez F (2007) Molecular phylogenetic studies show Omphalina giovanellae represents a new section of Clitopilus (Agaricomycetes). Mycol Res 111:1399–1405 https://doi.org/10.1016/j.mycres.2007.09.009

Natarajan K, Kumaresan V, Narayanan K (2005) A checklist of Indian agarics and boletes (1984-2002). Kavaka 33:61–128

Osmundson TW, Robert VA, Schoch CL, Baker LJ, Smith A, Robich G, Mizzan L, Garbelotto MM (2013) Filling gaps in biodiversity knowledge for macrofungi: contributions and assessment of an herbarium collection DNA barcode sequencing project. PLoS One 8:E62419 https://doi.org/10.1371/journal.pone.0062419

Pegler DN (1983) Agaric flora of the Lesser Antilles. Kew Bull add Series 9:1–668

Pegler DN (1986) Agaric flora of Sri Lanka. Kew Bull add Series 12:1–519

Pegler DN, Lodge DJ, Nakasone KK (1998) The pantropical genus Macrocybe gen. nov. Mycologia 90:494–504. https://doi.org/10.1080/00275514.1998.12026934

Peintner U, Bougher NL, Castellano MA, Moncalvo JM, Moser MM, Trappe JM, Vilgalys R (2001) Multiple origins of sequestrate fungi related to Cortinarius (Cortinariaceae). Am J Bot 88:2168–2179. https://doi.org/10.2307/3558378

Porter TM, Skillman JE, Moncalvo JM (2008) Fruiting body and soil rDNA sampling detects complementary assemblage of Agaricomycotina (Basidiomycota, Fungi) in a hemlock-dominated forest plot in southern Ontario. Mol Ecol 17:3037–3050. https://doi.org/10.1111/j.1365-294X.2008.03813.x

Raj KNA, Manimohan P (2018) A new species and a new record of Clitopilus and a description of C. orientalis from India based on morphology and molecular phylogeny. Phytotaxa 343:47–59. https://doi.org/10.11646/phytotaxa.343.1.4

Raj KNA, Latha KPD, Sánchez-García M, Manimohan P (2015) A new species of the genus Corneriella from India supported by morphological and molecular data. Phytotaxa 213:102–112. https://doi.org/10.11646/phytotaxa.213.2.3

Raj KNA, Latha KPD, Iyyappan R, Manimohan P (2016) Rhodophana squamulosa a new species of Entolomataceae from India. Mycoscience 57:90–95 https://doi.org/10.1016/j.myc.2015.10.001

Rambaut A (2014) FigTree 1.4.2 software. Institute of Evolutionary Biology, Univ. Edinburgh. http://tree.bio.ed.ac.uk/software/figtree/

Ronquist F, Teslenko M, van der Mark P, Ayres DL, Darling A, Höhna S, Larget B, Liu L, Suchard MA, Huelsenbeck JP (2012) MrBayes 3.2: efficient Bayesian phylogenetic inference and model choice across a large model space. Syst Biol 61:539–542 https://doi.org/10.1093/sysbio/sys029

Saba M, Khalid AN (2014) First report of Callistosporium luteoolivaceum from Western Himalaya, Pakistan. Mycotaxon 129:73–77. https://doi.org/10.5248/129.73

Sánchez-García M, Matheny PB (2017) Is the switch to an ectomycorrhizal state an evolutionary key innovation in mushroom-forming fungi? A case study of the Tricholomatineae (Agaricales). Evolution 71:51–65. https://doi.org/10.1111/evo.13099

Sánchez-García M, Matheny PB, Palfner G, Lodge DJ (2014) Deconstructing the Tricholomataceae (Agaricales) and introduction of the new genera Albomagister, Corneriella, Pogonoloma and Pseudotricholoma. Taxon 63:993–1007. https://doi.org/10.12705/635.635.3

Sánchez-García M, Henkel TW, Aime MC, Smith ME, Matheny PB (2016) Guyanagarika, a new ectomycorrhizal genus of Agaricales from the Neotropics. Fungal Biol 120:1540–1553. https://doi.org/10.1016/j.funbio.2016.08.005

Singer R (1940) Notes sur quelques Basidiomycètes. Rev Mycol 5:3–13

Singer R (1975) The Agaricales in modern taxonomy, 3rd edn. Cramer, Vaduz

Singer R (1986) The Agaricales in modern taxonomy, 4th edn. Koeltz Scientific Books, Königstein

Smith ME, Henkel,TW, Uehling JK, Fremier AK, Clarke HD, Vilgalys R (2013) The ectomycorrhizal fungal community in a neotropical forest dominated by the endemic dipterocarp Pakaraimaea dipterocarpacea. PLoS One 8:E55160. https://doi.org/10.1371/journal.pone.0055160

Stamatakis A (2014) RAxML version 8: a tool for phylogenetic analysis and post-analysis of large phylogenies. Bioinformatics 309:1312–1313. https://doi.org/10.1093/bioinformatics/btu033

Vellinga EC (1995) Tribus Biannularieae Sing. ex Bas. In: Bas C, Kuyper TW, Noordeloos ME, Vellinga EC (eds) Flora Agaricina Neerlandica 3. Balkema, Rotterdam, p 176

Vilgalys R, Hester M (1990) Rapid genetic identification and mapping of enzymatically amplified ribosomal DNA from several Cryptococcus species. J Bacteriol 172:4238–4246 https://doi.org/10.1128/jb.172.8.4238-4246.1990

Vizzini A, Contu M, Ercole E (2011) Musumecia gen. nov. in the Tricholomatoid clade (Basidiomycota, Agaricales) related to Pseudoclitocybe. Nord J Bot 29:734–740 https://doi.org/10.1111/j.1756-1051.2011.01169.x

Vizzini A, Consiglio G, Setti L, Ercole E (2012) The phylogenetic position of Haasiella (Basidiomycota, Agaricomycetes) and the relationships between H. venustissima and H. splendidissima. Mycologia 104:777–784. https://doi.org/10.3852/11-334

Walther G, Garnica S, Weiss M (2005) The systematic relevance of conidiogenesis modes in the gilled Agaricales. Mycol Res 109:525–544 https://doi.org/10.1017/S0953756205002868

Wang Z, Binder M, Dai YC, Hibbett DS (2004) Phylogenetic relationships of Sparassis inferred from nuclear and mitochondrial ribosomal DNA and RNA polymerase sequences. Mycologia 96:1015–1029. https://doi.org/10.2307/3762086

Wasser SP (1985) Agarikovye Griby SSSR. Naukova Dumka, Kiev

White TJ, Brun T, Lee SS, Taylor J (1990) Amplification and direct sequencing of fungal ribosomal RNA genes for phylogenetics. In: Innis MA, Gelfand DH, Sninsky JJ, White TJ (eds) PCR protocols: a guide to methods and applications. Academic, New York, pp 315–322. https://doi.org/10.1016/B978-0-12-372180-8.50042-1
Acknowledgments
KNAR and KPDL acknowledge the support from the Council of Scientific & Industrial Research (CSIR), New Delhi, India, in the form of CSIR Research Associateships (09/043(0178) 2K17 dated: 31/03/2017 and 09/43 (190) 2K18 EMR-1 dated 25/04/2018). We thank Dr. Brandon Matheny and an anonymous reviewer for their suggestions to improve the manuscript.
Additional information
Publisher's note
Springer Nature remains neutral with regard to jurisdictional claims in published maps and institutional affiliations.
K. N. Anil Raj and K. P. Deepna Latha are acknowledged as the joint first authors of this work.
Section Editor: Zhu-Liang Yang
Electronic supplementary material
About this article
Cite this article
Raj, K.N.A., Latha, K.P.D., Leelavathy, K.M. et al. Anupama: a new genus of Biannulariaceae (Agaricales) from tropical India. Mycol Progress 18, 659–669 (2019). https://doi.org/10.1007/s11557-019-01479-1
Received:

Revised:

Accepted:

Published:

Issue Date:
Keywords
Basidiomycota

New taxa

Phylogeny

Taxonomy

Tropical fungi