Abstract
Four new species of arbuscular mycorrhizal (AM) fungi (Glomeromycota) were isolated from the rhizosphere of endemic metallophytic plants in ultramafic soils in New Caledonia (South Pacific) and propagated on Sorghum vulgare. Acaulospora saccata and A. fragilissima are placed in the Acaulosporaceae, Scutellospora ovalis in the Gigasporaceae, and Rhizophagus neocaledonicus in the Glomeraceae. The novelty of these species is supported by morphological characters of spores and phylogenetic analyses of sequences of the rDNA region, comprising partial small subunit rRNA gene, the internal transcribed spacers, 5.8S rRNA gene, and the partial large subunit rRNA gene. New Caledonia is known for its high degree of endemism in plants, which is due to its geographic position and geological history. This is the first taxonomic study exploring local Glomeromycota of this island, which may help to address the question of possible AMF endemism in future studies.
Access options
Buy single article
Instant access to the full article PDF.
US$ 39.95
Tax calculation will be finalised during checkout.
Subscribe to journal
Immediate online access to all issues from 2019. Subscription will auto renew annually.
US$ 79
Tax calculation will be finalised during checkout.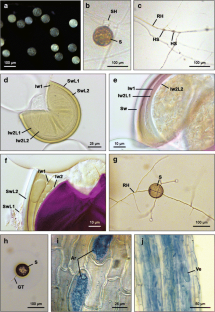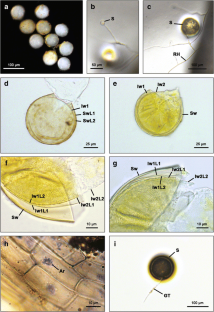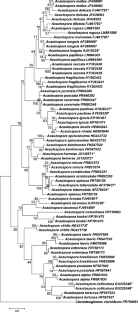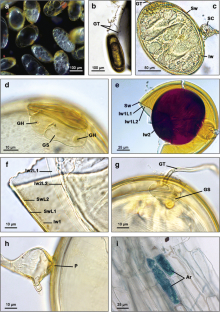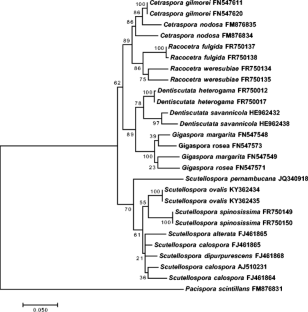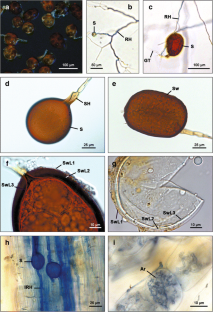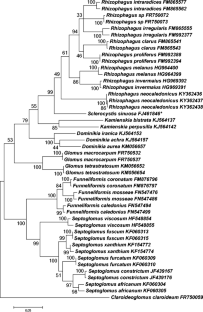 References
Altschul SF, Madden TL, Schäffer AA et al (1997) Gapped BLAST and PSI-BLAST: a new generation of protein database search programs. Nucleic Acids Res 25:3389–3402

Amir H, Ducousso M (2010) Les bactéries et les champignons du sol sur roches ultramafiques. In: L'huillier L, Jaffré T, Wulff A (eds) Mines et Environnement en Nouvelle-Calédonie : les milieux sur substrats ultramafiques et leur restauration. IAC, Nouméa, New Caledonia, pp 129–146

Amir H, Jasper DA, Abbott LK (2008) Tolerance and induction of tolerance to Ni of arbuscular mycorrhizal fungi from New Caledonian ultramafic soils. Mycorrhiza 19:1–6. https://doi.org/10.1007/s00572-008-0197-y

Amir H, Perrier N, Rigault F, Jaffré T (2007) Relationships between Ni-hyperaccumulation and mycorrhizal status of different endemic plant species from New Caledonian ultramafic soils. Plant Soil 293:23–35. https://doi.org/10.1007/s11104-007-9238-0

Amir H, Pineau R, Violette Z (1997) Premiers résultats sur les endomycorhizes des plantes de maquis miniers de Nouvelle-Calédonie. In: Jaffré T, Reeves RD, Becquer T (eds) The ecology of ultramafic and metalliferous areas. ORSTOM, Nouméa, New Caledonia, pp 79–85

Bécard G, Fortin JA (1988) Early events of vesicular-arbuscular mycorrhiza formation on Ri T-DNA transformed roots. New Phytol 108:211–218. https://doi.org/10.1111/j.1469-8137.1988.tb03698.x

Błaszkowski J, Kozłowska A, Crossay T, et al (2017) A new family, Pervetustaceae with a new genus, Pervetustus, and P. simplex sp. nov. (Paraglomerales), and a new genus, Innospora with I. majewskii comb. nov. (Paraglomeraceae) in the Glomeromycotina. Nova Hedwigia. doi: https://doi.org/10.1127/nova_hedwigia/2017/0419

Błaszkowski J, Chwat G, Góralska A (2015) Acaulospora ignota and Claroideoglomus hanlinii, two new species of arbuscular mycorrhizal fungi (Glomeromycota) from Brazil and Cuba. Mycol Prog. https://doi.org/10.1007/s11557-015-1042-2

Błaszkowski J (2012) Glomeromycota. W. Szafer Institute of Botany, Polish Academy of Sciences, Kraków

Błaszkowski J, Renker C, Buscot F (2006) Glomus drummondii and G. walkeri, two new species of arbuscular mycorrhizal fungi (Glomeromycota). Mycol Res 110:555–566. https://doi.org/10.1016/j.mycres.2006.02.006

Brooks RR (1987) The serpentine factor. In: Brooks RR (ed) Serpentine and its vegetation. A multidisciplinary approach. Dioscorides Press, Portland, Oregon, pp 32–59

Brundrett MC (2009) Mycorrhizal associations and other means of nutrition of vascular plants: understanding the global diversity of host plants by resolving conflicting information and developing reliable means of diagnosis. Plant Soil 320:37–77. https://doi.org/10.1007/s11104-008-9877-9

da Silva DKA, da Silva DKA, de Oliveira Freitas N et al (2008) Scutellospora pernambucana, a new fungal species in the Glomeromycetes with a diagnostic germination orb. Mycotaxon 106:361–370

da Silva GA, Lumini E, Maia LC et al (2006) Phylogenetic analysis of Glomeromycota by partial LSU rDNA sequences. Mycorrhiza 16:183–189. https://doi.org/10.1007/s00572-005-0030-9

Daniels BA, Skipper HD (1982) Methods for the recovery and quantitative estimation of propagules from soil. In, "Methods and Principles of Mycorrhizal Research" (ed. Schenck, N.C.). The Amercian Phytopath Society, St Paul, Minnesota, U.S.A., pp. 29–35

Diop TA, Plenchette C, Strullu DG (1994) Dual axenic culture of sheared-root inocula of vesicular-arbuscular mycorrhizal fungi associated with tomato roots. Mycorrhiza 5:17–22. https://doi.org/10.1007/BF00204015

Enright NJ, Rigg L, Jaffre T (2001) Environmental controls on species composition along a (maquis) shrubland to forest gradient on ultramafics at Mont Do, New Caledonia. S Afr J Sci 97:573–580

Fitzsimons MS, Miller RM (2010) Serpentine soil has little influence on the root-associated microbial community composition of the serpentine tolerant grass species Avenula sulcata. Plant Soil 330:393–405. https://doi.org/10.1007/s11104-009-0213-9

Gensous S (2014) Les champignons mycorhiziens à arbuscules des maquis miniers de la Nouvelle Calédonie : Diversité, rôle dans l'adaptation des plantes à la contrainte ultramafique et interaction avec des rhizobactéries promotrices de la croissance. Res Gate. https://doi.org/10.6098/2014NCAL0062

Graham RC (2009) Serpentine Geoecology of Western North America: Geology, Soils, and Vegetation. Soil Sci 174:193. https://doi.org/10.1097/SS.0b013e318199f342

Guindon S, Dufayard JF, Lefort V et al (2010) New algorithms and methods to estimate maximum-likelihood phylogenies: assessing the performance of PhyML 3.0. Syst Biol 59:307–321. https://doi.org/10.1093/sysbio/syq010

Hall IR (1977) Species and mycorrhizal infections of New Zealand endogonaceae. Trans Br Mycol Soc 68:341–356. https://doi.org/10.1016/S0007-1536(77)80186-1

Jaffré T, L'Huillier L (2010) Conditions de milieu des terrains miniers. In: Mines et Environnement en Nouvelle-Calédonie. Les milieux sur substrats ultramafiques et leur restauration. Ed. by L'huillier L, Jaffré T, Wulff A. IAC Editions. pp, pp 33–44

Jaffré T, Munzinger J, Lowry PP (2010) Threats to the conifer species found on New Caledonia's ultramafic massifs and proposals for urgently needed measures to improve their protection. Biodivers Conserv 19:1485–1502. https://doi.org/10.1007/s10531-010-9780-6

Jaffré T (1993) The relationship between ecological diversity and floristic diversity in New Caledonia. Biodivers Lett 1:82. https://doi.org/10.2307/2999751

Katoh K, Standley DM (2013) MAFFT multiple sequence alignment software version 7: improvements in performance and usability. Mol Biol Evol 30:772–780. https://doi.org/10.1093/molbev/mst010

Kohout P, Doubková P, Bahram M et al (2015) Niche partitioning in arbuscular mycorrhizal communities in temperate grasslands: a lesson from adjacent serpentine and nonserpentine habitats. Mol Ecol 24:1831–1843. https://doi.org/10.1111/mec.13147

Koske RE, Gemma JN (1997) Mycorrhizae and succession in plantings of beachgrass in sand dunes. Am J Bot 84:118–130. https://doi.org/10.2307/2445889

Krüger M, Krüger C, Walker C et al (2012) Phylogenetic reference data for systematics and phylotaxonomy of arbuscular mycorrhizal fungi from phylum to species level. New Phytol 193:970–984. https://doi.org/10.1111/j.1469-8137.2011.03962.x

Krüger M, Stockinger H, Krüger C, Schüßler A (2009) DNA-based species level detection of Glomeromycota : one PCR primer set for all arbuscular mycorrhizal fungi. New Phytol 183:212–223. https://doi.org/10.1111/j.1469-8137.2009.02835.x

Kumar S, Stecher G, Tamura K (2016) MEGA7: molecular evolutionary genetics analysis version 7.0 for bigger datasets. Mol Biol Evol 33:1870–1874. https://doi.org/10.1093/molbev/msw054

Lagrange A, Ducousso M, Jourand P et al (2011) New insights into the mycorrhizal status of Cyperaceae from ultramafic soils in New Caledonia. Can J Microbiol 57:21–28. https://doi.org/10.1139/W10-096

Luçon S, Marion F, Niel JF, Pelletier B (1997) Rehabilitation des sites miniers sur roches ultramafiques en Nouvelle-Calédonie. Dans: Jaffré T, Reeves RD and Becquer T (eds) Écologie des milieux sur roches ultramafiques et sur sols métallifères, ORSTOM, Noumea pp 297-303

McCoy S, Jaffré T, Rigault F, Ash JE (1999) Fire and succession in the ultramafic maquis of New Caledonia. J Biogeogr 26:579–594. https://doi.org/10.1046/j.1365-2699.1999.00309.x

Myers N, Mittermeier RA, Mittermeier CG et al (2000) Biodiversity hotspots for conservation priorities. Nature 403:853–858. https://doi.org/10.1038/35002501

Oehl F, Sieverding E, Ineichen K et al (2005) Community structure of arbuscular mycorrhizal fungi at different soil depths in extensively and intensively managed agroecosystems. New Phytol 165:273–283. https://doi.org/10.1111/j.1469-8137.2004.01235.x

Ohsowski BM, Zaitsoff PD, Opik M, Hart MM (2014) Where the wild things are: looking for uncultured Glomeromycota. New Phytol 204:171–179. https://doi.org/10.1111/nph.12894

Omar MB, Bolland L, Heather WA (1979) A permanent mounting medium for fungi. Bull Br Mycol Soc 13:31–32. https://doi.org/10.1016/S0007-1528(79)80038-3

Öpik M, Davison J, Moora M, Zobel M (2014) DNA-based detection and identification of Glomeromycota: the virtual taxonomy of environmental sequences1. Botany 92:135–147. https://doi.org/10.1139/cjb-2013-0110

Öpik M, Zobel M, Cantero JJ et al (2013) Global sampling of plant roots expands the described molecular diversity of arbuscular mycorrhizal fungi. Mycorrhiza 23:411–430. https://doi.org/10.1007/s00572-013-0482-2

Palenzuela J, Azcon-Aguilar C, J. m B et al (2013) Acaulospora pustulata and Acaulospora tortuosa, two new species in the Glomeromycota from Sierra Nevada National Park (southern Spain). Res Gate 97:305–319. https://doi.org/10.1127/0029-5035/2013/0129

Pereira CMR, Maia LC, Sánchez-Castro I et al (2016) Acaulospora papillosa, a new mycorrhizal fungus from NE Brazil, and Acaulospora rugosa from Norway. Phytotaxa 260:14–24. https://doi.org/10.11646/phytotaxa.260.1.2

Perrier N, Amir H, Colin F (2006) Occurrence of mycorrhizal symbioses in the metal-rich lateritic soils of the Koniambo Massif, New Caledonia. Mycorrhiza 16:449–458. https://doi.org/10.1007/s00572-006-0057-6

Phillips JM, Hayman DS (1970) Improved procedures for clearing roots and staining parasitic and vesicular-arbuscular mycorrhizal fungi for rapid assessment of infection. Trans Br Mycol Soc 55:158–IN18. https://doi.org/10.1016/S0007-1536(70)80110-3

Pirozynski KA, Malloch DW (1975) The origin of land plants: a matter of mycotrophism. Biosystems 6:153–164. https://doi.org/10.1016/0303-2647(75)90023-4

de Pontes JS, Sánchez-Castro I, Palenzuela J et al (2013) Scutellospora alterata, a new gigasporalean species from the semi-arid Caatinga biome in northeastern Brazil. Mycotaxon 125:169–181. https://doi.org/10.5248/125.169

Proctor J (2003) Vegetation and soil and plant chemistry on ultramafic rocks in the tropical Far East. Perspect Plant Ecol Evol Syst 6:105–124. https://doi.org/10.1078/1433-8319-00045

Read J, Jaffre T, Ferris JM et al (2006) Does soil determine the boundaries of monodominant rain forest with adjacent mixed rain forest and maquis on ultramafic soils in New Caledonia? J Biogeogr 33:1055–1065. https://doi.org/10.1111/j.1365-2699.2006.01470.x

Redecker D, Kodner R, Graham LE (2000) Glomalean fungi from the Ordovician. Science 289:1920–1921

Ronquist F, Huelsenbeck JP (2003) MRBAYES 3: Bayesian phylogenetic inference under mixed models. Bioinformatics 19:1572–1574

Schechter SP, Bruns TD (2012) Edaphic sorting drives arbuscular mycorrhizal fungal community assembly in a serpentine/non-serpentine mosaic landscape. Ecosphere 3:art42. https://doi.org/10.1890/ES12-00059.1

Schechter SP, Bruns TD (2008) Serpentine and non-serpentine ecotypes of Collinsia sparsiflora associate with distinct arbuscular mycorrhizal fungal assemblages. Mol Ecol 17:3198–3210. https://doi.org/10.1111/j.1365-294X.2008.03828.x

Senés-Guerrero C, Schüßler A (2016) A conserved arbuscular mycorrhizal fungal core-species community colonizes potato roots in the Andes. Fungal Divers 77:317–333. https://doi.org/10.1007/s13225-015-0328-7

Smith SE, Read D (2008) Mycorrhizal Symbiosis, Third edn. Academic Press, London

Sudová R, Sýkorová Z, Rydlová J et al (2015) Rhizoglomus melanum, a new arbuscular mycorrhizal fungal species associated with submerged plants in freshwater lake Avsjøen in Norway. Mycol Progress 14:9. https://doi.org/10.1007/s11557-015-1031-5

Symanczik S, Blaszkowski J, Chwat G et al (2014) Three new species of arbuscular mycorrhizal fungi discovered at one location in a desert of Oman: Diversispora omaniana, Septoglomus nakheelum and Rhizophagus arabicus. Mycologia 106:243–259. https://doi.org/10.3852/106.2.243

Walker C, Cuenca G, Sánchez F (1998) Scutellospora spinosissima sp. nov., a newly described glomalean fungus from acidic, low nutrient plant communities in Venezuela. Ann Bot 82:721–725
Funding
This work was partly supported by the CNRT "Nickel and its environment," Nouméa, New Caledonia (CSF No. 1PS2013)
Additional information
Section Editor: Marco Thines
Electronic supplementary material
About this article
Cite this article
Crossay, T., Cilia, A., Cavaloc, Y. et al. Four new species of arbuscular mycorrhizal fungi (Glomeromycota) associated with endemic plants from ultramafic soils of New Caledonia. Mycol Progress 17, 729–744 (2018). https://doi.org/10.1007/s11557-018-1386-5
Received:

Revised:

Accepted:

Published:

Issue Date:
Keywords
Arbuscular mycorrhiza

New Caledonia

Ultramafic soils

Glomeromycota

Species description