Abstract
Two new hepaticolous ascomycetes from the Kelabit Highlands (Sarawak, Borneo) are described and illustrated. Both of them infect thallose liverworts growing in damp and shaded localities. Octosporopsis erinacea parasitizing Dumortiera hirsuta (Marchantiopsida) has tiny, light yellow, rimless, setose apothecia, usually 8-spored asci and ellipsoid ascospores. Hyphae with appressoria develop superficially on, and intracellularly within, the host thallus. Dumortiera was recorded as a host for any bryophilous fungus for the first time. Octospora kelabitiana parasitizes species of the genus Riccardia (Jungermanniopsida). It is characterised by very small, light orange, setose apothecia, 8-spored asci, ellipsoid, biguttulate spores and very thick hyphae with conspicuous warts and ridges. Generic placement of both species was inferred based on DNA analysis of two nuclear loci (EF1α, LSU rDNA).
Access options
Buy single article
Instant access to the full article PDF.
US$ 39.95
Tax calculation will be finalised during checkout.
Subscribe to journal
Immediate online access to all issues from 2019. Subscription will auto renew annually.
US$ 79
Tax calculation will be finalised during checkout.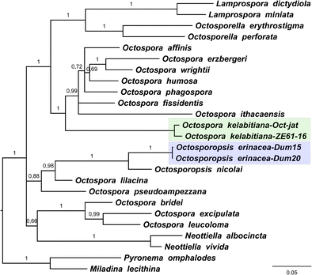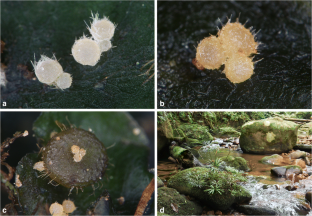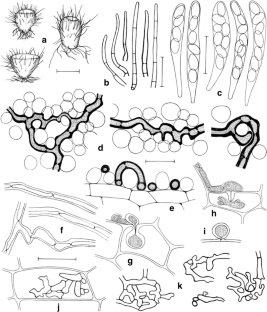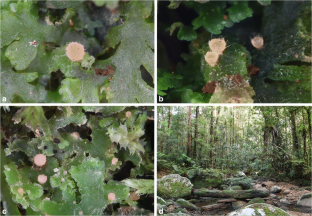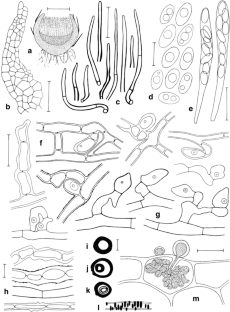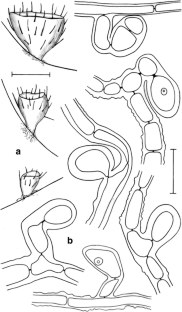 References
Benkert D (1987) Beiträge zur Taxonomie der Gattung Lamprospora (Pezizales). Z Mykol 53(2):195–271

Benkert D (1990) Zwei neue Arten der Gattung Lamprospora (Pezizales, Ascomycetes). Feddes Repert 101(11–12):631–637

Benkert D (1994) Beiträge zur Kenntnis bryophiler Pezizales-Arten. 2. Die Identität von Peziza albocincta Berk. & Curt. Beitr Kenntn Pilze Mitteleuropas 9:131–138

Benkert D (1998a) Beiträge zur Kenntnis bryophiler Pezizales-Arten. 9. Neottiella megapolitana spec. nov. und einige weitere bemerkenswerte Neottiella-Funde aus Nordostdeutschland. Z Mykol 64(2):153–161

Benkert D (1998b) Beiträge zur Kenntnis bryophiler Pezizales-Arten. 8. Viersporige Taxa der Gattung Octospora. Österr Z Pilzk 7:39–63

Benkert D (1998c) Beiträge zur Kenntnis bryophiler Pezizales-Arten. 7. Octospora ithacaensis. Z Mykol 64(1):41–44

Benkert D (1998d) Beiträge zur Kenntnis bryophiler Pezizales-Arten. 6. Wrightoideae, eine neue Sektion der Gattung Octospora. Z Mykol 64(1):17–40

Benkert D (2007) Zur Kenntnis des Vorkommens bryophiler Pezizales (Ascomycota) in Südost-Europa. Mycol Montenegrina 10:7–21

Benkert D (2011) Lamprospora bavarica und L. esterlechnerae (Pezizales), zwei neue Arten aus dem Nationalpark Bayerischer Wald (Deutschland, Bayern). Z Mykol 77(2):149–155

Benkert D, Brouwer E (2004) New species of Octospora and some further remarkable bryoparasitic Pezizales from the Netherlands. Persoonia 18(3):381–391

Boudier JLÉ (1907) Histoire et Classification des Discomycètes d'Europe. Paul Klincksieck, Paris

Caillet M, Moyne G (1980) Contribution à l'étude du genre Octospora Hedw. ex S.F. Gray emend. Le Gal. Espèces à spores ornementées, globuleuses ou subglobuleuses. Bull Soc Mycol Fr 96(2):175–211

Caillet M, Moyne G (1987) Contribution à l'étude du genre Octospora Hedw. ex S.F. Gray (Pezizales), Espèces à spores elliptiques ou fusiformes. Bull Soc Mycol Fr 103(3):179–226

Chipp TF (1921) A list of the fungi of the Malay peninsula. Gard Bull Straits Settlem 2:311–418

Chuah-Petiot MS (2011) A checklist of Hepaticae and Anthocerotae of Malaysia. Polish Bot J 56(1):1–44

Damsholt K (2002) Illustrated flora of Nordic liverworts and hornworts. Nordic Bryological Society, Lund

Darriba D, Taboada GL, Doallo RR, Posada D (2012) jModelTest 2:more models, new heuristics and parallel computing. Nat Methods 9:772

De Bruyn M, Stelbrink B, Morley RJ, Hall R, Carvalho GR, Cannon CH, Van Den Bergh G, Meijaard E, Metcalfe I, Boitani L, Maiorano L, Shoup R, Von Rintelen T (2014) Borneo and Indochina are major evolutionary hotspots for southeast Asian biodiversity. Syst Biol 63:879–901

Dennis RWG (1960) Fungi venezuelani III. Kew Bull 14(3):418–458

Dennis RWG (1970) Fungus flora of Venezuela and adjacent countries. Kew Bull Addit Ser 3:1–531

Döbbeler P (1978) Moosbewohnende Ascomyceten I. Die pyrenocarpen, den Gametophyten besiedelnden Arten. Mitt Bot Staatssamml Münch 14:1–360

Döbbeler P (1980a) Untersuchungen an moosparasitischen Pezizales aus der Verwandtschaft von Octospora. Nova Hedwigia 31(4):817–864

Döbbeler P (1980b) Moosbewohnende Ascomyceten IV. Zwei neue Arten der Gattung Octosporella (Pezizales). Mitt Bot Staatssamml Münch 16:471–484

Döbbeler P (2011) Two new hepaticolous species of the genus Octosporella (Pezizales). Herz 24(2):357–365

Döbbeler P, Menjívar R (1992) Tres nuevas especies de ascomicetes en hepáticas epífilas de Costa Rica. Rev Biol Trop 40:73–81

Doyle JJ, Doyle JL (1987) A rapid DNA isolation procedure for small quantities of fresh leaf tissue. Phytochem Bull 19:11–15

Egertová Z, Eckstein J, Vega M (2015) Lamprospora tuberculata, Octospora ithacaensis, O. orthotrichi and O. affinis – four bryoparasitic ascomycetes new to the Czech Republic. Czech Mycol 67(2):119–133

Gamundí IJ (1973) Discomycetes de Tierra del Fuego II. Especies nuevas de Humariaceae. Bol Soc Argent Bot 15(1):85–92

Hansen K, Perry BA, Dranginis AW, Donald H, Pfister DH (2013) A phylogeny of the highly diverse cup-fungus family Pyronemataceae (Pezizomycetes, Ascomycota) clarifies relationships and evolution of selected life history traits. Mol Phylogenet Evol 67:311–335

Kearse M, Moir R, Wilson A, Stones-Havas S, Cheung M, Sturrock S, Buxton S, Cooper A, Markowitz S, Duran C, Thierer T, Ashton B, Mentjies P, Drummond A (2012) Geneious basic: an integrated and extendable desktop software platform for the organization and analysis of sequence data. Bioinformatics 28(12):1647–1649

Khare KB (1975) On Humaria ithacaensis. Nor J Bot 22:111–113

Krause C, Garnica S, Bauer R, Nebel M (2011) Aneuraceae (Metzgeriales) and tulasnelloid fungi (Basidiomycota) – a model for early steps in fungal symbiosis. Fungal Biol 115:839–851

Lindemann U (2013) Beiträge zur Erforschung der Pilzflora Äthiopiens. Operculate Discomyceten, Teil 1. Ascomycete.org 5(3):97–103

Lindemann U, Alvarado P (2017) Revision der Gattung Kotlabaea, Teil 2: K. aurantiaca, K. carestiae, K. danuviana and K. trondii nebst taxonomischen Bemerkungen zu Boubovia vermiphila, Cheilymenia stercoraria und zur Gattung Pseudombrophila. Z Mykol 83(1):103–126

Lindemann U, Vega M, Richter T, Alvarado P (2014) Octosporopsis nicolai – ein rätselhafter Vertreter aus der Familie der Pyrenemataceae. Z Mykol 80:565–592

Long DG (2006) New higher taxa of complex thalloid liverworts (Marchantiophyta – Marchantiopsida). Edinb J Bot 63(2–3):257–262

McLennan E, Cookson I (1923) Additions to the Australian ascomycetes I. Proc R Soc Vic 35:153–158

McLennan E, Cookson I (1926) Additions to the Australian ascomycetes II. Proc R Soc Vic 38:69–76

Menzel M (1988) Annotated catalogue of the Hepaticae and Anthocerotae of Borneo. J Hattori Bot Lab 65:145–206

Moravec J (1997) Fungi of the Kilimanjaro – II Octospora kilimanjarensis sp. nov., a new species of the section Neottiellae (Discomycetes, Pezizales). Czech Mycol 49(3–4):149–161

Moyne G, Moingeon J-M, Chaillet P (2011) Sympathiques hépatiques ou quelques espèces du genre Octosporella. Bull Féd Mycol Est n°9:37–43

Myers N, Mittermeier RA, Mittermeier CG, da Fonseca GA, Kent J (2000) Biodiversity hotspots for conservation priorities. Nature 403:853–858

Perry BA, Hansen K, Pfister DH (2007) A phylogenetic overview of the family Pyronemataceae (Ascomycota, P ezizales). Mycol Res 111:549–571

Rehner SA (2001) Primers for elongation factor 1-α (EF1-α). http://ocid.NACSE.ORG/research/deephyphae/EF1primer.pdf

Rehner SA, Buckley E (2005) A Beauveria phylogeny inferred from nuclear ITS and EF1- α sequences:evidence for cryptic diversification and links to Cordyceps teleomorphs. Mycologia 97(1):84–98

Rifai MA (1968) The Australasian Pezizales in the herbarium of the Royal Botanic Gardens. Kew Verh K Ned Akad Wet Afd Natuurk Tweede Reeks 57(3):1–295

Ronquist F, Teslenko M, van der Mark P et al (2012) MrBayes 3.2:efficient Bayesian phylogenetic inference and model choice across a large model space. Syst Biol 61:539–542

Schumacher TK (1993) Studies in arctic and alpine Lamprospora species. Sydowia 45(2):307–337

Schuster RM (1992) The Hepaticae and Anthocerotae of North America. VI. Field Museum of Natural History, Chicago

Seaver FJ (1912) The genus Lamprospora, with descriptions of two new species. Mycologia 4(2):45–48

Seaver FJ (1914) A preliminary study of the genus Lamprospora. Mycologia 6(1):5–24

Seaver FJ (1925) Studies in tropical ascomycetes - III. Porto Rican cup-fungi. Mycologia 17(2):45–50

Suleiman M, Akiyama H, Tan BC (2006) A revised catalogue of mosses reported from Borneo. J Hattori Bot Lab 99:107–183

Tamura K, Peterson D, Peterson N, Stecher G, Nei M, Kumar S (2011) MEGA5: molecular evolutionary genetics analysis using maximum likelihood, evolutionary distance, and maximum parsimony methods. Mol Biol Evol 28:2731–2739

Velenovský J (1934) Monographia Discomycetum Bohemiae. Velenovský, Prague 1–436

Vilgalys R, Hester M (1990) Rapid genetic identification and mapping of enzymatically amplified ribosomal DNA from several Cryptococcus species. J Bacteriol 172(8):4238–4246

Wang YZ, Kimbrough JW (1992) Monographic studies of North American species of Octospora previously ascribed to Lamprospora (Pezizales, Ascomycetes). Special Publication no. 4, National Museum of Natural Science (Taiwan)

Yao Y-J, Spooner BM (1996) Notes on British Octosporella with a new genus, Filicupula (Pezizales). Kew Bull 51(1):193–196

Yao Y-J, Spooner BM, Læssøe T (2006) Octosporella fusispora sp. nov. (Pezizales), with a key to the species of the genus. Nova Hedwigia 83:483–487
Acknowledgements
We thank local Kelabit guides Rian John Pasan (Pa′Umor) and David Attu (Pa′Lungan). Petr Včelička and Marcel Vega are acknowledged for providing specimens of bryophilous fungi for the phylogenetic study, Jan Eckstein for determination of host bryophytes in some species used in the phylogenetic study, Lukáš Janošík for sharing his findings in Octospora s.l. and Chris Yeates for language correction. PD thanks Franz Höck who kindly helped with the layout of the illustrations. ZE was supported by an internal grant from Palacký University (IGA_PrF_2017_001), MS by grant No. LO1204 (Sustainable development of research in the Centre of the Region Haná) from the National Program of Sustainability I, MEYS. The research was conducted under the permit No. NCCD.907.4.4(JLD.13)-337.
Ethics declarations
Conflict of interest
The authors declare that they have no conflict of interest.
Additional information
This article is part of the "Special Issue on ascomycete systematics in honour of Richard P. Korf who died in August 2016".
Section Editor: Roland Kirschner
Electronic supplementary material
About this article
Cite this article
Egertová, Z., Döbbeler, P. & Sochor, M. Octosporopsis erinacea and Octospora kelabitiana (Pezizales) – two new hepaticolous ascomycetes from Borneo. Mycol Progress 17, 103–113 (2018). https://doi.org/10.1007/s11557-017-1354-5
Received:

Revised:

Accepted:

Published:

Issue Date:
Keywords
Bryophilous fungi

Dumortiera

Kelabit highlands

Riccardia

Sarawak