Abstract
The draft genome, morphological description, and phylogenetic placement of Coniella lustricola sp. nov. (Schizoparmeaceae) are provided. The species was isolated from submerged detritus in a fen at Black Moshannon State Park, Pennsylvania, USA and differs from all other Coniella species by having ellipsoid to fusoid, inequilateral conidia that are rounded on one end and truncate or obtuse on the other end, with a length to width ratio of 2.8. The draft genome is 36.56 Mbp and consists of 870 contigs on 634 scaffolds (L50 = 0.14 Mb, N50 = 76 scaffolds), with 0.5% of the scaffold length in gaps. It contains 11,317 predicted gene models, including predicted genes for cellulose, hemicellulose, and xylan degradation, as well as predicted regions encoding for amylase, laccase, and tannase enzymes. Many members of the Schizoparmeaceae are plant pathogens of agricultural crops. This draft genome represents the first sequenced Coniella genome and will be a valuable tool for comparisons among pathogenic Coniella species.
This is a preview of subscription content, log in to check access.
Access options
Buy single article
Instant access to the full article PDF.
US$ 39.95
Price includes VAT for USA
Subscribe to journal
Immediate online access to all issues from 2019. Subscription will auto renew annually.
US$ 118
This is the net price. Taxes to be calculated in checkout.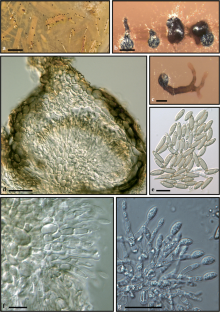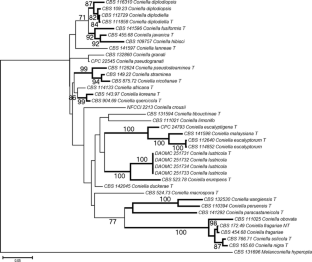 References
Abdel-Sater F, El Bakkoury M, Urrestarazu A, Vissers S, André B (2004) Amino acid signaling in yeast: casein kinase I and the Ssy5 endoprotease are key determinants of endoproteolytic activation of the membrane-bound Stp1 transcription factor. Mol Cell Biol 24:9771–9785

Ahmad S (1967) Contributions to the fungi of west Pakistan. VI. Biologia 13:38

Ahmad S (1968) Contribution to the fungi of west Pakistan. VII. Biologia 14:4

Alfaro ME, Zoller S, Lutzoni F (2003) Bayes or bootstrap? A simulation study comparing the performance of Bayesian Markov chain Monte Carlo sampling and bootstrapping in assessing phylogenetic confidence. Mol Biol Evol 20:255–266

Altschul SF, Gish W, Miller W, Myers EW, Lipman DJ (1990) Basic local alignment search tool. J Mol Biol 215:403–410

Alvarez LV, Groenewald JZ, Crous PW (2016) Revising the Schizoparmaceae: Coniella and its synonyms Pilidiella and Schizoparme. Stud Mycol 85:1–34

Bramble WC (1936) Reaction of chestnut bark to invasion by Endothia parasitica. Am J Bot 23:89–94

Castlebury LA, Rossman AY, Jaklitsch WJ, Vasilyeva LN (2017) A preliminary overview of the Diaporthales based on large subunit nuclear ribosomal DNA sequences. Mycologia 94(6):1017–1031

Castresana J (2000) Selection of conserved blocks from multiple alignments for their use in phylogenetic analysis. Mol Biol Evol 17:540–552

Çeliker NM, Uysal A, Çetinel B, Poyraz D (2012) Crown rot on pomegranate caused by Coniella granati in Turkey. Aust Plant Dis Notes 7:161–162

Chen Y, Shao DD, Zhang AF, Yang X, Zhou MG, Xu YL (2014) First report of a fruit rot and twig blight on pomegranate (Punica granatum) caused by Pilidiella granati in Anhui Province of China. Plant Dis 98:695

Crous PW, Summerell BA, Shivas RG, Burgess TI, Decock CA, Dreyer LL, Granke LL, Guest DI, Hardy GE, Hausbeck MK, Hüberli D, Jung T, Koukol O, Lennox CL, Liew EC, Lombard L, McTaggart AR, Pryke JS, Roets F, Saude C, Shuttleworth LA, Stukely MJ, Vánky K, Webster BJ, Windstam ST, Groenewald JZ (2012) Fungal Planet description sheets: 107–127. Persoonia 28:138–182

Crous PW, Shivas RG, Quaedvlieg W, van der Bank M, Zhang Y, Summerell BA, Guarro J, Wingfield MJ, Wood AR, Alfenas AC, Braun U, Cano-Lira JF, García D, Marin-Felix Y, Alvarado P, Andrade JP, Armengol J, Assefa A, den Breeÿen A, Camele I, Cheewangkoon R, De Souza JT, Duong TA, Esteve-Raventós F, Fournier J, Frisullo S, García-Jiménez J, Gardiennet A, Gené J, Hernández-Restrepo M, Hirooka Y, Hospenthal DR, King A, Lechat C, Lombard L, Mang SM, Marbach PA, Marincowitz S, Marin-Felix Y, Montaño-Mata NJ, Moreno G, Perez CA, Pérez Sierra AM, Robertson JL, Roux J, Rubio E, Schumacher RK, Stchigel AM, Sutton DA, Tan YP, Thompson EH, van der Linde E, Walker AK, Walker DM, Wickes BL, Wong PT, Groenewald JZ (2014) Fungal Planet description sheets: 214–280. Persoonia 32:184–306

Crous PW, Wingfield MJ, Guarro J, Hernández-Restrepo M, Sutton DA, Acharya K, Barber PA, Boekhout T, Dimitrov RA, Dueñas M, Dutta AK, Gené J, Gouliamova DE, Groenewald M, Lombard L, Morozova OV, Sarkar J, Smith MT, Stchigel AM, Wiederhold NP, Alexandrova AV, Antelmi I, Armengol J, Barnes I, Cano-Lira JF, Castañeda Ruiz RF, Contu M, Courtecuisse PR, da Silveira AL, Decock CA, de Goes A, Edathodu J, Ercole E, Firmino AC, Fourie A, Fournier J, Furtado EL, Geering ADW, Gershenzon J, Giraldo A, Gramaje D, Hammerbacher A, He XL, Haryadi D, Khemmuk W, Kovalenko AE, Krawczynski R, Laich F, Lechat C, Lopes UP, Madrid H, Malysheva EF, Marín-Felix Y, Martín MP, Mostert L, Nigro F, Pereira OL, Picillo B, Pinho DB, Popov ES, Rodas Peláez CA, Rooney-Latham S, Sandoval-Denis M, Shivas RG, Silva V, Stoilova-Disheva MM, Telleria MT, Ullah C, Unsicker SB, van der Merwe NA, Vizzini A, Wagner HG, Wong PTW, Wood AR, Groenewald JZ (2015a) Fungal Planet description sheets: 320–370. Persoonia 34:167–266

Crous PW, Schumacher RK, Wingfield MJ, Lombard L, Giraldo A, Christensen M, Gardiennet A, Nakashima C, Pereira OL, Smith AJ, Groenewald JZ (2015b) Fungal systematics and evolution: FUSE 1. Sydowia 67:81–118

Dashtban M, Schraft H, Syed TA, Qin W (2010) Fungal biodegradation and enzymatic modification of lignin. Int J Biochem Mol Biol 1:36–50

Dianese JC, Medeiros RB, Santos LTP, Sutton BC (1993) Coniella costae sp. nov. on leaves of Myrcia tomentosa from Brazilian cerrado. Mycol Res 97:1234–1236

Edgar RC (2004) MUSCLE: multiple sequence alignment with high accuracy and high throughput. Nucleic Acids Res 32:1792–1797

Filipowicz N, Momotko M, Boczkaj G, Pawlikowski T, Wanarska M, Cieśliński H (2017) Isolation and characterization of phenol-degrading psychrotolerant yeasts. Water Air Soil Pollut 228:210

Galtier N, Gouy M, Gautier C (1996) SEAVIEW and PHYLO_WIN: two graphic tools for sequence alignment and molecular phylogeny. Comput Appl Biosci 12:543–548

Gnerre S, Maccallum I, Przybylski D, Ribeiro FJ, Burton JN, Walker BJ, Sharpe T, Hall G, Shea TP, Sykes S, Berlin AM, Aird D, Costello M, Daza R, Williams L, Nicol R, Gnirke A, Nusbaum C, Lander ES, Jaffe DB (2011) High-quality draft assemblies of mammalian genomes from massively parallel sequence data. Proc Natl Acad Sci U S A 108:1513–1518

Grabherr MG, Haas BJ, Yassour M, Levin JZ, Thompson DA, Amit I, Adiconis X, Fan L, Raychowdhury R, Zeng Q, Chen Z, Mauceli E, Hacohen N, Gnirke A, Rhind N, di Palma F, Birren BW, Nusbaum C, Lindblad-Toh K, Friedman N, Regev A (2011) Full-length transcriptome assembly from RNA-seq data without a reference genome. Nat Biotechnol 29:644–652

Grigoriev IV, Nikitin R, Haridas S, Kuo A, Ohm R, Otillar R, Riley R, Salamov A, Zhao X, Korzeniewski F, Smirnova T, Nordberg H, Dubchak I, Shabalov I (2014) MycoCosm portal: gearing up for 1000 fungal genomes. Nucleic Acids Res 42:D699–D704

Gu R, Fonseca S, Puskás LG, Hackler L Jr, Zvara Á, Dudits D, Pais MS (2004) Transcript identification and profiling during salt stress and recovery of Populus euphratica. Tree Physiol 24:265–276

Guindon S, Gascuel O (2003) A simple, fast, and accurate algorithm to estimate large phylogenies by maximum likelihood. Syst Biol 52:696–704

Healey A, Furtado A, Cooper T, Henry RJ (2014) Protocol: a simple method for extracting next-generation sequencing quality genomic DNA from recalcitrant plant species. Plant Methods 10:21

Hustad VP, Kučera V, Rybáriková N, Lizoň P, Gaisler J, Baroni TJ, Miller AN (2014) Geoglossum simile of North America and Europe: distribution of a widespread earth tongue species and designation of an epitype. Mycol Prog 13:857–866

Loar JW, Seiser RM, Sundberg AE, Sagerson HJ, Ilias N, Zobel-Thropp P, Craig EA, Lycan DE (2004) Genetic and biochemical interactions among Yar1, Ltv1 and RpS3 define novel links between environmental stress and ribosome biogenesis in Saccharomyces cerevisiae. Genetics 168:1877–1889

Marin-Felix Y, Groenewald JZ, Cai L, Chen Q, Marincowitz S, Barnes I, Bensch K, Braun U, Camporesi E, Damm U, de Beer ZW, Dissanayake A, Edwards J, Giraldo A, Hernández-Restrepo M, Hyde KD, Jayawardena RS, Lombard L, Luangsa-ard J, McTaggart AR, Rossman AY, Sandoval-Denis M, Shen M, Shivas RG, Tan YP, van der Linde EJ, Wingfield MJ, Wood AR, Zhang JQ, Zhang Y, Crous PW (2017) Genera of phytopathogenic fungi: GOPHY. Stud Mycol 86:99–216

Mehrotra BS, Bisht NS, Harsh NSK (1982) Utilization of waste tea leaves for the growth and maintenance of cultures of wood-decaying fungi. Natl Acad Sci Lett 5:87–88

Mettrop IS, Cusell C, Kooijman AM, Lamers LPM (2014) Nutrient and carbon dynamics in peat from rich fens and Sphagnum-fens during different gradations of drought. Soil Biol Biochem 68:317–328

Michailides TJ, Puckett R, Morgan DP (2010) Pomegranate decay caused by Pilidiella granati in California. Phytopathology 100:S83

Miller MA, Pfeiffer W, Schwartz T (2010) Creating the CIPRES science gateway for inference of large phylogenetic trees. In: Proceedings of the gateway computing environments workshop (GCE), New Orleans, Louisiana, 14 November 2010

Mirabolfathy M, Groenewald JZ, Crous PW (2012) First report of Pilidiella granati causing dieback and fruit rot of pomegranate (Punica granatum) in Iran. Plant Dis 96:461

Miranda BEC, Barreto RW, Crous PW, Groenewald JZ (2012) Pilidiella tibouchinae sp. nov. associated with foliage blight of Tibouchina granulosa (quaresmeira) in Brazil. IMA Fungus 3:1–7

Nag Raj TR (1976) Miscellaneous microfungi. I. Can J Bot 54:1370–1376

Nag Raj TR (1981) Coelomycete systematics. In: Cole GT, Kendrick B (eds) Biology of conidial fungi 1. Academic Press, New York, pp 43–84

Nag Raj TR (1993) Coelomycetous anamorphs with appendage-bearing conidia. Mycologue Publications, Waterloo, Ontario

Osadchyy V, Nabyvanets B, Linnik P, Osadcha N, Nabyvants Y (2016) Processes determining surface water chemistry. Springer, Switzerland

Palou L, Guardado A, Montesinos-Herrero C (2010) First report of Penicillium spp. and Pilidiella granati causing postharvest fruit rot of pomegranate in Spain. New Dis Rep 22:21

Petrak F, Sydow H (1927) Die Gattungen der Pyrenomyzeten, Sphaeropsideen und Melanconieen. I. Der phaeosporen Sphaeropsideen und die Gattung Macrophoma. Feddes Repertorium Speciarum Novarum Regni Vegetabilum Beihefte 42:1–551

Pollastro S, Dongiovanni C, Gerin D, Pollastro P, Fumarola G, De Miccolis Angelini RM, Faretra F (2016) First report of Coniella granati as a causal agent of pomegranate crown rot in southern Italy. Plant Dis 100:1498

Posada D (2008) jModelTest: phylogenetic model averaging. Mol Biol Evol 25:1253–1256

Promputtha I, Miller AN (2010) Three new species of Acanthostigma (Tubeufiaceae, Dothideomycetes) from Great Smoky Mountains National Park. Mycologia 102:574–587

Rajeshkumar KC, Hepat RP, Gaikwad SB, Singh SK (2011) Pilidiella crousii sp. nov. from the northern Western Ghats, India. Mycotaxon 115:155–162

Rossman AY, Farr DF, Castlebury LA (2007) A review of the phylogeny and biology of the Diaporthales. Mycoscience 48:134–144

Samuels GJ, Barr ME, Lowen R (1993) Revision of Schizoparme (Diaporthales, Melanconidaceae). Mycotaxon 46:459–483

Sharma ND, Agarwal GP (1977) Fungi causing plant diseases at Jabalpur Madhya Pradesh India. Part 15. Some sphaeropsidales. Sydowia 30:290–296

Šrobárová A, Kakalíková L (2007) Fungal disease of grapevines. Eur J Plant Sci Biotechnol 1:84–90

Sutton BC (1969) Type studies of Coniella, Anthasthoopa, and Cyclodomella. Can J Bot 47:603–608

Sutton BC (1980) The Coelomycetes: fungi imperfecti with pycnidia, acervuli, and stromata. Commonwealth Mycological Institute, Kew, Surrey, England

Sydow H, Sydow P (1913) Novae fungorum species—IX. Ann Mycol 11:62

Tziros GT, Tzavella-Klonari K (2008) Pomegranate fruit rot caused by Coniella granati confirmed in Greece. Plant Pathol 57:783

Van Niekerk JM, Groenewald JZ, Verkley GJM, Fourie PH, Wingfield MJ, Crous PW (2004) Systematic reappraisal of Coniella and Pilidiella, with specific reference to species occurring on Eucalyptus and Vitis in South Africa. Mycol Res 108:283–303

Venancio TM, Aravind L (2010) CYSTM, a novel cysteine-rich transmembrane module with a role in stress tolerance across eukaryotes. Bioinformatics 26:149–152

Von Arx JA (1973) Centraalbureau voor Schimmelcultures Baarn and Delft. Progress Report 1972. Verhandelingen der Koninklijke Nederlandsche Akademie van Wetenschappen, Afdeling Natuurkunde 61:59–81

Von Arx JA (1981) The genera of fungi sporulating in pure culture, 3rd ed. J Cramer, Vaduz

Von Höhnel F (1918) Dritte vorlaufige Mitteilung mycologischer Ergebnisse (Nr. 201–304). Berichte der Deutschen Botanischen Gesellschaft 36:309–317

Wiens JJ, Kuczynski CA, Smith SA, Mulcahy DG, Sites JW Jr, Townsend TM, Reeder TW (2008) Branch lengths, support, and congruence: testing the phylogenomic approach with 20 nuclear loci in snakes. Syst Biol 57:420–431

Zerbino DR, Birney E (2008) Velvet: algorithms for de novo short read assembly using de Bruijn graphs. Genome Res 18:821–829

Zhao Z, Liu H, Wang C, Xu JR (2013) Comparative analysis of fungal genomes reveals different plant cell wall degrading capacity in fungi. BMC Genomics 14:274
Acknowledgements
The authors would like to thank the Commonwealth of Pennsylvania, Pennsylvania Department of Conservation and Natural Resources, Pennsylvania Bureau of State Parks, and Black Moshannon State Park for supporting this research. The work conducted by the U.S. Department of Energy Joint Genome Institute, a DOE Office of Science User Facility, is supported by the Office of Science of the U.S. Department of Energy under contract no. DE-AC02-05CH11231. The authors thank Joseph Spatafora and the 1000 Fungal Genome Project for support in sequencing the genome of this fungus. The authors would also like to thank the Mycological Society of America and University of Illinois Urbana-Champaign School of Integrative Biology for the financial support and Michael Woodley for the field support. The authors also wish to thank the two anonymous reviewers who offered helpful insights to a previous version of this manuscript. Lastly, all datasets generated and/or analyzed during this study will be made available from the corresponding author upon request.
Additional information
This article is part of the "Special Issue on ascomycete systematics in honour of Richard P. Korf who died in August 2016".
Section Editor: Marc Stadler and Teresa Itturiaga
About this article
Cite this article
Raudabaugh, D.B., Iturriaga, T., Carver, A. et al. Coniella lustricola, a new species from submerged detritus. Mycol Progress 17, 191–203 (2018). https://doi.org/10.1007/s11557-017-1337-6
Received:

Revised:

Accepted:

Published:

Issue Date:
Keywords
Diaporthales

Schizoparmeaceae

Sordariomycetes

1000 Fungal Genome Project