Abstract
During a survey of fungicolous fungi, a novel taxon from the surface of stroma of an unidentified Xylaria species was collected. Phylogenetic analyses showed that this taxon clustered with Calcarisporium sp. and C. arbuscula isolates, but was resolved as a distinct species. A detailed morphological examination coupled with phylogenetic analysis indicated that the taxon represented a new species. Calcarisporium xylariicola sp. nov. is thus introduced. The new taxon is characterized by short conidiophores with swollen bases and less length/width ratio of conidia that distinguish it from other Calcarisporium species. Calcarisporium is presently placed in Hypocreales genera, incertae sedis genus. Species in the genus are largely fungicolous, or occasionally caulicolous or foliicolous, and have hyaline, erect, verticillate conidiophores and sympodial, polyblastic conidiation. A phylogenetic analysis of combined SSU, ITS, LSU, TEF and RPB2 sequence data from Calcarisporium species and other taxa in Hypocreales indicate that Calcarisporium is a distinct lineage from other families. Therefore, a new family, Calcarisporiaceae, in Hypocreales is introduced.
Access options
Buy single article
Instant access to the full article PDF.
USD 39.95
Price excludes VAT (USA)
Tax calculation will be finalised during checkout.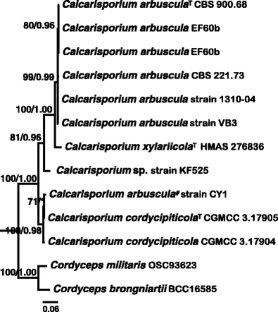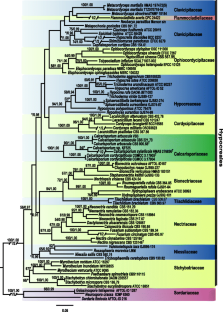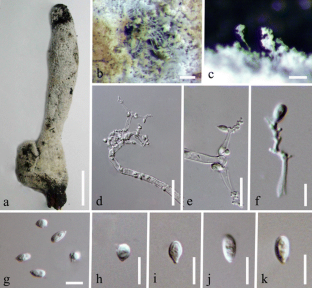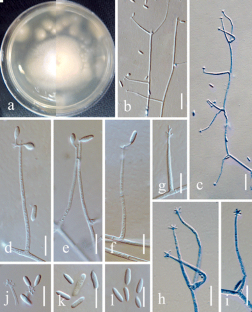 References
Anke H, Sterner O (1988) Transformation of isovelleral by the parasitic fungus Calcarisporium arbuscula. Phytochemistry 27:2765–2767. doi:10.1016/0031-9422(88)80659-9

Barron GL, Peterson J (1968) The genera of Hyphomycetes from soil. Soil Sci 106:477. doi:10.1097/00010694-196812000-00019

Bhattacharya D, Lutzoni F, Reeb V, Simon D, Nason J, Fernandez F (2000) Widespread occurrence of spliceosomal introns in the rDNA genes of ascomycetes. Mol Biol Evol 17:1971–1984. doi:10.1093/oxfordjournals.molbev.a026298

Cabral A, Rego C, Nascimento T, Oliveira H, Groenewald JZ, Crous PW (2012) Multi-gene analysis and morphology reveal novel Ilyonectria species associated with black foot disease of grapevines. Fungal Biol 116(1):62–80. doi:10.1016/j.funbio.2011.09.010

Cai L, Jeewon R, Hyde KD (2006) Phylogenetic investigations of Sordariaceae based on multiple gene sequences and morphology. Mycol Res 110:137–150. doi:10.1016/j.mycres.2005.09.014

Candoussau F, Boqueras M, Gómez-Bolea A, Læssøe T, Lowen R, Rogers JD, Rossman AY, Samuels GJ (2007) Observations on Neobarya, including new species and new combinations. Sydowia 59:179–215, http://handle.nal.usda.gov/10113/18813

Carrión G, Rico-Gray V (2002) Mycoparasites on the coffee rust in Mexico. Fungal Divers 11:49–60, http://www.fungaldiversity.org/fdp/sfdp/FD_11_49-60.pdf

Castlebury LA, Rossman AY, Sung GH, Hyten AS, Spatafora JW (2004) Multigene phylogeny reveals new lineage for Stachybotrys chartarum, the indoor air fungus. Mycol Res 108:864–872. doi:10.1017/s0953756204000607

Castlebury LA, Rossman AY, Hyten AS (2006) Phylogenetic relationships of Neonectria/Cylindrocarpon on Fagus in North America. Botany 84(9):1417–1433. doi:10.1139/b06-105

Castresana J (2000) Selection of conserved blocks from multiple alignments for their use in phylogenetic analysis. Mol Biol Evol 17:540–552. doi:10.1093/oxfordjournals.molbev.a026334

Crous PW, Groenewald JZ, Risède JM, Simoneau P, Hywel-Jones NL (2004) Calonectria species and their Cylindrocladium anamorphs: species with sphaeropedunculate vesicles. Stud Mycol 50(2):415–430

Crous PW, Schumacher RK, Wingfield MJ, Lombard L, Giraldo A, Christensen M, Gardiennet A, Nakashima C, Pereira OL, Smith AJ, Groenewald JZ (2015) Fungal Systematics and Evolution: FUSE 1. Sydowia 67, 81–118. doi: 10.12905/0380.sydowia67-2015-0081

Currie CR, Wong B, Stuart AE, Schultz TR, Rehner SA, Mueller UG, Sung GH, Spatafora JW, Straus NA (2003) Ancient tripartite coevolution in the attine ant-microbe symbiosis. Science 299(5605):386–388. doi:10.1126/science.1078155

De Hoog GS (1974) The genera Blastobotrys, Sporothrix, Calcarisporium and Calcarisporiella gen. nov. Stud Mycol 7:1–83. doi:10.1016/s0007-1536(75)80099-4

De Hoog GS (1978) Notes on some fungicolous hyphomycetes and their relatives. Persoonia 10:33–81. doi:10.2307/1219743

Degenkolb T, Dieckmann R, Nielsen KF, Gräfenhan T, Theis C, Zafari D, Chaverri P, Ismaiel A, Brückner H, von Döhren H, Thrane U, Petrini O, Samuels GJ (2008) The Trichoderma brevicompactum clade: a separate lineage with new species, new peptaibiotics, and mycotoxins. Mycol Prog 7(3):177–219. doi:10.1007/s11557-008-0563-3

Eriksson O, Hawksworth DL (1986) Notes on ascomycete systematics. nos. 1–224. Systema Ascomycetum 5:114–174

Gams W, Diederich P, Poldmaa K (2004) Fungicolous fungi. biodiversity of fungi. In: Muller GM, Bills GF, Foster M (eds) Biodiversity of fungi. Elsevier Academic Press, Burlington, pp 343–392

Gräfenhan T, Schroers HJ, Nirenberg HI, Seifert KA (2011) An overview of the taxonomy, phylogeny, and typification of nectriaceous fungi in Cosmospora, Acremonium, Fusarium, Stilbella, and Volutella. Stud Mycol 68:79–113. doi:10.3114/sim.2011.68.04

Halleen F, Schroers HJ, Groenewald JZ, Crous PW (2004) Novel species of Cylindrocarpon (Neonectria) and Campylocarpon gen. nov. associated with black foot disease of grapevines (Vitis spp.). Stud Mycol l50:431–455

Hausner G, Reid J (2004) The nuclear small subunit ribosomal genes of Sphaeronaemella helvellae, Sphaeronaemella fimicola, Gabarnaudia betae, and Cornuvesica falcata: phylogenetic implications. Can J Bot 82:752–762. doi:10.1139/b04-046

Hijwegen T (1988) Effect of seventeen fungicolous fungi on sporulation of cucumber powdery mildew. NL J Plant Pathol 94:185–190. doi:10.1007/bf02006544

Hirooka Y, Rossman AY, Chaverri P (2011) A morphological and phylogenetic revision of the Nectria cinnabarina species complex. Stud Mycol 68:35–56. doi:10.3114/sim.2011.68.02

Huang WY, Cai YZ, Surveswaran S, Hyde KD, Corke H, Sun M (2009) Molecular phylogenetic identification of endophytic fungi isolated from three Artemisia species. Fungal Divers 36:69–88, http://www.fungaldiversity.org/fdp/sfdp/FD36-5.pdf

Hughes SJ (1951) Studies on micro-fungi. IX. Calcarisporium, Verticicladium, and Hansfordia (gen. nov.). Mycol Papers 43:1–25

Jaklitsch WM, Voglmayr H (2012) Phylogenetic relationships of five genera of Xylariales and Rosasphaeria gen. nov. (Hypocreales). Fungal Divers 52(1):75–98. doi:10.1007/s13225-011-0104-2

James TY, Kauff F, Schoch CL, Matheny PB, Hofstetter V, Cox CJ, Celio G, Gueidan C, Fraker E, Miadlikowska J, Lumbsch HT, Rauhut A, Valérie Reeb A, Arnold E, Amtoft A, Stajich JE, Hosaka K, Sung GH, Johnson D, O'Rourke B, Crockett M, Binder M, Curtis JM, Slot JC, Wang Z, Wilson AW, Schüβler A, Longcore JE, O'Donnell K, Mozley-Standridge S, Porter D, Letcher PM, Powell MJ, Taylor JW, White MM, Griffith GW, Davies DR, Humber RA, Morton JB, Sugiyama J, Rossman AY, Rogers JD, Pfister DH, Hewitt D, Hansen K, Hambleton S, Shoemaker RA, Kohlmeyer J, Volkmann-Kohlmeyer B, Spotts RA, Serdani M, Crous PW, Hughes KW, Matsuura K, Langer E, Langer G, Untereiner WA, Lücking R, Büdel B, Geiser DM, Aptroot A, Diederich P, Schmitt I, Schultz M, Yahr R, Hibbett DS, Lutzoni F, McLaughlin DJ, Joseph W, Spatafora JW, Vilgalys R (2006) Reconstructing the early evolution of Fungi using a six–gene phylogeny. Nature 443(7113):818–822. doi:10.1038/nature05110

Jayasiri SC, Hyde KD, Ariyawansa HA, Bhat J, Buyck B, Cai L, Dai YC, Abd-Elsalam KA, Ertz D, Hidayat I, Jeewon REBG, Bahkali AH, Karunarathna SC, Liu JK, Luangsa-ard JJ, Lumbsch HT, Maharachchikumbura SSN, McKenzie EHC, Moncalvo JM, Ghobad-Nejhad M, Nilsson H, Pang KL, Pereira QL, Phillips AJL, Raspé O, Rollins AW, Romero AI, Etayo J, Selçuk F, Stephenson SL, Suetrong S, Taylor JE, Tsui CKM, Vizzini A, Abdel-Wahab MA, Wen TC, Boonmee S, Dai DQ, Daranagama DA, Dissanayake AJ, Ekanayaka AH, Fryar SC, Hongsanan S, Jayawardena RS, Li WJ, Perera RH, Phookamsak R, de Silva NI, Thambugala KM, Tian Q, Wijayawardene NN, Zhao RL, Zhao Q, Kang JC, Promputtha I (2015) The Faces of Fungi database: fungal names linked with morphology, phylogeny and human impacts. Fungal Divers 74:3–18. doi:10.1007/s13225-015-0351-8

Judith C, Rossman AY, Kennedy AH, Cáceres O, Piepenbring M (2015) Microchrysosphaera graminicola, an enigmatic new genus and species in the Hypocreales from Panama. Mycol Prog 14(9):1–12. doi:10.1007/s11557-015-1095-2

Katoh K, Standley DM (2013) MAFFT multiple sequence alignment software version 7: improvements in performance and usability. Mol Biol Evol 30:772–780. doi:10.1093/molbev/mst010

Kepler RM, Sung GH, Ban S, Nakagiri A, Chen MJ, Huang B, Li Z, Spatafora JW (2012) New teleomorph combinations in the entomopathogenic genus Metacordyceps. Mycologia 104(1):182–197. doi:10.3852/11-070

Kirk PM, Cannon PF, Minter DW, Stalpers JA (2008) Ainsworth and Bisby's dictionary of the fungi, 10th edn. CABI, Wallingford

Koster B, Wong B, Straus N, Malloch D (2009) A multi–gene phylogeny for Stachybotrys evidences lack of trichodiene synthase (tri5) gene for isolates of one of three intrageneric lineages. Mycol Res 113(8):877–886. doi:10.1016/j.mycres.2009.04.003

Lawrey JD, Etayo J, Dal-Forno M, Driscoll KE, Diederich P (2015) Molecular data support establishment of a new genus for the lichenicolous species Neobarya usneae (Hypocreales). Bryologist 118:83–92. doi:10.1639/0007-2745-118.1.083

Liu YJ, Whelen S, Hall BD (1999) Phylogenetic relationships among ascomycetes: evidence from an RNA polymerse II subunit. Mol Bio Evol 16:1799–1808. doi:10.1093/oxfordjournals.molbev.a026092

Lombard L, Crous PW, Wingfield BD, Wingfield MJ (2010) Phylogeny and systematics of the genus Calonectria. Stud Mycol 66:31–69. doi:10.3114/sim.2010.66.03

Lombard L, Van Der Merwe NA, Groenewald JZ, Crous PW (2015) Generic concepts in Nectriaceae. Stud Mycol 80:189–245. doi:10.1016/j.simyco.2014.12.002

Luo J, Zhuang WY (2010) Bionectria vesiculosa sp. nov. from Yunnan, China. Mycotaxon 113(1):243–249. doi:10.5248/113.243

Lutzoni F, Kauff F, Cox CJ, McLaughlin D, Celio G, Dentinger B, Padamsee M, Hibbett D, James TY, Baloch E, Grube M, Reeb V, Hofstetter V, Schoch C, Arnold AE, Miadlikowska J, Spatafora J, Johnson D, Hambleton S, Crockett M, Shoemaker R, Sung G-H, Lücking R, Lumbsch T, O'Donnell K, Binder M, Diederich P, Ertz D, Gueidan C, Hansen K, Harris RC, Hosaka K, Lim Y-W, Matheny B, Nishida H, Pfister D, Rogers J, Rossman A, Schmitt I, Sipman H, Stone J, Sugiyama J, Yahr R, Vilgalys R (2004) Assembling the fungal tree of life: progress, classification, and evolution of subcellular traits. Am J Bot 91(10):1446–1480. doi:10.3732/ajb.91.10.1446

Ma Y, Suo F, Wang AL, Huang LD, Ye X, Zhang L, Li P, Gong J (2012) Segregation and bacteriostasis research of endophytes from Ophiocordyceps gracilis (Grev.) GH Sung, JM Sung, Hywel–Jones and Spatafora. Biotechnology 2:107–111. doi:10.3969/j.issn.1004-311X.2012.02.045 (in Chinese)

Maharachchikumbura SSN, Hyde KD, Jones EBG, McKenzie EHC, Huang SK, Abdel-Wahab MA, Daranagama DA, Dayarathne M, D'souza MJ, Goonasekara ID, Hongsanan S, Jayawardena RS, Kirk PM, Konta S, Liu J-K, Liu ZY, Norphanphoun C, Pang KL, Perera R, Senanayake IC, Shang QJ, Shenoy BD, Xiao YP, Bahkali A, Kang JC, Somrothipol S, Suetrong S, Wen TC, Xu JC (2015) Towards a natural classification and backbone tree for Sordariomycetes. Fungal Divers 72:1–103. doi:10.1007/s13225-015-0331-z

Maharachchikumbura SSN, Hyde KD, Jones EBG, McKenzie EHC, Bhat JD, Dayarathne MC, Huang SK, Xiao YP, D'souza MJ, Hongsanan S, Jayawardena RS, Daranagama DA, Konta K, Goonasekara ID, Zhuang WY, Jeewon R, Phillips AJL, Abdel-Wahab MA, Al-Sadi AM, Dissanayake AJ, Kang JC, Li QR, Liu JK, Liu XZ, Liu ZY, Luangsa-ard JJ, Pang KL, Phookamsak R, Promputtha I, Suetrong S, Stadler M, Wen TC, Wijayawardene NN (2016) Families of Sordariomycetes. Fungal Divers 79:1–317. doi:10.1007/s13225-016-0369-6

Matsushima T (1975) Icones Microfungorum a Matsushima Lectorum. Kobe, Japan. 1–209

Nylander J (2008) MrModeltest 2.3 README. Uppsala University, Uppsala, Available from: http://www.abc.se/~nylander/mrmodeltest2/mrmodeltest2.html (accessed 22 May 2008

O'Donnell K, Cigelnik E, Nirenberg HI (1998) Molecular systematics and phylogeography of the Gibberella fujikuroi species complex. Mycologia 90(3):465–493. doi:10.2307/3761407

O'Donnell K, Rooney AP, Proctor RH, Brown DW, McCormick SP, Ward TJ, Frandsenc RJN, Lysøe E, Rehner SA, Aoki T, Robert VARG, Crous PW, Groenewald JZ, Kang S, Geiserh DM (2013) Phylogenetic analyses of RPB1 and RPB2 support a middle Cretaceous origin for a clade comprising all agriculturally and medically important fusaria. Fungal Gen Biol 52:20–31. doi:10.1016/j.fgb.2012.12.004

Park MJ, Hong SB, Shin HD (2015) Lecanicillium uredinophilum sp. nov. associated with rust fungi from Korea. Mycotaxon 130(4):997–1005. doi:10.5248/130.997

Preuss CGT (1851) Synopsis fungorum hucusque cognitorum praesertim prope Hoyerswerda. Linnaea 24:101–153

Rambaut A (2014) FigTree v1.4.2 molecular evolution, phylogenetics and epidemiology. http://tree.bio.ed.ac.uk/software/figtree/

Rannala B, Yang Z (1996) Probability distribution of molecular evolutionary trees: a new method of phylogenetic inference. J Mol Evol 43:304–311. doi:10.1007/bf02338839

Rehner SA, Buckley E (2005) A Beauveria phylogeny inferred from nuclear ITS and EF1-α sequences: evidence for cryptic diversification and links to Cordyceps teleomorphs. Mycologia 97:84–98. doi:10.3852/mycologia.97.1.84

Rehner SA, Samuels GJ (1994) Taxonomy and phylogeny of Gliocladium analysed from nuclear large subunit ribosomal DNA sequences. Mycol Res 98(6):625–634. doi:10.1016/S0953-7562(09)80409-7

Rehner SA, Samuels GJ (1995) Molecular systematics of the Hypocreales: a teleomorph gene phylogeny and the status of their anamorphs. Can J Bot 73(S1):816–823. doi:10.1139/b95-327

Ronquist F, Teslenko M, van der Mark P, Ayres DL, Darling A, Höhna S, Larget B, Liu L, Suchard MA, Huelsenbeck JP (2012) MrBayes 3.2: efficient Bayesian phylogenetic inference and model choice across a large model space. Syst Biol 61:539–542. doi:10.1093/sysbio/sys029

Rossman AY, McKemy JM, Pardo-Schultheiss RA, Schroers HJ (2001) Molecular studies of the Bionectriaceae using large subunit rDNA sequences. Mycologia 93(1):100–110. doi:10.2307/3761609

Samuels GJ, Ismaiel A, Bon MC, De Respinis S, Petrini O (2010) Trichoderma asperellum sensu lato consists of two cryptic species. Mycologia 102:944–966. doi:10.3852/09-243

Schoch CL, Seifert KA, Huhndorf S, Robert V, Spougea JL, Levesqueb CA, Chen W, Fungal Barcoding Consortium (2012) Nuclear ribosomal internal transcribed spacer (ITS) region as a universal DNA barcode marker for Fungi. Proc Natl Acad Sci U S A 109(16):6241–6246. doi:10.1073/pnas.1117018109

Shenoy BD, Jeewon R, Hyde KD (2007) Impact of DNA sequence-data on the taxonomy of anamorphic fungi. Fungal Divers 26:1–54, http://www.fungaldiversity.org/fdp/sfdp/26-1.pdf

Shenoy BD, Jeewon R, Wu WP, Bhat DJ, Hyde KD (2010) Ribosomal and RPB2 DNA sequence analyses suggest that Sporidesmium and morphologically similar genera are polyphyletic. Mycol Res 44:161–169. doi:10.1007/s13225-010-0059-8

Silber J, Ohlendorf B, Labes A, Näther C, Imhoff JF (2013) Calcaripeptides A–C, cyclodepsipeptides from a Calcarisporium strain. J Nat Prod 76(8):1461–1467. doi:10.1021/np400262t

Silvestro D, Michalak I (2012) RaxmlGUI: a graphical front-end for RAxML. Org Divers Evol 12(4):335–337. doi:10.1007/s13127-011-0056-0

Somrithipol S, Jones EBG (2006) Calcarisporium phaeopodium sp. nov., a new hyphomycete from Thailand. Sydowia 58:133–140

Spatafora JW, Blackwell M (1993) Molecular systematics of unitunicate perithecial ascomycetes: the Clavicipitales–Hypocreales connection. Mycologia 85(6):912–922. doi:10.2307/3760674

Spatafora JW, Sung GH, Johnson D, Hesse C, O'Rourke B, Serdani M, Spotts R, Lutzoni F, Hofstetter V, Miadlikowska J, Reeb V, Gueidan C, Fraker E, Lumbsch T, Lücking R, Schmitt I, Hosaka K, Aptroot A, Roux C, Miller AN, Geiser DM, Hafellner J, Hestmark G, Arnold AE, Büdel B, Rauhut A, Hewitt D, Untereiner WA, Cole SC, Scheidegger C, Schultz M, Sipman H, Schoch CL (2006) A five–gene phylogeny of Pezizomycotina. Mycologia 98(6):1018–1028. doi:10.3852/mycologia.98.6.1018

Spatafora JW, Sung GH, Sung JM, Hywel-Jones NL, White JF (2007) Phylogenetic evidence for an animal pathogen origin of ergot and the grass endophytes. Mol Ecol 16(8):1701–1711. doi:10.1111/j.1365-294X.2007.03225.x

Stamatakis A (2006) RAxML-VI-HPC: maximum likelihood-based phylogenetic analyses with thousands of taxa and mixed models. Bioinformatics 22:2688–2690. doi:10.1093/bioinformatics/btl446

Summerbell RC, Gueidan C, Schroers HJ, De Hoog GS, Starink M, Rosete YA, Guarro J, Scott JA (2011) Acremonium phylogenetic overview and revision of Gliomastix, Sarocladium, and Trichothecium. Stud Mycol 68:139–162. doi:10.3114/sim.2011.68.06

Sun JZ, Dong CH, Liu XZ, Liu JK, Hyde KD (2016) Calcarisporium cordycipiticola sp. nov., an important fungal pathogen of Cordyceps militaris. Phytotaxa 268(2):135–144. doi: 10.11646/phytotaxa.268.2.4

Sung GH, Spatafora JW (2004) Cordyceps cardinalis sp. nov., a new species of Cordyceps with an east Asian-eastern North American distribution. Mycologia 96(3):658–666. doi:10.2307/3762183

Sung GH, Spatafora JW, Zare R, Hodge KT, Gams W (2001) A revision of Verticillium sect. Prostrata. II. phylogenetic analyses of SSU and LSU nuclear rDNA sequences from anamorphs and teleomorphs of the Clavicipitaceae. Nova Hedwigia 72(3-4):311–328

Sung GH, Hywel-Jones NL, Sung JM, Luangsa-ard JJ, Shrestha B, Spatafora JW (2007) Phylogenetic classification of Cordyceps and the clavicipitaceous fungi. Studs Mycol 57:5–59. doi:10.3114/sim.2007.57.01

Sung GH, Poinar GO, Spatafora JW (2008) The oldest fossil evidence of animal parasitism by fungi supports a Cretaceous diversification of fungal–arthropod symbioses. Mol Phylogenet Evol 49(2):495–502. doi:10.1016/j.ympev.2008.08.028

Vaidya G, Lohman DJ, Meier R (2011) SequenceMatrix: concatenation software for the fast assembly of multi-gene datasets with character set and codon information. Cladistics 27:171–180. doi:10.1111/j.1096-0031.2010.00329.x

White TJ, Bruns T, Lee S, Taylor JW (1990) Amplification and directsequencing of fungal ribosomal RNA genes for phylogenetics. In: Innis MA, Gelfand DH, Sninsky JJ, White TJ (eds) PCR protocols: a guide to methods and applications. Academic, New York, pp 315–322

Wijayawardene DNN, McKenzie EHC, Hyde KD (2012) Towards incorporating anamorphic fungi in a natural classification – checklist and notes for 2011. Mycosphere 3(2):157–228. doi:10.5943/mycosphere/3/2/5

Xiang MC, Yang EC, Xiao QM, Liu XZ, Chen SY (2006) Hirsutella vermicola sp. nov., a new species parasitizing bacteria-feeding nematodes. Fungal Divers 2:255–266, http://www.fungaldiversity.org/fdp/sfdp/22-14.pdf

Zhang N, Blackwell M (2002) Molecular phylogeny of Melanospora and similar pyrenomycetous fungi. Mycol Res 106:148–155. doi:10.1017/s0953756201005354

Zhang N, Castlebury LA, Miller AN, Huhndorf SM, Schoch CL, Seifert KA, Rossman AY, Rogers JD, Kohlmeyer J, Volkmann-Kohlmeyer, Sung GH (2006) An overview of the systematics of the Sordariomycetes based on a four-gene phylogeny. Mycologia 98:1076–1087. doi:10.3852/mycologia.98.6.1076

Zhao P, Luo J, Zhuang WY (2011a) Practice towards DNA barcoding of the nectriaceous fungi. Fungal Divers 46:183–191. doi:10.1007/s13225-010-0064-y

Zhao P, Luo J, Zhuang W, Liu X, Wu B (2011b) DNA barcoding of the fungal genus Neonectria and the discovery of two new species. Sci China Life Sci 54(7):664–674. doi:10.1007/s11427-011-4184-8

Zhaxybayeva O, Gogarten JP (2002) Bootstrap, Bayesian probability and maximum likelihood mapping: exploring new tools for comparative genome analyses. BMC Genomics 3:4. doi:10.1186/1471-2164-3-4

Zhu ZX, Zhuang WY (2013) Resources of nonlichenized fungicolous Ascomycota from China (in Chinese). Mycosystema 32(Z1):79–88
Acknowledgements
The authors would like to thank Dr. Shaun Pennycook for advice on the fungal name, and Prof. Lei Cai for constructive suggestions on phylogenetic analysis. This research was supported by the Natural Science Foundation of China (no. 31600024).
Publisher's Note
Springer Nature remains neutral with regard to jurisdictional claims in published maps and institutional affiliations.
Additional information
Section Editor: Marc Stadler
This article is part of the "Special Issue in honour of the 70th birthday of Dr. Eric McKenzie"
About this article
Cite this article
Sun, JZ., Liu, XZ., Hyde, K.D. et al. Calcarisporium xylariicola sp. nov. and introduction of Calcarisporiaceae fam. nov. in Hypocreales. Mycol Progress 16, 433–445 (2017). https://doi.org/10.1007/s11557-017-1290-4
Received:

Revised:

Accepted:

Published:

Issue Date:

DOI: https://doi.org/10.1007/s11557-017-1290-4
Keywords