Abstract
A new poroid wood-inhabiting fungal species, Ceriporiopsis kunmingensis sp. nov., is proposed based on morphological and molecular characters. The species is characterized by resupinate basidiocarps with pale cinnamon-buff to ochreous color when dry; generative hyphae unbranched and subparallel along the tubes; presence of hyphal ends; allantoid basidiospores, 4.5–5 × 1.5–2 μm. The internal transcribed spacer (ITS) and large subunit (LSU) regions of nuclear ribosomal RNA gene sequences of the studied samples were generated, and phylogenetic analyses were performed with maximum likelihood, maximum parsimony, and Bayesian inference methods. The phylogenetic analysis based on molecular data of ITS + nLSU sequences showed that C. kunmingensis belonged to the phlebioid clade, formed a monophyletic lineage with a strong support (100% BS, 100% BP, 1.00 BPP), and was closely related to Phlebia aurea, and then grouped with P. livida and P. subserialis. Both morphological and molecular characters confirmed the placement of the new species in Ceriporiopsis.
Access options
Buy single article
Instant access to the full article PDF.
USD 39.95
Price excludes VAT (USA)
Tax calculation will be finalised during checkout.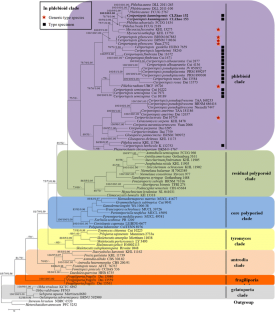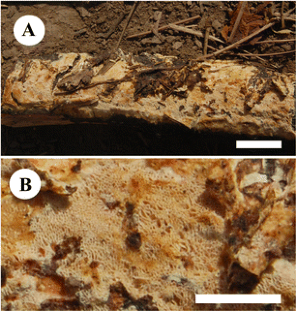 References
Bernicchia A, Gorjón SP (2010) Fungi Europaei 12: Corticiaceae s.l. Candusso Edizioni, Lomazzo

Bernicchia A, Ryvarden L (2003) A new polypore species (Basidiomycetes), Ceriporiopsis guidella, is described from northern Italy. Mycotaxon 88:219–224

Binder M, Hibbett DS, Larsson KH, Larsson E, Langer E, Langer G (2005) The phylogenetic distribution of resupinate forms across the major clades of mushroom-forming fungi (Homobasidiomycetes). Syst Biodivers 3:113–157. doi:10.1017/S1477200005001623

Binder M, Justo A, Riley R, Salamov A, López-Giráldez F, Sjökvist E, Copeland A, Foster B, Sun H, Larsson E, Larsson KH, Townsend J, Grigoriev IV, Hibbett DS (2013) Phylogenetic and phylogenomic overview of the Polyporales. Mycologia 105:1350–1373. doi:10.3852/13-003

Chen JJ, Cui BK (2014) Phlebiporia bubalina gen. et. sp. nov. (Meruliaceae, Polyporales) from Southwest China with a preliminary phylogeny based on rDNA sequences. Mycol Prog 13:563–573. doi:10.1007/s11557-013-0940-4

Chen JJ, Cui BK, Zhou LW, Korhonen K, Dai YC (2015) Phylogeny, divergence time estimation, and biogeography of the genus Heterobasidion (Basidiomycota, Russulales). Fungal Divers 71:185–200. doi:10.1007/s13225-014-0317-2

Chen JJ, Cui BK, Dai YC (2016a) Global diversity and molecular systematics of Wrightoporia s.l. (Russulales, Basidiomycota). Persoonia 37:21–36. doi:10.3767/003158516X689666

Chen JJ, Cui BK, He SH, Cooper JA, Barrett MD, Chen JL, Song J, Dai YC (2016b) Molecular phylogeny and global diversity of the remarkable genus Bondarzewia (Basidiomycota, Russulales). Mycologia 108:697–708. doi:10.3852/14-216

Cui BK (2013a) Two new polypores (Ceriporiopsis lavendula and Skeletocutis inflata spp. nov.) from Guangdong Province, China. Nord J Bot 31:326–330. doi:10.1111/j.1756-1051.2012.01674.x

Cui BK (2013b) Antrodia tropica sp. nov. from southern China inferred from morphological characters and molecular data. Mycol Prog 12:223–230. doi:10.1007/s11557-012-0829-7

Dai YC, Yu CJ, Wang HC (2007) Polypores from eastern Xizang (Tibet), western China. Ann Bot Fennici 44:135–145

Dai YC, Cui BK, Si J, He SH, Hyde KD, Yuan HS, Liu XY, Zhou LW (2015) Dynamics of the worldwide number of fungi with emphasis on fungal diversity in China. Mycol Prog 14:62. doi:10.1007/s11557-015-1084-5

Domanski S (1963) Two new genera of fungi from group Poria Pers. ex S.F. Gray. Acta Soc Bot Pol 32:731–739

Felsenstein J (1985) Confidence intervals on phylogenetics: an approach using bootstrap. Evolution 39:783–791

Fortey RA, Ryvarden L (2007) Ceriporiopsis herbicola (Polyporaceae, Basidiomycota) Fortey & Ryvarden nov. sp. Syn Fung 23:13–14

Gilbertson RL, Ryvarden L (1986–1987) North American polypores 1–2. Fungiflora, Oslo, pp 1–433

Hall TA (1999) Bioedit: a user-friendly biological sequence alignment editor and analysis program for Windows 95/98/NT. Nucleic Acids Symp Ser 41:95–98

Hattori T (2002) Type studies of the polypores described by E.J.H. Corner from Asia and West Pacific areas. IV. Species described in Tyromyces (1). Mycoscience 43:307–315. doi:10.1007/S102670200045

Jia BS, Zhou LW, Cui BK, Rivoire B, Dai YC (2014) Taxonomy and phylogeny of Ceriporia (Polyporales, Basidiomycota) with an emphasis of Chinese collections. Mycol Prog 13:81–93. doi:10.1007/s11557-013-0895-5

Katoh K, Toh H (2008) Recent developments in the MAFFT multiple sequence alignment program. Brief Bioinform 9:286–298

Kim KM, Lee JS, Jung HS (2007) Fomitopsis incarnatus sp. nov. based on generic evaluation of Fomitopsis and Rhodofomes. Mycologia 99:833–841. doi:10.3852/mycologia.99.6.833

Kinnunen J, Niemelä T (2005) North European species of Ceriporiopsis (Basidiomycota) and their Asian relatives. Karstenia 45:81–90

Læssøe T, Ryvarden L (2010) Studies in Neotropical polypores 26. Some new and rarely recorded polypores from Ecuador. Syn Fungorum 27:34–58

Li HJ, Cui BK (2013) Taxonomy and phylogeny of the genus Megasporoporia and its related genera. Mycologia 105:368–383. doi:10.3852/12-114

Li HJ, Han ML, Cui BK (2013) Two new Fomitopsis species from southern China based on morphological and molecular characters. Mycol Prog 12:709–718. doi:10.1007/s11557-012-0882-2

Miettinen O, Rajchenberg M (2012) Obba and Sebipora, new polypore genera related to Cinereomyces and Gelatoporia (Polyporales, Basidiomycota). Mycol Prog 11:131–147. doi:10.1007/s11557-010-0736-8

Miller MA, Holder MT, Vos R, Midford PE, Liebowitz T, Chan L, Hoover P, Warnow T (2009) The CIPRES Portals. CIPRES. Home page at: http://www.phylo.org/sub_sections/portal. 2009-08-04. (Archived by WebCite® at: http://www.webcitation.org/5imQlJeQa)

Moreno G, Blanco MN, Checa J, Platas G, Peláez F (2011) Taxonomic and phylogenetic revision of three rare irpicoid species within the Meruliaceae. Mycol Prog 10:481–491. doi:10.1007/s11557-010-0717-y

Nakasone KK (1997) Studies in Phlebia. Six species with teeth. Sydowia 49:49–79

Nakasone KK (2002) Mycoaciella, a synonym of Phlebia. Mycotaxon 81:477–490

Núñez M, Ryvarden L (2001) East Asian polypores 2. Syn Fungorum 14:165–522

Nylander JAA (2004) MrModeltest v2. Program distributed by the author. Evolutionary Biology Centre, Uppsala University

Parmasto E, Hallenberg N (2000) A taxonomic study of phlebioid fungi (Basidiomycota). Nord J Bot 20:105–118. doi:10.1111/j.1756-1051.2000.tb00740.x

Petersen JH (1996) Farvekort. The Danish Mycological Society's colour-chart. Foreningen til Svampekundskabens Fremme, Greve, pp 1–6

Posada D, Crandall KA (1998) Modeltest: testing the model of DNA substitution. Bioinformatics 14:817–818

Robledo GL, Amalfi M, Castillo G, Rajchenberg M, Decock C (2009) Perenniporiella chaquenia sp. nov. and further notes on Perenniporiella and its relationships with Perenniporia (Poriales, Basidiomycota). Mycologia 101:657–673. doi:10.3852/08-040

Ronquist F, Huelsenbeck JP (2003) MrBayes 3: Bayesian phylogenetic inference under mixed models. Bioinformatics 19:1572–1574. doi:10.1093/bioinformatics/btg180

Ryvarden L, Melo I (2014) Poroid fungi of Europe. Syn Fungorum 31:1–455

Shen LL, Chen JJ, Wang M, Cui BK (2016) Taxonomy and multi-gene phylogeny of Haploporus (Polyporales, Basidiomycota). Mycol Prog 15:731–742. doi:10.1007/s11557-016-1203-y

Song J, Chen YY, Cui BK, Liu HG, Wang YZ (2014) Morphological and molecular evidence for two new species of Laetiporus (Basidiomycota, Polyporales) from southwestern China. Mycologia 106:1039–1050. doi:10.3852/13-402

Song J, Chen JJ, Wang M, Chen YY, Cui BK (2016) Phylogeny and biogeography of the remarkable genus Bondarzewia (Basidiomycota, Russulales). Sci Rep 6:34568. doi:10.1038/srep34568

Swofford DL (2002) PAUP*: Phylogenetic Analysis Using Parsimony (*and other methods). Version 4.0b10. Sinauer Associates, Massachusetts

Tomšovský M, Menkis A, Vasaitis R (2010) Phylogenetic relationships in European Ceriporiopsis species inferred from nuclear and mitochondrial ribosomal DNA sequences. Fungal Biol 114:350–358. doi:10.1016/j.funbio.2010.02.004

Vlasák J, Vlasák JJ, Ryvarden L (2012) Four new polypore species from the western United States. Mycotaxon 119:217–231. doi:10.5248/119.217

White TJ, Bruns T, Lee S, Taylor JW (1990) Amplification and direct sequencing of fungal ribosomal RNA genes for phylogenetics. In: Innis MA, Gelfand DH, Sninsky JJ, White TJ (eds) PCR protocols: a guide to methods and applications. Academic Press, San Diego, pp 315–322

Zhao CL, Cui BK (2014) Phylogeny and taxonomy of Ceriporiopsis (Polyporales) with descriptions of two new species from southern China. Phytotaxa 164:17–28. doi:10.11646/phytotaxa.164.1.2

Zhao CL, Cui BK, Dai YC (2013) New species and phylogeny of Perenniporia based on morphological and molecular characters. Fungal Divers 58:47–60. doi:10.1007/s13225-012-0177-6

Zhao CL, He XS, Wanghe KY, Cui BK, Dai YC (2014) Flammeopellis bambusicola gen. et. sp. nov. (Polyporales, Basidiomycota) evidenced by morphological characters and phylogenetic analysis. Mycol Prog 13:771–780. doi:10.1007/s11557-014-0960-8

Zhao CL, Cui BK, Song J, Dai YC (2015a) Fragiliporiaceae, a new family of Polyporales (Basidiomycota). Fungal Divers 70:115–126. doi:10.1007/s13225-014-0299-0

Zhao CL, Wu F, Liu HX, Dai YC (2015b) A phylogenetic and taxonomic study on Ceriporiopsis s. str. (Polyporales) in China. Nova Hedwigia 101:403–417. doi:10.1127/nova_hedwigia/2015/0282

Zhou JL, Zhu L, Chen H, Cui BK (2016) Taxonomy and phylogeny of Polyporus group Melanopus (Polyporales, Basidiomycota) from China. PLoS One 11(8):e0159495. doi:10.1371/journal.pone.0159495
Acknowledgments
Special thanks go to Zhong Wu (Datong Middle School, China) and Ke-Qing Wang (Datong Post Office, China) for their assistance in collecting specimens. We express our gratitude to Yong-He Li (Yunnan Academy of Biodiversity, SWFU) for his support on the molecular work. The research was financed by Yunnan Province Top Subject Project (no. 51600625).
Additional information
Section Editor: Yu-Cheng Dai
About this article
Cite this article
Zhao, CL., Wu, ZQ. Ceriporiopsis kunmingensis sp. nov. (Polyporales, Basidiomycota) evidenced by morphological characters and phylogenetic analysis. Mycol Progress 16, 93–100 (2017). https://doi.org/10.1007/s11557-016-1259-8
Received:

Revised:

Accepted:

Published:

Issue Date:

DOI: https://doi.org/10.1007/s11557-016-1259-8
Keywords
Phlebia

Phylogenetic analysis

Polypores

Taxonomy

Wood-rotting fungi