Abstract
We combined morphological and combined ITS, TUB and TEF sequence data to infer the phylogeny of the recently introduced genus Pseudopestalotiopsis. Two new species from China, Ps. camelliae from blighted leaves of Camellia sinensis and Ps. ignota from an undetermined host in China, are introduced with illustrated accounts and compared with similar taxa. Grey blight disease of tea appears to be caused by a group of fungi that constitutes a species complex. A new combination is proposed to emend the monophyly of Pseudopestalotiopsis and a species comparison is provided for taxa in the genus.
This is a preview of subscription content,
to check access.
Access this article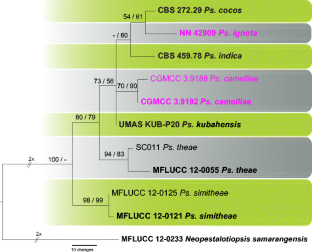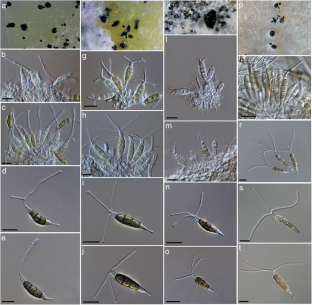 Similar content being viewed by others
References
Agnihothrudu V (1964) A world list of fungi reported on tea. J Madras Univ 34:155–271

Douanla-Meli C, Langer E (2009) Pestalotiopsis theae (Ascomycota, Amphisphaeriaceae) on seeds of Diospyros crassiflora (Ebenaceae). Mycotaxon 107:441–448

Felsenstein J (1985) Confidence limits on phylogenies: An approach using the bootstrap. Evolution 39:783–791

Glass NL, Donaldson GC (1995) Development of primer sets designed for use with the PCR to amplify conserved genes from filamentous ascomycetes. Appl Environ Microbiol 61:1323–1330

Guo LD, Hyde KD, Liew ECY (2000) Identification of endophytic fungi from Livistona chinensis (Palmae) using morphological and molecular techniques. New Phytol 147:617–630. doi:10.1046/j.1469-8137.2000.00716.x

Horikawa T (1986) Yield loss of new tea shoots due to grey blight caused by Pestalotia longiseta Spegazzini. Bull Shizuoka Tea Exp Stn 12:1–8

Hu HL, Jeewon R, Zhou DQ, Zhou TX, Hyde KD (2007) Phylogenetic diversity of endophytic Pestalotiopsis species in Pinus armandii and Ribes spp.: evidence from rDNA and β- tubulin gene phylogenies. Fungal Divers 24:1–22

Index Fungorum (2016) http://www.indexfungorum.org/Names/Names.asp

Jayasiri SC, Hyde KD, Bhat DJ et al (2015) The Faces of Fungi database: fungal names linked with morphology, molecular and human attributes. Fungal Divers 74:3–18. doi:10.1007/s13225-015-0351-8

Joshi SD, Sanjay R, Baby UI, Mandal AKA (2009) Molecular characterization of Pestalotiopsis spp. associated with tea (Camellia sinensis) in southern India using RAPD and ISSR markers. Indian J Biotechnol 8:377–383

Kishino H, Hasegawa M (1989) Evaluation of the maximum likelihood estimate of the evolutionary tree topologies from DNA sequence data. J Mol Evol 29:170–179

Kumar S, Stecher G, Peterson D (2012) MEGA-CC: computing core of molecular evolutionary genetics analysis program for automated and iterative data analysis. Bioinformatics 28:2685–2686. doi:10.1093/bioinformatics/bts507

Lateef AA, Sepiah M, Bolhassan MH (2015) Description of Pseudopestalotiopsis kubahensis sp. nov., a new species of microfungi from Kubah National Park, Sarawak, Malaysia. Curr Res Environ Appl Mycol 5:376–381. doi:10.5943/cream/5/4/8

Maharachchikumbura SSN, Guo LD, Chukeatirote E, Bahkali AH, Hyde KD (2011) Pestalotiopsis – morphology, phylogeny, biochemistry and diversity. Fungal Divers 50:167–187. doi:10.1007/s13225-011-0125-x

Maharachchikumbura SSN, Guo LD, Cai L, Chukeatirote E, Wu WP, Sun X, Crous PW, Bhat DJ, McKenzie EHC, Bahkali AH, Hyde KD (2012) A multi-locus backbone tree for Pestalotiopsis, with a polyphasic characterization of 14 new species. Fungal Divers 56:95–129. doi:10.1007/s13225-012-0198-1

Maharachchikumbura SSN, Chukeatirote E, Guo LD, Crous PW, McKenzie EHC, Hyde KD (2013a) Pestalotiopsis species associated with Camellia sinensis (tea). Mycotaxon 123:47–61. doi:10.5248/123.47

Maharachchikumbura SSN, Guo LD, Chukeatirote E, Hyde KD (2013b) Improving the backbone tree for the genus Pestalotiopsis; addition of P. steyaertii and P. magna sp. nov. Mycol Prog 13:617–624. doi:10.1007/s11557-013-0944-0

Maharachchikumbura SSN, Hyde KD, Groenewald JZ, Xu J, Crous PW (2014) Pestalotiopsis revisited. Stud Mycol 79:121–186. doi:10.1016/j.simyco.2014.09.005

Muraleedharan N, Chen ZM (1997) Pests and diseases of tea and their management. J Plant Crop 25:15–43

O'Donnell K, Cigelnik E (1997) Two divergent intragenomic rDNA ITS2 types within a monophyletic lineage of the fungus Fusarium are nonorthologous. Mol Phylogenet Evol 7:103–116. doi:10.1006/mpev.1996.0376

Rayner RW (1970) A mycological colour chart. Commonwealth Mycological Institute, Kew and British Mycological Society, Kew, UK

Rehner SA (2001) Primers for Elongation Factor 1-alpha (EF1-alpha) http://ocid.nacse.org/research/deephyphae/EF1primer.pdf

Senanayake IC, Maharachchikumbura SSN, Hyde KD et al (2015) Towards unraveling relationships in Xylariomycetidae (Sordariomycetes). Fungal Divers 73:1–85. doi:10.1007/s13225-015-0340-y

Silvestro D, Michalak I (2011) raxmlGUI: a graphical front-end for RAxML. Org Divers Evol 12:335–337. doi:10.1007/s13127-011-0056-0

Song Y, Tangthirasunun N, Maharachchikumbura SSN, Jiang Y, Xu J, Hyde KD, Wang Y (2014) Novel Pestalotiopsis species from Thailand point to the rich undiscovered diversity of this chemically creative genus. Cryptogam Mycol 35:139–149. doi:10.7872/crym.v35.iss2.2014.139

Swofford DL (2003) PAUP*. Phylogenetic analysis using parsimony (*and other methods). Version 4. Sinauer, Sunderland

Tejesvi MV, Nalini MS, Mahesh B, Prakash HS, Kini KR, Shetty HS, Subbiah V (2007) New hopes from endophytic fungal secondary metabolites. Bol Soc Quím Méx 1:19–26

Wei JG, Xu T, Guo LD, Liu AR, Zhang Y, Pan XH (2007) Endophytic Pestalotiopsis species associated with plants of Podocarpaceae, Theaceae and Taxaceae in southern China. Fungal Divers 24:55–74

White TJ, Bruns T, Lee S, Taylor J W (1990) Amplification and direct sequencing of fungal ribosomal RNA genes for phylogenetics. Pp. 315–322 In: Innis MA, Gelfand DH, Sninsky JJ, White TJ (eds) PCR protocols: a guide to methods and applications. . Academic, New York

Xu J, Yang X, Lin Q (2014) Chemistry and biology of Pestalotiopsis derived natural products. Fungal Divers 66:37–68. doi:10.1007/s13225-014-0288-3
Acknowledgment
The authors would like to thank the featured microbial resources and diversity investigation in Southwest Karst area (2014FY120100).
Additional information
Section Editor: Roland Kirschner
About this article
Cite this article
Maharachchikumbura, S.S., Guo, LD., Liu, ZY. et al. Pseudopestalotiopsis ignota and Ps. camelliae spp. nov. associated with grey blight disease of tea in China. Mycol Progress 15, 22 (2016). https://doi.org/10.1007/s11557-016-1162-3
Received:

Revised:

Accepted:

Published:

DOI: https://doi.org/10.1007/s11557-016-1162-3
Keywords